Cedar City Regional Airport
Discovering Southern Utah's Best Kept Secret
Business View Magazine interviews Cedar City Regional Airport Manager Nick Holt and Operations Manager Tyler Galetka for our focus on General Aviation
Cedar City Regional Airport services the local community of Cedar City and the surrounding areas. Situated in Iron County, Utah, visitors to the area will be blessed with easy access to multiple outdoor destinations, namely, Dixie National Forest, Cedar Mountain, and Beaver Mount. At these popular destinations, tourists can take the opportunity to hike, cycle trails, or rent 4X4 vehicles. This rugged outdoor theme is carried over into the airport's terminal building, which is modeled to look like a log cabin.
The State of Utah's relaxed attitude to lockdowns during the COVID-19 pandemic seemed to help with maintaining economic growth in the area, according to Nick Holt, Cedar City Regional Airport Manager.
He elaborates, "Our cities' tax revenues were up during this period due to a safe and calculated approach. Requesting others to use facemasks and social distance, but not completely shutting down the local businesses, allowed for an influx of people from the neighboring states of California and Nevada, which had heavier restrictions. We were still able to host baseball and sports tournaments, which allowed communities and businesses in Utah to survive the severe impacts of this pandemic."
With very little pause to their economic development, the airport has seen a 62 percent increase in runway usage. Notably, there's been an uptake in traffic from arrivals via private jets according to the Fixed Base Operator (FBO),  Sphere One Aviation, a Gate One Company.
Currently, the airport offers a Delta connection through SkyWest Airlines, which transports passengers. But management has put a key focus on expanding the cargo supply chain. "Besides developing airline relationships we're most excited about our cargo capacity," says Holt. "By increasing the cargo that is distributed through Cedar City, we can showcase the value of establishing a business hub in the area."
Collaborating with the governor's office, management at the airport want to bring more cargo business into Cedar City's Port 15. Cedar City is ideally situated, logistically, between two major metro hubs on Interstate Corridor 15 – Las Vegas, Nevada and Salt Lake City, Utah. And there are multiple other destinations within trucking distance, including the L.A basin and Denver, Colorado. Also at its disposal is a rail network, which allows for a solid supply chain to operate. This in turn creates more opportunities for the local population to create and distribute products for the whole country via trucking, rail or by air.
As with most regional airports across the country, Cedar City Regional has a need for more private hangar space. "Currently, there are at least 18 people who are looking for hangar space," says Tyler Galetka, Airport Operations Manager. "There are two 80ft x 80ft hangars planned – the city has approved the lease, which means the airport is in the building permit application phase."
The airport has just completed a major capital improvement project to revamp the main runway. This project was rolled out in a seven-phase project over the past three years. One of two runways at the airport, it has been newly renovated to meet Federal Aviation Administration requirements and was funded by the FAA itself. The second runway also was improved with funds coming through the State of Utah. These projects need to be completed to a standard that ensures that they are around for decades of use… the advised limit is 20 years. Before the recent renovation the runway had not been reconstructed  for 30+ years. There have also been smaller projects completed, namely the taxiway intersection and the reconstruction of old pavements.
Cedar City has seen its fair share of bad weather recently, with the airport and the surrounding areas having to deal with unseasonal rainfall. Holt notes, "We even volunteered to fly aid workers in helicopters over the flood damage to get aerial photos so they could make informed decisions. Southern Utah University Aviation (based at the airport) has been able to provide this assistance, as they have the nation's largest helicopter school. They also offer fixed-wing flight training and a certified mechanics course."
In the winter, Cedar City also receives its share of snowfall, but the airport is prepared for this and has instrument procedures to help aircraft. They also have effective equipment to clear snow from the runway and are currently acquiring a brand-new snow removal boom. As Galetka reports, "Southern Utah is a desert. We can have irregular weather conditions, from hot days to cold nights. So, you can experience four seasons in a day."
With recent flooding events around the city, the airport has been able to keep the rising waters at bay. This is due in part to a dedicated grounds crew and infrastructure that's worked for decades. Galetka explains, "Most regional and smaller city airports are built on old farmland. To irrigate the land properly they had to dig creeks to channel water around. How old these channels are at the Cedar City Regional Airport is unknown, but the airport was established in the 1930s." The old ditches are maintained by the operations crew, as well as the city's streets department. Making sure run off is channeled through these creeks means the airport can operate without issues during even the most extreme seasons.
The runways themselves are positioned at the highest point on the airport grounds. But it's not the airport's rain catchment area that creates the larger issue, rather it's the city's drainage. "Working with the city's streets department, we're able to prepare for and control this drainage, and working with these other city departments has been a dream," says Holt.
To encourage aviation as a career path, the airport organizes open days for students. These tours involve walk-throughs of areas such as bag check and highlight certain procedures that take place in the commercial terminal. If there is time, the tour can include the flight school and include a talk about what the course entails and what qualifications are offered. There is also the option to take people through the local FBO, where they can see where smaller aircraft are fueled and other corporate pilot activities take place.
"If we can help spark interest in aviation, that's great," says Galetka. "But with Southern Utah University based at the airport, they do a lot of programs with the youth and community to promote aviation, and we know they're doing a great job." The university also gets involved in organizing flyovers before the high school football games.
The airport has a very close professional relationship with the Cedar City Tourism Bureau (CCTB), run by Maria Twitchell. The CCTB was responsible for sourcing grants for the main terminal upgrades, as well as assisting other departments such as parks and events. Galetka notes, "Last year the Bureau awarded us funding to replace couches, carpets, and chairs in the terminal. They even donated fantastic local art, as well as new electronic displays." This funding was also utilized to erect new signage at the front of the airport.
Moving forward, Cedar City Regional Airport will be proposing to expand their terminal to accommodate the growing demand from tourists drawn to the natural attractions in the region. This includes expanding waiting areas on the other side of TSA checkpoints with adequate space for social distancing. If approved the renovation will also help attract new airline services to the airport. Looking to the future, there's an active move by the airport team towards helping people from far and wide to discover South Utah's Best Kept Secret – Cedar City.
AT A GLANCE
Cedar City Regional Airport
What: A forward-thinking, public use airport
Where: Iron County, Utah
Website: www.cedarcity.org/76/Airport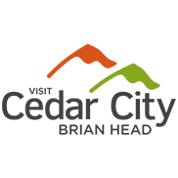 Visit Cedar City · Brian Head – visitcedarcity.com
Cedar City is a cool mountain town, home of the Tony award winning Utah Shakespeare Festival and is in close proximity to Utah famous Bryce Canyon, Zion and the Grand Canyon North Rim.  Cedar City is also known as Festival City USA with events and happenings almost every weekend- from car shows, bike races, even a sheep parade!
Cedar City doesn't skip on amenities.  Historic Downtown is quaint with local shops, restaurants, art galleries, farmers market, and public art. The Southern Utah Museum of Art(SUMA) has over 20,000 square feet of gallery space  and the museum building itself is considered one of top modern architectural buildings in the world.    Enjoy the Tony award winning Utah Shakespeare Festival live theater productions where you can experience the works of William Shakespeare under the stars!
Cedar Breaks National Monument where multi stone ridges are carved out of the steep mountainside.  Brian Head Ski Resort features Utah's highest ski base elevation with two mountains to find the perfect run for your skill level.
Discover a unique community complete with world-renowned theatricals, astounding beauty, and unbelievable outdoor recreation worthy of a visit any time of year.   Visit Cedar City · Brian Head is the official Iron County tourism development office engaging in strategies to improve Cedar City area visitor economy.  Our Visitor Center at 581 North Main in Cedar City can help plan the perfect trip to southern Utah.  Contact us at 435-586-5124 or visitcedarcity.com.