Columbia Airport
Celebrating aviation
Business View Magazine interviews Benedict Stuth, Airport Director at Columbia Airport, for our focus on U.S. Regional Airports
Columbia Airport is a gold mine for aviation enthusiasts. It's one of the few airports on the West Coast with a grass runway and a full-service campground. It has a flight school that offers biplane training and an old S-2 air tanker on display that has attracted visitors from as far as Denmark.
"There's an actual group out there that follows these old aircraft…  goes to visit them and take a look, and we happen to have one of the last of them here that could even potentially be retrofitted to fly again," reports Columbia Airport Manager, Benedict (Benny) Stuth.
But the gold mine reference extends beyond the unique features Columbia Airport has today. In fact, the rare metal is why Columbia Airport was built in the first place. Located in the Sierra Nevada foothills and within walking distance of the historic town of Columbia, California, the airport sits at an elevation of 2,118 feet. That's probably a few feet lower than where it was about 100 years ago. According to Stuth, "It was a gold mine that was hydro mined pretty much all the way down to a level, flat surface. As the story goes, one of the owners of the mine was a pilot and an avid aviation enthusiast and decided he wanted to put an airport in."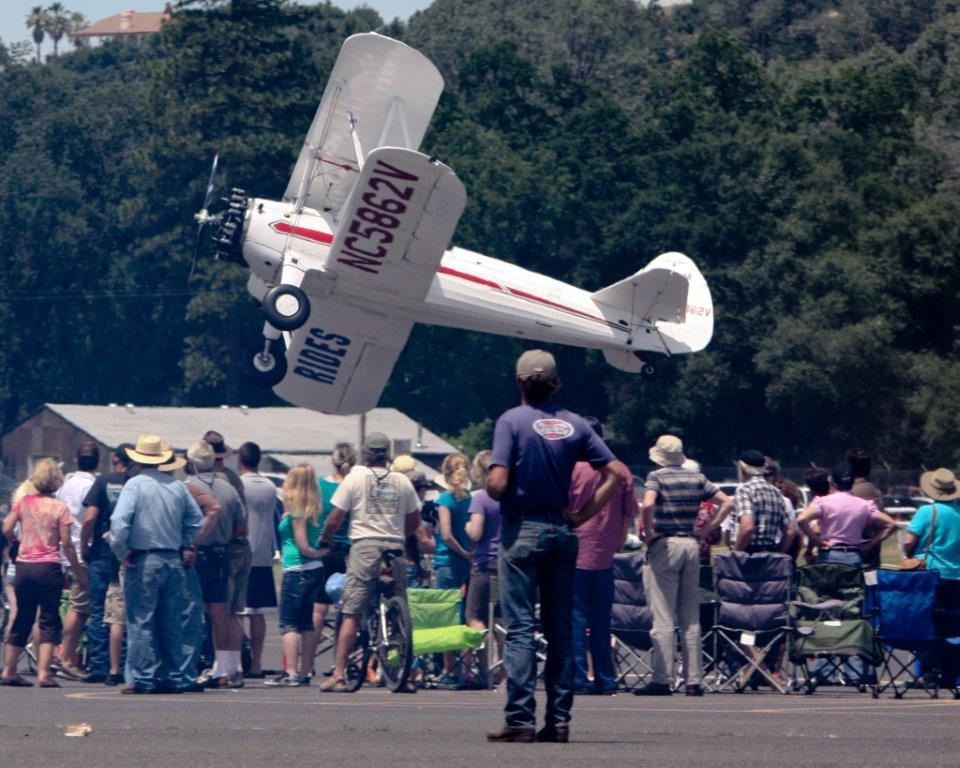 Ownership was transferred to Tuolumne County in the mid-1940s when it officially became the Columbia Airport. Today, it is comprised of two runways. One is paved, lighted and 4,650 feet long. The other is 2,600 feet long and has a turf surface. The airport is also home to a CalFire Air Attack Base That has two S2-T air tankers, a helicopter dispatched hotshot crew, and an OV-10 observation aircraft. The CalFire Air Attack crews respond to fires throughout the area and provides additional support for fighting wildfires.
Also on-site: Courtney Aviation has several fixed wing aircraft for charter, ranging from a four-seat Cessna to a twin turbo prop; Inter Mountain Helicopters provides helicopter charters to those who require remote access or special aircraft services; and Aero Resources provides aircraft inspection, maintenance, and repair. Their facility is FAA Repair Station R10R313Y, and their services include annual inspections, Transponder Pilot Static Certification, aircraft scales, an ACF50 treatment center, and dynamic prop balancing.
In addition, Bald Eagle Aviation provides fuel service via truck or a 24-hour fuel island. They sell both 100LL and Jet A, and they also operate the airport terminal and lobby. "They're a great, valued partner," says Stuth. "They work diligently day in and day out to keep the fuel prices low and always strive be the lowest price in the area for fuel. They will bend over absolutely backwards to get anybody anything that they need for their stay here. They've done a lot to turn that business around and get it really strong."
Springfield Flying Service offers flight instruction for private pilots through commercial ratings. They have several instructors and aircraft, as well as an IFR certified simulator. "One of the main people there does biplane certifications and he is actually one of the very few around the world that does them now," Stuth explains. "Oh, and it's fun to watch it. Sometimes, the way those airplanes fly, it's a lot different, and how you land them is a lot different. And so when you watch it, there are times when he's doing certain maneuvers and techniques to train these pilots and you look at it and you think, 'oh, the airplane shouldn't be in that orientation that close to the ground. How is this working?' And everyone gets nervous and then after watching them do it like 1,000 times you go, 'oh, OK well, that's just how it works.'"
Guests can take in those amazing displays of aerial acrobatics from the Columbia Airport Campground. While the COVID-19 pandemic forced the campground to close during much of the last year, the site has been a popular destination for aircraft organizations for annual fly-ins. Visitors can pitch a tent at one of 20 campsites that feature picnic tables and barbecues. Some guests even sleep right under the wings of their aircraft. The campground pavilion has a full kitchen and dining hall. There is also a volleyball court, horseshoe pits, fire rings, flush toilets, and hot showers on site.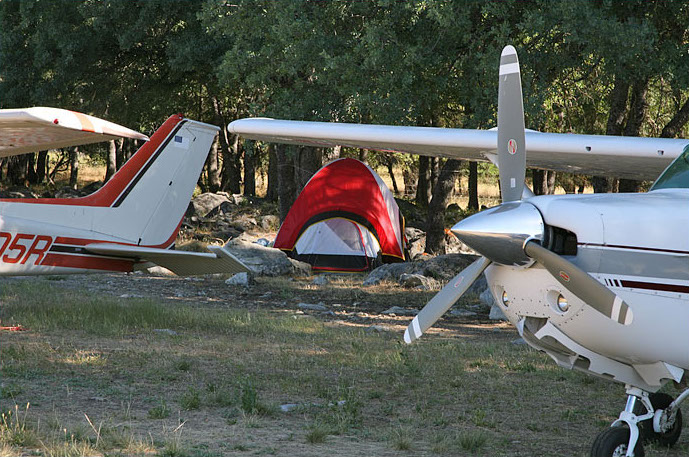 "One of my favorite features of this airport actually is our campground," Stuth acknowledges. "And again, we are one of the very few public airports out there that actually have a fly-in campground that's maintained by us. Especially out here on the West Coast. The fly-in campgrounds are almost a dime a dozen in the Midwest and on the East Coast, but over here they're few and far between and they usually tend to be all private."
While the airport itself has a number of attractions, there are plenty of other reasons people fly into Tuolumne County. One of the biggest draws is Yosemite National Park. Within the park's nearly 1,200 square miles is a vast wilderness that contains giant Sequoia trees, deep valleys, grand meadows, majestic waterfalls and some of the nation's most famous peaks.
"Columbia Airport is the closest full-service airport to Yosemite," Stuth notes. "Mariposa is actually closer but they don't have as many of the services that we have, especially with respect to maintenance of aircraft in case you have a mechanical issue and something wrong happens and you need to stay a little bit longer. If you're flying into Columbia Airport, you have that service available right there. And that's a big decision factor for a lot of operators that are choosing whether or not to come to an airport: 'Is that maintenance facility available' or 'if I fly to that airport and I have a mechanical issue on my aircraft, am I going to have to fly someone out there to fix it?'"
Ensuring the general public is aware of all Columbia Airport has to offer can be a full-time job. Airport employees do their best but their partnership with the Tuolumne County Visitors Bureau is key to reaching a broad audience. "Oh, we love the Tuolumne County Visitors Bureau," boasts Stuth. "They're always willing to step in and help out and kind of push the airport out there in terms of advertisements and bringing people in. And always talking to the different hotels about offering special rates for pilots that fly in."
Area residents seem to understand the many benefits of having a convenient local airport. In seven years as airport director, Stuth has only received half a dozen calls about noise. The concerns were often coming from people who didn't realize there was a firefighting operation in progress. When Stuth explained that, the callers immediately withdrew their complaints.
Stuth is very candid about his passion for the airport and the pivotal role it plays in the region. He shares, "Coming here to Columbia Airport, after working at a lot of these other airports that are very politically contentious, it was a huge breath of fresh air to find a community that was so in support of the airport and what the airport does for the local community – not just when it comes to firefighting, but for everything that it does in terms of intrastate commercial, and interstate commercial, and all the other business aspects it covers. It is small in size but definitely a big economic driver in the community and the surrounding area."
AT A GLANCE
Columbia Airport
What: A popular general aviation airport; home to a CalFire Air Attack Base
Where: Tuolumne County, California