Anderson Municipal Airport
Capitalizing on potential
Business View Magazine interviews Brian A. McMillen, Manager at Anderson Municipal Airport, for our focus on General Aviation at U.S. Regional Airports
The City of Anderson, Indiana has a very interesting origin story – named for Chief William "Adam" Anderson, whose mother was a Delaware Indian while his father was from Sweden. The Delaware village was known as Anderson's Town, though the Moravian Missionaries called it "The Heathen Town Four Miles Away".
Now the county seat of Madison County, this quaint community surrounded by pastoral countryside also has a fascinating industrial background. The late 1800s saw a natural gas boom in Indiana and, as a result, Anderson grew exponentially. Then came the railroad, then automobiles. Throughout its history, there have been 17 different types of automobiles manufactured in Andersen, beginning with the Buckeye Gasoline Buggy.
"At one time Madison County had the highest per capita income in the state of Indiana," reports Brian A. McMillen, Manager at Anderson Municipal Airport. "They were heavily embedded with General Motors, as we had 14 General Motors plants here in the '80s. We used to have commercial aviation during those days as well – two commercial flights a day that went to Detroit. They were mostly for General Motors employees and executives coming to work but it was still commercial service."
Anderson Municipal Airport (AID) is a general aviation facility these days, covering 619 acres with two runways; 12/30 is 5,400 by 100 feet and 18/36 is 3,400 by 75 feet. The airport is owned and managed by the City of Anderson and operates as its own FBO providing service and fuel sales. AID has an air traffic control tower, 105 based aircraft, and serves as the primary base of operations for much of Anderson's growing industrial base.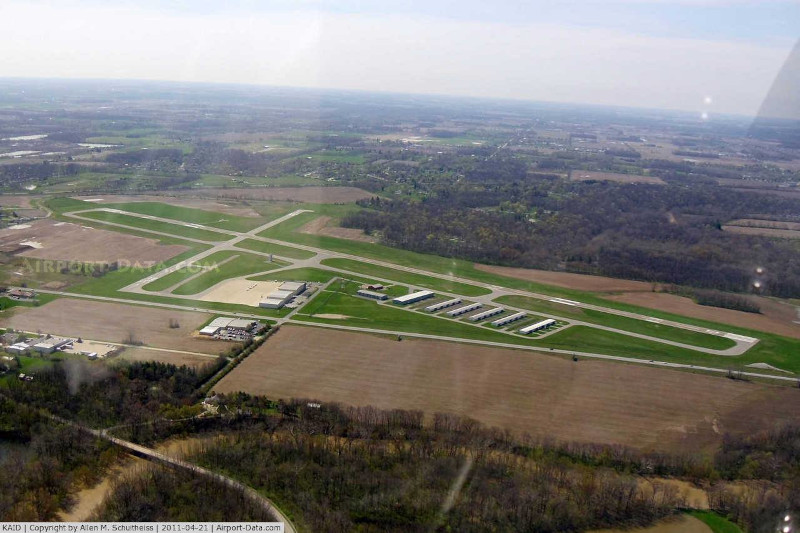 The AID team works hand in hand with the Madison County Visitor's Bureau to promote economic development and tourism in the region and tout the benefits of Anderson Municipal Airport. "The Mayor's Office and the Economic Development folks have been working diligently to try and promote the town," explains McMillen. "They brought in Nestle which has become one of the bigger employers here. The biggest employer is the Community Hospital. In the last 20 years, the town has started having an upswing and is poised to be the bedroom community of choice for Indianapolis. Anderson is a safe quiet place compared to Indianapolis and it is attracting a lot of people. Our airport is also more economical than others in the area, with cheaper fuel prices, and so it makes it more attractive for businesses to fly out of here. Most of the jet traffic that comes here is people starting businesses here or checking on their businesses. All of our jet traffic is business traffic."
McMillen gives the example of Glynn Barber, who has a Cessna 310 based at AID and is an Air Force veteran and F16 Fighter Pilot. "Glynn developed this idea of pharmaceutical-grade vegetables with his company FARMacy," says McMillen. "He's building an $8 million prototype aquaponics greenhouse, restaurant, and exercise facility. He used to be on the board of the Portland, IN airport at one time, so he's got aviation is blood and it's great to have him on the field!"
One of the most successful small aircraft dealers in the country, Indy Air Sales, operates out of a substantial size hangar, as well as in the terminal building. Even during COVID, they easily topped 100 planes sold. Since all their operations are based out of the airport, it helps with onsite fuel sales and flying lessons.
There are two flight schools at Anderson Municipal. One is Superior Flight Training. They recently purchased a Cessna 172, and their goal is to fly newer planes with newer technology. The other flight school is AndAir (Aircraft Rental and Instruction), which operates Piper Cherokees. Having these two different types of schools means engaging the client from different avenues. Other flight schools such as Lift Academy out of Bowling Green Ohio and Tom Woods Aviation, out of Fishers, Indiana, also use AID to gain experience working with an air traffic control tower in a less busy environment than Indianapolis International. McMillen adds, "Henderson Preparatory Academy in town is an Air Force run school, and because of that we have the civil air patrol fly in here, and they offer some flight training for their students, as well. So, there is quite a bit of training that happens here."
Like any regional airport, Anderson Municipal must contend with constant infrastructure repair and improvement. "At one point we were approached by a freight carrier who was flying 727s," McMillen recalls. "We were hoping to line up FAA funding for an extension to 6000 feet, but as we did not need it for our current service, it was not necessary, and that funding fell through. We are currently looking at extending the length to 7000 to allow for heavier freight planes, which means at least $4 million in construction costs – we just need to get some interested stakeholders for the funding."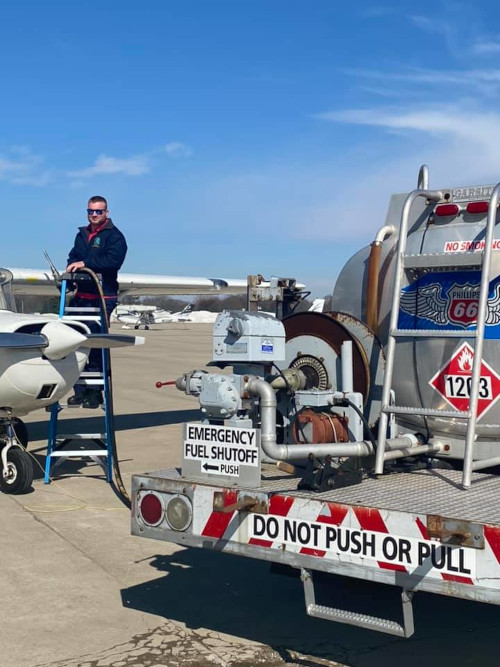 Having more hangars available is always on the airport agenda. McMillen notes, "One of our newer clients is Tom Wood Avionics. Tom is internationally renowned for his avionics work and his company has set up satellite certification here at the airport. They have approached us needing hangar space and we are trying to get a new corporate hangar built because we are out of room. It is one of those things that is not a bad problem to have, but you wish you did not have it."
In 2011, the Board of Aviation Commissioners purchased land with the hopes of growing the airport complex with an industrial park. The infrastructure of gas, fiber, water, and electricity is already in place, and it is all set up within the airport property to accommodate hangars, manufacturing, and other interests. Expansion is certainly possible with the right clientele.
As for significant project, McMillen says, "We have an apron rehabilitation this year and next will be runway 18/36, then we will move on to taxiway Alpha. The FAA gives us infrastructure grants and we follow a ten-year plan. In the next five years, we also hope to repave the area around the T-hangars as it is showing wear. There is always a lot to do. In the last six years, we have done some $12 million in repair and upgrades. We just finished a three-year main runway rehab, which was a mill and fill with new pavement to change the elevation on one side and remove a hump that had developed in the middle. We also replaced all of our lighting systems with LED, which is nice because now we can afford to pay the electric bill every month."
When looking ahead, McMillen feels the most obvious and advantageous change would be to have a 7500-foot runway. In the meantime, the focus has to be on how to bring in additional revenue now. He shares, "My mantra is always: If it's safe and it looks to be what's best for the city, we'll try it.  One of the things we've made some decent headway on is freight operations. We were doing some recently – before COVID we probably had three planes in here every Thursday night and if you look at charging forklift fees, handling fees, and an overtime fee and then selling them fuel, we were making $1,000 a turn per airplane. We need to work on expanding that part of our operation. I also want to see us help our flight schools to get off the ground, no pun intended, and that we continue to work to keep an interest in aviation alive in the public. Before COVID, we had air shows and, hopefully, those will come back. The Civil Air Patrol does their orientation right here and in the last couple of weeks, they have flown a huge number of kids. There is so much potential, and we want to capitalize on that."
AT A GLANCE
Anderson Municipal Airport
What: A busy general aviation airport
Where: Madison County, just northeast of Indianapolis, Indiana
Website: www.cityofanderson.com/123/Airport