Corpus Christi International Airport
Laying the foundation for the future
Business View Magazine interviews Kevin Smith, Director of Aviation for Corpus Christi International Airport, for our focus on U.S. Regional Airports
Corpus Christi International Airport (CCIA) echoes the diversity of the City of Corpus Christi itself – a city that traces its routes back before the Mexican Civil War and has become a sought-after area for business and recreation alike. With a population in excess of 325,000 residents, Corpus Christi is recognized as the "Gulf Coast Capital" of southwest Texas. Tourism is the second-highest industry in the city and that makes the airport very important.
"COVID-19 highlighted for certain airports the need to have diversity in their revenue stream," says Kevin Smith, Director of Aviation at Corpus Christi International. "It showed us that it's important to bring in non-aeronautical revenue, that isn't related to airlines. That way when the airlines do have a dip in activity, or the economy goes down and travel is at lower levels, the airport can continue to serve as an economic driver for our community."
The Hayden W. Head Terminal was created with passengers in mind to mirror key aspects of the destination of Corpus Christi, itself. As Smith explains, "When you arrive in our airport, you're going to see very bright LED lights, you're going to see a lot of live plants, quite a bit of artwork, large windows from floor to ceiling throughout the terminal. It is very light and very spacious. Once you get outside of the secured area, you're going to see a very large model of the USS Lexington, which is a retired aircraft carrier that's down here in Corpus Christi Bay. In addition, there are two large World War II replica remote control planes. We are also in the process of installing a large saltwater aquarium replicating some of the fish and crustaceans that are here in the area. It will be modelled after the Texas State Aquarium here in Corpus Christi which is the third-largest in the country."
Tyler Miller, Deputy Director of Aviation, adds, "We have a lot of pastel overtones – shades of coral and sand – throughout the entire terminal. Our restaurants serve local food while our gift store is filled with the work of local artisans and craftspeople. We are focusing on trying to enhance the terminal to stimulate all five senses and so we have programs to make it smell better and look better and sound better, and give it that cool breezy feel… we are working on that right now."
This is all part of a recently launched five-year terminal renovation program which not only replaces what Miller calls "the bones" of the operation – the behind-the-scenes areas and infrastructure – but also incorporates state-of-the-art restrooms and upgraded seating throughout. Each seat will also be equipped with its own power supply. They are also adding a nursing room and a service animal relief station and installing an outdoor patio, new restaurants, and new gift shops. It is a major, much-anticipated update.
With two 7510' x 150' runways, Corpus Christi International readily caters to all four categories of aviation: Commercial, Cargo, Corporate, and General Aviation. United, American, and Southwest Airlines all have passenger service and there is also charter service. "We are developing our cargo capabilities as we speak," says Smith. "Southwest Airlines just moved their cargo operation from an old maintenance building on the east side of the field into the terminal. They now have a huge operation and have signed two new contracts, one with a florist out of California shipping dozens and dozens of flowers daily, and another shipping agreement to ship over 200 pounds of crab a day to Boston. So when you are eating your Boston crab… it just might be a Corpus Christi Crab!"
One of the largest airport tenants is the Fixed Base Operator (FBO), Atlantic Aviation; a national chain that operates at hundreds of airports across the country, and services general aviation and private aircraft. Smith reports, "We also have two companies that work very closely together: Driscoll Children's Hospital and Sterling Aviation. They provide medical support and transport for children all across the South Texas region. Oftentimes they'll be doing emergency flights, airlifting doctors to another part of Texas to attend to an emergency involving a child, or they fly in sick children from across Texas to Driscoll Children's Hospital. They use both fixed-wing and helicopters. We also have Halo Flight which operates as an emergency medevac helicopter for outlying towns and ranches."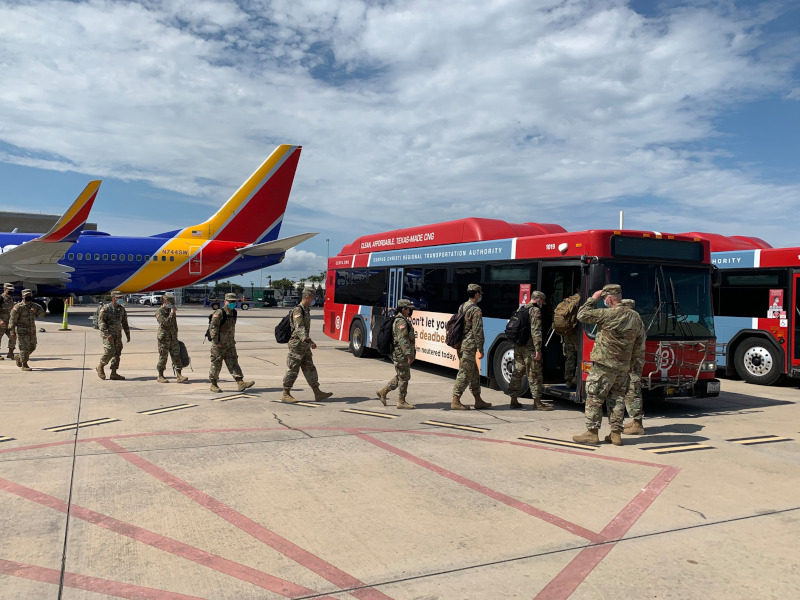 Another valuable business onsite is the National Weather Service that has a key station at CCIA and provides critical information especially during natural disasters and weather events. For example, last year when Hurricane Hannah rolled through, and then this year tropical storm Christopher, they were providing real-time information not only to the airport but the rest of the community. The U.S. Coast Guard also just built a Sector Command Building at CCIA which is responsible for every ship and every aircraft along the coast from the Mexico border to New Orleans. Miller notes, "They have a pretty extensive maintenance facility inside that hangar, and we'll see aircraft flying from all over the country onto our airfield to be maintained. Everything from Coast Guard helicopters, C-130s, even up to recon and radar aircraft."
It is a truly diversified community of businesses and incomes for the airport, which is run by the city. Smith shares, "Monmouth Real Estate has been a strong partner with CCIA, their FedEx ground location is growing and we are planning now for current and future growth. We would love to see FedEx Air join the cargo growth for our region. We have earmarked space on the airfield for an air cargo operation directly across from the FedEx ground facility."
FedEx operates a substantial ground shipping operation from CCIA, a tremendous asset to the cargo sector, and Delmar College runs an AMP school for mechanics, as well. According to a study done pre-COVID, in 2019, the airport was responsible for 747 jobs with a $91.5 million economic output.
That being said, there have been a few occurrences that have slowed growth over the last couple of years. "When Hurricane Harvey hit," recalls Miller, "it hit the coast hard, and the airfield was no exception. We have had to rebuild a couple of hangars and we've been making some repairs to the terminal and other areas of the airfield because of the storm. But we have a solid hurricane program, and every member of our team has explicit expectations and responsibilities when a storm is imminent. We have a Category Five ready level of our terminal which can house between two and three hundred people in case of an emergency."
The airport also recently earned the GBAC STAR Facility Accreditation. This is the gold standard of achievement in terms of Cleanliness and Readiness. GBAC is a worldwide cleaning industry association and has very stringent protocols for cleaning, disinfection, and infectious disease prevention. The airport worked with other local facilities such as the American Bank Center, Art Museum of South Texas, USS Lexington Museum on the Bay, and several bars and restaurants. As the cleaning industry's only outbreak prevention, response, and recovery accreditation, GBAC STAR helps organizations establish protocols and procedures, offers expert-led training, and assesses a facility's readiness for bio risk situations.
"We are also actively pursuing our Blue Lightning accreditation through the U.S. Department of Transportation and the Department of Homeland security," Smith reports. "Blue Lightning is an initiative by those two agencies to certify airports and train airport personnel on identifying and combating human trafficking."
"One of the initiatives that I have been working on since I got here has to do with making us the number one small airport," says Smith. "We joined Airport Council International that has an air service quality survey. This will be our first year participating as an airport and my goal is to hold the number one rating for an airport our size. This is a competition with airports all around the world so if we can get the "Best Small Airport in the World" that would be my dream. I also really think we need to focus on getting a gas station and hotel out here on the property."
"I'm responsible for the Capital Improvement Plan here at the airport," Miller concludes, "so over the next three years, I really see us either executing or finalizing the planning details for the replacement of everything from the terminal roof through the terminal windows, the restrooms, the Jet Bridges, the energy management system, HVAC cooling towers, generators, elevators, escalators… everything that is kind of behind the scenes but still has a direct impact to the customer. The terminal was built in 2002 and so we need to update that and make it the best it can be for the next 10 to 15 years. We are currently laying the foundation for the future."
AT A GLANCE
Corpus Christi International Airport
What: A full-service small airport serving commercial, cargo, corporate, and general aviation
Where: Corpus Christi, Texas
Website: www.corpuschristiairport.com
Texas A&M University-Corpus Christi – www.tamucc.edu
Known as the Island University, Texas A&M University-Corpus Christi is a Hispanic and Minority-Serving Institution recognized for its top-quality academic programs. It has been named the #1 College by the Sea based on academic and research programs that directly impact the coastal community. Students benefit from individualized and immersive learning experiences through more than 85 academic programs.
USS Lexington Museum – usslexington.com
USS Lexington is a valuable national treasure having played a significant role in the nation's defense for nearly 50 years. "The Blue Ghost" arrived at Corpus Christi beach in 1992 as a result of active fundraising, strong community support, and the world's oldest aircraft carrier has since served as a naval aviation museum, educational facility, and popular area tourist attraction. www.usslexington.com
Atlantic Aviation – www.atlanticaviation.com
Atlantic Aviation, headquartered in Plano, Texas, provides a wide range of aviation services and a dedicated concierge service for general aviation aircraft owners and pilots across the United States.
More information about Atlantic Aviation can be found at www.atlanticaviation.com.