Watertown Regional Airport
Coming back stronger
Business View Magazine interviews Todd Syhre, Airport Manager at the Watertown Regional Airport, as part of our series on regional American airports
Watertown Regional Airport is a commercial service and general aviation airport located two miles northwest of the City of Watertown in Codington County, South Dakota. Its history goes back to the early days of flight, when Walter Cooke, a local music store owner, established the first airfield in the area in 1917. Cooke and another pilot flew exhibitions at the airfield and, according to local lore, night landings were accomplished by "following the lights on Kemp Avenue."
During World War II, the airfield was operated by the United States Army Air Forces as a Second Air Force cold weather bomber training base, as an auxiliary to Sioux Falls Army Air Field, and by Air Proving Ground Command. At that time, the airfield was expanded into its current layout, with two runways, in order to accommodate the B-17 Flying Fortress and the B-24 Liberator units that underwent advanced training at Watertown Army Air Field before deploying overseas for combat missions. After the war, the government released the land to the City of Watertown, which has owned and operated the Airport ever since.
Over the years, Watertown Regional has been serviced by several commercial carriers, including Watertown Airways, Braniff International, Mesaba Airlines, Delta Connection, Great Lakes Airlines, California Pacific Airlines, and Sun Country Airlines. Today, the Airport is serviced by SkyWest Airlines operating as United Express under the Essential Air Services (EAS) program, with daily flights to Chicago and Denver.
Cargo operations at Watertown Regional are maintained by United Parcel Service (UPS), and a few smaller cargo companies. South Dakota State University sponsors charters flights for its sports teams, and there are over 60 general aviation aircraft, both private and corporate, that are home-based at the airfield. The Airport has a 24-hour, staffed Aircraft Rescue and Fire Fighting (ARFF) station, which provides rapid response to events on and off the field for the City of Watertown. In addition, there is a military shooting range on Airport property, leased by the South Dakota National Guard.
The Airport is also home to the Lake Area Technical College (LATC) Aviation Annex. Founded in 1965, LATI was the first technical school established in the state of South Dakota. In 2017, LATI won the Aspen Prize for Community College Excellence, which recognized the school as the number one technical school in the nation. The LATI Airframe and Powerplant (A&P) program averages about 40 students a year with local, regional, national, and international students, and its graduates have been highly sought after in the industry throughout the country.
The College also has a professional fixed-wing pilot training program. Pilots completing the curriculum graduate with a minimum of 250 hours and commercial pilot, single, and multi-engine ratings. Students also have the option to earn a Certified Flight Instructor rating which can accelerate their progress towards a career as a professional pilot. The College is also exploring the possibility of expanding its flight program to include rotorcraft (helicopter) and drone training sometime in the future.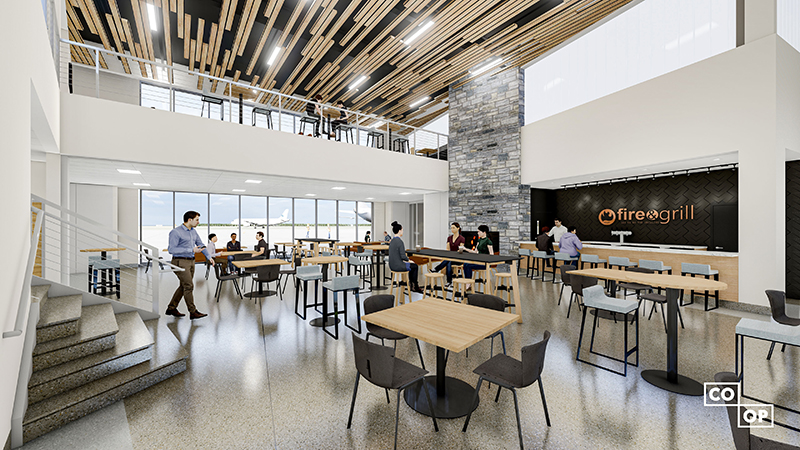 ATY Aviation is Watertown Regional Airport's family-owned and operated Fixed Base Operator (FBO). The Yost family acquired the FBO operation and recently celebrated their 2nd year in business in Watertown. John Yost is an experienced A&P IA (Airframe and Powerplant mechanic with Inspection Authorization) and a 1985 graduate of the Lake Area Technical College A&P program. It's a full-service shop with hangar space available for larger aircraft, as well as quick-turn service and de-icing options. In addition, flight training and CAA "Commercial Aviation Association" fueling has been added in the last year as another provided service. ATY Aviation has just added another 100'x120' hangar for more heated storage as the demand has grown. ATY Aviation has a passenger lounge with a great view of the Airport, public internet and workstation, a large conference room, and a pilot's lounge. The most popular that the FBO offers, however, may be the free ice cream they provide to pilots utilizing the facility.
According to Airport Manager, Todd Syhre, Watertown Regional is experiencing unprecedented growth and there are several expansion plans underway. This past summer, the commercial apron was replaced, and Syhre reports that bids requests went out in August to replace its aging commercial terminal building. "The current terminal is over 50 years old," he notes. "And with the growth we've seen in commercial service in the last few years, the old terminal is less than half the size needed. In addition, post 9/11 security changes and Department of Homeland Security and TSA requirements have well-exceeded the available space and design of our current terminal."
"The new terminal will be a new build in a different location to split general aviation from commercial aviation," Syhre continues. "And once they complete the new build, we'll move over to the new building and demolish the old building for more expansion in the general aviation field – for GA hangars, publicly-owned T-hangars, and, possibly, an FBO or a maintenance facility. Completion date on that project is December 2021, at a cost of roughly $12 million; $9 million of that came from supplemental funding from the FAA that we got awarded in late 2019. The extra $3 million will come from city funds and state and local match.
"In the new terminal, we're going to have a full restaurant. And we'll bring back the nostalgic '$100 hamburger.' (The $100 hamburger originally referred to the approximate cost of renting or operating a light, general aviation aircraft and the costs involved in flying it to and from a nearby airport for a bite to eat.) You can fly into the Watertown Regional Airport, enter the terminal building, sit landside, and have a burger and a beer; or, if you're flying commercially, you can go to the airside and order a hamburger and a beer in there, as well."
Located in an active industrial park, the new terminal design will respond aesthetically with aspirations of continued upward progress. Designed with floating channel glass over a precast base, it will allow translucent daylight to flood the terminal, providing a contemporary and impressive interior user experience. Interior wood and natural finishes provide warmth and reflect the outdoor beauty of the Watertown area. Lighting the channel glass from within will produce a glowing box at night, creating a unique sense of arrival – regardless if users are arriving via the newly designed vehicle approach and drop-off, or by air. The design collaboration of COOP Architecture and Mead & Hunt worked closely with the City of Watertown and the ATY Airport Board.
"Also, on the list of projects is completion of a new taxiway to create a full parallel taxiway to Runway 35," Syhre adds. "The FAA has been funding this type of project to remove any taxiway intersections with greater than 90-degree corners to reduce ground accidents and runway intrusions. So, within ten years, we will be moving Taxiway Bravo to line up with the parallel. Also, we're out of private hangar spots and we're looking to expand our private sector by early next year. We'll offer ground leases to private owners who'll build them."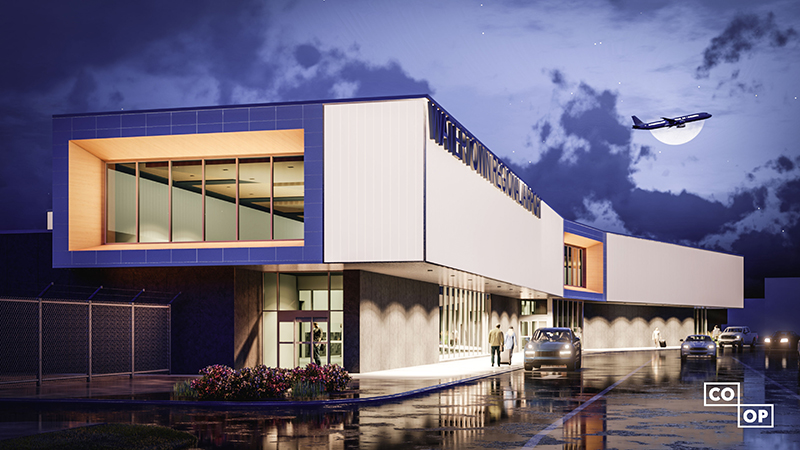 Syhre reports that the COVID pandemic substantially affected the Airport's commercial service. "We were down about 90 percent on enplanements," he says. "In February, before the pandemic, we were at record numbers; I believe were just over 1,700 enplanements. Going into the pandemic, we were at our lowest of lows with around 30 in April. People quit flying, so it impacted our finances pretty heavily. The CARES Act helped out quite a bit. They went off of 2018 enplanement numbers, and we were over 10,000 enplanements in 2018, so we were awarded about $1.3 million in entitlements. We're city-owned, so the city had to back us with a little more money than anticipated. But, I think, coming out of this, we'll be stronger than ever."
The pandemic has also halted the Airport's various air shows and events. In the past, Watertown Regional and LATI have hosted the Experimental Aircraft Association's Young Eagles program, which gives free introductory airplane rides to youths 8-18 years old in order to introduce them to aviation. They've also hosted annual glider events where powered and towed gliders from all over the region descend on the Airport for a weekend of flight, tours, and camaraderie. And in 2018, there was a demonstration by the Barnstormers, a group of open cockpit Travel Air biplanes built between 1927 and 1932. "We didn't have any air shows recently," says Syhre, "but we're hoping to expand that area when we get the new terminal built here in late 2021. So, we're looking at 2022-23 options."
AT A GLANCE
Watertown Regional Airport
WHAT: A public-use, commercial service airport
WHERE: Two miles northwest of the City of Watertown in Codington County, South Dakota
Lake Area Technical College – www.lakeareatech.edu
Lake Area Technical College, located in Watertown, SD is a number one nationally ranked, two-year college that offers 30 programs of study. The Aviation Division offers Associate of Applied Science degree options in Aviation Maintenance, Professional Fixed Wing Pilot and Unmanned Aerial Systems Pilot/Technician (beginning fall of 2021). For more information www.lakeareatech.edu.