Cariboo Regional District, British Columbia
Recovery to resilience
Business View Magazine interviews representatives of Cariboo Regional District, British Columbia for our focus on community development in Canadian cities.
Incorporated in 1968, the Cariboo Regional District (CRD) is a regional government in the Central Interior of British Columbia, consisting of 12 electoral areas and four incorporated member municipalities (Quesnel, Williams Lake, 100 Mile House, and Wells). The region covers almost 31,000 square miles from 70 Mile in the south, to just south of Hixon in the north; from the Cariboo Mountains in the east, to the Coast Mountains in the west; with a total population close to 66,000.
The Cariboo Regional District provides region-wide services, such as library services where all taxpayers in the District contribute to costs and have similar access to services; sub-regional services, such as recreational facilities, where municipal and rural residents supply the services in partnership; and local services, including street lighting and fire protection, where only local residents pay for the costs and benefit from specific services in their area. Williams Lake is the largest center with a population of 11,000, and Quesnel has 10,000. The cities of Kamloops (three hours south of Williams Lake) and Prince George (two and a half hours north) are the biggest centers outside the District.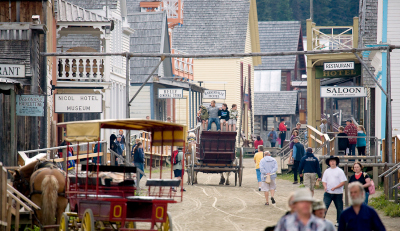 Situated in a territory laden with natural resources is both a gift and a challenge to businesses, citizens, and the 16-member Cariboo Regional District Board of Directors. Recent forest fires and pine beetle infestations have caused substantial losses, but the resilient people in the region want the world to know the benefits of living here far outweigh the struggles, because they face and conquer them together.
Margo Wagner, Chair of the Cariboo Regional District, shares an overview on the region's economic status. "Logging and the by-products thereof is our biggest economic driver: OSB mills, plywood lumber mills, hauling of pulp to the lower mainland for paper products, specialty wood manufacturers that do laminate and hardwood flooring. We have a lot of successful log home builders in the area, in fact, we're considered the main log home building area in western Canada. Williams Lake is also home to the Timber Kings of the HGTV television series. They used to bring in cedar for their amazing projects, but now they're using local fir."
There are also some substantial mining companies in the area, including a new business in the area, Barkerville Gold Mines. A potential new gold mine, the Blackwater project, is hoping to go ahead, once they've worked through wildlife legislation to protect the Caribou herd.
Tourism is a very big driver, also, even though harsh winters make it a relatively short season. Visitors do come for the snowmobiling and skiing, including heli-skiing; spring has the Indoor Rodeo in April, and Alaska Traffic in May; there's a lot to do in July and August; and autumn brings an active group of hunters from out of province and the lower mainland who contribute to the tourism coffers, as well. The Cariboo Regional District also has a large agricultural community with sizable ranching operations in the grasslands.
Transportation links are an asset to the region's industrial base. "Our wood production areas are definitely industrial," says Wagner. "Raw logs are trucked in and the finished products go out by truck, and sometimes train. There's a very good trucking business that runs 'Super Bs' – flat-bed trailers loaded with lumber, joined together, and pulled by one truck. They drive down to the coast, where the lumber is put in containers, taken to the docks, and shipped overseas."
In 2017, massive forest fires devastated the Cariboo region, and floods and invasive pests are an ongoing threat. At times, the Cariboo Regional District seems controlled by the whim of nature. Wagner shares, "In the fires last year, we lost 2.5 million acres of forest. At one point, we had more than half our residents either under an evacuation order or on alert. The communities of Williams Lake and 100 Mile House were both evacuated and closed. Our emergency operations center was on the go for 77 days. A huge percentage of the fires were started by dry lightning. If we could have felt the heat of the sun filtering through the smoke, it would have probably been the hottest summer for many years. And we didn't get rain."
The region is currently in the throes of a Douglas fir bark beetle and spruce bud worm infestations. It's a natural happening, controlled for many years by 40 below zero winters that killed the insects. But the fact that the Cariboo doesn't get those extended frigid temperatures, anymore, has exacerbated the problem. The forests are filled with dead pine trees that have blown over through the years – perfect fuel for a dry lightning hit.
Wagner adds, "During the fires, businesses closed, people were uprooted, homes lost, and when everything got back to as normal as it ever did that fall, a lot of people who were in rental accommodation had found other places to live and work and chose not to come back. Our businesses have really struggled to get employees back in their stores. We wouldn't be as far along the road from recovery to resiliency without the Red Cross, the Samaritan's Purse, the B.C. government, and other organizations that came through for us. They helped residents with no insurance build a home, assisted with mental health support; it was a traumatic time for everyone."
So, what's the answer going forward? Darron Campbell, Manager of Cariboo Regional District Community Services believes, "Unfortunately, when you have a massive event like we had last year, it's hard to rebound from. The media had us on fire until Christmas, and that wasn't so. We need to use the press to demonstrate the opportunities that exist here. Our goal is to encourage people to come to the area and invest, by offering them affordability, an enjoyable lifestyle, competitive wages, climate – we often get linked to the cold north, but we're in the central interior, on the same latitude as Red Deer, Alberta. We're on transportation corridors; a major rail line and two major highways. The cost of doing business in this area is an advantage in itself. The cost of land, availability of skilled labor – we really see ourselves as an untapped market."
The lower B.C. mainland and the Okanagan region are saturated with residents and entrepreneurs. The Thompson-Nicola areas directly south of the Cariboo Regional District are becoming expensive and full. "So, now is the time for the Cariboo," says Campbell. "We are the next area of the province that's available. Housing is affordable, a lot of younger residents are moving here from Vancouver, Edmonton, Calgary – they can sell their house there for several hundreds of thousands of dollars, buy a nice home here on lakefront property, from $350,000 and up, and live mortgage-free. We have bus access to schools in each municipality, and relatively good internet service for conducting business online. If you're not looking at this region, 20 years from now you'll be wishing you had. That's the message we want to convey."
Tourists come for the recreation: the fishing, the lakes, boating, hiking, camping, horse-back riding. There have been huge trails developed for mountain biking, thanks to the Northern Development Initiative Trust Fund and other grants plus many volunteers. The sport has become extremely popular in the area. First Nations cultural events are another big tourist draw. Wagner says, "We have really worked hard to enhance our relationship with First Nations. We saw tremendous cooperation during the fires last summer and their help continues to be phenomenal."
Two major infrastructure projects have just been completed – a new $21 million West Fraser Events Centre arena complex in Quesnel, and a $15 million upgrade to the Aquatic Centre in Williams Lake. According to Campbell, "These are the biggest projects ever done in the Cariboo Regional District. We're making our own investments in the region and hoping that provides businesses and individuals with the confidence and stability to do the same. We use the word 'resilience' a lot, especially after the wildfire event. Recovery is directly connected to the event, whereas resiliency is an objective that exists whether there's an emergency or not. Big public projects like these put dollars into the economy and demonstrate that the communities of the Cariboo aren't going anywhere. They're not in decline, we're looking forward to growth."
Check out this handpicked feature on The Monterey Regional Airport – Competent and convenient.
AT A GLANCE
WHO: Cariboo Regional District, BC
WHAT: Regional Hub serving 60,000 residents
WHERE: Central British Columbia between Prince George and Kamloops
WEBSITE: www.cariboord.bc.ca
Gibraltar Mines Ltd. – www.tasekomines.com
The heart of Taseko beats strongest in the Cariboo-Chilcotin region, an area rich in minerals, steeped in Canadian mining history and the location of the famed Cariboo Gold Rush. Gibraltar, a copper-molybdenum mine, is the second largest open pit copper mine in Canada. Gibraltar is among the largest employer in the Cariboo-Chilcotin region, employing approximately 700 people.
Barkerville Gold Mines – www.barkervillegold.com
Barkerville Gold Mines (BGM) believes that success is built on partnerships. BGM's strategic vision of staged production, strong organic growth program and sustainable development is our commitment to the long-term prosperity of our partners and communities in the Cariboo. BGM is proud to be part of the rich mining heritage in the Wells – Barkerville area and looks forward to expanding our contribution to the Cariboo region for many years to come.