Fountain Hills, Arizona
All that is Arizona
Business View Magazine interviews representatives from Fountain Hills, AZ, as part of our focus on best practices of American towns and cities.
The Town of Fountain Hills, Arizona is a vibrant, growing desert community in the northeast portion of Phoenix's "Valley of the Sun." Before 1970, Fountain Hills was part of one of the biggest cattle and land holdings in Arizona. An upscale suburb, Fountain Hills is known for its stunning scenery, world-class golf, trendy dining, shopping, and art galleries. The town is ideally located about 30 minutes from Phoenix Sky Harbor International Airport, and near picturesque lakes, vast nature preserves, and many historical sites, some of which are in nearby Cave Creek and Scottsdale.
The Town is surrounded by gorgeous views of Four Peaks, the McDowell and Superstitions Mountains, but there is no doubt that the centerpiece of the community is what was once the world's tallest, human-made fountain. The captivating water feature sits in the middle of a beautiful lake, surrounded by a huge park at the eastern end of the famous Avenue of the Fountains.
One of the town's major recent developments is the Fountain Hills Medical Center. John Wesley, Fountain Hills' Development Services Director, recounts, "In the Southeast portion of our community, there is a new 12,000-square-foot hospital facility under construction. This is the first such facility in the town. It will provide hospital care to our residents, as well as the surrounding areas."
Wesley adds, "The hospital is in the first phase of construction, and an additional phase is planned to bring the total facility to about 42,000 square feet, including 20,000 square feet devoted to medical office buildings. The first phase will be open by early next year, and will move into the additional phases in subsequent years. So, in a couple of years, we hope to have this facility fully developed."
James Smith, Director of Economic Development, adds, "This hospital is an important part of Fountain Hills, and we look forward to having the facility provide quality healthcare to the community. We are also hopeful that this hospital becomes a part of a larger medical corridor, along with the Mayo Clinic, and that it spurs more medical uses in the area."
Fountain Hills is growing at an average rate of 1.3% annually with a total population increase of 11.9% since the latest census. According to Smith, "The population of Fountain Hills is around 25,000, and it is growing. The town has witnessed a stream of new housing permits, including multi-family units, despite the pandemic and ensuing economic challenges. So, people are investing in and moving to Fountain Hills, which is great for the area."

The town's primary source of tax revenue is local sales tax along with state-shared revenues from the State of Arizona, which distributes a portion of state tax revenues to cities and towns based on their populations. There is no primary property tax in Fountain Hills. Smith notes, "We are a residential community and have a lot of smaller, mom-and-pop employers in the area. Fountain Hills also has a business incubator housed in a former elementary school. The facility is home to the only company in the US that manufactures watch movements.
Infrastructure projects to enhance the town are ongoing. The town is celebrating the 50th anniversary of the fountain, and improvements are being planned to the fountain's infrastructure. Another project is along a major corridor in Fountain Hills that connects Shea Boulevard with the Town Center. "That stretch is being widened," says Wesley. "Another interesting development is that Fountain Hills is getting its first roundabout. That is currently under construction."
Cities and towns everywhere are rejuvenating and reimagining their downtown areas to attract a younger generation of workers who are less inclined to want to live in a large house in the suburbs and are more interested in renting than buying. Many municipalities are revising their zoning ordinances to allow for more residential properties than commercial ones, and widening sidewalks to create more walkable neighborhoods. This paradigm also exists in Fountain Hills.
Wesley shares, "Fountain Hills was established as a master-planned community and was initially planned to grow to a population of around 70,000. Soon after the start of construction activities in the town, authorities approved lower density zoning. In the initial planning, there was a lot of commercial area designated in Fountain Hills. With the lower density there is not a need for as much commercial property and a need to encourage more mixed-use development. We have taken a step, recently, to amend our zoning ordinance. We have an overlay that impacts the main downtown. In the past, the ordinance allowed mixed-use buildings to have residential units above the commercial. However, for some reason, the number of residential units was limited to a maximum of eight units per acre, which was a bit low. The ordinance was revised to increase the number of residential units per acre."
New development in downtown Fountain Hills include a contemporary and trendy four-story mixed-use project. There is no doubt that the ground floor commercial activities, clean lines, workout facilities, and modern colors will play an essential role in attracting tenants, especially young ones. "Another one of our big projects is adjacent to downtown along Avenue of the Fountains," says Wesley. "It is an apartment project which is under construction. However, it is a different type of project than you usually see as it is comprised of detached, individual units. They are more like individual homes, so they offer you the best of both worlds. They give you the freedom of being a renter with your property being taken care of, and you can leave anytime you want, but you have the privacy of not sharing common walls. The developer will start leasing units about one year from now, and we are excited to see that."
Smith elaborates, "In terms of a younger population, we believe, our downtown is appealing with multi-family projects that are modern and new, in walking distance to art galleries, unique restaurants, and wine bars. This unique environment, which is in close proximity to natural beauty and outdoor recreation, is one that the younger generation will find attractive and desirable. "
Another attraction that brings the young and young-at-heart to Fountain Hills is the nearby We-Ko-Pa Casino – a new state-of-the art gaming, entertainment, and dining complex that opened at the end of October to replace the Fort McDowell Casino. The 244,000 square foot facility has an expanded casino area with a garden court and new high-end dining options.
Fountain Hills has a wealth of attributes that add to its popularity. Smith highlights, "I think Fountain Hills is a very unique, small-town community within a major metro area that offers spectacular views of the valley with quick access to many outdoor activities, such as hiking, biking and golf. The area also has a very vibrant and rich art scene with some major art festivals." For example, Fountain Hills Artists' Gallery is one of many artist-owned cooperative galleries showcasing the fantastic works of over forty artists from throughout the Fountain Hills area working in a variety of mixed media. Note that this gallery is operated on a daily basis by the artists, themselves, and allows visitors to meet the innovative creators of artworks on display. Some of the mediums on display are ceramics, acrylics, fiber art, jewelry, glass, photography, sculptures, and oil paintings.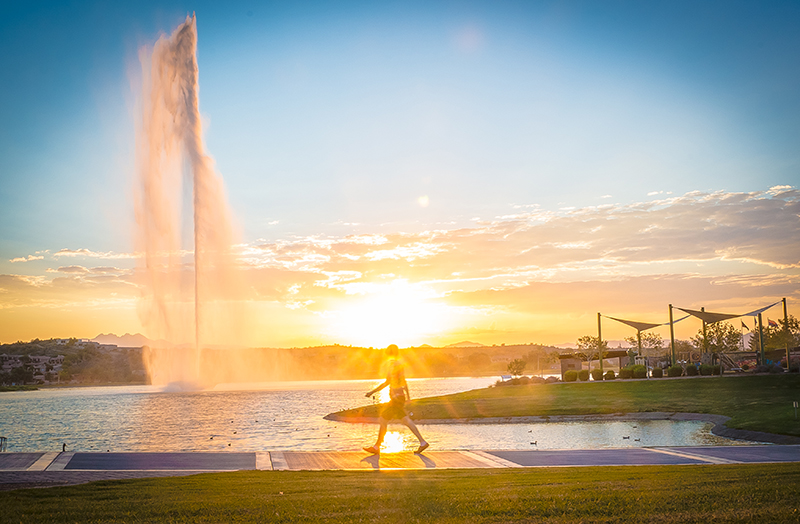 Wesley chimes in with his own insights: "Our tightly knit, small community offers many recreational activities and values its hiking trails and opportunities for biking. Also, the mountains on the west of the town screen us from the rest of the metro area. The town encourages the use of low impact lighting, which contributes to its recognition as one of approximately 30 Dark Sky communities in the world. An International Dark Sky Discovery Center, which would include an observatory, exhibit hall, planetarium, and auditorium/theater facility, is in the planning stages."
The town recently updated its general plan, which will be on the ballot for consideration by voters in November. Wesley stated, "I have been doing planning work for almost 40 years and have been a part of a number of communities. When I compare Fountain Hills to the other communities I have worked with, I can say that Fountain Hills is truly unique and different."
Fresh air, good health, and outdoor recreation are plentiful in the community, especially at Fountain Hills Desert Botanical Garden, where a wonderful half-mile trail weaves past exciting rock formations, desert plants, wildlife, as well as the P-Bar Ranch campsite. The Town of Fountain Hills has transformed into a bustling hub for businesses, residents, and visitors – truly something for everyone.
AT A GLANCE
Fountain Hills, Arizona
WHAT: A town of 25,000
WHERE: In Maricopa County, northeast of Phoenix
WEBSITE: www.fh.az.gov