FCP Euro
More than just auto parts
Business View Magazine interviews Scott Drozd, and Alex Frank of FCP Euro, as part of our focus on best practices in American business.
FCP Euro, located in Milford, Connecticut, is an online retailer of automotive parts specializing in Genuine, OE, and OEM replacement components for popular European brands including Volvo, BMW, Audi, Volkswagen, Mercedes, Porsche, and Saab. Their customers are European car enthusiasts who maintain their own vehicles and purchase parts directly from the company via its website.
FCP Euro originally began as a small, brick-and-mortar auto parts store in Groton, Connecticut owned by Kathy and Harry Bauer, the parents of current FCP Euro President Nick Bauer. Nick teamed up with his lifelong friend Scott Drozd, FCP Euro's current CEO, and bought the brick-and-mortar store from his parents in 2001, transforming it into an online eCommerce retailer by the early 2000s. "By 2014, we had grown the online business to about $18 million," explains Drozd, "and that year, we moved into a new facility in Milford, CT."
In 2016, Drozd and Bauer launched a motorsports program to better solidify FCP Euro's brand in the marketplace and to accelerate the company's growth by building strategic relationships between manufacturers and vendors participating in the motorsports and racing arena. Initially, they campaigned a BMW E30 in American Endurance Racing events, an amateur series for production-based race cars. In 2017, "we compressed the build of our Mercedes C300 Endurance Car down to two months, and won the first race we competed in," Drozd recounts. "Our team went on to finish 2nd out of 139 teams overall in championship."
"Last year, we put a pretty big emphasis on kicking off our in-house amateur motorsports program," adds Alex Frank, FCP Euro's Vice President of eCommerce. "The idea was to support community efforts and a catalog that we already spent a lot of time developing. Last year we raced from Ohio down to Atlanta. This year, however, we've gone from Lime Rock Park in Connecticut to Portland International Raceway in Oregon. We've done Utah, Oregon, Texas, Virginia, Connecticut, and Watkins Glen in upstate New York, and next year, we have a race in Michigan and California, as well. Rolling into 2018, there were new vehicle makes – in particular, Volkswagen and Audi – that we saw a lot of potential in. We thought that they could become significant parts of the business. We also knew that there was a bigger community across the nation that was not yet familiar with us."
The company chose to focus on one of Volkswagen's most popular models – the Golf, more specifically the GTI. "The reason we chose them was that we were concurrently building the eCommerce catalog for VW and Audi in order to better service those customers," Frank explains. "Frankly, there was a major cataloging effort and a major motorsport effort to introduce us to a lot of new customers across the country and we took advantage of it. We expanded our reach and got in touch with many groups we were not involved with in previous years. The result is that the company is on a trajectory to reach about $50 million in revenue for 2018, and we've seen several months with over 70 percent growth year over year."
Frank notes that the company's recent growth has put a strain on its operational capacity, but that it has met the challenge by revitalizing its processes with new automated procedures while simultaneously growing its staff from 40 to 74 employees.
"We've implemented automation into our distribution center," he says. "We now have a conveyance system that runs through the entire outbound department to make sure that all these orders coming in are all being efficiently picked, quality checked, and packed promptly. The automation also includes a categorization of the parts on the shelf, which is now done algorithmically. We built a system that identifies where parts should be located in proximity to each other, to make sure they are picked as quickly and efficiently as possible.  The distribution center has been fortified with those technologies and those teams have close to doubled in capacity. The service team, as well, has been scaled up nicely – they're talented ASE-trained members – and even our purchasing department has a new proprietary artificial intelligence system that helps support the growth. We want to make sure that we're not just adding people – we're adding technology to support the people who are already here."
Frank also reports that as FCP Euro continues to grow – it expects to gross $100MM by 2020 – it's looking for ways to diversify. "We're a remarkably strong eCommerce company with a healthy network, but we're looking at some of the other things we have good access to," he explains. "We have talent in the door that is incredibly proficient at motorsports and content, and we're realizing that we're really good storytellers. So, in the next couple of years, we're going to be diversifying into a production house called DeadPedal, which is a themed production house specializing in automotive storytelling – taking the talent from our content team and enabling them to become a secondary revenue source."
"In order to support them, we're also looking at the physical space we're operating out of," Frank continues. "In the next six to twelve months, we will be fully operational in an expansion to our current facility – an extension of our distribution center and offices. It's going to have a several thousand square-foot motorsport facility with a built-in studio. It's going to have a large community space where we can hold meetings and training and events, and it's going to have a small distribution center expansion alongside an updated customer-facing, retail pickup space where customers can place an order online, pick up their parts, and be on their way without having to pay for shipping."
Scott Drozd talks about other ways in which the company has grown. "We were recently accepted into the Pronto Association," he reports. "The Pronto Association is one of the largest automotive buying groups in the world. They have multiple billions of dollars of purchases that flow it. That's been a key to sourcing products at a cost-effective rate and managing some of our cash flow. We've also introduced FedEx into our shipping portfolio. We already do business with UPS and the U.S. Postal Service, but FedEx has become another partner of ours, adding to our growth and our customer satisfaction options. We've also brought on Capital One as a partner for some of our business cash flow and financing needs."
More importantly, however, FCP Euro has grown in ways that transcend enlarged spaces and new business partners. "We knew we had built a strong eCommerce company with great fundamentals, and I'm happy that it has taken shape," Drozd states. "We not only started building a brand through grassroots motorsports enthusiasts, but we built a brand, internally, with our culture. We've found a way to integrate the automotive community with our culture and our content, and it's coming together quite nicely.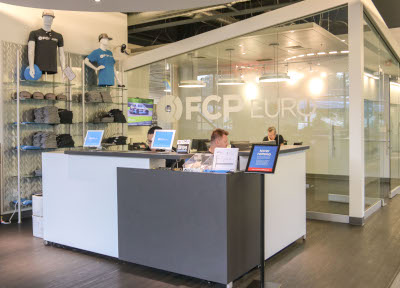 "It's been 18 years of deliberate and consistent hard work. We learned along the way how to build an organization and how to get the right people, how to prioritize and focus. But, ultimately, it all comes down to alignment. It's not just about getting the right people behind the organization's vision and values, it's making sure they're all aligned and rolling in the same direction. Once you achieve that cultural alignment, then amazing things start to happen and the work and the growth seem effortless.
"There are four components: content, community, commerce, and customers. We build really great content; that content is driven from engaging with the automotive community. We take the content and we marry that to our ecommerce model, and then we make sure we back that up with truly exceptional customer service. So, we're really creating an integrated environment that's both externally and internally focused. It's helped to give the company the momentum to get it where it is today.
"Long-term, the company is going to be much more than just an organization that sells a product," says Drozd, in conclusion. "We are going to be enabling and empowering people who own cars to repair and fix them, themselves. We've already invested heavily into YouTube where we have over 40,000 subscribers with almost 10 million views on the channel. We publish DIY videos every week, which are well-produced, crisp, clear instructional videos that shows the end user how to repair their car, but also lets them know that we are a technically accurate resource they can trust to help get the job done. In the future, there are going to be a lot of other value-adds, such as virtual diagrams and fleet management services, that give people more tools they need to fix and repair their cars. We're going to be supplementing the parts sales with other value-adds and more holistic solutions for the automotive community."
You can see our previous article (September 2017) on FCP Euro here.
Or check out this handpicked feature on The Schaefer Group – Innovation and invention.
AT A GLANCE
WHO: FCP Euro
WHAT: An online, foreign car parts dealer
WHERE: Milford, Connecticut
WEBSITE: www.fcpeuro.com
Capital One Spark Business – The Capital One Spark Business award-winning suite of products, tools and resources is designed to help businesses of all shapes and sizes do business better. Our Spark Business credit cards offer valuable rewards and benefits, including unlimited 2% cash back on all purchases. Learn more at www.capitalone.com/small-business/credit-cards/