Cape Fear Regional Jetport
Truly unique
Business View Magazine interviews Howie Franklin, Airport Director at Cape Fear Regional Jetport, as part of our series on American regional airports.
Cape Fear Regional Jetport is a public use airport in Brunswick County, North Carolina, located one nautical mile northeast of the central business district of Oak Island, which was formerly called Long Beach. The idea of an airport in the region was originally promulgated by two local landowners, E.F. Middleton and G.V. Barbee, who believed that it would help facilitate visitation to the area's good fishing sites and bolster its resort opportunities.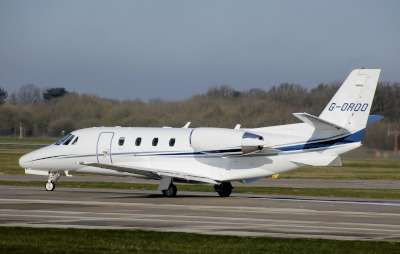 "They went to the Brunswick County commissioners, and told them their idea, and the commissioners said, 'Okay, but leave us out of it,'" explains Airport Director, Howie Franklin, who came to Cape Fear in 1994 after 29 years in the U.S. Air force, 24 years at Andrews Air Force Base Special Missions Operations, and 18 years on Air Force One. "For that reason, we ended up being created as an independent municipality by the North Carolina General Assembly in May, 1961. It was a grass strip for quite some time, but even then, there were about 12 planes based here and it was pretty active. The drawing card was great weather and 60 miles of beach. So, more and more aircraft kept coming in. In the early '70s they ended up asphalting 4,000 feet of runway."
"We went from 4,000 feet to 4,300 feet and 100 feet wide, and we picked up more traffic," Franklin continues. "The economic impact, according to a study from North Carolina State University, was $4 million a year. Several years later, we extended the runway to 5,505 feet and we jumped to $64 million in economic impact. Then we went to a parallel taxiway and the economic impact went to $250 million a year. Right now, according to the FAA, we're the 4th busiest airport in the state out of 67 GA airports. 70 percent of travelers still go to Oak Island, so those gentlemen's vision about an airport supporting a fish camp or resort community was very true."
Today, the Cape Fear Regional Jetport is administered by the Brunswick County Airport Commission. It has three full-time and six-part-time employees, and Franklin says it operates in the black. "GA airports have to be diversified," he explains. "You can't make money on just airplane fuel; you had better bring in revenue from as many different locations as you can. We have two aircraft maintenance shops. They're doing very well and making a good profit; they're honest and they do quality work. We have a skydive operation – Coastal Carolina Skydive. We also have a very busy flight school that has seven instructors who are retired airline pilots. We have a helicopter flight school that's also doing well. We have regular fixed wing and helicopter air tours. In my terminal, we have Hertz, a real estate office, and next door, there's a building with a bait and tackle shop. I'm within $30,000 a year of all the bills being paid, without selling a drop of fuel. That's my goal. Everything that we sell in fuel will be over and above."
For capital projects, the Cape Fear Regional Jetport receives FAA funds and state grants. "I got a $3.5 million grant from the state to build a new 5,000-sq.ft. terminal building and to run a one-mile sewer line down to the location of the building," Franklin reports. "We got another $2 million to finish the project correctly. That's $5.5 million for the terminal, and the sewer and water line. We're moving our terminal from the east side to the west side. We have a big ramp over there, but it's not large enough. So, we'll be picking up another large grant to include that ramp space area. That ramp's going to be over ten acres."
Franklin adds that he will also be building more hangar space. "We're now building a 140X70-ft. hangar, that's filled up. We have a lot of sun, we have salt air, and we have sand, and they're all detrimental to aircraft. So, we need hangars. Luckily, the FAA is now allowing us to take grant money and build hangars. If you're going to give airports money, give them something they can generate revenue with – hangars and fuel farms. Out of the $5.5 million, I'm building a 100X100-foot hangar for another eight airplanes. I could fill no less than 40 hangars if I wanted to."
Franklin believes that the Cape Fear Regional Jetport's success is largely due to its location, its geography, and its climate. "We have a four to six-month season," he states. "In the winter time, the weather is the same as many more southern points, but in the summer, it's ten to twelve degrees cooler because of its location near the Gulf Stream. We're the closest thing to a California climate on the east coast."
He also expects the Cape Fear Regional Jetport to continue to grow, and has plans to purchase an additional 26-46 acres on its west side, to add to its 185-acre footprint, in order to accommodate more visitors who continue to come from all parts of the country for the good weather, the county's 39 executive golf courses, the fishing, and the area beaches. "It's a very, very unique location, with this south-facing beach," he declares. "You can stand on our beach in the morning with a cup of coffee and see the sun come up over the ocean, and in the evening you can stand on the beach with a glass of wine and see the sun go down over the ocean. We're truly an undiscovered resort area."
Check out this handpicked feature on Coastal Carolina Regional Airport – A topnotch facility.
AT A GLANCE
WHO: Cape Fear Regional Jetport
WHAT: A public use airport
WHERE: Brunswick County, North Carolina
WEBSITE: www.capefearjetport.com