Dryden Regional Airport
Your Northern Gateway
Serving the Needs of the Community to Grow the Region, Dryden Regional Airport 'lands' high-flying plans
As you fly over the Wabigoon Lake, sunlight beaming off pristine blue waters while thousands of shades of green dot the landscape of Northern Ontario, you can find yourself lost in the beauty. This same natural splendor will surround you still as you land in Dryden. This is the second-largest city in the Kenora District of Northwestern Ontario, and since 1910, when it was first settled for lumber, it has grown into a pulp and paper industry. The city is halfway between Winnipeg and Thunder Bay along Highway 17.
Dryden today is a place where you can blaze your own trail – just imagine strolling along the waterfront, or snapping a photo with Max the Moose, a huge roadside attraction and statue that has become the town's mascot. You could enjoy a hike on one of the many urban trails, go shopping, or indulge in incredible hunting and fishing. Dryden is where the rugged beauty of Northwestern Ontario meets the bright lights of city life and is the transportation, business, and service hub for the surrounding area.
"An overview of the airport and how it came to be," begins Pat Hoag, Airport Manager for the Dryden Regional Airport, "We are in the middle of two major cities, in two provinces, Ontario and Manitoba, and right in the heart of Northern Ontario. The airport is about 10 kilometers North of the city and was built in partnership with the town of Dryden and the Department of Transport back in 1969."
"Airport ownership was transferred to the municipality in 1996. At that time, we operated multiple airlines with passengers flying regularly, Dryden was a hub for travelers in Northern Ontario. In addition, we also had commercial freight flights. Like all airports around the world, Covid hit hard.  We are on the road to recovery:  we have the safety systems, beautiful terminal and convenience of air travel ready to go," he continues.
Dryden Regional also supports the region as a transportation hub for firefighters who work on Forest Fires throughout the country. This year the Ministry of Natural Resources (MNR) has flown 737s from Dryden to transport fire crews to Alberta and British Columbia. Dryden has also been a haven for communities further north, Hoag says, "we have acted as the transportation hub where evacuees can fly into Dryden on smaller aircraft and then load them onto larger 737s to fly to urban areas where they can be temporarily housed."
He goes on to explain that the airport is on 238 hectares of land, with a 6000-foot precision approach runway with ILS capabilities, allowing them to accommodate a multitude of different aircraft up to a 737-800. There is a terminal with 1100 square feet.
Pat is a key employee at the airport and long-term employee at The Loomex Group https://loomex.ca/.  (The Loomex Group is an aerospace operations firm that currently manages six other airports in Ontario including Greenstone, Nakina, Kawartha Lakes, Peterborough, Earlton, and Detour Mine.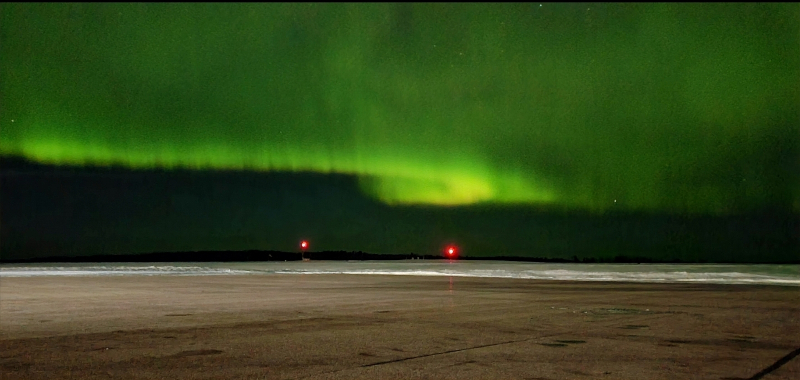 Along with The Loomex Group, Morgan Aviation is a critical service at the Dryden Airport. "Morgan is our FBO supported by World Fuels," Hoag explains. "They provide all the fuel services and support, as well as a small lounge for pilots.
Bearskin Airlines began in 1963 by providing charter services to the remote First Nations reserves in northern Ontario, using bush planes equipped with floats in the summer and skis in the winter. Today at Dryden Airport regular passenger services turn to Bearskin Airlines for everything from flights and baggage handling to chartered flights by anyone who requires it. We see a lot of cross-country flights from aircraft of all sizes."
"The goal for the Dryden Airport is to increase scheduled passenger traffic as we were before COVID," Abdullah Al-Maltrook, Marketing & Communications Manager at Loomex states.
"Airports enable economic growth in cities, so we know a strong airport means a strong local economy". With world-wide concerns for the economy, we want to ensure the airport is known for contributing to the community."
Al-Matrook continues, "tourism is strong in Dryden, offering vast trails to explore and avid hunting and fishing camps. These are very important components of our community involvement and sources of economic stimulation.
Recently, Dryden Regional received funding from Northern Ontario Heritage Fund for terminal improvements making the passenger experience convenient and modern.
The airport supports several industries including MAG Aerospace Canada, Ministry of Natural Resources and Forestry (MNRF) Fire Management Headquarters, Northern Youth Programs, Expedition Helicopters, Provincial Helicopters, Wilson's Business Solutions, National Car Rental Service, and NAV CANADA.
"We have space both airside and groundside for leasing," Hoag explains, "and are always looking for good neighbors and commercial opportunities."
"Our top initiative is increasing the passenger experience and travel through the airport again," Hoag concludes. The City of Dryden has incredible assets in the airport, it is a hub for critical healthcare, safety, economic stimulation, and hosts community events- what more could you want! Come out, let's put us on the map!"."