Cortez Municipal Airport
Gateway to a great community
Business View Magazine interviews Jeremy Patton, Airport Manager at Cortez Municipal Airport, for our focus on Regional U.S. Airports
The city of Cortez, Colorado has a fascinating history that goes back thousands, if not hundreds of thousands of years. The Capote and Muache peoples settled these valleys and mesas before recorded time, making it and the nearby Mesa Verde National Park and Crow Canyon a national historic treasure. The city, itself, now boasting 9,000 people at the centre of Montezuma County, began In 1886 and was named for Spanish conquistador Hernán Cortés.  It was built as a town to provide housing for the men working on the tunnels and irrigation ditches required to divert water out of the Dolores River and into Montezuma Valley.
The city is a place of tradition, built on tradition– and that goes for the local Cortez Municipal Airport, as well. The airport is actually pre-dated by its FBO, Cortez Flying Service, that began in 1948, well before the City of Cortez had an airport. Vic Reynolds, a World War II bomber pilot, was encouraged by Rollin and Polly Usher to come to Cortez to start a flying service and in 1955, Reynolds, Herb Rose, and Milt Bettis formed Cortez Flying Service. They built the current office building, maintenance building, large hangar and some T-hangars and then moved in when the runway was completed. After 30 years these buildings reverted to the city and now Cortez Municipal Airport is a city-owned and operated organization – still serviced by the original FBO that started it all.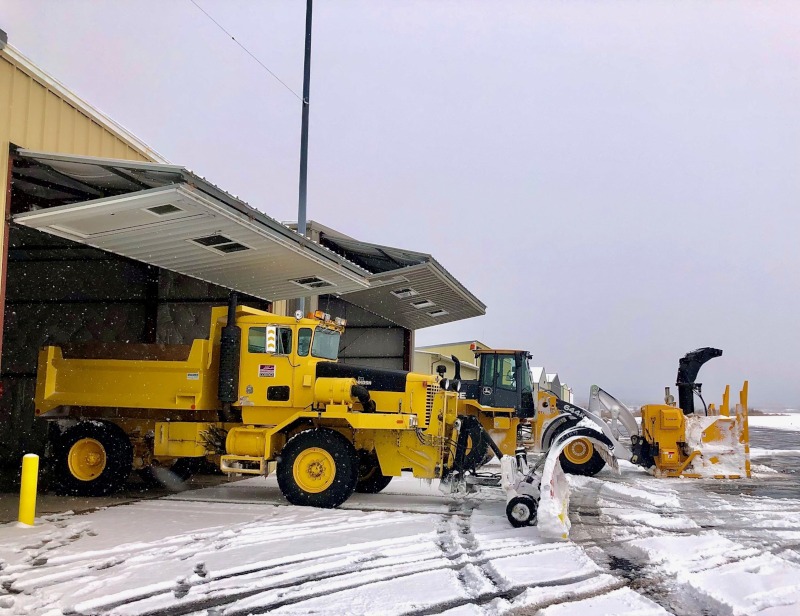 "Today we are a small airport that is bursting at the seams," says Airport Manager Jeremy Patton, "This is an agricultural, ranching, and mining area – but it has also become a tourist destination. We are in Southwest Colorado with a mix of high-altitude mountains, Mesa Verde National Park, a substantial network of Indian ruins, and Colorado's fifth largest body of water, McPhee Reservoir."
Cortez Municipal Airport covers 622 acres at an elevation of 5,918 feet, with one 7205-ft runway and just shy of 10,000 operations per year. Twenty-six aircraft are based at the airport, as is a small commercial service, Boutique Air, which currently flies four times a day to Phoenix and Denver. Also on-site are a flight school, charter service, fuel service, and a mechanic – offering all the amenities of a General Aviation airport. Patton took on the role of Manager in January 2021, as one of two busy employees who manage the overall day-to-day operations, plowing, mowing, maintenance, and administration.
Patton reports, "We are just getting underway with thinking about where to go next. Our first step is to create a new 10-20 year Master Plan over the next 18 months. We are currently working with an engineering consulting firm, Armstrong Consultants, Inc. for the layout plan and project engineering, as well as Jacobs Engineering whom we have used for several years. What we hope to be working on first is a lot of projects that were already listed in previous plans but never realized, such as extending our taxiway and taxi lanes for hangar development, as well as trying to get commercial and private development."
There are also plans to relocate the terminal to the northwest side of the airfield and make it a much larger terminal. Additionally, the runway is slated for resurfacing soon, at which time it will be made compliant for regional jets. Patton explains, "Whether we get commercial "jets" or not, we plan to scale everything up to make sure we meet all the requirements. We hope to recertify our Part 139 compliance, and then no matter what happens we are ready for it."
Some other recently completed projects include building three new helipads, as well as a substantial redo of the ramp area and taxi lanes. This allowed for more room for tie-downs and created stronger shoulders for larger aircraft – to help scale abilities for the airport to see potential development with larger planes.
Cortez has seen a huge increase in operations this year due to an unexpected source – COVID-19 vaccines. People from larger cities, as far away as California and Florida, who cannot get access to vaccines have been flying into Cortez to take advantage of the lower population and therefore lower wait times. Colorado Health Department data shows that by the end of March 2021 about 43 percent of Coloradans who had received their first doses, and had addresses on file, got those shots outside of their home county. The state also vaccinated more than 20,000 people from out of state. It is a temporary uptick in terms of airport usage, but an interesting one to be sure.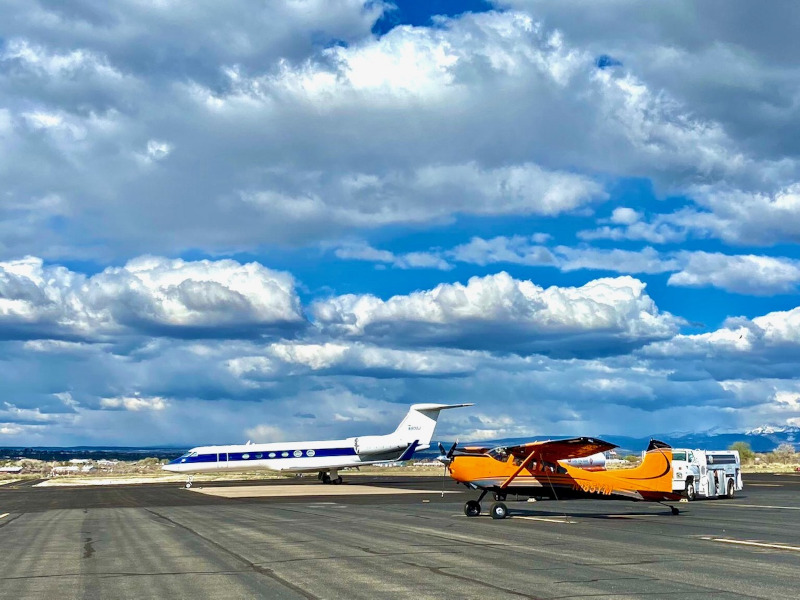 Another significant amount of tourism traffic comes in and out of Cortez Municipal Airport as a result of nearby Dunton Destinations – a collection of extraordinary, secluded, unique resorts and homes. It's actually a former mining settlement that was purchased in its entirety and completely reimagined with authentic, immersive experiences in stunning natural surroundings. Patton shares that Dunton Destinations is "a great asset to the region" and contributes to a large amount of private/charter aircraft movement at the airport.
"All this highlights the potential for development," says Patton, "and is allowing us to see that there are other possibilities. We have begun working with Mesa Verde County and Chamber of Commerce, as well as the CREA (Cortez Retail Enhancement Association) to get more advertising and tourism work done. The truth is there is room for expansion on the airport, and room for business expansion on the west side across the road from the airport, where there are three pieces of commercial real estate currently for sale."
The only limitations are on the east side of the airfield, the southwest side has a lot of usable land which would be easy to develop for commercial businesses or private hangars. "The north is going to be the new terminal, parking, and maintenance facilities," says Patton, "but there is much room for development, and business is really picking up in this area. Because we currently have no available hangars, and a long waiting list, we are also looking at new land lease agreements. We're working on developing an architectural review committee that will better facilitate those inquiries and decide what is needed. We want all our future development to be streamlined, effective, and in keeping with our new Master Plan."
There is a sense that multiple revenue streams are needed, and the realization that they often come from unexpected sources. This year, for example, saw several regional agencies, like the fire and police departments, doing driving training on the runway or helicopter training on the new helipads. This has included the TSA, the Sheriff's Department, EMS services, and the community college doing their police training. Patton notes, "The Civil Air Patrol flies out of here, as well, and each summer the Bureau of Land Management sets up a tanker base here for wildland firefighting. Classsic Air, based out of Southwest Memorial Hospital, utilizes the airport several times a week. So a lot is going on. And there are other avenues we can be reaching out to – for example, if the airport got more involved with the local schools, we could promote flying to the younger people and help them to see all the potential and career opportunities that exist."
There are many smaller projects on the go, as well, as Cortez Municipal continues to grow. They are updating the gate systems, increasing security measures, bringing in a fiber optic line to allow for broader network and Wi-Fi use, and eventually switching all the lighting over to LED. Cortez Municipal Airport presently has a solar project underway; installing solar panels on the roof of the terminal and maintenance buildings. They may even build a self-serve fuel station, as right now fuel is trucked to the planes.
"I am also working on an in-house terminal remodel project that will be taking place this summer," says Patton, "which will involve painting, replacing the carpet with vinyl-wood flooring, upgrading all faucets and fixtures to touchless, refacing the ticket counter to stained wood slats and a glass surface, upgrading Boutique Air's signage, and improving the promotion of local news and business. This airport has a lot of potential to be a gateway to a great community. There is tourism, there is education, there is flight training… but there is also opportunity for flight shows, car shows, and community events. We haven't really done things like that in the past and anything is possible. Many people in the surrounding area may not know that we're here, or that we have an airline service, and that we're well on our way to providing a lot more service in the future. We're going to raise our visibility so everybody can see the potential."