Allocco Recycling & GreenChip E-Waste & ITAD Solutions
Not your typical recycler
Business View Magazine interviews representatives from Allocco Recycling as part of our focus on best practices of recycling companies.
Founded in 1989, the Allocco family of companies includes a wide range of traditional waste services covering the NY Tristate Area, including scrap metal recycling (copper, aluminum, brass, wire, steel, ferrous and non-ferrous material), aggregate recycling, construction debris (CD), as well as facilities operating marine barge transportation. The company operates two transfer stations for aggregate and CD recycling, where it processes materials from private sanitation carting and utility companies. It also has a full-service scrap metal recycling facility where it purchases and processes scrap metal into feedstock for local steel mills.
In 2012, Allocco branched off its electronics recycling division into GreenChip Ewaste and ITAD Solutions to accommodate non-traditional electronic waste recycling streams. "We always did electronics recycling, but because of legislative changes in 2012, it made sense for us to branch off our electronics recycling capabilities for companies who have the need for electronic waste recycling, which encompasses a much broader solution," explains Managing Partner, Bill Monteleone. "We just rebranded it to Green Chip Ewaste and ITAD Solutions." Monteleone adds that Allocco also felt the time was right to move from a commodity-based recycling business with a relatively small geographic footprint, at a time when commodity prices were depressed. "So, we switched gears, over the years, and we brought our focus with GreenChip onto a national service with global IT Asset Disposition reach."
"We also did this to obtain certifications for standards that were becoming important in the electronic recycling industry, and which don't pertain to traditional waste stream recycling," he continues. "Part of that is because of the data that is handled with electronics recycling, or the need for data destruction. Also, what we call the 'focus materials' inside electronics, made it important to have certain auditable standards for recycling – the R2 (Responsible Recycling) Standard, which is audited by third parties and some of our customers. We are also ISO 14001 and OHSAS 18001 certified."
"We have a heavy focus on working with corporate clients with a service called ITAD – IT Asset Disposition," Monteleone explains. "IT Asset Disposition encompasses compliant, electronic waste recycling, compliant and thorough data destruction, and the resale and purchasing of IT assets from these corporations. Through recycling, we handle their environmental liability, and their data, which are both very important to their brand protection. Through resale, these materials are diverted from the waste stream. We also provide them with a return on the investment on their electronic assets which we purchase. More times than not, this whole solution becomes a plus for the corporate customer."
Today, GreenChip has 40 employees and operates from two locations in New York City. "We have 15,000 square feet in Greenpoint, Brooklyn and we have 20,000 square feet now in Astoria, Queens," Monteleone reports. "The Astoria location helped us get a little easier access to Manhattan and out of state. This allows us to have more processing capabilities of corporate customers' IT assets. We bring all the material from their corporate hubs to our facilities and we handle the recycling, the data destruction, and the IT asset purchasing. With that national reach, over the last year, GreenChip has expanded with a global partner network, where we do this for some Fortune 500 and Fortune 1000 companies. They want an ITAD company to come in and provide them with a cloud-based solution where, anywhere across the country and the globe, they can access our software, and schedule electronics recycling or an ITAD pickup with our network of properly vetted companies that hold the same certifications and uphold our principles."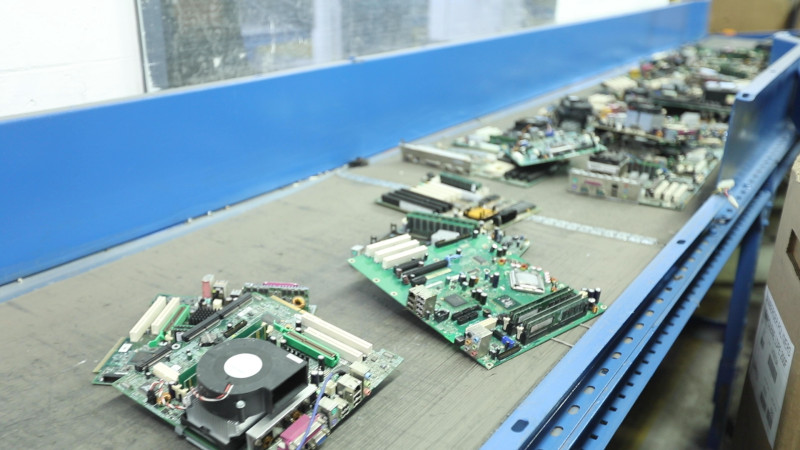 "There's a lot of legislation that applies to electronics recycling and compliance varies from state to state, so it's important to have a partner who can meet those compliances," says Lead Account Manager, Lee Srokosz. "We retain legal experts who maintain compliance for us in the various regions that we operate in. And that doesn't pertain to just the waste, itself – we're also handling customers' data and their customers' data, so that is a big concern and a potential liability that we eliminate for these companies, whether that's onsite hard drive shredding, data wiping, data decommissioning, or our auditable and customized reporting that we do for them. That allows us to maintain a complete chain of custody – not only for their data but for their environmental liability. With our network of recyclers, we have complete control over where that material is being sent and we regularly audit them to confirm that the material we're sending, once we process it, is going to be either end-of-life, reused, or used as raw commodities. And you don't see a lot of other companies doing that. With us, I can tell you, if you sent us a computer, I know exactly where it wound up."
Monteleone believes that GreenChip's global reach also helps set it apart from the competition. "A lot of companies don't have that; they don't have a partner network of other companies set up," he maintains. "Our cloud portal is very important and sets us apart. Our cloud portal lets a company go online, log in, and schedule one or all of our services, nationally or globally. Another big thing: our profit share model is much more aggressive than other companies that offer similar services; we tend to pay more for the IT assets because we have direct access to resale market channels in the U.S. and Europe. Another value proposition is that we pick someone from our team to be the single point of contact for a company – that's an important factor. Other companies might not have single point contacts for their customers. That seems to make a very big difference because companies like that."
What began as a modest trucking company, hauling rock and dirt from excavation sites, Allocco Recycling has today evolved into an industry-leading force in sustainable, responsible, and exemplary recycling, while its GreenChip spinoff offers solutions to the challenging problems that companies face in the areas of data destruction, environmental liability, brand protection, and return on investment on resale IT assets. Allocco and GreenChip – not your typical recycler.
Check out this handpicked feature on Covington, Washington – Growing toward greatness.