XYMOGEN
A lot of things happening
Business View Magazine interviews Brian Blackburn, President of XYMOGEN, as part of our focus on best practices in the nutraceutical industry.
XYMOGEN, a family-owned, health sciences and nutraceutical company, based in Orlando, Florida, provides high-quality dietary supplements and functional food products in the areas of lifestyle, women's health, men's health, cytokine balance support, adrenal support, cardiovascular health, blood sugar support, body composition, immune health, sports nutrition, antioxidants, bone health, detoxification, essential fatty acids, and probiotics.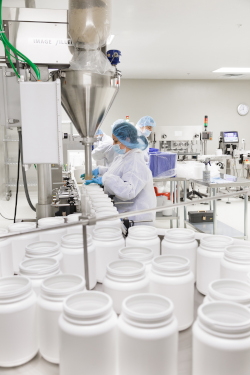 XYMOGEN was founded in 2003 by its President and CEO, Brian Blackburn, on the premise that professional dietary supplements should be made available, exclusively, to licensed healthcare practitioners who would then advise their end users as to their correct usage. "Our goal was to create a truly exclusive line of formulas, create a medical board of advisors as a sounding board for our customers, and then the third most important component was innovation," Blackburn states. "Those are the three reasons – exclusivity, medical board advisors, and innovation – that we thought there was a void in the marketplace, and we wanted to fill that void. And I think we've done so, pretty well."
Today, XYMOGEN supplies approximately 12,000 practitioners, offering over 400 products made from 1,200 different ingredients. Its biggest markets are the United States and Canada, but it also has clients in South Korea, South Africa, Indonesia, China, and Iran. Its 430 employees work out of its 240,000-square-foot, Orlando headquarters, and a distribution outlet in Mississauga, Ontario. Its raw materials, as well as its knowledge base, come from all over the world.
According to Blackburn, the company's manufacturing facility is the newest in the industry, and it's about to get much bigger. "Our purpose-built manufacturing facility is 136,000 square feet and we are outgrowing that," he relates. "So, it was very fortuitous that there's a moving company next door that went out of business, right when we were looking for space. That opened up 120,000 more square feet for us and now we're close to 260,000 square feet. And that's enabled us to move forward with many new initiatives."
"One is called Private Label Now," Blackburn continues. "Private labels are very common in all industries, but I don't know that any other company in any industry has anything quite like it. Our customers are practitioners and our minimum order is 12 bottles; so they might call up and order 12 of one, 24 of another. In this regulatory environment, you have to go through several steps to get the labels approved and reviewed and then printed and then put on the bottles; typically, it can take from one to two weeks."
"So, we came up with this program, where we review the historical usage of each of our customers – we have about 500 private label customers – and we pre-label, based on their history, three months worth of product and store it here. There are so many benefits to that: number 1 – we're able to do it on our high speed labeler, instead of putting them on by hand. We're running these at a hundred bottles a minute. The big advantage for the customer is when they call, the order goes out the day they order, so they get it right away. Number 2 – some of them end up not ordering on time and this way, they don't have to worry about back orders, because we always have inventory for them. Number 3 – we're able to do fulfillment, so now, they can have their patients go onto our e-store and they can order their products and we can ship the private label direct to their patients. So, it's rather an extraordinary service that we're able to provide and it's grown our private label 35 percent over our general business. That took a lot of room, because we have about 400 different products in our product line, and that's about 8,000 different, individual SKUs if you add up all the customers' private label products. So we had to come up with 8,000 bins to store all these products and that's where the additional space next door, really helped out."
Another area for growth is XYMOGEN's contract manufacturing (CMO) division which provides product for other companies. "That now represents about 10 percent of our business," says Blackburn. "We have two very big customers – one is Clorox, which owns a company called Renew Life." Renew Life sells high-potency probiotics, digestive aids, and internal cleanses. "And, just recently, a company called Isagenix, a very big network marketing company, estimated that the order we get from them for next year will be $50 million. This year, our business is projected for about $130 million, so that's a rather significant increase just for that one company. We're probably one of the most advanced pro-biotic manufacturing companies in the country, and that's why these top level companies choose us."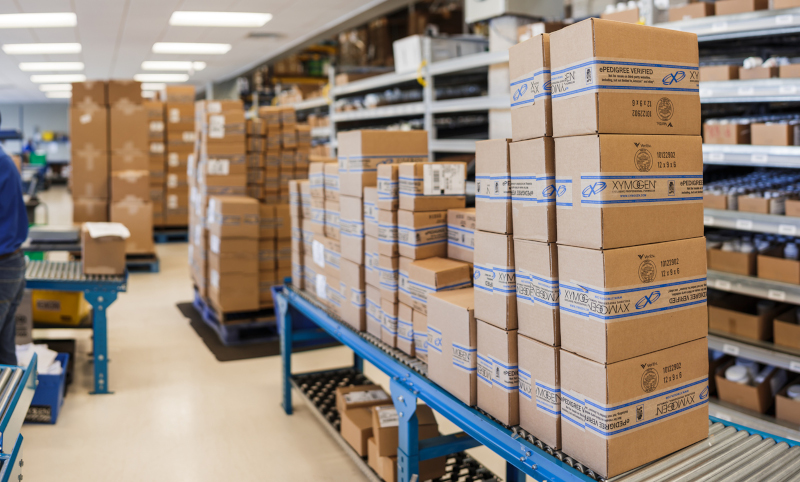 "So, the CMO business can be extraordinary and, in order to handle that business, we're investing between $12 and $15 million in build-out for new manufacturing space," Blackburn adds. "We moved our whole fulfillment operation, which is about 30,000 square feet, to the new building next door, and it's now being built out for new manufacturing – so that doubles our manufacturing capacity. As part of our expansion, we built a very large drive-in cooler that includes insulation and humidity control. And we ordered some very high speed, automated equipment for blister packs, which Renew Life and Isagenix will use. Blister packs are, by far, the best delivery form for probiotics because they eliminate oxygen and moisture – it's aluminum on aluminum and product can last a very, very long time because of the barrier."
XYMOGEN has always been an environmentally-conscious company, and Blackburn has some new plans which help continue that commitment. "We were the very first corporate sponsor of Clean Seas, which is a United Nations initiative," he notes. "We put their logo on all our cartons and we're looking to do our part to try and reduce the impact of plastics in the ocean. We have a single-serve machine for protein powders, which is a pretty significant part of what we do, and all of our dose packs and all of our stick packs we're moving into cartons as a part of our Clean Seas Initiative; that's 76 different products that we're moving out of plastic and into cartons. The single serve machine is very high speed – 210 of those single servings per minute. So, it will be a better delivery format than a big, plastic container. It has a barrier to air and moisture like a blister pack, and you get exact dosing with single serving packs. It's more convenient, it's healthier, and it's much better for the environment. Plus, it's a better presentation from a marketing standpoint. With the carton, you have more surface area to promote your message than you do on a bottle label. So that's really exciting and it's going to be a very big advantage for us."
MedPax, another one of XYMOGEN's innovations, has also been updated, recently, as part of the company's Clean Seas Initiative. MedPax are individual dose packs for patients with multiple formulas that have been put into individual packs for daytime, evening, and bedtime use. Formerly offered in plastic bottles, they now will be delivered in cartons.  "That's eliminated hundreds of thousands of bottles since we initiated that program," says Blackburn.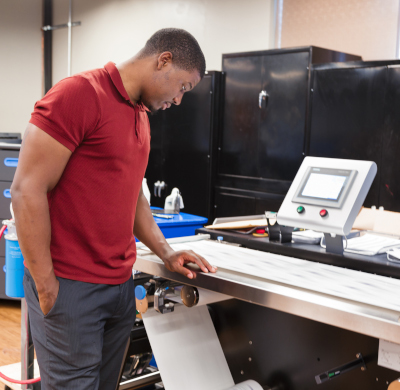 "Lastly, as part of our Clean Seas Initiative, because we're doing so much in cartons, we've expanded our print division, now called XYMOPrint," Blackburn says. The company is currently assembling a brand new, HP Indigo 30,000 digital press in its new building. "There are only 24 of them in the whole United States," he claims. "It's, by far, the most advanced, digital, folding carton press. It's going to do all of our cartons – 4,600 sheets per hour and those sheets are 600 square inches. So, we're able to get all the carton business for Renew Life and Isagenix. We anticipate that for the XYMOPrint division, the prospects are just extraordinary; the potential is almost hard to calculate."
While taking care of its customers, and even the world's oceans, XYMOGEN is not forgetting its own employees. "We're setting up XYMOGYM next door," Blackburn reports. "We've always had a fitness/workout/basketball facility here in our original building, but as we grew, it became too small. So, we're converting that into a café, which we didn't have before. And then, we've set aside about 9,000 square feet, next door, for our new basketball court and much expanded fitness facility for the corporate wellness program we're introducing. As a health and wellness company we want to give our employees the opportunity, onsite, for health and wellness classes and facilities to accomplish that. So, as you can see, there are a lot of things happening."
Check out this handpicked feature on Dosecann Inc. – Global cannabis solutions.
AT A GLANCE
WHO: XYMOGEN
WHAT: A health sciences and nutraceutical company
WHERE: Orlando, Florida
WEBSITE: Visit Website
Gnosis USA Inc – www.gnosis-bio.com
Gnosis is a biotechnology company specializing in the manufacturing and sales of fermentation raw materials and natural finished products used in the pharmaceutical, nutraceutical, cosmetic, veterinary, and agricultural industries.
Our clinically evaluated products are focused on Neurological, Cardiovascular, Bone, Joint, Gastrointestinal and Cellular Methylation health.