The Port of Valdez
Open and ice-free
Business View Magazine interviews Jeremy Talbott, Ports and Harbor Director for the City of Valdez, as part of our focus on the maritime trade sector.
The Port of Valdez is located at the head of a deep fjord in Prince William Sound in southern Alaska that reaches 11 miles inland. It is the United States' farthest north, ice-free port with the best access to Alaska's interior, as well as to the Pacific Northwest, Northern Canada, and Pacific Rim trade routes. On the northern side of the bay sits the City of Valdez' docks and waterfront facilities, including its Container and Grain terminals, its recreational and commercial boat harbors, and the John Thomas Kelsey Cruise Ship Terminal. South, across the bay, is the 1,000-acre, Valdez Marine terminal, owned by Alyeska Pipeline Service Company and located at the southern terminus of the Trans-Alaska Pipeline System (TAPS), which begins 800 miles north in Prudhoe Bay.
The area around these two marine facilities was once populated by Alaska Native tribes who used it for fishing, and trading copper, jade, hides, and other furs. It was further explored and exploited, in turn, by English, Spanish, and Russian trappers and traders. Few people lived in the Valdez area until the winter of 1897-98 when gold-seekers came to Valdez to follow the "All-American Route" over the Valdez Glacier into the interior. Unfortunately for the hapless miners, the route was a scam, invented by unscrupulous steamship companies who falsely claimed that a route across the Valdez Glacier was an excellent way to reach the Klondike gold fields. It was a great surprise, therefore, to the would-be prospectors to arrive in Valdez and find no town and no real trail. A tent city sprang up at the head of the bay; thus Valdez was formed.
For the first half of the 20th century, Valdez functioned mainly as a small fishing community. On March 27, 1964, the "Good Friday" earthquake struck 45 miles west of town. Registering 9.2 on the Richter Scale, the quake triggered an underwater landslide, which, in turn, created several huge waves, one of which washed away the Valdez waterfront. The town, itself, was completely destroyed, and in 1967, it was relocated to its present site, four miles east; 52 buildings were moved and the other structures were burned and the ground razed.
In 1973, Congress approved the plans for the Trans-Alaska Oil Pipeline with its southern terminus at Valdez. People moved there to be part of the construction boom and the town's population soared to 8,000. "During those days, there was a big boom for the city, bringing in all the stuff to build the Alaska Pipeline," recounts Jeremy Talbott , Ports and Harbor Director for the City of Valdez. "It continues to be a big portion of our responsibility – the heavy equipment and pipes that go up to Prudhoe Bay, come to us, here."
On March 24, 1989 (another Good Friday), the tanker Exxon Valdez struck Bligh reef, approximately 25 miles outside of Valdez, causing the largest oil spill in North American history at the time and thrusting Valdez into the national spotlight again. During the months following the spill, the population of Valdez grew to almost 10,000 as cleanup workers, reporters, and state and federal employees streamed into town. "That was another busy time for us," says Talbott. "All of the cleanup operations were based out of Valdez and our port became very busy." As a result of the spill, thousands of birds, sea otters, and other wildlife died, and hundreds of miles of beach were oiled. Crews worked all that summer and fall and into the next year, cleaning the beaches and rescuing animals.
Today, the Valdez is considered one of the safest oil tanker transport locations in the U.S. because of a double tug escort system and enhanced oil spill response capabilities, as well as due to the double hull oil tankers and barges that are now used in the oil transport industry. Since 1977, when the pipeline opened, more than 20,000 tankers have transited through the Port, which receives an average of half a million barrels of oil through the Pipeline on a daily basis. "Five percent of the nation's oil ships out of Valdez," Talbott remarks. "It comes down from the North Slope, 750 miles from Barrow, all the way down to Valdez. It gets loaded onto ships and then most of it gets shipped to the west coast."
On the north side of the bay, the Port of Valdez is an important location for both commercial and sport fishing. The local streams and hatcheries generate large numbers of pink, chum, sockeye, and coho salmon. There are two processing plants operating in Valdez and Talbott explains that the port's main export is fish. In fact, two local companies have recently expanded, which bodes well for the port's operations. "Silver Bay Seafoods just built a $57 million processing plant, here in Valdez – the largest standing processing plant on the west coast," Talbott notes. "When they did that, they went from 200 workers to 440, and they can do about four million pounds a day out of that facility. Peter Pan, who is right next door to them, is looking to expand, as well."
Talbott assumed his duties as Ports and Harbor Director in 2017. He oversees 11 full-time employees and another dozen or so that he hires during the busy summer season when the fish are running. His department operates as an enterprise fund. "The money that we make goes back to the Ports and Harbors," he says. "For 40 years, the city subsidized the port. This year, we probably will do a small subsidy, but last year was the first year we were in black for the port. That was my goal – to get operationally stable with our port. If we have an average fish year, we'll be fine from here on out. The harbor has always been revenue positive; it's been sustainable."
Talbott explains that funds for the port's capital projects comes from property taxes levied on Alyeska, whose infrastructure sit on city property, and the town's 4,200 residents. "The State of Alaska has no sales tax and no income tax," he states. "But the city has a high property tax – 20 mills. So, the city has quite a large income from that – about $40 million a year."
"And we've got all kinds of projects," he continues. "It's one of the nice things having a revenue stream from the taxes. We just reconstructed the cruise ship terminal, with a facelift, a remodel, and a new interpretive center there. That was a $4 million project. A new commercial harbor has been a five-year project. It's in its last year; we'll open that this year. That's an $82.6 million expansion. The Army Corps of Engineers teamed up with us to complete that. The container dock is getting a $4 million electrical upgrade to handle all the fish exports. It will also allow us to handle fish exports for other regional ports, as well. We probably have the nicest port facilities in Alaska – paved yards, and a well-lit floating dock. We're pretty lucky to have the facilities that we do. And they're ice-free, year round, which is a big advantage over some of the other ports, like Anchorage. We're tucked up in here."
Regarding the cruise ship business, Talbott says that at one time, some 100 dockings a year were common. "After Glacier Bay opened up, they kind of stopped coming," he says ruefully. "After 9/11, they really stopped coming because they couldn't do tours across the bay at the Alyeska terminal." However, two major cruise lines will begin making regular stops again in Valdez, this coming summer. Viking Ocean Cruises will be making eight stops during its eleven day "Alaska and the Inside Passage" cruise, and Holland America will be passing through Valdez three times as part of its twenty-one day "Ultimate Alaska and Pacific Northwest Adventurer" cruise.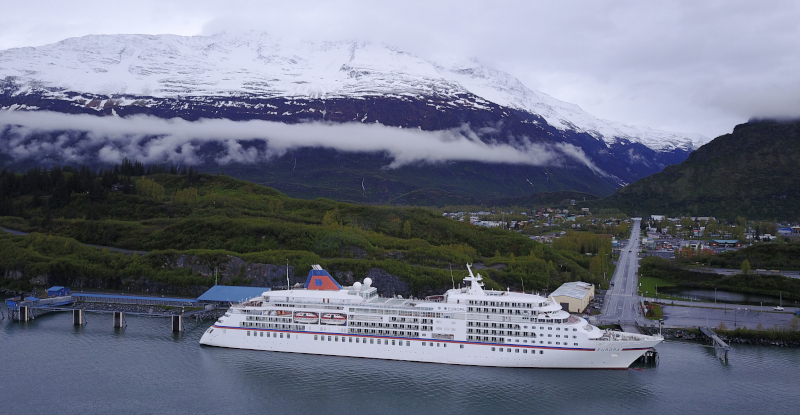 Looking to the future, Talbott says the city is working on a waterfront master plan which includes expanding the port's services to include dry stack and marine industrial trades. "After we get done vetting it, we're probably going to start a marine trades park out on the old town site where we will be able to pull boats out of the water and work on them locally, rather than having them go all the way to Ketchikan or Seattle. Our customers are asking for those things, so we're trying to keep them happy. And, as we wean ourselves off of oil, as a planet, I need to come up with other revenues streams so we're not a burden on the city. So, part of our strategic plan is to be revenue positive and also capital positive so we can afford our own expansions."
"We are highlighting our green projects this year with our "Going Green in 2019 promotion," Talbott adds. "We just completed a 10,000-gallon, bilge water treatment system onsite in the commercial boat harbor, so vessels will be able to be pumped out when they come in for fuel and water. They can also get their bilge cleaned and all of the bilge water removed and treated onsite. I think we're the only harbor in Alaska to have that system, or one like it."
In fact, the Port of Valdez recently met the standard, and sought certification, as an "Alaska Clean Harbor," by Alaska Clean Harbors, a voluntary, non-regulatory program working throughout the state to help harbormasters, communities, and boaters prevent pollution and reduce waste in the state's harbors and waterways. To become a certified Alaska Clean Harbor, a facility must implement best management practices that help to prevent pollution and reduce waste. It must also be pro-active in communicating with its customers and dedicated to providing services and assistance to its staff and boaters to protect water quality.
Based on its many recent improvements and those yet to come, the next few years should be good ones for the Port of Valdez. And Talbott is keen on touting its amenities and advantages. "We probably have the nicest port facilities in Alaska – paved yards, well-lit," he says in conclusion. "We're pretty lucky to have the facilities that we do. And they're ice-free, year round, which is a big advantage over some of the other ports, like Anchorage. We're tucked up in here."
Check out this handpicked feature on HNM Global Logistics.
AT A GLANCE
WHO: The Port of Valdez
WHAT: A deepwater port facility
WHERE: Prince William Sound in southern Alaska
WEBSITE: www.valdezak.gov