Airstreams Renewables, Inc.
Working at high altitudes
Business View Magazine interviews representatives from Airstreams Renewables, as part of our focus on technical training for tower construction and maintenance.
Airstreams Renewables, Inc. (ARI) is a leading vocational training solutions provider committed to delivering compliance, education, certification, and industrial training to the energy and hazardous duty industrial sectors, with strong ties to the wind and telecom industries. The company, which is based in Tehachapi, California, was founded in 2003 by Dave Schulgen, one of the original pioneers in the wind energy sector. Its early mission was to provide independent, industry-driven, quality, third-party safety and technical training to students who sought jobs in wind tower construction and maintenance.
In 2007, the company was invited to develop a curriculum under a federal grant program, which was then distributed to any public junior college that wanted it. Airstreams Renewables, Inc. was officially incorporated in 2009, following the revision of its first technical training curriculum. In 2011, it became the first private technical training company approved by California's Bureau of Post-Secondary Education. That same year, ARI received Veterans Administration benefits approval and national accreditation from the Accrediting Council for Continuing Education and Training (ACCET), through the U.S. Department of Education.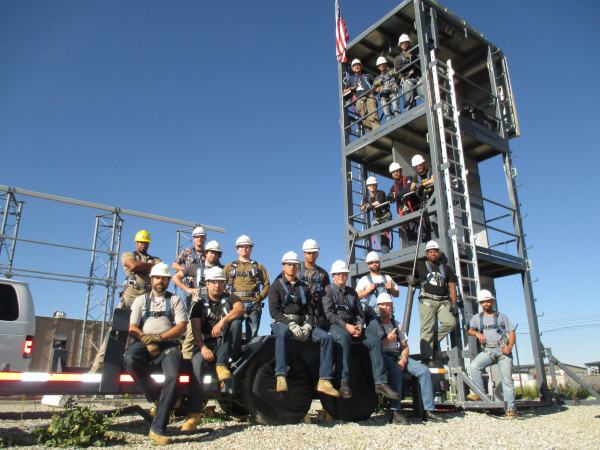 In 2013, Airstreams Renewables, Inc. was approached by industry partners in the telecommunications tower service sector to incorporate a tower climbing curriculum into its existing program for the training of wind turbine technicians. "The profile of the student graduate is very similar," explains Company President and CFO, Jeff Duff. "They like to work at heights; they work in small team; they work a lot of hours – so we adjusted our curriculum that folds in some of the key components that the telecom industry was looking for."
Another major growth spurt for the company occurred in 2014, when it was approached by the command of Joint Base Lewis-McChord, near Tacoma, Washington, and asked to participate in a new career skills program (CSP) that the Department of Defense (DoD) had launched called the "Skill Bridge." "In early 2015, we launched that program, where we were part of a handful of career skills programs that trained active duty service members in the last 180 days of their service in a certificate program. Ours focused on the telecommunications tower climber and the wind industry," says Duff.
"We are part of a new way of the military doing things," says Schulgen. "It used to be, our service members went in, they'd do several tours; some of them serve for four, eight, twelve, sixteen, twenty years, and then they would just get out and that was it. Now, there's a transition process that turns them back into civilians. It's really what the CSP is about. So, not only are we training vets to get jobs, it's really a whole new way of changing how the military transitions our people in our all-volunteer military, out of the military. The army alone will turn out 200,000, this year. These men and women getting jobs right away is what they need."
"There are about 150 career skills programs in the U.S. Army, offered by about a hundred different organizations," adds Duff, "and Airstreams is now the third most-offered program across that platform. They take our program, we line them up with jobs, and then they go out and start a new career. Now, that program is being offered at six active duty military bases across the country (Joint Base Lewis-McChord, WA, Fort Bliss, TX, Fort Irwin, CA, Fort Riley, KS, Fort Hood, TX, and Fort Benning, GA). And Camp Lejeune in North Carolina just signed an MOU for opening a campus in the first quarter of 2019. So, we're continuing to grow, following the DoD's pull and the industry's demand for the workforce. And we have our main campus, here in Tehachapi, which is open to the public, serving mostly veterans. Tehachapi is considered to be the birthplace of wind power in North America which makes our campus ideal for training."
Yet another program that Airstreams Renewables, Inc. is working to associate with is the U.S. Department of Labor's registered apprentice program, sponsored by the Wireless Infrastructure Association (WIA). "We are in the process of becoming an approved pre-apprenticeship program," says Duff. "Apprenticeship is two-fold; there's technical instruction which the students are getting from us, and then, on-the-job training. Any employer that participates in the program would be able to hire a graduate of Airstreams, who would then continue through the apprenticeship program. Formally participating in the nationally recognized process could bring both employers and the new hires additional benefits, which we see as a win-win for our graduates."
ARI's Renewable Energy and Communications Tower Technician Program offers a complete complement of safety and technical modules designed to prepare each student for an entry-level position in the wind, communication tower, and many other industrial-focused industries. Emphasis is placed on working safely in all aspects of the technician job and the basic technical skills required when working with electricity and hydraulics. The lecture and lab course consists of 240 hours. Tower climbing exercises, conditioning, practice, and practical evaluations take place on an actual wind farm and on the school-provided wind and telecom simulated towers.
By December of last year, Airstreams Renewables had graduated its 3,000th student. "And we're very close to 3,500 now," Duff reports. "Over the course of the next year, we're positioned to train and graduate, and put in front of employers, a thousand people, a year; the next year, about 1,500. The key to our program is our employer relationships. We work with all the big names. They interview and give job offers. The scalability is all there; it's all demand driven. If we get employers that have a large tranche of new hires, we can expand our enrollment. We're not just putting butts in seats – under our accreditation, we have to maintain a very high placement rate. So, we do a lot of vetting of the students coming in; making sure that they actually want to go to work and that they're not here just to get some training."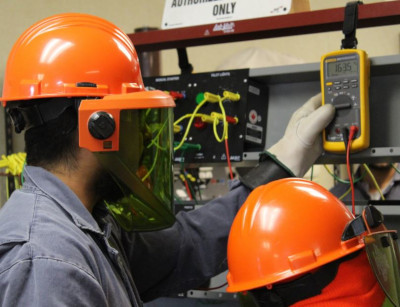 "The product we are delivering is a motivated, experienced, and trained individual ready to start a new career," Duff continues. "We are selective with enrollment because we don't want to waste our time, the uninterested student's time, the funding sources, or our employer partner's time. Our success is not measured in profits. It is measured by the success of our students and satisfaction of our employer partners.  Our growth thus speaks for itself."
Last year, about 55 percent of Airstreams Renewables's graduates went into telecom; about 40 percent into wind; and about five percent into other industrial sectors. "It's important to recognize that people graduating from high school, and especially the service members, more and more are being driven toward skilled vocational training," Duff states. "It's the skilled training programs, like ours, that can scale to meet the demand that the Ericssons, and SBAs, and SAC Wireless, and Comcasts, and ATTs – all of those companies have. Those demands aren't going away and they're all struggling to figure out how to fulfill them. We're positioned as part of the supply chain to align with them in their hiring process with our process so it's a smooth, seamless transition."
Check out this handpicked feature on Tri State Tower – Going Above and Beyond.
AT A GLANCE
WHO: Airstreams Renewables, Inc.
WHAT: A vocational training solutions provider for the wind and telecom industries
WHERE: Tehachapi, California
WEBSITE: www.air-streams.com