Golden Cabinets and Stone
Hawaii's premier countertop and cabinetry expert
A 'golden' choice for commercial and residential customers; Golden Cabinets and stone remains Hawaii's industry leader
The construction industry fared well through COVID despite other Hawaiian business sectors being hard hit. Riding the pandemic wave was easy for Golden Cabinets & Stone Inc. which has always been widely considered the leader in its field throughout the Hawaiian islands.
Established in Honolulu in 2007 by President and Founder Wayne Cao, Golden Cabinets & Stone grew out of Cao's discovery while working in the construction field of just how challenging it was to find the right cabinetry, countertops, and similar products for homeowners building their dream home. He determined that there was a need for well-constructed cabinets in the Hawaii market, and he decided to fill it.
Cao set forth and built a company that became the market leader in the field, with the largest inventory of prefab cabinets and stone countertops throughout the state. Golden Cabinets and Stone provides the most professional customer experience in the kitchen and bath segment while specializing in prefabricated cabinets, stone countertops, flooring, and tiles.
Golden Cabinets and Stone carries more than 80,000 pieces of stock of cabinets and over 5,000 pieces in stock of countertops that are ready to be installed or delivered anywhere in Hawaii. Cao and his team sell to many developers, realtors, contractors, and builders looking for expertise, whether they are charged with finishing a rental property or constructing new homes. Golden Cabinets & Stone also supplies and services consumers directly, who may be looking to revamp their own kitchen, bathroom, or other rooms in their dream home.
What sets the company apart is its competitive pricing, designed to save both commercial and retail clients significant costs, and the high level of service that each and every customer will receive. Combined with the ability of Cao and his team to get access to high-quality products, Golden Cabinets and Stone has grown into the fastest-growing and busiest cabinet and accessories provider in Hawaii.
Cao is proud to provide comprehensive services in the field to a growing list of customers, from initial design and quotes to project completion.
"Our design and sales representatives consider it an honor to work with our clients on their improvement and renovation projects," Cao says.
Many products are imported from factories directly from plants in Malaysia and other countries in Asia. He is continuing to look for new product options for customers to choose from, not just in cabinetry but countertops, sinks, luxury vinyl flooring, tile, shower doors and panels, and more. Golden Cabinets and Stone's professionals have finished thousands of renovation projects for customers. The team is dedicated to customers and strives to bring the best quality products and services at the lowest prices possible in the market.
According to Cao, Golden Cabinets and Stone coordinate all project tasks to work around customer schedules, minimizing any discomfort that may come from a remodel. They can be assured that the company's professional installation teams will leave their project complete and clean.
This dedication to customer service and providing them with options is one of the many reasons that Golden Cabinets and Stone was named Hawaii's Best in its sector as awarded by the Honolulu Star-Advertiser newspaper from 2018 – 2022. The company also has more than a 4.5 cumulating rating on Yelp and Google.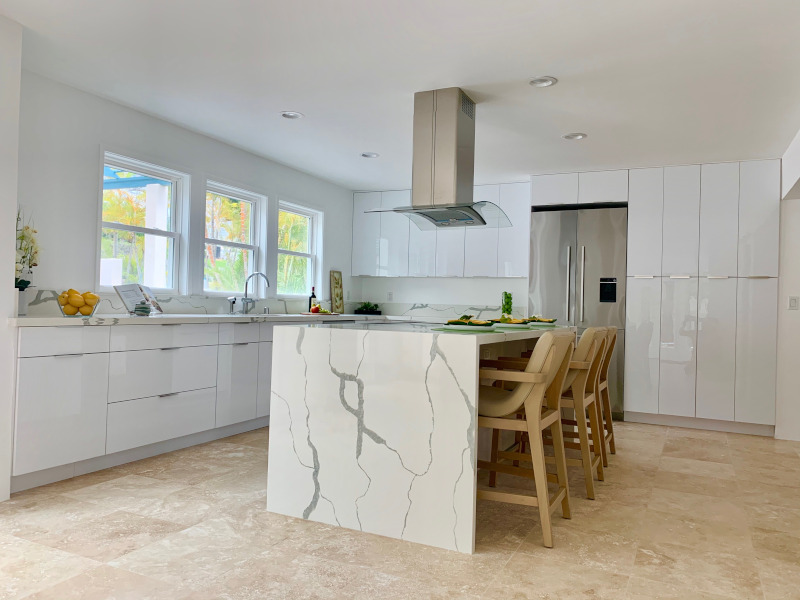 "We're continuing to look for ways to expand and want to hire more (employees)," to help meet demand, Cao says.
The supply chain challenges experienced in 2020-2021 were significant and slowed Golden Cabinets and Stone from completing some tasks simply because products were not always available. This was understandable with COVID factory shutdowns around the world, and slow shipping and transportation channels, Cao says. Fortunately, that changed for the better in 2022 when the supply chains opened back up, and foreign plants could reliably provide products on time.
The biggest challenge Cao sees currently is a slowdown in the housing market and consumer spending, driven largely by inflation and higher interest rates. While demand is slowing a bit, the company remains busy because it supplies everyone – both the wholesale and retail markets. With a 70,000-square-foot showroom on N. King Street in Honolulu, Golden Cabinets and Stone can display its large inventory to any type of client.
Often a customer or commercial partner will bring a floor plan to Cao and his team, and from there they design options using a 3D layout on a computer. That allows them to provide a quote within one hour or less with quick design options that can be expanded upon.
Says Cao, "customers really like that visual representation we provide." Developers may look to Golden Cabinets and Stone for help once they have framed a new home to get a better idea of their options. "We supply to small and big companies and all sizes of homes," Cao says.
One of Cao's goals for 2023 is trying to import more high-end cabinets from Italian manufacturers and high-end options from around the world. This will include cabinets made of wood and stone. There is a significant amount of demand for European-made and designed products from many clients.
However, Cao does want to carry high-end, more expensive inventory, in general, to appeal to the top one percent of his potential client base. He and his team are in the process of researching the finishes and options that comprise these higher-end products. While he will continue to serve clients with all price ranges, customers who buy more expensive items can help Golden Cabinets and Stone achieve higher margins and profits.
Another goal for 2023 is to keep existing staff and hire professionals for open positions Golden Cabinets and Stone continues to grow, Cao says. He adds, "we do need to hire staff for our warehouse" with the company attempting different recruiting efforts to attract candidates for those critical positions. Fortunately, other departments experience little turnover with many long-term employees in place. "We do everything we can to keep our (employees) happy," he says.
Cao enjoys being in a position where his business is growing but understands that there are certain strategies that must be in place to ensure this growth path continues. In the first few years that Golden Cabinets and Stone was in existence, Cao did a little bit of everything himself. But now with a strong brand and loyal customer base, he is able to hire other experts to support the company's commitment to service.
According to Cao, "I started the business because I wanted to work for myself and wanted to grow (the business) into the largest in Hawaii." By keeping inventory numbers high and offering plenty of options for commercial and consumer customers, he can retain existing customers who often are willing to purchase additional items or engage in repeat business.
Cao also wants to further improve operational efficiencies. But at the end of the day, what matters most is customer service and products. The workmanship is important too, Cao says. It's why Cao got into the business.
"More than anything I like to help clients get their dream kitchens and bathrooms," he says.
AT A GLANCE
Golden Cabinets and Stone
What: Leading cabinet and counter suppliers for both commercial and residential clientele
Where: Headquarters in Honolulu, Hawaii
Website: https://www.goldencabinetsstone.com/