Sears Trostel Lumber & Millwork
Growing with Colorado since 1929
Business View Magazine interviews Curt Viehmeyer, General Manager of Sears Trostel Lumber & Millwork, for our focus on the U.S. Forest Products Industry
For over nine decades, the name Sears Trostel has become synonymous with superior quality and service in the wood products industry, earning the respect of industry peers and satisfied customers, alike. Today, Sears Trostel  is the source for the highest quality lumber, custom millwork, specialty wood products, FSC® certified products, and top tool brands. Serving commercial and retail customers throughout Colorado and Rocky Mountain communities since 1929, the company's 10,000-piece moulding and interior trim library, Lean Manufacturing processes, and huge portolio of products and services are unmatched in the region. A key secret of Sears Trostel's success is the company's ability to stand strong in the face of adversity.
The COVID-19 pandemic has been a rollercoaster ride for Sears Trostel Lumber & Millwork. Early on, tight public health restrictions reduced the number of people coming into the Riverside Avenue retail location in Fort Collins, Colorado. As a result, sales were down 50 percent in April 2020. "But as we got to know the virus a little more, and more clear guidance came out from state and local officials, we loosened that up a bit," recalls Curt Viehmeyer, General Manager and co-owner. "And the second half of the year at Riverside ended up being the strongest six months that we've had, at least until we go back before the recession of 2008."
It was a similar story for their manufacturing facility, although the timing was a little different. That side of the business didn't slow down until the end of 2020. "November and December were challenging months," Viehmeyer acknowledges, "and I think the cause was projects that were delayed in the spring because of COVID. Finished trim is installed towards the end of a project, and the projects that would have started in April and May were put on hold temporarily, which set-back the timing for interior finishes for those projects. So, we saw a huge fall off in sales late in the year. But sales have gone crazy since January."
This isn't the first period of economic uncertainty Sears Trostel Lumber & Millwork has endured. For nearly a century, the business has continued to adapt and grow to meet the needs of customers across Colorado and Wyoming. Roots of the business can be traced back to 1929, when Carl Trostel started a lumber company in Fort Collins' original business district. Trostel ran the business for nearly two decades until his son-in-law Bob Sears took over management and operations in 1948.
The next major leadership change came in 1981 when two employees, Curt Viehmeyer and Steve Schwartz, purchased Sears Trostel Lumber. "It was a small, mom and pop lumber yard struggling in a market that was changing," Viehmeyer explains, "and the younger generation of the Trostel family was not interested in working the business. They were considering closing the business altogether, so we decided to purchase it from them. Originally, we did exactly what they were doing and it didn't take too long to say, 'wait, this isn't going to work.'"
In the early 1980s, Sears Trostel sold building materials, such as drywall, paint, concrete, and framing lumber. But the business was one of the smaller players in that market. Viehmeyer and Schwartz quickly realized that their business model needed to change. Their first big move was to invest in hardwood lumber, making them the only local supplier for those products in Northern Colorado. The business expanded south into the Denver market, and soon there was a new challenge.
"In the late '80s there was increased competition in hardwood lumber, and new players in the market were more aggressive than in the past," Viehmeyer reports. "The margins were coming down, too, so we decided to expand our product line through the manufacturing of wood products. At that time, we bought our first Weinig moulder and started manufacturing mouldings. Demand was good and in 1994 we moved production to a new location on Airpark Dr., so that we could increase our production capacity," he says. "Over time we have expanded our sales and customer base through commercial millwork, hardwood lumber, plywood and some other specialty products."
In addition to the new wholesale and manufacturing location, Sears Trostel retained the original lumber yard on Linden Street that was built in 1929. In 2005 the retail business moved from that location to its current location on Riverside Avenue. "We saw a big jump in sales at that time because we had the space to offer more products and a better shopping experience. The previous location was an old, unheated, freeze-yourself-in-the-winter kind of space," Viehmeyer explains. "The new location had better lighting and heating, so with that, and the additional space, it was easier to expand sales and our customer base."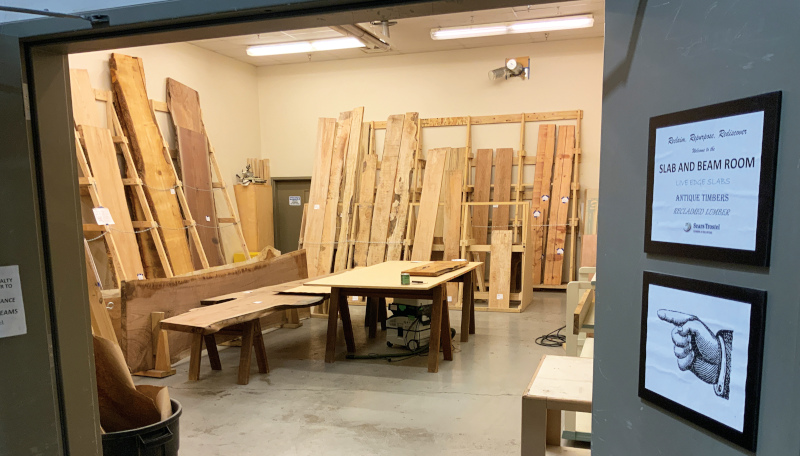 Sears Trostel has sourced lumber from different regions, depending on customer demand. When Alder wood was a popular design feature in the Western U.S., all of it came from the Pacific Northwest and British Columbia in Canada. Demand has since shifted toward eastern hardwoods, such as Poplar, Walnut, White Oak and Maple. Now, Sears Trostel is sourcing more from states east of the Mississippi River, such as Tennessee, Kentucky, Indiana, Michigan, Pennsylvania, and New York.
Millwork makes up about 80 percent of Sears Trostel's commercial business today. Much of that work is for large commercial jobs including projects at Colorado State University, the Denver Art Museum, Eagle County Library, the Wyoming State Capital, as well as the Google facility in Boulder. The company's Riverside Avenue location caters to independent contractors, homeowners and hobbyists, school woodshops, and local manufacturers.
Waste from the business's manufacturing process is repurposed. For instance, a partner company sells planer shavings to horse and dairy farms where it's used to help absorb animal waste. A different partnership takes larger pieces of unused wood and grinds it for use in landscape products.
With limited outside resources for training, Sears Trostel does most all the training of their employees –
from the manufacturing process to sales. Viehmeyer admits, "My big concern in this area is the prevalent belief that everybody should get a college education, learn to code computers, etc. Working in professions that may be considered blue-collar are not encouraged. The result is a shortage of people in the trades, and in light manufacturing like we do. There's certainly plenty of opportunity for people in the trades, especially if they don't really have interest in going to college. They can learn a trade by going to a trade school or doing an apprenticeship and they can make decent money without the huge debt that you see with college."
In recent years, demand has come full circle with softwood lumber becoming more popular again. Sears Trostel has been manufacturing those softwoods for trim, siding and paneling. The company has also added an FSC-certified product named Pakari to its line. The thermally modified pine lumber is subjected to heat and steam to create a more durable, lighter, and straighter product for exterior applications.
"Pakari is generally used for decking and siding, and we've also made custom paneling for customers. It has an exotic wood look that is great for interior projects, too," Viehmeyer reports. "The thermal-modification process changes the cell structure of the wood, making it resistant to water, decay and insects. It's competitive with other wood products used for decking – and in better supply than those products – so we're pretty excited about adding this to our line."
A willingness and ability to meet current market trends has allowed Sears Trostel to expand beyond the northern Colorado construction market. Today, the company primarily serves the Colorado Front Range down to the south of Colorado Springs, into the Rocky Mountain communities, and north into neighboring Wyoming. But recent projects have also taken their products west to Arizona, California and Idaho. If the past is any indication, Sears Trostel Lumber & Millwork has a bright future ahead.
AT A GLANCE
Sears Trostel Lumber & Millwork
What: Leading source for high quality lumber, custom millwork, and specialty wood products
Where: Headquarters in Fort Collins, Colorado
Website: www.searstrostel.com