Niagara Falls Ontario
Harnessing the power of positivity
Business View Magazine interviews Jim Diodati, Mayor of Niagara Falls Ontario, for our focus on Economic Development in Canadian Cities
Captivating Niagara Falls Ontario is a force to be reckoned with on so many levels. Harnessing power from the mighty Niagara River, the unmatched tourism draw of the beloved "Falls", and when it comes to the growth of the city, itself, the exceptional power of positive thinking – led by Mayor and chief visionary, Jim Diodati.
The Mayor's ever-optimistic way of looking at life came through crystal clear in a recent conversation with Business View. Prepare to be inspired…
BVM: Can you give us an overview of Niagara Falls as a destination, today?
Diodati: "Even with COVID, we're still the number one leisure destination in Canada. We're probably down 30 to 50 per cent from our usual numbers – typically, we get close to 14 million visitors annually with 25 per cent coming from the U.S. But we made it up with staycations from Ontarians coming to Niagara Falls Ontario. Although people say it's a good idea to diversify, it's pretty hard not to be heavily involved in tourism when you live right next door to one of the great natural wonders of the planet. You lead with your strengths, so we're still primarily a tourist destination.
"It's an interesting dichotomy because we have 100,000 people living in the city but 12 to 14 million people coming to visit. As a result, you get all the amenities of a much bigger city but you still get the folksy charm of a smaller community. Forty thousand people in our city count on tourism to feed their families. One thing I'll say about people in tourism, resilience is built into your DNA. Whether it's health related, 9/11, currency fluctuations, Mother Nature – whatever the case – we're used to dealing with challenges and jumping back up on our feet because we have to."
BVM: How has the city supported small businesses through the pandemic?
Diodati: "We've gone out of our way to be really supportive. As soon as COVID hit, we rolled out a program where we would help them expand, or open up patios – including onto road allowances and public spaces like sidewalks. There was a 24-hour turnaround with no licensing fees, no permit fees… we did it immediately, so they could transition to outside. Which was a lot safer than inside, and for half the year it benefitted a lot of businesses. Even for those that had no patios in the past, we found ways to adapt and help them be successful.
"We have a huge "Support Local Business" campaign going on again now, where we're encouraging people to do takeout, and buy gift cards and gift certificates from businesses that are closed, or not allowing patrons inside. That's happening in our downtown and throughout the community. The residents have really come together to support all local businesses."
BVM: How is your housing availability?
Diodati: "That's a big challenge across the country. We're welcoming 400,000+ new immigrants to Canada and not building that many houses. So the demand is driving up the price, creating issues with affordability and homelessness like we've never seen before. So we're definitely addressing it. The city, and our upper tier of government, are building affordable housing and transitional housing. But it's hard to move fast enough. With that in mind, we're creating programs through our planning department to incentivize developers to build more affordable aspects into their developments. Now we're seeing more multi-residential uses, more condos, more apartments, more mixed-use dwellings. There is a lot of building taking place to address all the varying needs."
BVM: Does the city have older buildings being repurposed?
Diodati: "Yes, we're turning the old Carnegie library, which has been more or less empty, into a 21-bed facility that will have a nurse and/or doctor onsite at all times. It will offer to counsel and be a place to get support to help put you into a better place.
"We also tore down our old Farmers' Market downtown and did a lot of site preparation and in the next few months we'll be looking for expressions of interest to build a 10-story, several hundred unit project that will have a major component of affordable housing. In both cases, the city provided the land. In one case, the city provided the building and upgraded it. Now, we're looking for partners, so we can build and operate these types of housing units. We're working hand in glove with the region to get these places built."
BVM: What role does continuing education play in community/business growth?
Diodati: " We currently have a partnership with Ryerson University in our downtown – the Niagara Falls Ryerson Incubation Hub – where we help incubate business ideas. That's been very successful. In fact, Ryerson is ranked number one in the world for university incubators. But we want to take it a step further, where we have bigger numbers of international students. We're now in the approval process with a university and we're hoping by spring to have a positive update on the status.
"We also work closely with Niagara College, they're one of the top schools in the country for workforce development/skills training programs in the hospitality sector. For any student that comes to this area to learn – whether it's Niagara College, or Brock University, or what we're trying to do in Niagara Falls Ontario – there is no shortage of jobs. If you're interested in a career in hospitality and tourism, then this is the place to do it because you get to work with people from around the globe, in a world-class setting and you know you're going to have employment in the sector that you're learning in."
BVM: How does technology impact economic development in the city?
Diodati: "Niagara Falls Ontario is an entrepreneurial city. We're partners in the ownership of the local airport, we own our own hydro company, and we're also the majority owner in a local fibre company – Niagara Regional Broadband Network (NRBN) – that we started about 14 years ago. It fulfils all the high-speed fibre needs of the entire MUSH (municipalities, universities, school boards, and hospitals) sector. And now we've gotten into commercial and we're doing fibre to the home.
"The plan with the new international university is we'll be working with them to train students for jobs that haven't even been created yet. Because technology is the way of the world. Just in the last two years, having virtual meetings has become norm and high-speed fiber has gone from a luxury to a necessity. When companies locate in the city, one of the first things they ask is: "How are your connectivity and high-speed fibre?" It's nice when you own the company and have control over your destiny for economic development. So, we're looking to use that to help us incubate some digital companies here in the city."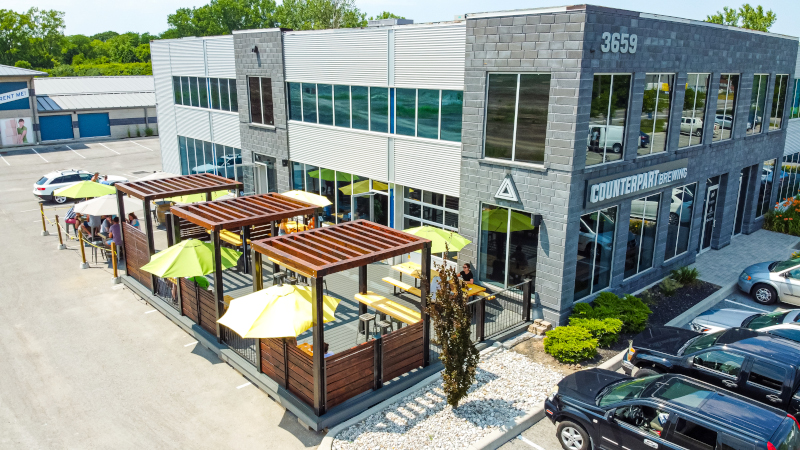 BVM: Any other significant projects in the works?
Diodati: "We've just approved a new wastewater treatment plant in Niagara Falls Ontario, which will be right near the new hospital that we're breaking ground on this year. The new treatment plant is a $425 million project that will ensure the future wastewater treatment for this whole end of the region and will take pressure off the other wastewater facilities that are at capacity. With all the new development taking place, we don't want to put undue strain on the system.
"The Niagara South Hospital will take about three years to build at a cost of $1.2 billion. It replaces our old facility that was built in 1958, and will have state-of-the-art technology, including separate ventilation systems for individual rooms and the ICU. The new hospital will partner with Brock University and McMaster University – we're really excited about this Center of Excellence, which will bring in the best and latest equipment and attract some of the brightest minds, resulting in the best healthcare. This is something we've been working on for a long time."
BVM: What are your goals for the city going forward?
Diodati: "I can see that Niagara Falls and the region is going to explode. It's already happening. Niagara Falls Ontario is much more affordable than the Toronto and Hamilton area. The quality of life is hard to parallel, whatever you're looking for is here. It's safe, lots of recreation opportunities, proximity to the border… it just has everything. We've been discovered now and we're noticing a much more diverse demographic, and I think that's going to be a trend for the future. I foresee a lot more exciting growth and maturing of the tourism season to year-round. We're no longer just 'motels and wax museums'. We continue to offer more exciting regional opportunities, including the theaters, wineries, and beaches. We see the future as very bright; we're going to rebound from the COVID times and grow and become that much better from all the lessons learned."
AT A GLANCE
Niagara Falls, Ontario
What: A city of 90,000
Where: On the Canadian side of the Niagara River
Website: www.niagarafalls.ca
Ryerson University – www.ryerson.ca
Ryerson University is Canada's leader in innovative, career-oriented education. We're committed to shaping the future of business here and around the world. Regional Zone Learning initiatives like The Niagara Falls Ryerson Innovation Hub provides resources and mentorship programs to help local startups succeed.