Manor, Texas
#BUILDManorStrong
Business View Magazine interviews representatives of Manor, Texas for our focus on Economic Growth & Development in U.S. Cities
When parts of the country faced record-low temperatures in February 2021 and millions went without electricity due to the frozen power supply, the national spotlight shone on Texas as its residents rallied to inspire unity and love in the face of unprecedented circumstances. For the City of Manor (pop. 16,500), one of the faster-growing suburbs of Austin, that winter storm was an event that confirmed and fueled community pride – evident through the many expressions of growth, support, and self-sustainment that are spontaneously displayed there.
In his 2022 State of the City address, Mayor Dr. Christopher Harvey shared a message of optimism and community spirit, crystallized in the campaign to #BUILDManorStrong. He spoke of Manor's collective voice to build up a city through advocacy, partnership, and awareness-raising, and to let everyone in on "the many good things people are doing here." But for all intents and purposes, Manor stands already in a secured position, championed and empowered by the people who call it home.
"I moved to Manor in 2006 and, for me, it's always been the people who make Manor special," the Mayor tells Business View Magazine. "The diversity of the community. The acceptance and camaraderie around the city. The support for the local high school's athletics, academics, and fine arts. It was all very attractive to begin with and it's done nothing but get better."
"During the Winter Storm, Manor did very well compared to a lot of places here in Texas, and that was because of our community coming together and sharing resources, sharing knowledge, sharing food and water, " reflects Interim City Manager, Scott Dunlop.
"As far as friendliness, courteousness, and wanting to see others do well in every aspect, I haven't met anybody in Manor that wouldn't go out of their way to help their fellow man," echoes Economic Development Director, Scott Jones. "I think it's a great place to be and it certainly has all of the physical attributes that businesses need to thrive."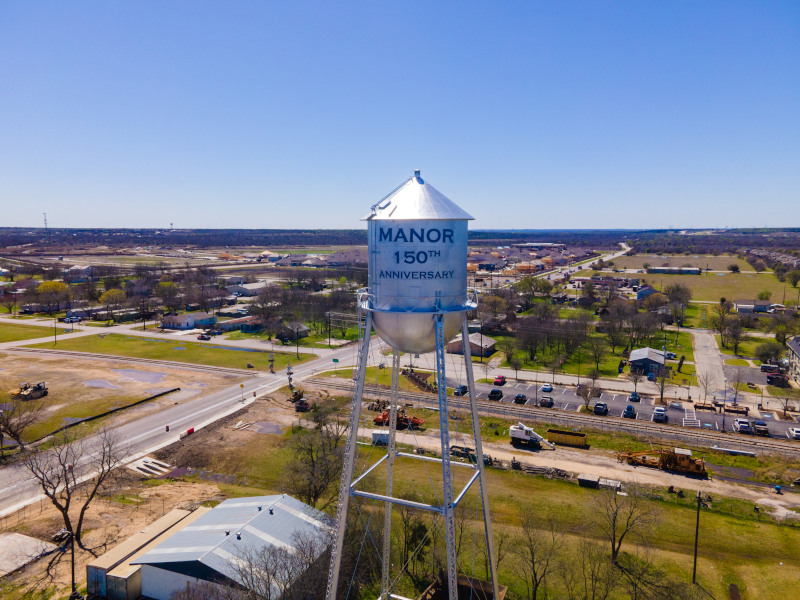 In terms of location, Manor is part of the Austin-Round Rock metropolitan area, 12 miles northeast of downtown Austin on US 290. Perfectly centered between all of the major happenings in Texas – with the advanced manufacturing boom to its West, Tesla to the Southeast, and the new Samsung plant to the North – a golden triangle of opportunity is forming around Manor and the city stands prepared to take advantage.
"We're looking for clean industry, we're looking for distribution, we're looking for any type of industry that's going to create jobs and capital investment, and be a boost to the city tax rolls," Jones says. "Headquarters – even smaller ones for corporate locations – are another big target market for us because Manor is an absolutely perfect fit for those companies."
In addition to the US 290 that connects East Texas to the West, Manor also has Texas State Highway 130, which runs north and south and connects Manor to San Antonio, Waco, Pflugerville, and Round Rock. "It's such a strategic position for workforce provision," Mayor Harvey explains. Dunlop adds, "Central Texas is what they call 'Silicon Hills' because of the cluster of tech companies in the Austin metro area. Manor is a huge workforce resource and we're trying to capture some of that supportive industry business."
The majority of residents currently commute out of Manor, usually to Austin or Round Rock where Dell's headquarters are based, but City Council is looking to change that trend by introducing more employment opportunities and industrial manufacturing to create a better jobs-housing balance. "The same developer that's doing our Whole Foods Cold Storage Distribution Center owns the lot right behind that property," Dunlop notes. "That's where they'll be putting a 196,000-square-foot spec industrial building – Manor's official first major industrial within the city limits."
When it comes to housing inventory, Dunlop attests, "Manor can't keep the homes away. The Mayor and Council have recognized the need for housing diversity. Most of our growth for the past 20 years has been in single-family homes. We've had a lot of first-time home buyers, which is great that we're providing that inventory for the region, but we don't have a lot of housing that falls above or below that bracket. We redid our zoning two years ago to kind of codify those different types of housing products. We're seeing a lot of the results of that now with some townhome communities coming in, over 1,000 apartment units, and lots of subdivisions."
Manor was founded in 1872 to give residents easy access to markets via the Houston and Texas Central Railway. It was named after the town's original postmaster, James Manor, who was also one of the earliest settlers of Travis County. But even with all that history, the city has rung up a string of firsts over its last quarter century and is now using that momentum to power up its economy and live up to its brand of building Manor strong.
"One of the things we're looking to be is a Main Street city," shares Heritage & Tourism Manager, Debbie Charbonneau. "We need a little more historic fabric in order to do that, but I think eventually that will be possible. We've already got interest in some of the buildings and properties downtown. It's not a very large area but we've started quite a few programs to support small business."
"Redeveloping the downtown is certainly going to be a focus in the future and we've earmarked this for our Comprehensive Master Plan," Jones remarks. "Right now it's got some retail and restaurant components to it, but it could be so much more."
With Manor celebrating its sesquicentennial this year, Charbonneau notes how amazing it's been to see the city come together. "We're hosting an event each month, small or large," she elaborates. "I also run three 'shop local' campaigns every year, and I'd love to see more businesses get involved with that. We've worked with the National League of Cities in the past and we've got our own website called Biz 101, which helps businesses that are interested in Manor to get set up with what they need to grow here." A tighter partnership between City Council and Manor's Chamber of Commerce is being explored in addition to incubator models for accelerating small business growth and success.
Having experienced first-hand the link between arctic warming and unusual cold snaps, Manor is also looking at mainstreaming climate considerations with significant infrastructure changes. In this regard, 2021 was a watershed year defined by huge accomplishments, including a major overhaul of Manor's wastewater lines.
"We've recently upgraded one of our main treatment plants – the Wilbarger Creek Regional Wastewater Treatment Facility," Dunlop says. "We did an $18M bond to expand it and it's now a 1.3M gallon a day facility. In another subdivision, we've built a new treatment plant which is our Cottonwood Creek facility. It's smaller – about a half-million gallons – and it's on the east side of town. As soon as the first 200,000 gallons came online, development said 'We want in on that'."
Engineers are now working with the Texas Water Development Board to get more financing for their regional plant, which would hopefully secure them another 1.5M gallon plant for the southeast portion.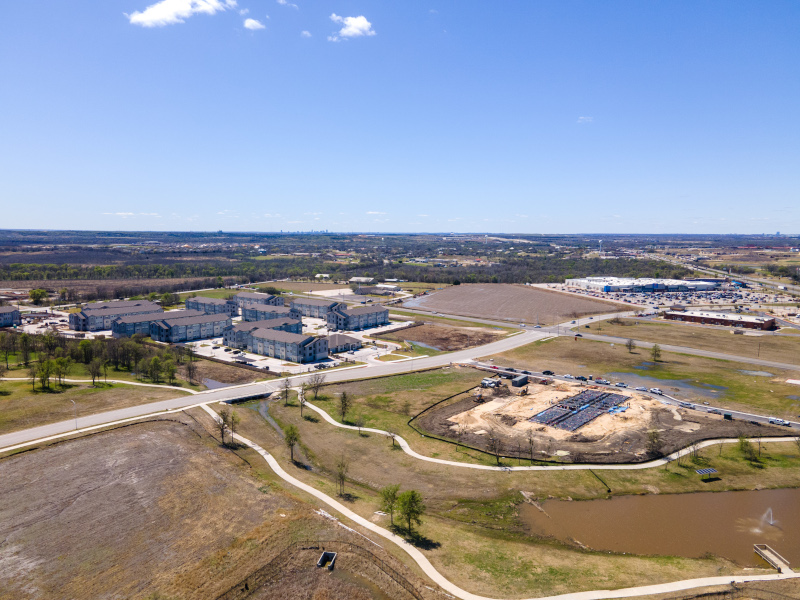 "In the city's extraterritorial jurisdictions, we own 100 acres, about 10 of which are actually out of the floodplain and developable," Dunlop explains. "Those are the 10 we're eyeing to put this facility on. In the next five years, maybe sooner, we'll have a large regional plant primarily for the Cottonwood basin, but we'll be able to intercept from the Wilbarger and start taking flows over there to have substantial wastewater capacity."
Manor's Comprehensive Master Plan is how Council believes the strategies needed to see these infrastructure projects move forward and be completed will be put in place. "Just having that basis to guide those future decisions on our parks, our downtown Master Plan, our economic development, our transportation – that's going to do wonders for moving the city along," Dunlop says. "Both our Mayor and Council are very active in seeing better things for the city, and they're always pushing us to do more and achieve more."
"In five or six years, I don't think you're going to recognize Manor, the way it is today," intimates Jones. "That's the plan, that's what I expect. A much different looking place."
"You're going to see the beginnings of a major hospital here," the Mayor confirms. "You'll see us really improving quality of life with our rec centre and library, through our partnership with the school district and the opportunities for our youth to stay engaged in the summer. More events, more holiday celebrations. You'll see more community organizations supporting the residents' needs. And you'll see that Manor is on the map as a top place to live because of everything that we're already offering – a safe place, safe community, livable wages, top quality education, and strategic partnerships with the technical colleges and all of our businesses."
AT A GLANCE
Manor, Texas
What: A progressive, 150-year-old city; population 20,000+
Where: Twelve miles east of Austin in Central Texas
Website: www.cityofmanor.org
Atmos Energy – www.atmosenergy.com
Atmos Energy safely delivers reliable, affordable, efficient, and abundant natural gas to Manor, TX. Our vision is to be the safest provider of natural gas services. We are modernizing our business and infrastructure while continuing to invest in safety, innovation, environmental sustainability, and our communities.
Ryan Companies US, Inc. – ryancompanies.com
Founded in 1938, Ryan Companies offers comprehensive commercial real estate services as a national developer, designer, builder, capital markets advisor and real estate manager, focusing on creating places for people to thrive. Ryan sector and product type work include healthcare, hospitality, industrial, mixed-use, multifamily, office, retail, and senior living.