Johnson University
Uncommon community
Business View Magazine interviews Tommy Smith, President of Johnson University, for our focus on Leading Private Educational Institutions in the U.S.
There's a stunning view being at the doorstep of the Great Smoky Mountains in Knoxville, TN, and it's been the catalyst to a spiritually vibrant, caring community of learning at Johnson University's (JUTN) main campus since 1893. Pristinely rural and handsomely red-bricked, the site was originally home to the School of the Evangelists, back when it acted as an extension of the Correspondence Bible College (C.B.C.). Today, JUTN is an institute that's weathered monumental changes, yet kept true to its initial form as an anchor of 'uncommon community' life. With a second physical campus in Kissimmee, FL, fully online programs, residency programs in cities across the country, and a variety of programs and internships in the United States and around the world, Johnson University students can expect a globally engaged and academically engaging education in an environment that will promote and nurture their leadership potential.
"We're a 128-year-old institution," confirms President Tommy Smith. "Initially Johnson was a correspondence school started by Ashley Johnson, a state evangelist, author, and educator, and his wife, Emma. The C.B.C. enrolled approximately 3000 students from 1886 until it was discontinued in 1912. The Johnsons decided to turn the C.B.C. into a residential school, converted their family farm on 450 acres here in South Knox County, and built a home there with an addition for the students. The School of the Evangelists opened officially in 1893."
As a result of a petition circulated by students who wanted to honor their founders' service, the school's name was changed to Johnson Bible College in 1909. "That name really reflected that it was a legitimate school, doing college-level work," says Smith.  From its inception, the school included a strong commitment to the humanities as well its biblical and ministerial training. In 1956, the first graduate program (a Master of Theology degree) was inaugurated; in 1979, the Teacher Education Department was founded (with just 12 students at the time); and in 2011, the Board of Trustees approved a new mission statement and a new name change to Johnson University. "By that point, we were already offering a doctoral program and had reorganised ourselves into a university structure," Smith shares.
Their current roster includes accredited associate, bachelor's, master's, and Ph.D. programs – all with a biblical core – designed to equip students for careers in Christian ministry and other strategic vocations. "We have over 70 academic programs," says Smith. "Of course, we have our Congregational Ministry programs, Preaching, Worship Leadership, Youth Ministry, Children's Ministry, and so forth. But then we also have a solid Teacher Education program. We have strong Social Sciences, Psychology, Human Services, and Clinical Mental Health programs. We have a School of Communication and Creative Arts with programs in Music, Journalism, Music Technology, Visual Media, and Strategic Communication. We have a degree in Sport and Fitness Leadership. Our School of Business and Public leadership has programs in Business Administration, an MBA, and a Ph.D. in Leadership.  It's a good variety of specializations."
More than 20 of those programs were added to the curriculum just in the last decade. According to Smith, "There's been an explosion of academic majors. A lot of our growth has been driven by those additional streams. The Johnson University system has about 1,200 students total, with 700 attending the main campus in Tennessee. The campuses features dormitories for student housing, since most of our undergraduates are on-campus residents."
It's easy to see why students love their JUTN experience. The central campus nests on a bluff overlooking the mighty French Broad River, with proximity to the unique charm and vibrancy of downtown Knoxville. "We have wonderful walking trails with lots of green space and recreational space," says Smith. "In the springtime, it's just gorgeous with everything blooming. I don't mean to brag, but it really is a beautiful physical campus. As our admissions staff likes to say, 'If we can get somebody on campus, we know we're close to getting them as a student.'"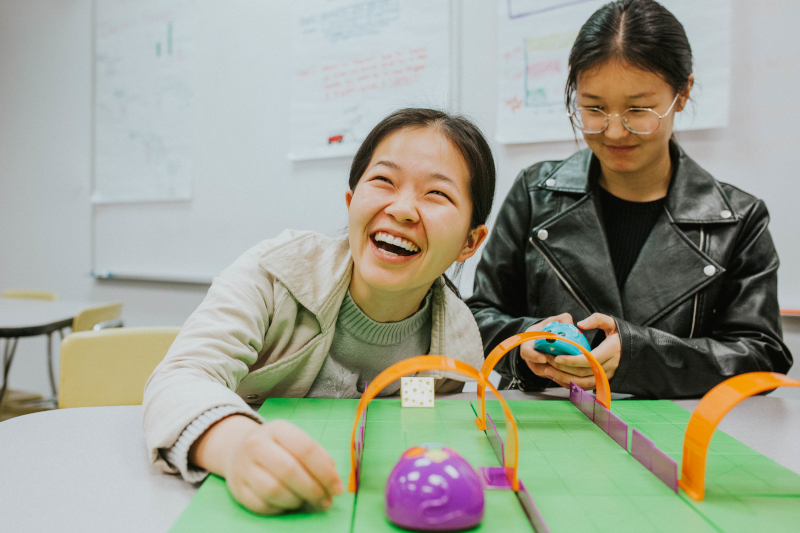 Still, there's more to the makeup of JUTN's uncommon community than its idyllic setting and rich tradition. What truly sets the university apart is its affordability and accessibility. "That dates back to the institution's very beginning," Smith explains. "Our founders wanted to create a school for students who had limited opportunity to attend college. And so, they established a strong work program so students could work in exchange for tuition. The college was a working farm up until the 1960s."
In 1903, Johnson sold his Jersey cows and invested the proceeds in a small herd of 15 Holstein cattle. This livestock became a vital part of the school's financial stability and a means for students to "work off" their tuition. "What that has translated to now is a really strong scholarship program," Smith says.  We are one of the least expensive private colleges in the state. About 60 percent of our endowment goes to student scholarships. That's how we keep tuition as low as possible."
Nearly 30 percent of JUTN freshmen entering the 2020-21 academic year were first generation students. Students in this category often face obstacles their peers don't experience. Smith acknowledges, "More than 70 percent of our students are eligible for Federal Pell grants, so the affordability issue is really critical. But it's not just that we want to be affordable, we also want to make sure we're offering a high-quality education and a high-quality community campus experience."
For Smith and the other members of the college's executive leadership team, "community" all comes down to an attitude of the heart. "You're going to be among faculty and staff who care about you, who want your wellbeing," he says. "We care about the kind of work you do. We believe we're training students to be strong servant leaders in their community and their churches and schools. We stress a strong sense of purpose and a strong sense of community."
To that end, JUTN's advancement offices developed the Uncommon Community campaign, an ambitious effort to shape the culture of both campuses by providing student-centered spaces that encourage physical, relational, and spiritual growth. "We've got a $24.5 million goal," says Smith, "and we're about 50 percent of the way there. We have many generous donors who are helping to fund this campaign."
On the Florida campus, they've built The Commons, a $4.5 million investment that's a combination cafeteria, social space, meeting space, and café. On the Tennessee campus, funds were allocated to create an impressive 45-acre Athletics and Recreation Complex (ARC) which includes an 86,000-square-foot facility with an additional 30 acres including soccer, softball, and baseball fields, six tennis courts, a walking trail, greenspace, and a cross-country course. "In all, it's the largest fundraising campaign we've ever done," says Smith. "We're in those buildings and utilising them already, and they've been a great asset to us. You can imagine that completing the capital campaign successfully is a high priority."
Beyond the campus borders, JUTN's Urban Alliance (UA) initiative, launched in 2014, creates even more opportunities for community and social engagement outside of the traditional academic setting. Offering exceptional youth programs involving leadership development, scholarships, and science camps, UA builds strategic bridges between the needs and resources of urban Knoxville and those of the university.
"We have an advisory board that's made up of local Knoxville leaders—politicians, educators, business people, non-profit representatives, and so on," Smith says. "We have several partnerships through those connections and through the work of the Urban Alliance. One of our strongest and most important is with the Emerald Youth Foundation, Knoxville's largest urban youth organization, whom we support by staffing their Calling & Career Ministry Center with students from our work-study program. We also like to partner with Project GRAD, an urban-based, educational non-profit."
The campus is facing the COVID-19 pandemic with agility and resilience, Smith maintains, but there's one uncomplicated formula for the university's secret to success. Somewhat paradoxically, it is a commitment to stability. He reflects, "We've been here a long time, marked by stable leadership. I'm only the seventh president in 128 years. It's really remarkable. I'm actually in my 32nd year of employment – I was a history professor for 22 years before becoming the Dean of the School of Arts and Sciences, then the Provost, and then President. But I was also a student. I'm a graduate of the college. I have experienced the deep, rich history that is here."
AT A GLANCE
Johnson University
What:  A private, multi-discipline educational institution
Where: Knoxville, Tennessee and Kissimmee, Florida
Website: www.johnsonu.edu