Baytown, Texas
Something for everyone
Business View Magazine interviews Rick Davis, City Manager of Baytown, Texas, for our focus on Growth & Economic Development in U.S. Cities
The beautiful city of Baytown is a gem of southeastern Texas. It's the sixth largest city in the Greater Houston area and the third largest in Harris County. A century ago, Baytown was a magnet for oil and gas production, but in the last 50 years has evolved into a global hub for the petrochemical industry and is now home to ExxonMobil, Chevron Phillips Chemical, Covestro AG, and Enterprise Products Partners L.P. –  some of the world's most influential petrochemical companies.
"In one sense, Baytown is a manufacturing hub, in another it's a naturally beautiful location," shares City Manager Rick Davis. "The city has unique waterfront access to wonderful birding and water opportunities. It speaks to the dichotomy of sustaining livelihoods, while also being an eco-friendly community."
Baytown and the surrounding area has a rich history as the site where General Samuel Houston and his troops defeated General Antonio López de Santa Anna during the Battle of San Jacinto; a victory that led to Texas's independence from Mexico. According to Davis, "Right along San Jacinto Boulevard, we have a monument commemorating Sam Houston, featuring the statue 'Forward' by David Adickes. Sam Houston is pointing towards the San Jacinto monument. We're proud of our Texas heritage and the role this area played in Texas independence, as well as in the emergence of petrochemicals."
Not surprisingly, Baytown is considered an ideal community to live and its population of 90,000 is rapidly rising. Currently, there are approximately 5,000 homes being developed and more room to grow. Davis asserts, "Like other Texas communities, Baytown benefits from the Extraterritorial Jurisdiction (ETJ). This is a boundary surrounding our 34 square miles of incorporated area. We still have control over this ETJ even though it's unincorporated. Baytown pushes out three and half miles in every direction from our incorporated area. If you draw a line there, that's our ETJ of another 34 miles. Altogether, we have 68 square miles. We have room to develop in our north and under our current future land use plan, we could easily reach a population of 200,000."
The residential areas in development are mostly planned unit developments (PUD), which incorporate various uses like recreation and commercial centers. There are also mixed-use developments, which Davis reports, "marry various elements to create live, work, and play environments instead of your run-of-the-mill single-family home (SFH) subdivisions. Our luxury style apartments with laundry facilities, pool, and garage answer the lifestyle desires of a rising generation, rather than simply answering the needs of affordable housing. This accommodates professionals who service the plants. They're here for several months, then leave. We like to think that in Baytown there is something for everyone."
Welcoming everyone to the community means ensuring proper education and workforce training for future generations. In that regard, Baytown maintains strong relationships with the Goose Creek Consolidated Independent School District (GCCISD) and Lee College, the local community college. Within its high schools, GCCISD hosts Career Academies, which prepare students in a specific field. Davis describes it as "a college within a high school" with options ranging from global business to manufacturing & industrial maintenance. He adds, "Lee College is a national leader in disciplines relating to Gulf Coast area industries. We're happy to have two wonderful educational partners in our community. Our industry partners have been supportive; viewing them as the future lifeline."
Baytown's successful partnerships also extend to development, specifically TGS Cedar Port Industrial Park. Davis states, "We have a very good relationship. They're one of the world's largest logistic centers – like an industrial subdivision on steroids. They're cultivating leading companies to come to Baytown and creating living wage jobs. We're so appreciative of their investment and their key roles on our Economic Development Foundation (EDF) and Chamber of Commerce Board. The President James Scott and his team have done an excellent job in launching this venture and turning it into more than we ever imagined. They are a wonderful group."
Another essential partnership is with Fidelis Realty Partners, who are redeveloping the San Jacinto Mall. Since opening in 1981, former mall owners allowed the 1.2 million-square-foot building to fall into disrepair. Davis reports, "Fidelis came along, purchased the 100-acre property, and together we're redeveloping the area into an outdoor lifestyle center. It'll feature new restaurants, entertainment ventures, as well as big box retailers, which Baytown's never had. We have the utmost confidence in Fidelis and their ability to bring something iconic to Baytown, and everywhere from Beaumont to Beltway 8. It'll be the place to visit." Delays due to complex negotiations with existing store anchors have been challenging for Fidelis and the city appreciates how diligent and steadfast they've been. Now that the project is about to become a reality, excitement is rising.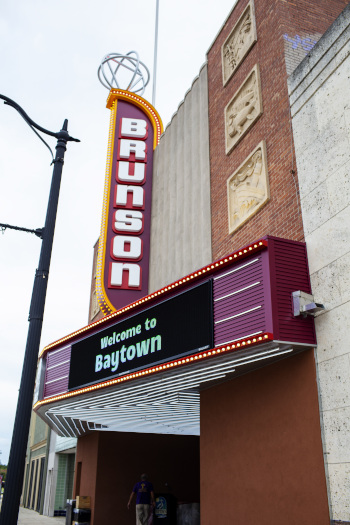 Baytown's robust economy is strengthened by the average petrochemical job averaging $127,000 annually in salary and benefits. While this is, "a terrific platform for prosperity," Davis clarifies, not everyone can participate in this booming economy. "Houston is a destination for many, and like other communities, we grapple with the realities of homelessness; compassionately finding solutions for those without housing or jobs. We're not a social agency, but we're thankful to partner with the United Way of Greater Baytown Area & Chambers County, as well as other charitable organizations. They help individuals get a leg up and hopefully become participants in Baytown's prosperity."
Caring for citizens was a priority during Winter Storm Uri this past February, when Baytown endured freezing temperatures and went hours without water. Along with more than 2,200 other Texas water authorities, Baytown issued a boil water order, because its water system lost both pressure and water. The 40-year-old water plant was engineered to accommodate sub-tropical environments, not ones in 17° Fahrenheit. Following the storm, the city presented the council and Water Authority Board with an After Action Report (AAR) outlining steps it will take to strengthen its infrastructure against future events. "We learned a lot from Hurricane Harvey in August 2017," says Davis. "We haven't had a similar hurricane, but we believe once something like that happens, it's foolish to believe it won't happen again. The first time it's understandable to suffer the consequences of unusual climatic events, but if you let it happen a second time without taking any measures, that's unforgivable."
Part of the plan to defend Baytown against future freezes, includes a new water plant. The $50-million-dollar project will provide Baytown with 6 million gallons of potable water daily and the city will have a total of 30 million gallons of water on hand. The plant even has a desalinization component that, when up and running, will allow Baytown to use water straight from the Gulf of Mexico. The city currently has four wastewater plants, and they continue to work on initiatives to aid overflows – dramatically decreasing overflows where the sanitary system couldn't accommodate heavy rainfall.
Exacerbating this problem is the community's older section of homes with lateral pipes connected to Baytown's trunk lines. This allows water seepage into the pipes causing more water collection in the wastewater system. "We've started a lateral replacement program (PSLIP)," says Davis, "and the Texas Commission on Environmental Quality (TCEQ) even approved funding towards the project. Meanwhile, Hurricane Harvey damaged the East District Wastewater Treatment Plant. Fortunately, we obtained a Federal Emergency Management Agency (FEMA) grant to rebuild it, which is ongoing."
Infrastructurally, Baytown is more prepared now than pre-Hurricane Harvey. After the hurricane impacted 60 lift stations, they've been rebuilt with existing stations being reconditioned. The stock of 100 stations were also lifted to higher elevations. "Baytown's infrastructure is now solid," states Davis. "We're also in the midst of the concrete rehabilitation of North Main Street. Over 50 percent of our streets are concrete, and this rehabilitates the concrete for many more years, instead of resorting to expensive reconstruction. The process entails concrete panel replacement and diamond grinding. It's $2.2 million dollars instead of $14 million, so we're stretching our dollars to rehabilitate more streets. We've even undergone a pavement condition index (PCI) to prioritize areas needing conditioning and reconstruction."
Most importantly, Baytown has created a five-year capital improvement plan (CIP) prioritizing major city projects, aligning them with revenue and financing sources. Unlike other communities that annually source funds for capital projects, the city benefits from using this sophisticated tool. "Our infrastructure requires work and future investment, but the good news is we sleep at night knowing where the dollars come from," says Davis. "We feel good about stretching every dollar that's been entrusted to us. It's simply a consequence of being in a great city with a great staff at the right time. I feel blessed and fortunate to be here."
AT A GLANCE
Baytown, Texas
What: A family-friendly community and manufacturing hub; population 90,000­­­
Where: Southeast Texas on the northern side of Galveston Bay
Website: www.baytown.org       www.Seizebaytown.com
TGS Cedar Port – www.tgscedarport.com
TGS Cedar Port Industrial Park, the country's largest rail- and barge-served master-planned development, spanning 15,000 acres in the Houston Ship Channel.

Fidelis – www.frpltd.com
Formed in 2003, Fidelis is one of Texas' largest commercial real estate companies with over 60 retail properties in Texas, New Mexico, Louisiana, Tennessee, and Colorado. We work closely with tenants, businesses, brokers, and communities to find right-sized, right-priced, and properly spaced shopping centers that help ensure success.