Fotofab
A legacy etched in metal
Business View Magazine interviews Charles Cohen, President of Fotofab, for our focus on Domestic Growth in Metal Manufacturing in America.
For more than 50 years, Fotofab has been an innovator in sheet metal component manufacturing, working with industry leaders in Aerospace, Defense, Medical Devices and Implantables, Industrial, and Electronics to fabricate high-quality precision parts with geometries from simple to very complex. Fotofab never fails to satisfy, whether the mission is a quick-turn prototype or high-volume production run. All metals used by Fotofab are proudly sourced and manufactured in the U.S. and are not affected by the new tariffs.
Every electronic device made today contains an electronic circuit board manufactured by photo etching, but the etching process, itself, is nothing new. In fact, etching has been around since the Middle Ages, when it was used to decorate armor, and by 16th century printmakers to produce printing plates. The actual manufacturing process was developed in the early 1900s by the Buckbee Mears Corporation from St. Paul, MN, and further developed by Kodak during the 1960s. Keen to sell more film and photoresist (a light-sensitive material used in several processes, such as photoengraving, to form a patterned coating on a surface), Kodak ran a seminar on how to produce sheet metal parts via photo etching – the Fotofabrication Corporation (Fotofab) was founded in 1967 in Chicago, IL as a result of those seminars.
Fotofab President, Charles Cohen, has been with the company for 18 years; the past 10 in an ownership capacity. In sharing the backstory, he recounts, "Our founder was inspired to start the company after attending one of Kodak's photo chemical etching seminars. He began the business in his basement, then moved to another Chicago location and, after some growth, moved to our current headquarters on Chicago's northwest side. We've been at this facility about 40 years, and we've had renovations going on, so it's a lot nicer than it was back then. Things have changed quite a bit in that time period – our plant now houses multiple etching machines, and a thoroughly equipped CAE/CAD department. It's much better than the basement."
A second facility, located in Elk Grove Village not far from the main plant and close to O'Hare airport, houses a tool and die shop with forming and stamping capabilities. Fotofab also has a High Reliability division that covers accounts with tighter specs and greater reporting requirements. Falling under that umbrella are certain aerospace companies, satellite companies, and medical device manufacturers. Ninety-eight percent of the company's work is custom, although, it does produce standard shields and optical masks. The majority of business is split equally between the medical and defense sectors.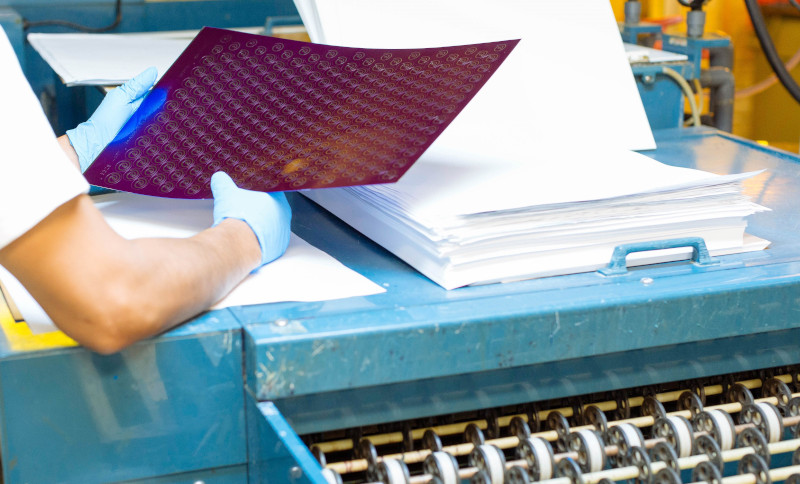 Describing the etching process in layman's terms, Cohen explains, "We create what we call a photo tool – otherwise known as a mask – which is like a negative, but in a positive format. It's a clear film with lines, or marks, on it and a top and bottom that need to be registered perfectly accurate, so we don't have skewing. Then, we clean the metal and coat it with a UV-sensitive resist (a film we laminate onto the metal). We sandwich that resist with the film, top and bottom, and shine UV lights onto the resist. When the light hits, the resist hardens; where away from that tool it stays somewhat soft. We then put it through another process that washes away the softer resist and leaves exposed metal on the top and bottom of that panel.
"After that we put the panel through an acid bath and the acid eats away the metal, where it's exposed. Now, you can create a hole in the metal, because it eats away from both the top and bottom. When the metal is just exposed from the top or bottom, the acid only goes down 50 percent, so you have an etch mark versus a hole. Next step is to remove the resist from the panel and inspect the part using CMM (computerized metallurgical measuring) devices to make sure the parts are within specifications and tolerance. We either send it to the customer at that point or perform secondary services, such as plating or forming – sometimes both – and then ship it out. The long-term relationship we have with one of our metal suppliers, E. Jordan Brooks in California, is very valuable to the process."
Very little automation is involved because the volumes are typically small and have new bespoke parts; as oppose to running thousands of units of the same part, consecutively. A very important part of the Fotofab process is its commitment to a delivery time of four days. If it sees specs for a new part on Monday morning, that part will be shipped on Thursday for the customer to receive on Friday. Never having made that part before, the company will manufacture it in four days. It definitely sets it apart from the competition.
That being said, state-of-the-art automation is a high priority for Fotofab, going forward, and the company is set to spend a large amount of capital in that regard. While Cohen hesitates to give away the details, he notes, "There are positive effects to changing some of our processes with automation. Number one: it will allow us to speed up the process. Number two: it will help the environment by reducing stages in our processes that create waste streams. Number three: it's going to help us get our product to market quicker, maybe three days instead of four." When it comes to stewardship, Fotofab is confident about its environmental impact and footprint. The company recycles 100 percent of its excess metal. Chemistry is all recycled and the majority has secondary uses downstream, being reused in additional manufacturing processes. It relies on help from Scientific Control Labs as a key consultant on environmental concerns.
Fotofab has 45 full-time employees, mostly long-term, and temporary workers are hired during busy periods. While not family-owned, the company is run as a family business in terms of caring about its people. It's an important part of the culture that has helped with the longevity of the firm and worker retention. In Cohen's words: "People stick around because we treat them well and they know we care." In addition to employee loyalty, Fotofab has earned recognition among customers, suppliers, and industry peers. In 2017, the Chicago-based Photo Chemical Machinery Institute (PCMI) celebrated its 50th anniversary. Since Fotofab also started in Chicago in 1967, and has been a PCMI member for many years, the company was pleased to host the trade association's anniversary events.
A signature marketing technique continues to keep Fotofab in the public eye. According to Cohen, "Prior to 2000, direct mailing was our primary marketing campaign and we got great response compared to the industry average. Why? Because we have a unique etched metal business card; we've sent out, literally, hundreds of thousands of these cards over the years. People keep them forever – in their desk, in their toolbox – and they remember us from those." The iconic metal business cards are still personally handed out, and mailed out, whenever the opportunity presents itself.
Not to be left behind, the company is now embracing the advent of digital marketing. Fotofab Marketing Coordinator, Clancy Amadei, reports, "In the last couple years, we've been transitioning from print advertising into a digital online platform. We've put a lot of our marketing efforts into our SEO ad campaigns through Google, Bing, and Yahoo, as well as working with an outside agency to run the day-to-day ads. We also do eblasts with some of the trade publications."
In the coming years, the industry is headed toward tighter tolerances and finer features. For example: to make power supplies smaller, they must operate at higher frequencies, creating a greater need for shielding and heat dissipation. Another area of change is the types of metals customers are asking to be used in fabrication. Exotic metals are required for some medical, aerospace, and scientific applications because of their unique properties. The same properties can be challenging when the metal is etched, stamped, or formed. Fotofab has developed proprietary approaches to overcoming these challenges, so it is able to deliver parts comparable to those made of more compliant metals.
Cohen emphasizes, "If you're not able to produce those things, you'll be left behind. So, that's part of the new capital initiatives we're working on. We have a philosophy that if by chance something goes wrong, we stand behind what we said and will do whatever it takes to make the situation right. We take a lot of pride in that because, although we'd like to be perfect, no one is. And the way you deal with that separates a lot of companies. We've been in business for 50 years and look forward to improving upon ourselves over the next 50 years."
Check out this handpicked feature on the Alco Iron & Metal Company.
AT A GLANCE
Who: Fotofab
What: Sheet metal component manufacturer
Where: Chicago, Illinois
Website: www.fotofab.com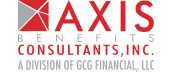 Axis Benefits Consultants – www.axisbenefits.com
As an Alera Group Company, AXIS Benefits Consultants works nationwide providing innovative companies with creative and sustainable employee benefit solutions.