The Ernest N. Morial Convention Center
Changes coming in the Big Easy
Business View Magazine interviews Mike Sawaya, President & General Manager of the Ernest N. Morial Convention Center – best practices of convention venues.
The Ernest N. Morial Convention Center, in New Orleans, Louisiana, was named after Ernest Morial, the city's first Afro-American mayor who served from 1978-1986. Originally opened in 1984, as part of the Louisiana World Exposition, today, the Center is the sixth largest convention facility in America with the nation's largest contiguous-space exhibit hall at 1.1 million square feet. The Center also offers 140 meeting rooms, a 4,000-seat theater, a 30,000-sq.-ft. ballroom, and a 60,300-sq.-ft. divisible, column-free ballroom with a 25,000-sq.-ft. pre-function area.
The Morial Convention Center is managed by New Orleans Public Facility Management Inc., a not-for-profit organization operating under the direction of the Ernest N. Morial New Orleans Exhibition Hall Authority, a political subdivision of the State of Louisiana. Since its opening, the Center has been a leading contributor to the city's robust tourist economy, producing $85.7 billion in economic impact, including $5.4 billion new tax revenue for state and local governments. It is funded by a combination of its own operational budget, and hotel occupancy and restaurant taxes. Just under 500 full- and part-time employees work for the Convention Center, which hosts an average of 140 events, annually.
Over the years, the building, whose frontage is over a half-mile long, has undergone several expansions – 1984, 1991, and 1999. "Since then, there was a fourth phase of expansion planned right before Hurricane Katrina; in fact, they'd already drilled the piers for the building," explains the Center's President & General Manager, Mike Sawaya, who came onboard in early 2018. "However, after Katrina, demand was less than forecast, so they did not build an additional exhibit hall, even though, prior to that, they had reached the practical maximum in occupancy. They did, however, build the 60,000-sq.-ft. ballroom in 2014."
Currently, Sawaya says that the Center's main focus is establishing a new headquarter hotel. "It's a 1,200-room hotel that we're in negotiation with a private development group for," he reports. "The hotel project is critical to our success, here. It's the one thing that, we believe, is a gap to what we offer versus our competitors, so it's something that we're very serious about pursuing. We're in the early stages of our negotiations with the property developer, but we feel confident that we're going to get a deal done in order to develop that, and our goal is to open by Super Bowl in 2024, because that's when you welcome the world. In addition, our Board has approved $557 million worth of critical improvements to the facility, portions of which are 35 years old."
Another ongoing project, just outside the Center, is the renovation of Convention Center Boulevard. "It's currently under construction," says Sawaya. "Before, there were four lanes of highway traffic on the main corridor in and out of the city, immediately in front of the building, and spanning its entire length. We're going to create a much safer and more appealing first impression of our building by having a linear park; we will change from a four-lane highway to a very inviting pedestrian pathway that spans the length of our building. So, there'll be two lanes of traffic on the far side, away from the building."
The new, $65 million pedestrian park, expected to be completed by late 2020, will update the urban environment with tree-lined plazas, bike lanes, covered porches, outdoor event spaces, water features, green walls, water walls, public art, and shaded sitting areas. It will also connect the bustling Warehouse/Arts District with the historic French Quarter, and dramatically transform the guest experience at the Convention Center. "It creates a much more inviting and safe environment," Sawaya continues. "It will include a multi-modal center for shuttle bus, ride share, and taxi. Also, around the hotel site, we have a total of 40 acres that we're developing for entertainment, specialty retail, and residential. Those are all things that represent over $1.5 billion worth of new product offerings that we'll have for our customers in the future."
Meanwhile, Sawaya points out some of the Center's current advantages. "The destination appeal is obvious, but it's a matter of having the capacity of putting on a show where you can use all of the facility, so the size and the capacity to do the bigger shows are key for us. When you have as much exhibit space as we do, they're always interested. Also, having a great airport is critical. We have a new billion-dollar airport opening and that doesn't happen very often, so flight service into a new airport is key. And our charge, here, is to make sure that anything that we do lines up with industry best practices. So, our goal, right now, is to get LEED Silver certification, not only through our improvement projects, including a new roof, but also through our operating practices. We have established a sustainability department and we have a dedicated staff that's working with local and regional entities to reach that goal of LEED Silver."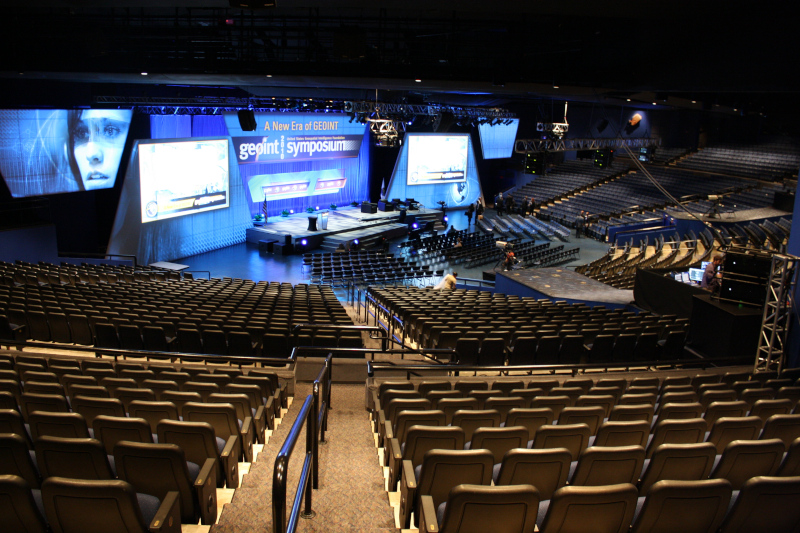 Regarding technology, Sawaya believes that the Center is extremely competitive and up-to-date. It boasts a 1-gigabit per-second fiber-optic Internet backbone that is 100-percent redundant and burstable to 10 gigabits per second. Digital, flat-panel information systems are strategically placed throughout the main lobby, meeting room levels, and in pre-function areas. In addition, key card access and a fully integrated, digital signage system with screens were implemented in all 140 meeting rooms and throughout public spaces. In addition, its highly qualified and experienced production team offers a full slate of integrated services for all lighting, audio, video, and rigging needs, in-house, or to support an outside contractor. The Center also offers a full suite of HD video equipment for a variety of satellite broadcasts, presentations, or recording formats and the trained personnel to design, capture, and edit programs, on-site. "However our plan is to bring in a consultant to do an analysis of our IT system throughout the building and to make recommendations on current, as well as future, improvements, Sawaya avers. "So, recognizing that it's a high priority for us, our intention is to invest in it annually, so that we can make sure that we have the best technology of any building in the country."
A first class venue in one of America's most vibrant cities, the Ernest N. Morial Convention Center is clearly poised for a busy and productive future.
AT A GLANCE
WHO: The Ernest N. Morial Convention Center
WHAT: The sixth largest convention facility in America
WHERE: New Orleans, Louisiana
WEBSITE: www.mccno.com