The Columbus Airport
Exceeding expectations
Business View Magazine interviews Amber Clark, Manager of the Columbus Airport, as part of our series on regional, American airports.
The Columbus Airport is a public use airport located three miles northeast of the central business district of Columbus, a city in Muscogee County, Georgia. Owned by the Columbus Airport Commission, and serving Georgia's third largest city, it is the state's fourth busiest airport, with general aviation and corporate traffic, and one commercial carrier – Delta Connection/ExpressJet – that provides passenger routes to Atlanta. The airport covers an area of 680 acres and has two asphalt paved runways, the longest of which is approximately 7,000 feet.
"The facility opened on August 1, 1944," says Amber Clark, Airport Director and FBO Manager. "That's when Eastern Airlines decided to add our city as a stop between Atlanta and Montgomery, Alabama. The inspiration behind our original service was a flight by Amelia Earhart, back in 1931, when she was doing her nationwide tour of Women in Aviation, and included a stop here in Columbus. Unscheduled mail flights were regularly occurring in 1936, which led to scheduled mail flights in 1937. That began a big campaign in the community as we realized we had a demand for air service in Columbus. From that point on, our airport progressed."
Today, there are 150 home-based GA aircraft at Columbus, and approximately 50,000 commercial enplanements a year. Clark says that the Airport is attempting to increase that number by initiating non-stop, commercial service between Columbus and Charlotte, North Carolina. To that end, the Airport Commission has created an Air Service Recruitment Plan under which the Airport and its community partners would share in raising a total of $1.7 million in risk mitigation funding in order to help attract a new carrier, which would provide service between Columbus and Charlotte. It has already been awarded a federal Department of Transportation Air Service Grant of $750,000 to be used for that purpose. "We've worked really hard on the Air Service Recruitment plan," says Clark, "getting our community involved and making sure that we are communicating to the airlines the demand, the need, and the travel usage here in our community, so we can show them what will be successful and bring them here."
Clark adds that the Airport is also attempting to increase its GA traffic by rebranding its FBO, which it owns, and increasing its marketing activities. "We've targeted advertising at industry conferences, and we've hosted a lot of events, like fly-ins. We've offered a lot of different promotional items at the FBO to engage our local and transient customers. We've also created a dedicated website for the FBO, which has helped increase our general aviation activity. Last year, we increased our GA operations by 24 percent."
The Airport is also deciding when and how it is going to build new GA hangars, because like most small, regional airports in the country, it has a waiting list. Among the options considered are: the Airport would provide the infrastructure and then build the new hangars itself; it would provide the infrastructure, only, for private developers to come in and build their own facilities; or it would offer ground leases to interested parties. "We have determined there is a need, but it's going to take some research on our part to determine what will work best in our market and with our customers," Clark explains. "And then, whichever seems to be the more successful way, we'll probably take that approach."
Regarding the Airport's current infrastructure, Clark reports that it is currently in the design phase of modernizing its terminal building. "Our terminal was built in 1991 and it has aged," she notes. "We will not be tearing the building down, but we will be redoing everything within it. All the systems will be new – a brand new interior design, a new baggage handling system with additional automation. We also are going to be rearranging our TSA screening area to add efficiency, and add some exit breach control doors to enhance our security. We're also going to be adding some electronic survey systems where customers can leave us immediate feedback in regards to their experiences in the terminal."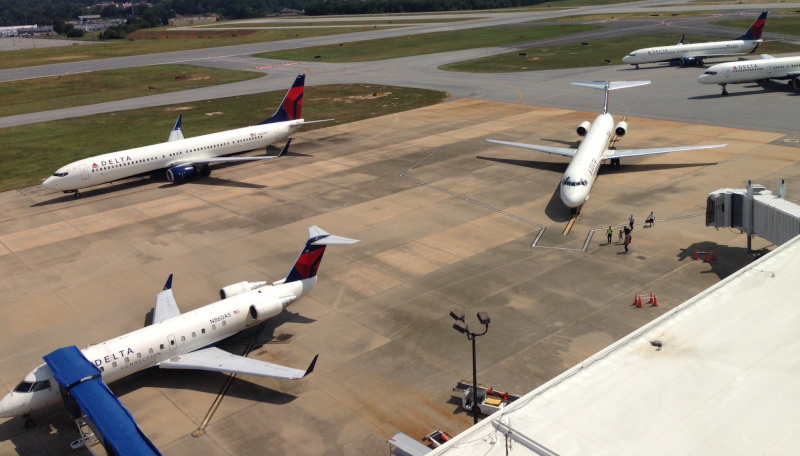 "As far as other areas of the Airport, we're looking to expand some of our GA areas – hangars, and landscaping," Clark adds. "We'll continue our scheduled runway and taxiway projects to make sure that our pavement and our infrastructure are up-to-date and maintained. We're also going to be doing some improvements to our air service equipment at our FBO – some improvements to the fuel farm area, as well as provide some additional equipment that we have not had in the past. We do have some larger aircraft that come in – 737s on our GA side – so we are looking to add air conditioning cars and larger GPUs for those aircraft (GPUs, or Ground Power Units, are vehicles capable of supplying power to aircraft parked on the ground). We're also going to be investing in our public service vehicles and equipment, like a new AARF (Aircraft Rescue and Fire Fighting) truck in the next couple of years. We have over 680 acres, so we want the best and newest equipment to maintain all that and make sure that our operations continue to run smoothly and safely." Funding for these projects will come from a combination of AIP funding (the FAA's Airport Improvement Program), PFCs (Passenger Facility Charges) and the Airports own enterprise fund.
Clark sees the Airport as an integral part of the greater Columbus community, as well as its future economic development. "We are a hometown airport," she avers. We embrace our community. We're known for providing airport services and amenities with a personal touch to both our commercial and general aviation customers. We're committed to air transportation and economic development within our community, so we work closely with our Chamber of Commerce, and the City Council, and all our local businesses. We also want to make sure that we are representing Columbus, Georgia and our region in the most business-like manner, while exceeding expectations for safety and service."
Check out this handpicked feature on the Auburn-Lewiston Airport.
AT A GLANCE
WHO: The Columbus Airport
WHAT: A commercial and general aviation airport
WHERE: Three miles northeast of Columbus, a city in Muscogee County, Georgia
WEBSITE: www.flycolumbusga.com