Canadian Home Builders' Association (CHBA) Edmonton Region
CHBA-Edmonton Region: Shaping the Future of Edmonton's Residential Construction Industry
Playing a pivotal role in advocating for key sector-focused issues, CHBA leads the residential construction path.
The Canadian Home Builders' Association (CHBA) Edmonton Region is a dynamic organization dedicated to advancing the interests of its members in the region's thriving residential construction industry. With a membership base that spans home builders, developers, renovators, suppliers, and industry professionals, the CHBA-Edmonton Region is focused on advocacy, education, and community engagement while playing an essential role in shaping the future of the residential construction industry in the Edmonton region.
Advocacy and Industry Focus
Laura Bruno, CEO of CHBA-Edmonton Region, relays the strategic pillars of the association, which are devoted to advocacy and membership engagement.
She shares, "We're a not-for-profit that engages and serves its core membership of builders, renovators, and general members by advocating on behalf of the residential construction industry in pursuit of our member's success. Representing and advocating on behalf of members by working with municipal partners in Edmonton and the surrounding municipalities to ensure we keep our economic advantage with housing choice and affordability and enabling a good built environment with less red tape is a core component of what we do as an association."
Outlining the advocacy priorities that are part of the association's three-year strategic plan, Bruno says CHBA-Edmonton Region is focused on the City of Edmonton City Plan Implementation, Impacts of Energy Efficiency on Housing, and Permit Process Improvements.
She elaborates, "City Plan Implementation involves many different files we actively engage on including zoning bylaw renewal, city planning framework, growth management framework, and district planning.
Balancing housing affordability with energy efficiency is also top of mind for CHBA, and the organization is continuously involved in discussions surrounding innovations in energy efficiency, including their implications to housing costs. CHBA is also committed to streamlining the permitting process, seeking to reduce red tape and enable builders to construct high-quality homes in Edmonton as efficiently as possible.
"Another aspect that's important to us is relationship building," stresses Bruno.
"We value fostering relationships with administration and elected officials across the Edmonton region.
Shaping the Future of Edmonton's Housing Landscape
Highlighting that Edmonton is one of the most affordable large cities in Canada, Bruno emphasizes the association's commitment to preserving this reputation. "We're fortunate to have supply keeping up with demand in Edmonton. However, we need to maintain a healthy supply while facing increased demand," she says.
"We want to ensure that we're able to bring on products that allow new homebuyers, first-time homebuyers, and new residents of Edmonton to afford a home."
Of course, the region is not insulated from the external challenges of rising interest rates and labor shortages that are affecting communities across North America. Bruno points out that these factors have decreased the number of homes sold in the Edmonton market.
Regarding the financial uncertainty stemming from increased interest rates, she acknowledges, "There has been ongoing concern about how increased interest rates have impacted housing affordability. You can see it in the Edmonton market. Our role is to assist in managing cost pressures as much as possible at the local level."
This includes exploring strategies like process improvements, innovative produce types, and facilitating secondary and garden suites. These approaches aim to offset the rise in mortgage rates by providing additional income through renters or offering more affordable housing options for the average consumer.
When describing the housing inventory in the city, Bruno explains that there has been a significant increase in the construction of apartment and condo buildings. This has mainly been facilitated by the MLI Select program through CMHC, which introduced an innovative funding mechanism to promote the development of more affordable housing units, focusing on affordability, energy efficiency, and accessibility as key criteria for eligibility.
However, she maintains that the preference among consumers still leans heavily toward ground-oriented homes. These include townhomes and zero lot line homes, with only one side yard, reducing home costs and offering a more compact and dense living arrangement.
Balancing Energy Efficiency and Affordability
On the subject of sustainable building, Bruno admits, "Green building practices are costly. While many people may want to build a more energy-efficient home, it comes with a price tag that the average consumer can't afford."
She conveys that several builders in the region are embracing sustainable approaches such as net-zero construction and introducing innovative products to the market. Additionally, there's a growing trend of integrating solar technology into new homes.
"New homes are much more energy efficient in comparison to the older housing stock," she recounts. "We need to work together with our municipal partners to find incremental changes that will impact energy efficiency and greenhouse gas emissions while maintaining housing affordability. We're having an important conversation in Edmonton about the future of energy-efficient homes."
To connect and engage with members, CHBA-Edmonton Region utilizes social media. "It's one of the tools we use to educate and engage with our members," portrays Bruno.
"We also have weekly association updates that go out, a monthly foundation newsletter, and we provide our members a quarterly economic framework."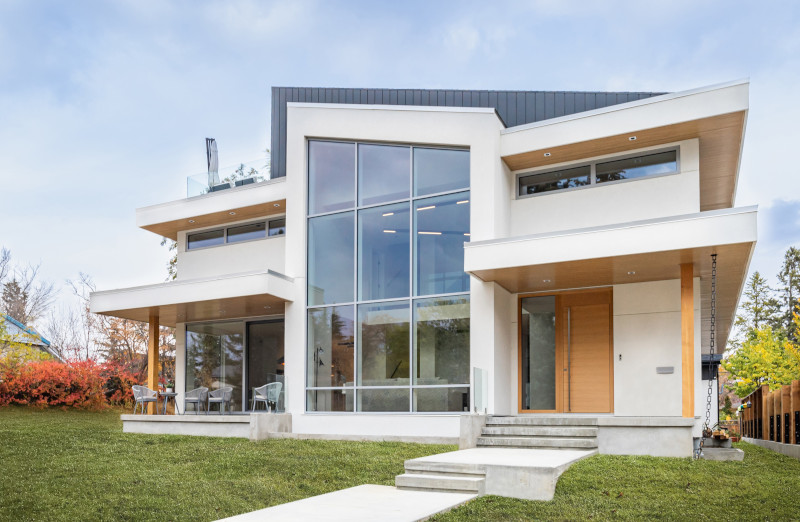 Additionally, the organization hosts several events to educate and inform members on the changing landscape of the residential construction industry. These include a monthly builder breakfast and a half-day education symposium called Building U. The association has also updated its website and is continually revisiting ways best to communicate with members.
"Communication is really important to us. We want to ensure our members are well informed on the latest industry information," she remarks.
CHBA-Edmonton Region relies on robust partnerships across various levels, encompassing collaboration with local real estate associations, land development groups, and other building organizations. These partnerships extend to provincial and national collaborations, such as with the Canadian Home Builders Association (CHBA) at the national level and provincial partners like BILD Alberta.
"These entities work together frequently and share the common goal of advancing the industry's interests in tandem with municipal partners," says Bruno.
"Collaboration is an essential part of our success; we need to work together to achieve these collective goals." The dedicated team at CHBA-Edmonton Region also plays a pivotal role in realizing these objectives.
"We have core values as a team that are important to us. And the number one is to be member-centric. We are ultimately here for the betterment of our membership and the industry. We're a small team, but we're a mighty team. We get a lot done by working together to execute our strategic plan. This happens through good communication, trust, openness, and honesty," she adds.
Moving forward, some of the key concerns for the CHBA-Edmonton Region include finding a balance between energy efficiency and affordability in housing. Bruno notes the importance of taking a deliberate and transitional approach to ensure efficiency initiatives do not compromise housing affordability.
Additionally, the organization is focused on consistency in permitting and inspections within the region while they work to streamline the construction process. Overall, she says CHBA-Edmonton Region remains dedicated to advocating for its members and the residential construction industry, actively addressing these concerns.
As a final thought, Bruno remarks, "Our vision is to be the voice shaping the future of our industry. That's ultimately what we're trying to do as we continue to support our membership in building a great region."
AT A GLANCE
Canadian Home Builders' Association (CHBA) Edmonton Region
What: A home builders association educating and advocating for the residential construction industry
Where: Edmonton, Alberta
Website: www.chbaedmonton.ca