Laney Directional Drilling
A leader in design, technology, and execution
Business View Magazine interviews Maureen Carlin, Strategic Marketing Manager of Laney Directional Drilling – best practices in trenchless construction.
The Laney Directional Drilling Company is a horizontal directional drilling (HDD) firm that provides integrated engineering, design, and HDD construction services across America and worldwide. It specializes in servicing pipeline operating companies and pipeline contractors, providing services for installing infrastructure, such as oil and gas pipelines, telecommunications conduits, water and sewer lines, and environmental remediation casings. In addition, the company provides other trenchless construction methods, such as road boring and Direct Pipe installations.
Based in Spring, Texas, the company was originally founded in 1947 as the Texas Road Boring Company by J.M. "Doc" Laney. Doc Laney's three sons, Marcus, Dickey, and Steve, joined their father in the business, and worked with him until his death in 1978. In 1979, the brothers formed Laney Inc. in Humble, Texas, and expanded their business services to become a premier trenchless boring contractor. Laney Inc. increased its focus on large pipeline installations up to 48 inches in diameter, primarily utilizing auger boring and slick boring for pipeline companies in the petrochemical market of the Gulf Coast region.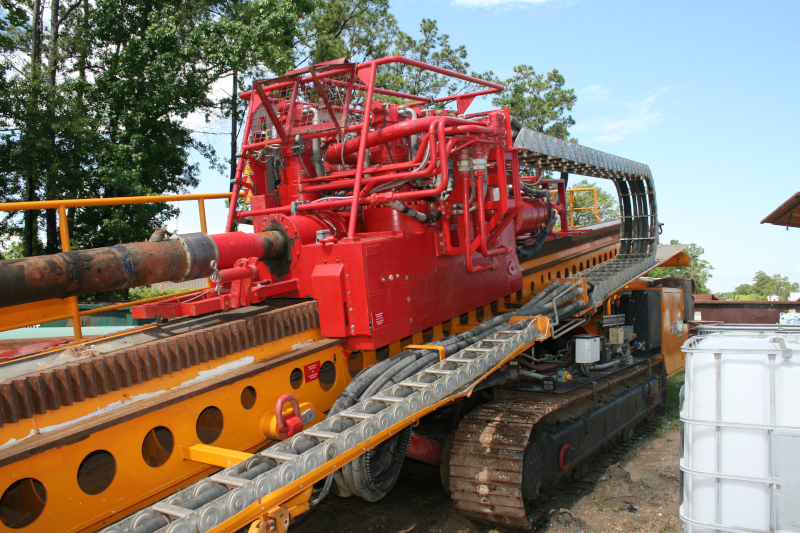 In the late '80s, an inventor named Martin Cherrington developed the concept of horizontal directional drilling as a practical alternative to conventional trenching methods. HDD, as it would become known, ultimately revolutionized the way the construction industry came to install underground utilities and pipelines in cities and under large natural obstacles such as rivers. The Laney's adopted the new technology and formed Laney Directional Drilling, running its operations from an office trailer in Laney Inc.'s backyard.
"It fit the market that the Laney's were in," recounts Maureen Carlin, the company's Strategic Marketing Manager. "They already had established their presence in the Houston area, which is the oil and gas capital of the country. So, they were able to take this HDD technology and apply it to smaller diameter over longer lengths and also some of the larger diameters needed by some of the oil and gas companies over larger lengths."
By the late '90s, the company was building its own custom rigs, some of which were the largest in the world at the time, and according to Carlin, still are. "We have a 1.8 million ton machine, which is the biggest in North America," she states. "Around 2011, we started incorporating our engineering services and became a design/build company with our own in-house engineers. In 2014, we took over a technology called Direct Pipe, which is a form of micro-tunneling and added that to our services. It's an up-and-coming technology that's being used all over the world for very complex projects in areas that are environmentally sensitive. And since then, we've become a global leader in that technology for any large, complex, HDD project."
Today, Laney Directional Drilling is North America's premier, independent trenchless construction and engineering firm with over 30 years' experience serving the oil, gas, power, telecommunications, water, sewer, wind, desalinization, and mining industries. The company is widely recognized as one of the most experienced and capable horizontal directional drilling providers for large diameter pipelines as well as the leading Direct Pipe contractor in North America having completed a world-record, Direct Pipe installation in Brownsville, Texas in January 2018.
The company's full-time staff of 50 at its Spring, Texas headquarters includes executives, project engineers and managers, estimators, technical marketers, and administrative and support personnel. "We also have a yard in Humble, Texas with about four salaried employees who operate out there and we have anywhere from 15-25 hourly employees doing maintenance, retrofitting, painting, cleaning, and maintaining our equipment," Carlin adds. "We also have about six people in places such as Phoenix, Salt Lake, Wisconsin, Missouri, and Ecuador.  We've worked in 14 countries and have done about 250 individual projects on every continent except Antarctica. Recently, we've gotten back onto an international footprint, particularly because of our success with Direct Pipe. We're one of only two companies in North America that are successful with the process."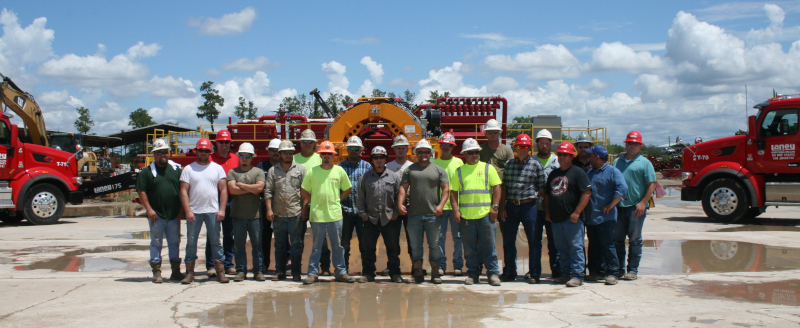 Carlin reports that, historically, 80-90 percent of the company's work has come from the oil and gas pipeline industry with major clients such as Exxon, Chevron, and Phillips Petroleum, as well as mainline contractors, such as U.S. Pipeline. But lately, the firm has been exploring many other markets. "Another big market segment is the large utility firms like NextEra, or the parent company of Florida Power & Light," she notes. "NextEra has a power arm and large scale gas lines coming into feed their power plants. So, utility companies have become an emerging market as their owners become more aware of trenchless technologies and the complexities of projects, such as putting transmission lines underground."
"We also do sewer and water which is really a byproduct of aging infrastructure," she continues. "Some places have 120-year-old pipelines that are at the end of their lifecycle. If you need water for a city, you have to make upgrades and replacements. So, there's a lot more opportunities there. Then there are all sorts of different places our technologies apply to: emerging markets like desalinization or solar power, or offshore wind power. So, part of what I do, and what my team of engineers does, is to try and educate the owners on what is out there and how it applies to their projects. That's been a big part of what we've been able to do this last year and it's paying off."
Carlin believes that Laney's competitive advantage lies in its proven ability to take on large, complex projects. "We've done a number of North American, record-setting projects – not just for length, but size, conditions, and elevation. And our in-house engineering team is a big advantage," she avers. "We're a small company, but that being said, our engineers can talk about the whole lifecycle of a project – what it will take to construct, what type of equipment, what kind of time frame. So, putting the right people in the room has given us a lot of success at figuring out these complex projects."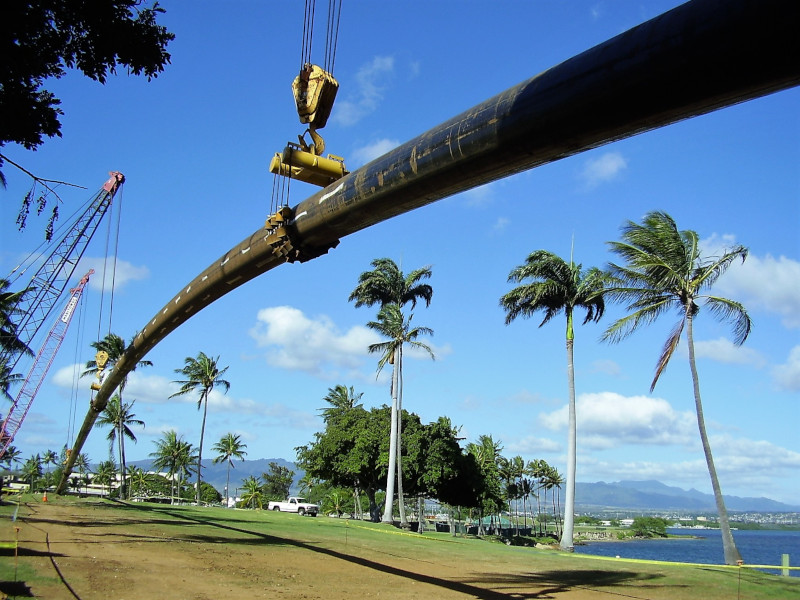 Recently, the company has made some major capital investments in new equipment. "We've established a relationship with Herrenknecht, which is a company out of Germany that leads the HDD and micro-tunneling world as far as the technology is concerned," Carlin relates. "We've invested in a second direct pipe spread, which will give us the most length that we can operate at one time. So, we can go out and do 10,000 feet with this technology, at once. The numbers say that we can do that; even though the record, right now, is 5,000, we have no reason to think we can't get to 10,000. We're also in the process of procuring three brand new, Herrenknecht maxi-rigs that are 500-750 thousand pounds each. That's the amount of pipe weight that it can pull back at one time. So, you're talking about tons and tons of pipe – the larger the rig the more actual pullback you can do at once. But also, during the drill operations, they offer more sophisticated steering capabilities and some elevated torque so you can go through harsher conditions. These are the best and biggest, and most efficient rigs that we can find."
Carlin admits that one of her company's current challenges is countering some of the off-putting media stories concerning pipelines. "Right now, there's so much negativity associated with any type of pipeline," she opines. "So we, as an industry, need to do a better job of educating people that there are technologies out there that did not exist years ago, that are safe, effective, and environmentally responsible. Understanding the technologies would help people better understand that when they see a pipeline project going on in their city, they don't need to immediately get defensive about it. They need to support it, and learn about it, and why it's going to benefit their community."
"And Laney is a leader in design, technology, and execution," she says, in conclusion. "A single point solution that puts all the pieces together to give the highest likelihood of success that a project is going to be executed safely, will be environmentally responsible with high consideration for the community, and, obviously, on budget and on time."
Check out this handpicked feature on Thermogenics Boilers.
AT A GLANCE
WHO: Laney Directional Drilling
WHAT: A horizontal directional drilling firm
WHERE: Spring, Texas
WEBSITE: www.laneydrilling.com
Herrenknecht AG – www.herrenknecht.com
Herrenknecht pipeline equipment gains ground 
After launching the first Pipe Jacking equipment in North America in the early 1990s, Herrenknecht delivered the first pipeline equipment to the US in 2006: a Pipe Thruster for HDD assistance and rescue, followed by the first Direct Pipe® equipment four years later. Thanks to the engineering spirit of the North American pipeline industry and their search for safer solutions for pipeline crossings, new technologies like Direct Pipe® could be established. In addition to the subsidiary in Seattle, Herrenknecht has opened a Pipeline Service Hub in Houston in 2018 to assure close customer care for the rising number of HDD Rigs in the market and to underline Herrenknecht´s commitment to the pipeline industry. 
Laney Directional Drilling Co. is one of the big players in the large diameter pipeline business in the US and an important partner for Herrenknecht for innovative pipeline solutions. Originally coming from the HDD business, Laney has successfully opened up new perspectives by implementing Direct Pipe® in their portfolio. Driven by a spirit of innovation to increase flexibility, safety and efficiency for challenging pipeline crossings, Laney set important benchmarks in Direct Pipe®.  Their expertise and involvement in project design contributed to Direct Pipe® success. After the outstanding levee crossing in Port Arthur in 2015, we send our congratulations to Laney for the first Direct Pipe® Shore Approach in North America, on a record length of 4,900 feet! 
Kayden Industries – kaydenindustries.com
Kayden Industries is an Environmental company focused on solid-liquid separation. Founded in 1995, we built one of the most robust and reliable centrifuges for oilfield drilling operations. In 2015, we diversified into HDD solids-liquids separation. There was a large need in the HDD industry for large bowl equipment with high processing rates. Our previous experience and reliability quickly made Kayden the Centrifuge service provider of choice for many of the top HDD contractors including Laney.