Royal Contracting Co. Ltd
Sixty years and still going strong
Business View Magazine interviews Leonard Leong, President of Royal Contracting Co. Ltd, for our focus on the Construction Industry in Hawaii
Celebrating 60 Years of excellence in infrastructure construction, Royal Contracting Co. Ltd has a well-earned reputation for its exceptional work on the Hawaiian islands. Taking on unique and often challenging projects are all in a day's work for this seasoned team of professionals.
Royal Contracting was started in 1961 by two men who had years of experience working in the construction industry. Like most contracting companies, they were small and started out doing subcontracting work like helping a larger building contractor lay a water or sewer line. As they gained financial strength, they acquired bonding capacity, so they were able to bid on various, mostly government, jobs – city, state, and federal sources provided revenue and work for their crews.
Later on, they ventured out into the more commercial market and were very successful. Their reputation grew with them and engineering firms would include them on their bid list. This opened up quite a bit of opportunity. With the commercial work and the public sector work, they continued to grow and became involved with site development – building roads for subdivisions and commercial shopping centers, etc.
In the last 25 years, 50 percent of the work has been on private projects, such as subdivisions. For one particular client, Castle and Cooke Homes, Royal Contracting built lots for about 3500 homes from about 1990 to 2003. Two years ago, Castle & Cooke started another project that is scheduled to last for 10 years. That also has about 3500 homes with commercial areas, an industrial park, and other facilities including schools and parks. Royal Contracting President Leonard Leong reports, "We're hoping to be there for a decade. We have a good working relationship with them and our work is of great quality. Also, we're very conscious of their schedule because like any developer they have targets on how many homes they want to produce, and we've been able to satisfy them."
Another key client of Royal Contracting is D R Horton – one of the biggest homebuilders in the nation. "We've been working with them for at least 10 years," Leong says, "and about four years ago, we started on a project here on the island of Oahu and that's scheduled to last for 20 years. Their plan is to build 11,000 homes." While willing to look at any non-traditional job, Royal Contracting is currently working more in the private sector, with the long-term housing development projects taking up about 75 to 80 percent of their capacity at present. Leong shares, "We very much appreciate the work that Castle & Cooke Homes and D R Horton send our way and we hope that by working with us they will be successful in their endeavors."
Core values are the foundation of Royal Contracting's success. Above all, they always give quality work, earning a good reputation with inspectors and engineers who don't want homeowners having to worry about manhole covers and the pavement sinking under roads or their sewer being clogged because of failing infrastructure. Leong attests, "We're happy and proud of the fact that this doesn't occur on our projects. We could be starting on a subdivision and halfway through, if they get their building permits, they'll come onto the completed lots that have been graded while we're still working on the roadway. That could save them a month or two in time to turn over the units. So I think they appreciate our willingness to work and to help them accelerate their schedule."
Based in Oahu, in the industrial area close to the airport, the Royal Contracting construction crew is comprised of 180 people in the field and a lean staff of about 15 in the office. Until about 20 years ago, they also did work on the Big Island, Maui, Kauai, Lanai, even on Kahoʻolawe, which the military used as a target practice island. Leong explains, "About two decades ago, they decided to clean up the island and return it to the state so people could visit, campout, and enjoy the island. Fortunately, we were selected to be part of the team to do the construction. That was an interesting job. One of the unique things was that we were told not to dig deeper than three feet because there were bombs, etc. below that level – which we did occasionally expose but they didn't, thankfully, explode!"
The biggest challenge for the company today is obtaining material – what used to be available in 60 days now takes from four to six months. According to Leong, "The most disturbing fact is price protection, because as a contractor you have to prepare your bid and submit it to the owner for review, who then decides if they're going to go ahead with the project. That might take 30 to 45 days and suppliers are now quoting that their prices are only good for 30 days. So when we get notified that we have a project and we go to order the material, we're not guaranteed that the price we used in the bid is now valid, because they're having the same problem with their suppliers on the mainland."
The Royal Contracting firm differentiates themselves by venturing out on projects that are different, such as the ordinance project on Kahoʻolawe. They also teamed up with a company on the mainland to reinforce the earth above a sewer tunnel. As Leong describes, "That was unique in that our workers were drilling through the tunnel in the sewage water, and then we injected grout through the funnel lining to fill up the voids that had developed in the past 50 to 100 years. We did a similar project at the naval base at Pearl Harbor. We also did a project where there were boulders coming down the slope behind a townhouse development and the solution was to break loose boulders then lay out a wire mesh rock curtain over the slope. We teamed up with a mainland contractor and the mesh was laid with a helicopter."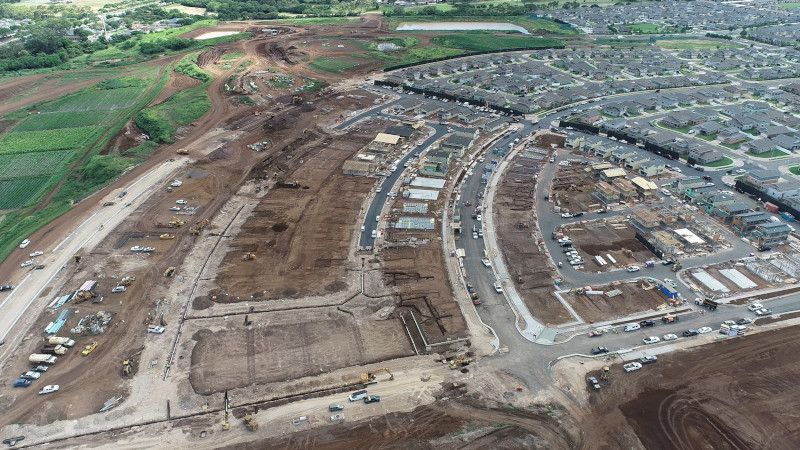 Royal Contracting is also involved with the HRT (Honolulu Rail Transit) project – a light metro system under construction in Hawaii. They've had an ongoing contract with the HRT developers since 2014 and it's scheduled to expire in 2025. Under that contract, they are helping out with archaeological studies, demolishing buildings that are in the way of the rail line, relocating utilities, doing soil exploration to check for contamination, and relocating trees that are in the way of construction. Leong confirms, "That's always an enjoyable part, trying to save a tree instead of just cutting it down."
When it comes to technology, the company is now using drones to keep track of projects and monitor progress. The drone footage provides a lot of information, including an overview of neighboring communities. "We're trying to stay aware of the environment that we're working in," says Leong. "There are more regulations today – most are pretty reasonable but trying to keep a truck from taking dust out onto the road is a difficult thing to do, depending on the weather and the job site. A lot of these things are good for the environment but they also add to the cost of construction, which doesn't help the first-time buyer. Hawaii has one of the higher medians for cost for homes in the United States of America."
The goal for the future of the company is expansion, although maybe not quite as rapidly as they have in the last 10-15 years. Leong admits, "Our team is getting a little older, so we need to find replacements that we can train over the next five years to take over some positions that would become vacant. We're trying to attract that up-and-coming generation of workers. Construction is not a typical 8-hour day job, so you need people who are interested in the game and willing to commit some time to be successful."
He adds, "We're also going to be working on projects to help out the homeless people. It's heartwarming to find other contractors that are willing to participate – electricians, plumbers, roofers, etc. – whereas, we come in and help with the grading and extending some of the underground utility lines. We'll be starting shortly on a village that's going to relocate 350 people from a camp on the ocean side. That's a new challenge for us and something that we feel proud to be helping with."
AT A GLANCE
Royal Contracting Co. Ltd
What: A leading construction firm specializing in subdivision/infrastructure projects
Where: Based on Oahu, Hawaii
Ideal Innovation LLC
1730 Kitty Hawk Street, NAS Barbers Point Kapolei, HI 96707
808- 837- 7717; idealinnovation@yahoo.com
Since the very beginning of our company's journey in the construction transportation and heavy equipment hauling and operations, we have worked with the owners of Royal Contracting Co., Ltd., popularly known simply as, "Royal" in the islands. Leonard Leong, it's Chairman and President, and his field supervisors, have been an incredibly positive driving force to the success of our trucking services and we are very grateful for their belief and confidence in us in those early days of our company's infancy. Today, having survived these tough and unpredictable past few years, we are certain that our partnership with them has no doubt been a catalyst to our present success in this industry. Their ability to acquire necessary housing construction projects, and their continued support in our company, has proved to be a solution where everyone benefits even at these challenging times. We are also dedicated and hold profound respect for all our partners in this industry that make our work possible. Our perseverance and hard work are what began the dream. Now the dream is giving back, with great people, great professional and personal relationships, and the ability to survive in this competitive industry. We at Ideal Innovation LLC, are forever grateful for the opportunity.
Jack Endo Electric
814 Kilihau St, Honolulu, HI 96819, United States

Honua Waterworks – www.honuawaterworks.com
Honua Waterworks provides distribution of main waterline and sewer-line, irrigation, and drainage supplies for projects across Hawaii.  Our goal is to provide the highest quality products and superior customer service to support Hawaiʻi's contractors.  Our sales, delivery, and customer service teams have 30+ years of industry experience and are committed to making your project a success.

Amazon Construction Company Inc. – amazon-trucking.com
96-1255 Waihona StreetPearl City, Hawaii 96782