Clemson University Wood Utilization + Design Institute
Engineering a wood revolution
Business View Magazine interviews Patricia Layton, Director of Clemson University Wood Utilization + Design Institute, for our focus on Timber Construction
Clemson University's Wood Utilization + Design Institute (WU+D) is both a multidisciplinary engine of innovation and a creative site, uniting architects, constructors, engineers, and foresters involved in advancing wood-based construction materials and designs to compete with concrete, steel, and other materials currently dominating the non-residential construction market.
"The Institute was formally approved in 2013, but it really existed prior to that with trying to understand what Clemson could be doing to help forest landowners in South Carolina," explains Director, Patricia Layton. "We had an overabundance of timber but lacked adequate markets for all of the private landowners in our state. Sawmills were going out of business and there was no place to sell timber, which is a big economic engine for South Carolina—it accounts for more than $21 billion in the economy. In 2010, timber had dropped dramatically, so we worked to identify a market share for wood products."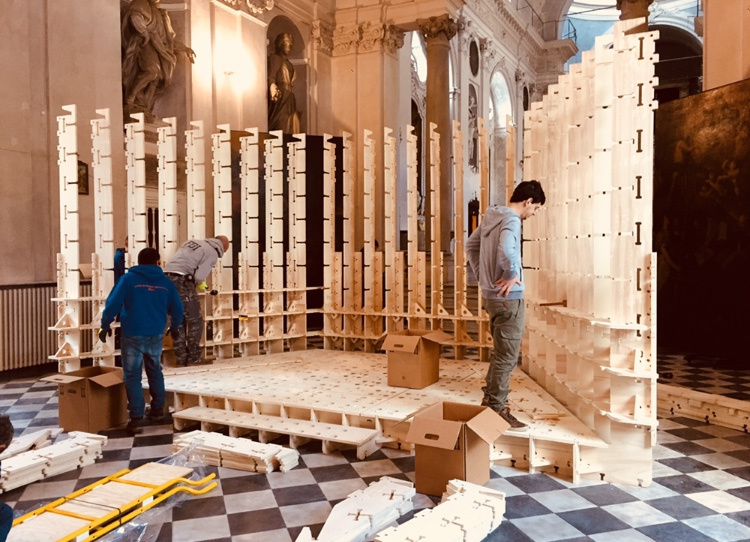 Wood was already a big player in the construction of residential buildings, but that wasn't the case in non-residential buildings. Layton acknowledges, "We knew there was an opportunity for growth there. Some new wood products were being developed in Europe and shipped to America. For us, it all started in 2010 with a home that we knew of in South Carolina which had been built using what we call mass timber. We gathered grants from the United States Department of Agriculture to test if this could be used to make cross-laminated timber (CLT). Then, we collaborated with both North Carolina State and United Forest Service to test the product.
"After receiving positive test results, we promoted the idea at the first International Mass Timber Conference in Portland, OR. We met some people at the conference that thought it was a good idea—in fact, they had established the first mass timber plant in Dothan, AL. We talked about what was available and they went back and put it to work. Wood from their plant ended up coming to Clemson in 2019, and we built our first mass timber building on the campus. We did a lot of different things with that building to help the state understand that wood is safe to use in government-owned buildings. And with the help of some partners, we were able to effect a policy change to get a ban on fire-retardant-treated wood removed. We've seen national building codes enacted to take on and allow for mass-timber buildings."
WU+D has held educational events for architects, building owners, code officials, developers, and engineers, and hosted workshops around the state to help educate people on what can be accomplished with wood. The Institute Fellows at Clemson began more than six years ago, training students in Architecture and Engineering, and even helped facilitate the growth of their Wood Engineering class on an annual basis. Today, the Institute represents a collaborative effort between Layton herself and other faculty members at the university, specifically those teaching in the Architecture, Civil Engineering, and Forestry and  Environmental Conservation departments.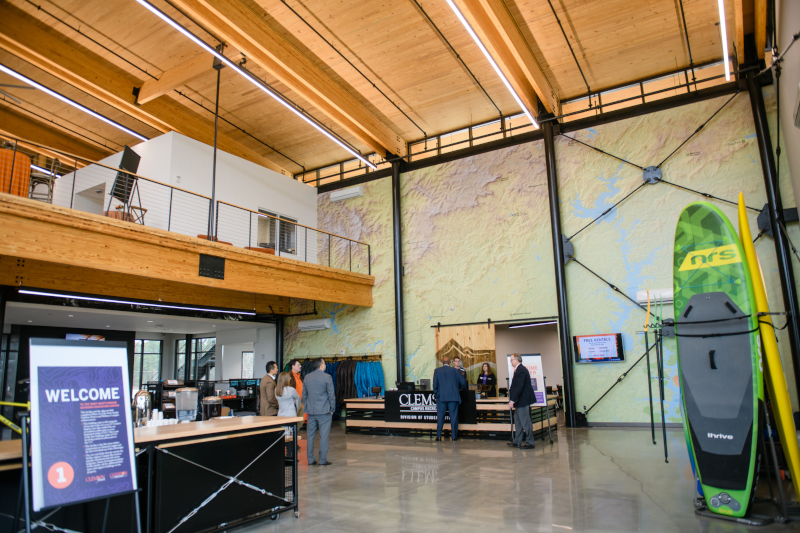 The Institute was developed with the idea that forest landowners and industry members from sawmills, as well as architects and engineers, could come and work with the team at WU+D. The organization has an advisory board and members can participate and support our projects with funding. There are membership fees – partners contribute a larger fee, but they become a partner for the lifespan of the Institute, and receive many opportunities to work on research.
Layton recalls that Huber Engineered Woods was one of the Institute's earliest members. "We had a graduate student and a faculty member collaborate with them on the new ZIP System product that has an integrated insulated panel in it," she says. "It's a revolutionary roof and wall system that streamlines weatherization with an integrated air and water-resistive barrier. They worked hard on bringing that product to the marketplace, and we were delighted by both the process and the product. They've also been extremely supportive as we develop our Sim[PLY] wood system, which is a light frame constructed of plywood cut on a CNC machine. This was our entry into the U.S. Department of Energy Solar Decathlon in 2015. Huber Engineered Woods was generous enough to donate all the materials, and to help our students understand the advantages of the ZIP System in terms of how moisture resistant and airtight a building could be. It really helps with energy efficiency. We really enjoy working with Huber Engineer Woods."
The Wood Utilization + Design Institute hosted its annual building industry stakeholders' event at the new Andy Quattlebaum Outdoor Education Center in December. This involved showcasing  the Center's exposed mass timber components, including an elevator shaft made of Southern yellow pine CLT. "The elevator shaft was designed by Cooper Carry Architects out of Atlanta," says Layton. "The CLT is a great product. The elevator shaft went up in a day, whereas other buildings that use pre-cast concrete take longer and require more labor. As a result, ours is more cost-effective."
The biggest challenges that the Institute faces relate to the supply chain. "We have lots of wood, but we don't have lots of manufacturing," Layton admits. "We're in the early days of an industrial wood building revolution. A lot of structural components are manufactured offsite, shipped in, and put into place directly. It speeds up the construction of a building, allows us to reduce waste, and even to deal with labor shortages in some cases. Getting architects and developers to understand that wood is an acceptable building material for buildings is critical. Building codes are changing. Starting in 2021, we'll be able to build up to 18 stories. South Carolina was really the beginning of it in the United States. We're getting our university to build like this, although it took some effort to educate our building inspectors and fire marshals for them to approve."
"Our Sim[PLY] light-frame building system is new and it's different," expands Layton. "People have to see it to understand it. I think we're getting there. Everyone that walks away having seen our building is blown away by what it looks like and how it feels—it's a very impressive facility. We wanted an open building, so we included columns to optimize the materials used and maximize the building's overall resiliency. Wood is an important component, but so is sustainability. We're forest landowners—we own 30,000 acres of forest around the state, and 17,000 acres of forest on the campus. We teach these subjects. Sustainability is a critical facet of our education."
The Wood Utilization + Design Institute is extremely collaborative, always integrating different approaches. Layton emphasizes, "We want our Architecture students to understand the sawmill. We want them to go to the forest and learn about how the trees are grown. When we encounter problems, we approach it from the totality of the supply chain of both the product and the industry." Prior to founding the Institute, Layton served 14 years as a Department Chair and Director at Clemson. Her new role is something she cherishes. "I have a lot of fun doing what I'm doing," she says. "I've done many things in my life, but this has been much more fun. I'm having a great time."
AT A GLANCE
Clemson University Wood Utilization + Design Institute
What: Multidisciplinary organization advancing wood-based construction materials and designs
Where: Clemson, South Carolina

ZIPsystem™ – ZIPRevolution.com
Integrated Sheathing—More Than A Passing Trend
Deeper building science-driven practices and innovative products have made today's homebuilding practices far different than those of the 18th century – and that's a good thing.  
Builders used to rely on millennium-old trees that allowed a large amount of energy to flow in and out of building structures. The material was a necessity rather than a choice. Without insulation, these buildings dried out in the summer and inward in the winter. 
Filling wall cavities for warmth led to examining exteriors for water, air vapor and thermal management. The importance of exterior control layers marked a major shift in the building industry.  
Meeting Today's Priorities 
Introduced in 2006 as an alternative to traditional sheathing and housewrap, ZIP System® building enclosures offers air- and water-barrier integrated sheathing in a variety of thicknesses, lengths and R-values, alongside 13 seam-sealing solutions. 
ZIP System sheathing and tape convert, Will King, owner of Alabama-based High Cotton Homes, said switching products improved his builds and his business.  
"All other variables the same, our blower door tests got much better using ZIP System sheathing and tape as our air and water barrier," Will said. "The ease of installation has made it a hit with my subs, too." 
Will said he uses ZIP System sheathing, tape and liquid flash products for an integrated approach for roof and wall assemblies.  
"Evolving our building practices helped us gain the momentum we have now." 
To learn more about how ZIP System sheathing and tape is revolutionizing the building industry, visit ZIPRevolution.com. 
Simpson Strong-Tie – go.strongtie.com/masstimber
For more than 60 years, Simpson Strong-Tie has dedicated itself to creating structural solutions and technology to help people design and build safer, stronger homes and buildings. Our engineered products include structural connectors, anchors, fasteners, fastening systems and repair products. Simpson Strong-Tie is now proud to offer a variety of high-performance products and expertise for mass timber projects. Visit our website to download our comprehensive Connectors & Fasteners for Mass Timber Construction Catalog.