Vermeer Midwest
Equipped to do more
Business View Magazine interviews CEO Steve Kool and CFO Patrick Roesler, of Vermeer Midwest, for our focus on Top Companies in the Illinois Construction Sector.
A legacy business founded on long hours, hard work, and a culture of caring, Vermeer Midwest has earned its fine reputation as the go-to, authorized dealer of Vermeer equipment in Illinois, Indiana, Michigan, and eastern Missouri. The company has grown from a single location in Eureka, Illinois to a full-service dealership with 10 locations, specializing in new and used equipment sales and rentals, readily-available parts, and impeccable customer service. As the slogan says, Vermeer Midwest is "equipped to do more" – inspired to do whatever it takes to maximize customers' productivity and profit.
Steve Kool, CEO of Vermeer Midwest, tells how it all began "back on the farm." "My Dad, Junior Kool, started at Vermeer Corp. in 1958. He had a farm background and Gary Vermeer, besides doing manufacturing, was also a farmer. He'd asked Dad to help him farm after work, nights and weekends, so Dad got to know Gary, first-hand, and Gary understood what kind of worker my dad was and the knowledge he had. Things just kind of went from there. Dad started as clean-up man behind a welder, then he became a welder. In 1965, he took our family to California, for a year, to start a dealership for Gary. When we moved back, there were still a lot of salesmen on the road, so he did that through the remainder of the '60s. When Vermeer started a dealership in Peller, Iowa, Dad worked there for a couple of years, and then the Central Illinois territory was open, so Gary asked him to start a dealership in Eureka, Illinois, and that's how it started. When we moved here, I was in seventh grade and I started working after school and Saturdays from then on. My brother, who's now retired, actually left the business for about five years and came back, but this is all I've ever done."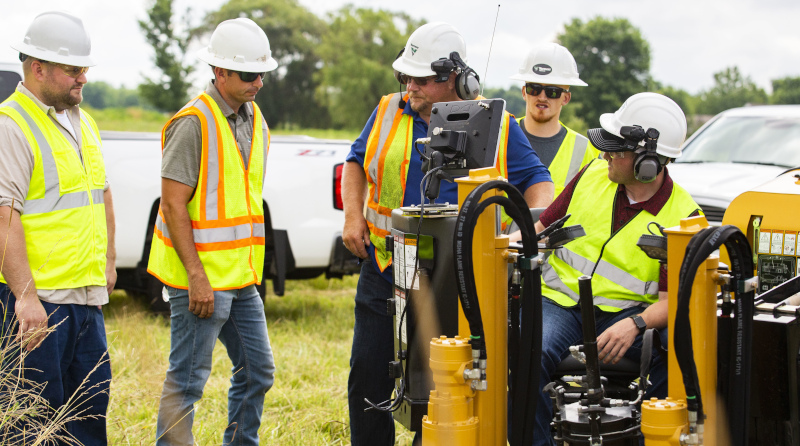 Junior and his wife Beverly opened that first Vermeer Midwest location in 1971. Their personal approach and dedication to helping customers succeed saw the customer base grow quickly, along with the number of locations. Today, the company's management team carries Junior's vision forward on a larger scale with a multi-state operation. Vermeer Midwest is headquartered in the small town of Goodfield, Illinois, about seven miles north of Eureka. Nine additional offices are located in Aurora, IL; Chesterfield, MO; East Moline, IL; Fishers, IN; Fort Wayne, IN; Fowlerville, MI; Kalkaska, MI; Marne, MI; and Newburgh, IN. In total, the firm has 225 employees, and each facility differs depending on the size of the customer base.
New and used equipment sales, parts, and service are all strong revenue streams. As Steve Kool explains, "We always say, 'sales gets the first machine to a customer and then parts and service sells everyone, thereafter.' The past few years, parts and service is growing quicker than sales, for a few reasons. One is the equipment gets more sophisticated, so it's harder for customers to work on it, themselves. And we offer a lot of what Vermeer calls 'Confidence Plus' packages – additional warranty, combined with a planned maintenance program. We're selling more all the time; it's in a real growth pattern." The add-on packages and equipment can be financed, so it's all part of one payment; a fixed cost for the customer. Vermeer Midwest helps arrange financing through DLL Financial Solutions, a partner of Vermeer Corporate.
The company's largest customer is the underground utility business; number one being the fiber network – fiber to the home, 5G. Number two is underground gas pipe replacement. And number three is the electric utility, followed by water, sewer, and other underground utilities. Kool notes, "We sell a lot of Larson Trailers, mainly for the fiber optic side. If you're plowing along and come to a road and you have to take the cable off the reel, go under a conduit under the road, and then put it back on the reel, that's what the Larson Trailer does. It's a great benefit for our customers and an exclusive piece of equipment that not everybody has. ProAction Fluids has also been a very good partner for us. We always used to sell bentonite products, but these are a revolutionary liquid solution for our boring equipment to help stabilize the hole when you're doing directional boring."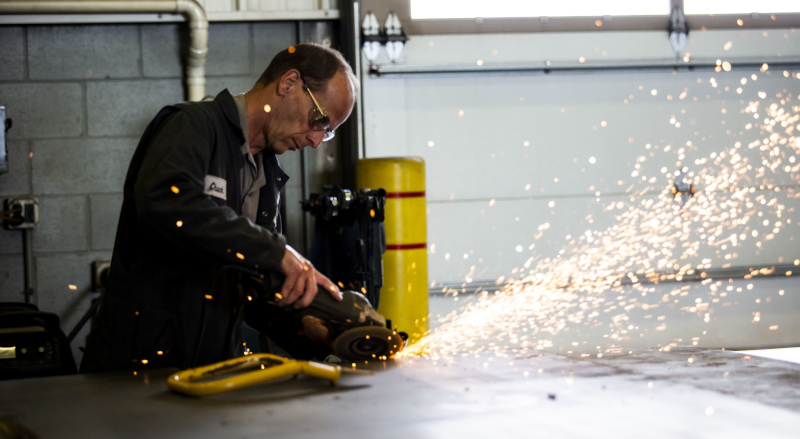 Vermeer Midwest also has a secondary business – an environmental division that sells brush chippers, stump cutters, and recycling equipment that grinds up organic material and recycles it for mulch. Marketing their products is easy – there is a tremendous amount of Vermeer equipment in the field and every piece is a billboard promoting the company. The majority of customers own more than one machine, so there is a lot of repeat business. And on-site trouble-shooting is available from Vermeer Midwest's fleet of 31 mobile service vehicles. "Now, we can go to the customer instead of them having to bring it to us," says Kool. "For equipment that has a four or five person crew, it makes more sense to pay us to come to the jobsite, versus them bringing it the dealership. That's a big part of the business." Another benefit offered to customers: because of the need for more operators in the growing directional drilling market, Vermeer Midwest started new hire training – a two-day class, plus hands-on training and on-the-job training.
Patrick Roesler, CFO of Vermeer Midwest, speaks to company culture, noting, "You really feel you've become part of the family, here. The company spends a lot of time making sure when they bring people on that they'll be a good fit. Everyone enjoys working with each other and we have a strong compensation package that includes profit sharing and very affordable medical plans. If you look at our employee list, we have a lot of 20-plus year veterans. When people come to work here, they usually stay for quite a while."
Each of the five divisions has its own leadership team and they meet quarterly, as a board, to share ideas. "It's more of a collaborative meeting than a traditional board meeting," says Roesler. "The same holds true for the Sales and the Parts and the Service teams. They meet face-to-face twice a year, and in between, there are phone calls and conference calls, where we do a lot of idea sharing. The company does a great job of getting people from a wide variety of territories together on a regular basis, so we can work together."
The Vermeer Corporate office and most of the manufacturing is in Pella, Iowa. Kool acknowledges, "We've been on a real growth mode for the last 20 years, and I have to credit the Vermeer Corporation for the way they've added product groups and products within their product lines. Just being able to follow along with Vermeer and being prepared as they bring new products to market, that's how we've grown our company. And that's our primary direction – to continue to let them lead by bringing out these new products and being able to jump on every opportunity they provide us.
"The equipment today is more electronic, more computerized, more automated. We've seen a lot change, even in the last five years, and it's absolutely critical that our staff keeps up with advanced training so they can pass it along to the customers. Most of our technician training comes from Vermeer, some online, and then, for the more technical training, they go back to Vermeer Corp. for schools. With all the new technology, they are struggling to beef up their training department to handle the needs of all the dealers. They're improving and providing more training all the time, but the way the technology is changing, that's definitely a big need."
Looking ahead, Vermeer Midwest in good hands. Junior Kool is 82 and still comes in to Goodfield most every day. And the third generation is also becoming active in the family business: Kelsey Kool is Marketing Manager, Trey Heming is Parts Manager in Aurora, and CJ Kool is a drill specialist in Goodfield. Offering some final words of wisdom, Steve Kool reflects, "You always wonder, does the customer come first or does your team come first? But I think how you balance both of them is critical to running a business. We're excited to see what the third generation will bring to the company and how they will help form our future."
Go the extra mile. Work the extra hours. Get your boots dirty on the jobsite. Do whatever it takes to take care of the customer. At Vermeer Midwest, that's simply how business is done.
All photos used on this page courtesy of Mark Jones
AT A GLANCE
Who: Vermeer Midwest
What: Full-service Vermeer equipment dealership
Where: Headquarters in Goodfield, Illinois
Website: www.vermeermidwest.com
Larson Cable Trailers, Inc. – www.larsoncabletrailers.com
Larson Cable Trailers Inc., based in Huron, South Dakota, manufactures products used for handling and transporting fiber optics, cable, and hose. The company was founded by Rick Larson, who was searching for a reel trailer for his underground utilities contractor business, Larson Digging, Inc., that could not only lift cable reels, but also "figure 8" and rewind cable. When he couldn't find a trailer that suited him, he built one, instead. Rick applied his years of experience in burying cable to come up with a solution that would work in the real world. 
Larson Cable Trailers are designed to improve efficiency so workers can lay more cable in less time. Some of the various options on different trailers allow them to do the following: lift cable reels; rewind cable; load equipment with ramps; level wind, winch, haul, and dump rock/dirt; drill with auxiliary hydraulics; and figure 8 and rewind fiber optic cable.  
As a company, Larson Cable Trailers is dedicated to advancing the designs of its trailers. While it is always refining and improving its products, it is also busy developing brand new features and uses. It does this to create the most efficient, easy-to-use cable trailers that are more than just cable trailers. 
The company's most common attachment is the Figure 8 Assembly, which is used when unspooling a reel of fiber optic cable. That attachment has been tested and approved as a safe method of figure 8'ing fiber by many of the cable manufacturers. It has also recently released a new Tension Monitoring device which monitors the pulling force being put on the fiber optic cable. This gives contractors piece of mind knowing they did not over-pull the cable.  
Other attachments include a Quick Luber, a Dumpster Attachment, a Level Winder, a Fiber Blowing Attachment, an Adjustable Pole for Fiber Blowing, Loading Ramps, a Portable Hydraulic Power Pack, a Figure 8 Stand, and a Tension Brake. 
The relationship with Vermeer Midwest began in 2012, and has been a successful one for both companies. According to Rick Larson, "Larson Cable Trailers are more than just a cable trailer, they are designed for improved efficiency to help you lay more cable in less time!" 

ProAction Fluids – www.proactionfluids.com
ProAction is the pioneer of pre-dosed, conveniently packaged products for the horizontal directional drilling industry. PAF products are designed to increase drilling efficiency through easy-to-mix and versatile products, simplified recipes, and shortened mix times. Today, thanks to distributors like Vermeer Midwest, ProAction products can be found at more than 100 locations in the United States and growing internationally. With thousands of successful drills ProAction Fluids has products that fit any operation's needs.