Troy School District
Leading the educational pathway in Michigan
With innovative education offerings putting the student first, Troy School District is ahead of the learning curve
The Troy School District (TSD) is one of the top-rated public school districts in Michigan and has been paving the way to world-class education for many years.  The district maintains an excellent student-teacher ratio, outperforms state averages on benchmarks, and is a beacon of educational positivity, casting a glow across all aspects of the community. The commitment to education is reflected in various aspects of school life beginning with early childhood programming and community engagement.
With a firm vision to ensure learning for all members of the school community, the Troy School District is dedicated to preparing all students to succeed outside of the classroom and in life. This vision is achieved through collaboration with families and community organizations, access to technology, professional development for deep learning, and an emphasis on equity and well-being. Wraparound services such as after-school programs, counseling, and social work, support the needs of the whole child.
Superintendent of Schools Dr. Richard Machesky emphasizes the importance of building staff capacity and focusing on the 'Early Childhood to Career' objective. This initiative aims to support students from their early years through graduation and into the workforce. Social and emotional well-being is a key focus to provide a conducive learning environment for students.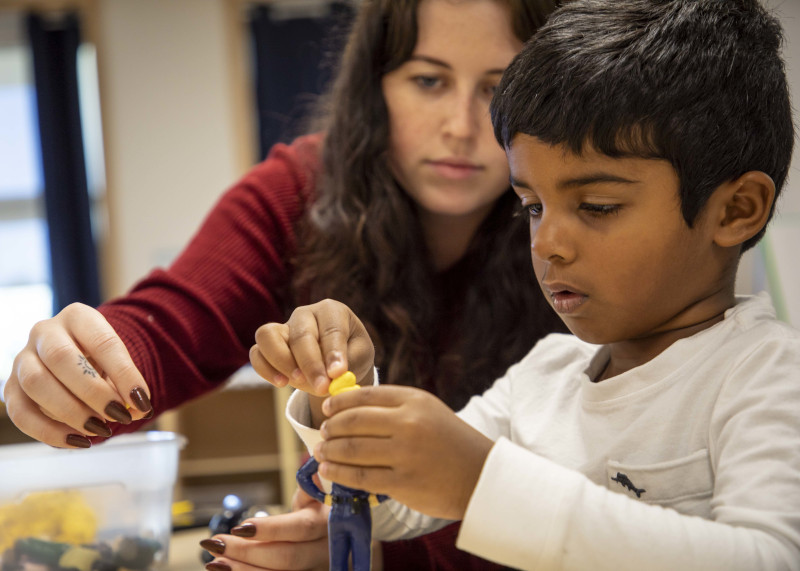 Kendra Montante, Director of Communications and Strategic Initiatives, emphasizes the sense of belonging within the district. We believe it is our responsibility as adults in the learning environment to ensure that everyone in the district – whether it be a staff member, student, or family member, feels that they are a part of our school community and that they belong. It is an ethos that reflects the district's goodwill among the community it serves and governs how it measures success across different metrics such as systems of support, safety, security, and well-being.
"We are into the second iteration of our strategic plan since I've moved into this role—I'm fortunate to now be in my 10th year as Superintendent," Machesky says. "The plan revolves around our vision of a world-class education for all, and it looks fairly simple but behind it lies quite a bit of work as we strive to reimagine how we can improve performance across our school district."
According to Machesky, TSD is investing heavily in early childhood, with a goal to have 100% of kindergartners already having had a literacy-rich pre-school experience. Creating such an environment helps to build a strong foundation for success in later years, with research showing a strong connection between early literacy and future academic performance.
The district acknowledges the critical role of teachers in classrooms and strives to provide them with the necessary resources and support for effective teaching. The community, parents, and various partners are vital in supporting the district's initiatives and ensuring student success.
On a personal note, Machesky views his efforts as Superintendent to foster a collaborative environment across the school district while building the capacity of the individuals on his team to do the work that they do at the very highest level.
"I joke about this fairly regularly, but I strongly believe that the magic in our school district doesn't happen in the Superintendent's office—it happens in our classrooms," he admits. "My role is to make sure that the teachers in our classrooms have the resources, training, and support they need to be the most effective instructors to impact student achievement. I work diligently to provide those things, and then I get out of the way and let the real experts do their jobs."
There is no question that the focus of public education is shifting toward preparing students for the workforce. As such, the staff in TSD believe that it is their job to ensure that their young people develop a strong sense of career preparation through passion, interpersonal development, and deep learning experiences that enable all students to realize their potential.
"We are not immune to some of the challenges that have been seen across the U.S. in terms of curriculum, instructional practices, and so forth," Machesky admits.  "We have experienced some of that, but I would say that we, as a school district, are positioned extremely well and it is largely because we have such a fiercely protective and committed school community. Our parents tell us they have specifically moved to Troy for its schools. As a result, they are heavily invested in the success of their students. We also recognize that we have a responsibility to partner with our community and to communicate effectively so that we are demonstrating complete transparency in terms of what we are doing, what we expect, and how we are supporting our students."
TSD's commitment to students goes beyond the academic realm, with a strong emphasis on providing comprehensive care and support. Trained educators, counselors, and other frontline staff play a critical role in supporting students and breaking down barriers to help-seeking. Collaborations with various partners further enhance the community impact, allowing TSD to provide a top-notch learning environment and to prioritize student success.
"Every school system has some kind of initiative in place, but Troy does an amazing job of really wrapping their arms around each and every learner, meeting them where they are at, and then taking them where they need to go—from preschool all the way through graduation," Montante says.
"Our students are really invested in the district and in what we call OneTroy," Montante affirms.
"They truly reach for success, whether that is in the classroom, athletics, band, theatre—many different types of groups. The other piece is that our community is fiercely supportive of the school district. They assist in passing bonds and help in everyday things like booster clubs and PTO/PTA meetings. It speaks to the dedication of our incredible staff, who are committed to changing with the landscape of education and are willing to do the work that needs to be done to help learners grow and succeed."
"To my point about the magic happening outside of the Superintendent's office, we also recognize that our success as a school district is only maintained because of the partners who work with us," Machesky continues.The success of our school district is greatly attributed to our collaborative partners. These partnerships play a significant role in supporting the district's mission. For instance, Safe-Ed supports student and staff safety, First Student assists with student transportation, and Barton Malow and TMP are instrumental in managing construction and architectural needs for our upcoming bond initiative.
Additional partners such as DM Burr, Troy Foundation for Educational Excellence (TFEE), and Chartwells, provide crucial services that enhance the learning environment for all of our students. Working in collaboration is a natural extension of the way the school district views its students and the broader community. Collective cooperation puts the student first and ensures that Troy continues to provide a world-class learning environment and a path to success for all, which is encapsulated in "OneTroy" and one goal – student success.
AT A GLANCE
Troy School District
What: A leading and large school district putting its students and community first
Where: Troy, Michigan, USA
Website: https://www.troy.k12.mi.us/
Safe-Ed – safe-ed.net
Owner, Co-Founder, and CFO Steve Brandimore is a retired 25-year police veteran, working many of those years as a School Resource Officer and Juvenile Investigator. President, Co-Founder, and COO George Zielinski is a 36-year police veteran, with many years supervising and investigating juvenile-related cases and overseeing School Resource Officers. Together they recognized a need for schools to have a full time security-centered staff that were more than just hall monitors. This staff would possess years of previous law enforcement experience, providing a resource far beyond any security guard company. With many school districts unable to afford paying for full-time police officers assigned to their schools, this experienced staff can fill the void and provide many of the same benefits at a far lesser cost.
In 2011, Safe-Ed. LLC was formed and was contracted by the Troy School District to staff their two main high schools. Since then in addition to Troy, Safe-Ed. successfully provides professional security services to the Rochester Community Schools, Lake Orion Community Schools, Royal Oak Schools, Avondale School District, the Romeo Community Schools, and Regina High School. Our staff take pride in becoming invested in the schools they work in, becoming an integral part of the staff and administration.
Safe-Ed. also provides cost-effective staffing services, saving school districts money by reducing legacy costs associated with non-staff coaches and custodial/maintenance personnel. We currently provide staffing services for the Troy School District, Brighton Area Schools, Livonia Public Schools, and Lamphere Schools.
Safe-Ed. contracts with GCN Training and other resources to provide in-person and video-based training on a variety of topics specific to schools, students, and parents, as well as general workplace policies. Further, Safe-Ed. conducts annual in-house training sessions covering our own company policies and procedures, as well as scenario-based training for all employees.
Safe-Ed. believes we have the ideal solution and attractive alternative for our school districts. We are confident we can work out a complete, yet cost-effective security or staffing solution for your needs.
Secure Education Consultants – secureed.com
Since 2013, Secure Environment Consultants has brought high-level security assessments to organizations throughout the United States. A team of former Secret Service agents, Homeland Security agents, FBI agents, Green Berets, Navy SEALS and law enforcement officers come together to provide a review and realistic recommendations for your business.