Lumberton, North Carolina
Growing with Resiliency
Business View interviews representatives of Lumberton, North Carolina, for our focus on Economic Growth & Resiliency in U.S. Cities
Amidst the coastal plains of North Carolina along the scenic waterway of the Lumber River sits the City of Lumberton, a growing community committed to protecting the small-town flavor that residents and visitors have grown to love.
With a population of just over 20,000, City Manager Wayne Horne, describes Lumberton as "a special place. We know the people that we serve here, even though we are seeing some growth. It's really just a good place to live. We're close to the beach, we're close to the mountains, and we are on an interstate, so we've got it all."
Holt Moore, Lumberton's City Attorney, adds his perspective, sharing, "Lumberton is a really nice size. It's big enough that it has a lot of amenities, a reasonable amount of shopping, industry and employment, but it doesn't have some of the terrible traffic and congestion that you find in larger communities." Positioned at the intersection of I- 95 and I-74, the community is centrally located, with popular destinations like Myrtle Beach, Wilmington, and Raleigh all less than an hour and a half away. Offering many of the amenities of a larger community, Brandon Love, Deputy City Manager quips, "I've told people, Lumberton is the biggest small town you've never seen."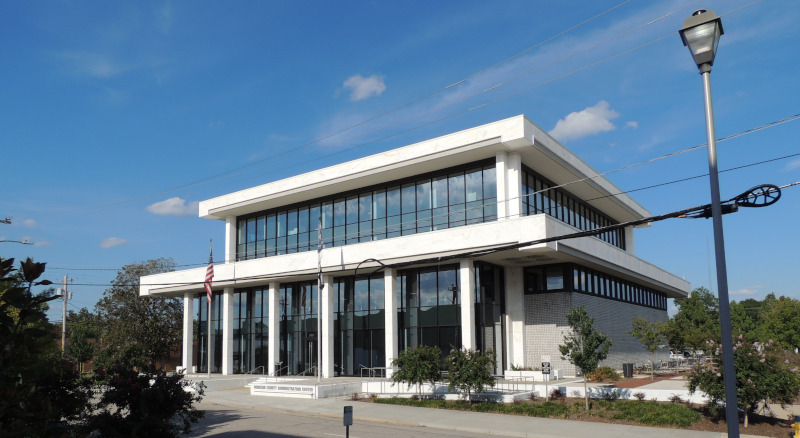 As the county seat, Lumberton is home to the Robeson County School District, a major source of employment to the city, along with UNC Health Southeastern, a 452-bed hospital with specialized heart and cancer treatment facilities. "There is a lot of employment within healthcare, education, and other professional sectors," explains Horne. "We also have a large commercial base of businesses and restaurants that gravitate around the interchange of I-95. We've got five major interchanges here, and we've seen a lot of growth."
With the University of North Carolina at Pembroke (UNCP) and Robeson Community College, as well as 28 hotels along the interstate, Horne asserts, "There are a lot of opportunities here. Our population is a little over 20,000, but our service area here is about 60,000 people. We serve as a regional shopping center. So, there's a lot of job opportunities in the retail trade business also."
Anticipating major growth in the industrial sector, work is ongoing in the development of Lumberton's industrial park. As Horne describes, "We do have industrial sites here, but we didn't have a true industrial park. So, several years ago we started working on that concept and went to the state for some funding. After a lot of hard work and due diligence, we will have close to $8 million in development in this park."
Situated on I-95 and I-74, a 400,000 square foot Zurn Elkay Water Solutions Inc. distribution center is currently under construction in the industrial park. Horne reports, "Zurn is a large plumbing manufacturing company. Elkay is the largest stainless steel sink manufacturer in the U.S. This is going to be their southeast distribution center." As the city works to install infrastructure ahead of the construction, Horne admits that supply chain issues are holding up some of the necessary construction, but remains hopeful that things will come together and the utilities will be in place when Zurn Elkay is ready to begin work.
"Everything is moving at a pretty fast pace, and as a result, we are seeing interest by other companies that want to look at the park. Once we get all the infrastructure in, we think this will be a great benefit for the community, and for the county as a whole," he adds.
Located only 80 miles from the Port of Wilmington, and 30 miles from South Carolina's Inland Port Dillon, Lumberton is also the site of Lumberton Regional Airport, offering many advantages to companies looking to establish themselves in the area. "We have our county industrial developers working with another group that's hoping to build a 500,000 square foot spec building out on I-74 adjacent to the park. When that project builds out, there would be three buildings in there and close to two million square feet," says Horne. With companies taking advantage of the I-74 interchange, he expresses that there is also growth on the retail and commercial side. "We've got some restaurants, hotels, and different things going up along the interstate. So hopefully, all these things that we're talking about are going to create more of an economy here for our local people."
Hurricanes in 2016 and 2018 caused major damage to homes and properties in Lumberton, resulting in the housing shortage the community is experiencing today. "A lot of our older housing stock was damaged and or lost due to those storms," recounts Love. On a positive note, he shares that several housing developments have come online within the last few years. One such project is a senior housing complex with 100 units, while several other multi-family developments are expected to be in the construction phase within the next 8 months.
Partnering with the Office of State Budget Management, the City of Lumberton is working on a pilot program to provide affordable housing. The program involves acquiring dilapidated homes and lots in an area of the community outside of the hundred-year floodplain. Non-profit organization North Carolina Baptists on Mission has taken on the renovation or rebuilding of these homes, making them available at a very low cost. Love explains, "If you looked at cost of construction right now, some of these houses in the 1,000 to 1,200 square foot range would typically cost over $200,000. We're getting those built for less than $100,000. It makes them very affordable to folks that were impacted by those storms and that's also helping to fill a gap."
A 200-acre tract of land on the outskirts of the city is also drawing the attention of a developer as a possible location for new luxury homes. With an ever-present optimism, Love reports, "Even though we're currently in a housing shortage, we are rapidly making up ground and trying to fill that gap."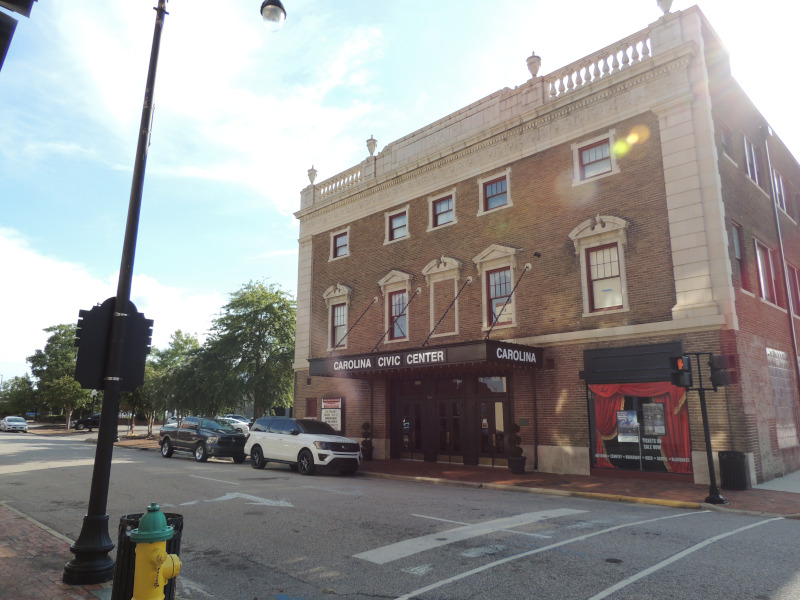 A determined effort to revitalize Lumberton's historic downtown district has the city investing $50,000 into reworking a downtown master plan that was developed in 2018. "We've spent a lot of time, energy and money trying to bring downtown back to its former glory, and we've had some real successes. We are now just starting to see private reinvestment in the downtown, so we've got to plan for that as well," explains Love. As well as having a designated National Downtown Historic District, Lumberton is also home to several buildings on the National Historic Register, including the Carolina Civic Center, formerly the Carolina Theater, a fixture in the heart of the city since 1928. This significant building is soon to see a 9,000 square foot expansion at a cost of $3.5 million, most of which has been funded through charitable donations, grants, and allocation from the city.
Looking ahead, Lumberton is focused on resiliency, building two earthen berms, one around a private manufacturing company, Rempac, and the other around the city's water plant, which sustained $4 million in damage from Hurricane Matthew. Intended to protect these areas from major damage during future weather events, the hope is that this effort will save money and jobs. A set of floodgates are also being installed at an opening in the levee system, a $6 million investment in partnership with the Federal Emergency Management Agency (FEMA), the Corps of Engineers, and the State of North Carolina.
Also on the sustainability front, a $4 million Building Resilient Infrastructure and Communities (BRIC) grant through FEMA will allow the city to purchase properties that were flooded during the hurricanes. This property will be used to create a 10-mile trail system, called the Lumberton Loop. "One of the components in that was the acquisition of an old meatpacking plant that sat right between the levee and the river. It was flooded and has sat dormant ever since," illustrates Love. "It's about a 10-acre site, and we're working in concert with the North Carolina Wildlife Resources Commission to install a boat ramp and some parking. We are going to do some selective demolition on the meatpacking plant and turn it into an open-air pavilion for the general public. There's also some stream restoration and wetlands restoration with that project as well."
Completing a downtown river walk, and a continued effort to attract new business to the downtown will remain on the city's agenda going forward, along with a focus on affordable housing and rebuilding from hurricane damage. Horne notes that the completed expansion of I-95, making it eight lanes throughout Lumberton will be "an economic boost for the community."
As for what comes next, Horne suggests, "There's a lot of things happening. With the residential, industrial, and commercial part of what we're seeing here, and then the educational benefits from our support systems from the schools, we will continue to grow and expand. We will see new investment and it will attract new families to Lumberton."
AT A GLANCE
Lumberton, North Carolina
What: A growing community in North Carolina's coastal plains region
Where: Robeson County, North Carolina
Website: www.ci.lumberton.nc.us