Worldwide Services
A new business model
Business View Magazine interviews representatives from Worldwide Services, as part of our focus on best practices in the telecommunications supply sector.
Worldwide Supply, headquartered in Franklin, New Jersey, is a global supplier of network and telecommunications equipment and services, and a leader in the secondary market for used and refurbished equipment including routers, switches, and networking services. The company was co-founded in 2004, by its CEO, Jay VanOrden and COO, Jim Smith – two firm believers that one company's castoffs can always become another company's treasures.
Worldwide Supply's customer base has traditionally been focused on Tier One and Tier Two cable operators, service provider/carriers, and medium to large-size enterprise businesses that might need the necessary equipment and services to build their backbone network to support high-speed voice, data, and video. The company sells both new and pre-owned products, as well as a variety of services that support them. In many cases, the company will procure equipment from the Tier Ones, then turn around and sell it to the Tier Twos, saving them as much as 80 percent of their costs.
Recently, however, VanOrden reports that Worldwide Supply has evolved in the direction of becoming more of a global IT services company – thus Worldwide Services has come into being. "We were always known as the refurbisher, the used network equipment guys. That was who we were and what the company was branded as. That was our expertise," he states. "Last year, though, we made a commitment that we were really going to focus on more of a services direction, which was the opposite of what we had done for the last many years – it's always been hardware first with complementary services. We put that stake in the ground and formed Worldwide Services with a new website, which speaks specifically to the services area – third party maintenance, professional services, as well as software. The hardware will always be a portion of what we do, but where we used to lead with hardware and then provide complementary services, we flipped that model.
"We put together a go-forward strategy to execute our aggressive growth plan, and as we started to focus on third-party maintenance, one of the things that we realized that made us very different than almost every other competitor in the market, is that we had this network equipment and network technology experience and just about everyone else has come from a server/storage type of background, trying to get in and support the network equipment. And they're having significant difficulties because they don't understand the technology and they don't have the experience. So, it's given us a huge competitive advantage as we go into the market space, because we've grown up in that world."
VanOrden adds that the company's new initiative is based on what he calls a "Truth-Based Design philosophy," which differentiates Worldwide Services from the OEMs – the manufacturers of equipment, the VARs – the value-added resellers, and the third-party maintenance companies. He explains, "The manufacturers tell a client, 'You should have everything under maintenance, it should only be new, you should refresh every three years regardless of the capital investment you made in the past, and you should never have anything under any other maintenance contract other than with us.' And then you have the VARs, who are, basically, mouthpieces for the OEMs. Then you have your third-party maintenance resellers who will tell the client, 'You should put everything under third-party maintenance; there's no risk. We can do it and we can save you money doing it.'
"What really separates us from all of those other competitors is that we'll get together with the client, and help identify those areas that, potentially, could be high-risk, where it might make sense for them to keep a maintenance contract or support from the manufacturer. And then, there are going to be those products we're going to identify where there's more discovery needed in order to be able to make that determination, so let's dig in a little deeper and understand that. And then, you have those items that are just no-brainers and it makes no sense for the client not to put those under an agreement for third-party maintenance with a significant cost savings and no risk. That really has been our philosophy this past year, as we've gone out into the market, and it's resonated very well with the customers and the prospects."
"We are the counterpoint to the OEMs and OEM controlled channels to market," says Toby Kruse, Worldwide Services' new Vice President of Sales. "Rather than a products and services matrix like many companies have, we offer strategies and execution. We enable strategies for network, servers, and storage. We advise on, and execute, the full lifecycle of infrastructure: Design, buy/build, and run/maintain.
"It all starts with good architecture and design – good design choices up front allow far superior options in the build and run phases. We coordinate a full discovery session with our customers and prospects to discuss all the technical details and business initiatives to really understand their framework – what they have today and where they are going, divestitures, acquisitions, refresh cycles, maintenance policies, etc. That allows us to start to make decisions on what to buy, how to install it, what tools to use, and how to maintain and run it, going forward. Where the real value happens is when we filter all these decisions by the lens of truth. We break that into three separate categories: OEM Truth (& Lies), Market Truth, and then Worldwide Services Exclusive Truth.
"OEM Truth (& Lies): If you look in the back of a manual of any router or switch, there's an MTBF – Mean Time Between Failure. It's usually in hours, and when you convert that to years, it's something like 25-40 years. So, the OEM is telling its customer base, statistically, this should work from 25 to 40 years, depending on the device. Then, the OEM rep will tell the customer base: 'And please refresh it every three to five years.' So, those are two data points coming from the same organization and they're clearly in conflict. So, the question is, as an engineer in an organization, how do you handle that data in such a way to optimize your own company's budget?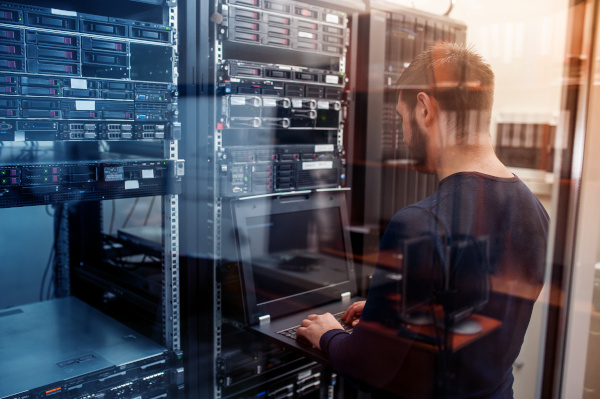 "Then there are all these nuances in the world of software – perpetual licensing, annual licensing – a lot of details in the software side of things that get complex. There are mandatory maintenance contracts where the message is if you don't put it under an annual contract with the OEM, the devices won't work anymore. Is that true or not true? What are the shades of grey? For licenses to be accurate and active, do they need to go through recertification? Then there's this new thing that's happening: DRM – digital rights management – licensing that shuts itself off if you try to transfer it somewhere else.
"Market truths – I always like to start this part of the conversation with utility-based consumption – "X" as a service. However you look at this category of IT infrastructure and strategies, there is so much change here. Some of it's really clear and some of it's, intentionally, not clear. How do we cut through that? The easy answer is put it all in the cloud and don't worry about it; who cares how much you spend, right? Your CFO cares, that's who. There are a number of ways to achieve utility-based consumption. Being at the forefront of risk reduction, cost halving, and long term flexibility, WWS is uniquely positioned to make utility-based consumption available to all enterprises for all areas of IT; WAN, LAN, compute, storage. When the hardware and maintenance cost basis is already half, pay per use is that much more compelling.
"The final category is our Worldwide Services Exclusive Truth. These are areas where we feel there is no other organization on the planet that can provide this type of value. Within Worldwide Services Exclusive Truth, there are four categories: hardware durability and capability, software licenses rights, anti-vendor lock-in, and hybrid maintenance applicability.
"For hardware durability and capability, the crown jewel that we have is a TL 9000 certified lab. TL 9000 is a rigorous quality control system. It's a crucial stamp of pre-owned, certified equipment. Having that data gives us the ability to understand and make design decisions.
"Software and license rights – sometimes it's free, sometimes it's not needed, sometimes there's none available, and sometimes you absolutely have to pay for it. We know how to cut through the OEM misinformation to understand and use the truth to our clients' benefit.
"Anti-vendor lock-in techniques – here we describe disaggregating features and security from the underlying hardware OEM. If it makes sense to pay that underlying hardware OEM for those features and security, then go ahead and do so. If there's a way of disaggregating so you don't get locked in to annual contracts and constantly rising fees, let's look at what those options are.
"Hybrid maintenance applicability – there's not just one way of supporting IT infrastructure: there's OEM maintenance; there's third-party maintenance, which is what we do; there's using the hardware vendor's warranty as a backstop; there's self-sparing; and then there's one that's totally valid and that's doing nothing. You know what your risk tolerance is for certain unknowns, and in some cases, the best thing is to do nothing. It's looking at all these different maintenance strategies and assessing what's the right mix and then putting together a system that can manage the right blend.
"When we shifted from a hardware-first approach to the services-first approach, we realized what really matters is the upfront architecture and design decisions that are made. Depending on those decisions, you can either benefit from, or lock yourself out from, the real advantages of the independent market. We act as the checks and balances to protect our clients from the runaway power the OEMs covet."
In the end, Kruse says that when a client looks at the totality of its strategies and how to execute them, it can add up to as much as 30,000 different decisions. "And the whole point is to boil it down to one simple truth: reduce risk, reduce cost by a lot, and increase long-term flexibility. If you make poor design decisions at the beginning of the lifecycle, you dramatically limit your procurement and maintenance options later on. This can kick off a vicious cycle of spending to avoid risk. It's not a coincidence that all the large IT infrastructure OEMs benefit from this vicious cycle. By contrast, Worldwide Services Truth-Based Design intentionally makes risk and cost decisions transparent so that our customers are armed with the information they need to make decisions based on data, math, physics, and U.S. Law – not OEM policy, F.U.D (Fear, Uncertainty, and Doubt), and marketing spin."
According to VanOrden, Worldwide Supply's new iteration, Worldwide Services, has already met with great success. "We have made significant progress as we've moved forward through the year with new client acquisition, as well as maintenance contracts and other types of professional service projects that we've taken on," he states. "We've accomplished those goals for our first year."
Based on that initial accomplishment, there should be many more successful years to come.
AT A GLANCE
WHO: Worldwide Services
WHAT: A global supplier of network and telecommunications equipment and services
WHERE: Hardyston Township, New Jersey
WEBSITE: worldwideservices.net

Cook Maran – cookmaran.com
With Cook Maran, you'll have more than an insurance broker; you'll have an adviser and advocate focused on helping protect you from the unpredictable and anticipating your changing needs. We have an experienced staff and offer a full range of services including Commercial Insurance, Personal Insurance and Employee Benefits. Visit our website to learn more.