Grand Canyon Plaza Hotel
Gateway to adventure
Business View Magazine interviews Ann Serna, GM & Co-owner of Grand Canyon Plaza Hotel, for our focus on the Best of the Arizona Hospitality Sector.
Near the top of many a bucket list, the unrivalled majesty of the Grand Canyon commands awe in all who have the pleasure of experiencing it in person. This geological gem of Arizona measures 277 miles long and up to 18 miles wide with a depth of over a mile, offering breathtaking views of sun-bathed canyon walls and towering sandstone sculptures. For discerning travellers looking for accommodations close to the excitement, the Grand Canyon Plaza Hotel is your gateway to adventure.
This family-owned and operated resort is conveniently located only one mile from the South entrance of Grand Canyon National Park, seven miles from the South Rim, and is the ideal place to relax before and after excursions to nearby attractions. Lounge by the pool, soak in the hot tub, enjoy tasty local cuisine, and get laid-back comfortable in your choice of a one-bedroom suite or deluxe guestroom, beautifully decorated in Southwestern style.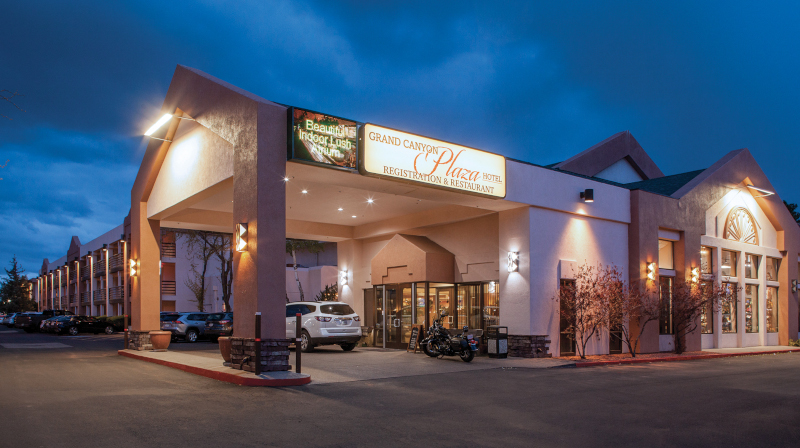 The friendly, knowledgeable staff at Grand Canyon Plaza Hotel will help you plan the perfect adventure, whether it's a scenic hike along the South Rim, or a thrilling helicopter ride high above the Colorado River. Specialties of the resort include a scrumptious Bed And Breakfast package; Helicopter Tour Packages that take you high above the 5,000-foot deep gorge for a birds-eye view; Jeep Tours are best for land excursions; and enjoy River Rafting through the rapids or floating smoothly down the Colorado. The Guided Photo and Geology Tour Package encompasses a full-day tour with wonderful views of the Grand Canyon, led by a knowledgeable guide who can explain the natural history of the region. And if you're keen to ramp up the wow factor, the Grand Discovery Airplane Tour Package takes flight over the Grand Canyon in a specially designed, oversized window, sight-seeing plane!
Ann Serna, General Manager and Co-owner of the Grand Canyon Plaza Hotel, is a charming, strong woman who grew up in the hospitality industry. She shares, "My dad, Franz Rotter, worked in Chicago for what was then the Fred Harvey Company, owner of the famous Harvey House chain of restaurants, hotels, and other hospitality industry businesses. Dad was responsible for turning six restaurants around so they were profitable. They were impressed with his work and in 1968, asked him to come to the Grand Canyon to oversee the Fred Harvey operations including all of the hotels and restaurants here – Bright Angel, Maswik, El Tovar, Yavapai, Desert View, and the Cameron operation. I was six at the time."
An adept, hardworking businessman, Rotter later became overseer of the Squire Inn, Red Feather and, finally, Quality Inn (which is now Grand Canyon Plaza) in the small resort town of Tusayan. Serna learned her dad's work ethic, the commitment and dedication, at a young age, sometimes working after school until 10 at night at the hotel. "It was a seven day a week family operation," she recalls. "My dad, my mother, my brother, and me. We started with 60 rooms as part of the Choice Hotels chain and just kept on building. We now have 232 rooms; a full operation with restaurants, an old-style 1800s saloon, an enormous atrium, and an outdoor pool and Jacuzzi."
Around 2006, Choice Hotels went through a rebranding process, creating different levels for their hotels. Serna understood why they were doing it but she wasn't happy with the changes they were requiring. At that point, the family made a courageous decision to leave the chain and become an independent: The Grand Canyon Plaza Hotel. That was in 2008. Serna explains, "I knew we would take a hit reservation-wise with individuals, but I also knew I would keep my base buyers – New WorldTravel, Allied, GTA, Travel Co. – I kept all those tour operators. And little by little, we grew the business on our own, going to trade shows, and just getting out there representing ourselves. And it worked out well. It was pretty much jumping in and holding your nose and that's exactly what I did." On a personal note, Serna adds, "In order to do well, you need to love what you do. My advice for women in business is to be diligent, believe in yourself, have faith in yourself, and listen to your instincts. Also, whatever you want, go and get it."
Serna and her husband, Louie, have taken over the property in the last few years. A former HVAC specialist, Louie is in charge of the maintenance, the grounds, and all the remodelling, while Ann oversees the accounting, front desk, and restaurant operations. Among the welcome renovations was the transformation of an unused banquet room into the Wagon Wheel Saloon with red leather, high-back seats and an 1800s-era bar that was built, onsite, in the room. Guests love the casual, Old-West style atmosphere. Grand Canyon Plaza also features the Wintergarten Lounge for wine connoisseurs, and JJK's serves up Southwest-inspired steaks, burgers and regional dishes for breakfast, lunch, and dinner. Try the slow-roasted prime rib, order up a fresh Halibut steak, or enjoy the signature 16-oz. western T-bone. Delish!
Remodelling inside and out is a labor of love, albeit a never-ending operation. By the time the upgrading of 232 rooms, the Atrium, the Saloon, and the front desk area is done (about a five-year process), it's back to square one and starting it all again. Technology is another ever-evolving facet of the hotel business. Serna admits, "It changes daily, in terms of Wi-Fi and all the amenities. And, of course, Expedia – hotel rates are changing daily and you have to stay on top of it. So, our Marketing Director monitors daily, weekly, monthly rates to keep us competitive. Sometimes, he goes a little lower than I want him to, but he keeps us in the right direction.
"I think we stay over and above the competition because we are the only family-owned-and-operated hotel in the Grand Canyon area. Being a family business, we really care. If there's a problem, we'll fix it. That's a big plus for us. Side by side with my husband, we're involved in every daily operation. The guests see that and our tour operators absolutely see that. They know they have a go-to person to go to. The hotel has about 80 employees in the winter and 110 in the summer, and the plus on my end is that I have a core staff of about 60 that have been here at least 20 years or more. My housekeeper has been with me for 45 years. Our staff is friendly and dedicated; simply the best."
The Grand Canyon Plaza Hotel embraces the spirit of the Grand Canyon, with a relaxing family resort feel. A destination where you're free to embrace adventure and let your imagination run wild. It's a fabulous addition to your bucket list!
Adventure awaits!
Located one mile from the Grand Canyon National Park entrance and seven miles from the South Rim, Grand Canyon Plaza Hotel is your gateway for exploring the beauty of Northern Arizona. Take a morning hike through beautiful canyon trails and enjoy exciting jeep tours, or a day trip to Sedona to browse unique shops and art galleries and savor Southwest cuisine. Then stand at the Canyon rim in the evening and experience a spectacular sunset – unrivalled in its glory.
Nearby Attractions
IMAX Theater
Jeep Tours
Helicopters Tours
Mule Rides – 7 miles
Grand Canyon South Rim- 7 miles
Bearizona Wildlife Park – 54 miles
Williams – 54 miles
Flagstaff – 81 miles
Sedona, AZ – 107 miles
Page – 137 miles
Zion National Park – 242 miles
Monument Valley, Utah – 204 miles
Phoenix – 226 miles
Las Vegas, NV – 273 miles
AT A GLANCE
Who: Grand Canyon Plaza Hotel
What: Only family-owned-and-operated full service hotel in the Grand Canyon area
Where: Tusayan, Arizona
Website: www.grandcanyonplaza.com