Wolverine Bronze Co.
Sand in their veins
Business View Magazine interviews representatives from the Wolverine Bronze Co., as part of our focus on best practices in the foundry sector.
Family-owned businesses have several competitive advantages, including more deeply committed team members, more unified leadership, and a clearer vision of long-term prospects. Ultimately, those are the resources from which Richard Smith draws as the owner of Wolverine Bronze Co., a non-ferrous jobbing foundry headquartered in Roseville, MI, located 16 miles outside of Detroit. "We're a family-owned company, so we have a family-oriented mindset about being honest, being fair, and striving to be the best," says Richard. "What sets us apart is our devotion to quality and delivery, and to the customer. We have a tenet to do whatever it takes to get the job done right, and get it done on time." For nearly 60 years, the Smiths have been manufacturing aluminum, copper, and bronze castings, from ounces to 60,000 pounds, for the automotive, aircraft, and aerospace industries.
"Wolverine Bronze was originally formed as a company in 1957 by the Noble family," says Richard. "Bill Noble and his son were in the business of making centrifugal cast bronze bushings for radial engines. After the Korean War, they fell on some pretty hard times. There wasn't going to be much use for radial engines anymore. My father, Pete Smith, was introduced to the Wolverine Bronze Co. by a fellow he worked for named Bill Gordon at Racine Foundry in Detroit. The idea was to inject some capital into Wolverine Bronze and start a new sand gravity cast foundry, to compete with a lot of the job shops around the Detroit area. They embarked on this venture together back in May 1960. Two months later, they'd bought the company from the Nobles and Wolverine Bronze started on its track as the automotive tooling supplier it exists as today. Their mentality was really just that of two people tired of working for other people and thought it would be a better idea to work for themselves."
Their big break came when the Ford Motor Company turned up with a custom order that required a little ingenuity to fill. "We were just a 6,000-square-foot, cinder block building housing a couple of centrifugal cast manual rotating machines," recalls Richard. "But back in the early '60s, cars were getting big. Most of the press welders that were being used at Ford were made with heavy iron platens. Automotive body panels were becoming so large that Ford was either going to have to replace those iron platens with aluminum ones or make a huge capital investment and renew all their press welding systems. They came to us in this little 6,000-square-foot building and my father convinced these guys he could make them an aluminum base."
"He actually talked them into leaving their pattern here," Richard continues. "My father then drove to Chicago and bought a furnace big enough for the job. Over the course of a weekend, they got the mold made, hooked up the furnace, and poured the casting. Ford took it down through their machine shop about two miles from here, machined it, and decided it was the nicest aluminum casting they were able to find. After that, Wolverine Bronze made several large additions to the foundry and had a good six-year run with Ford Motor Company, replacing their iron platens with aluminum ones. That's what put us on the map."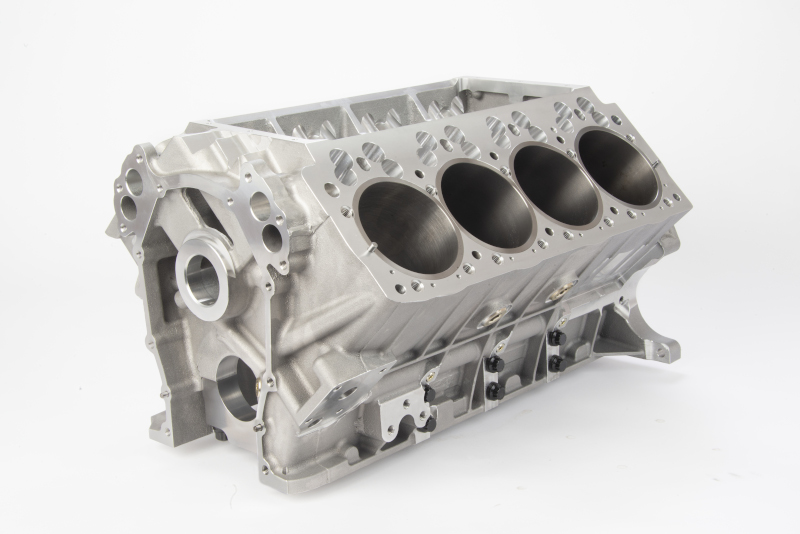 Today, Wolverine Bronze Co. employs 93 workers divided amongst three subsidiary companies. Accurate Boring, founded in 1970 and located in Fraser, MI, is a full-service job shop with one of the area's largest boring mill capacities. Spartan Grinding, which operates in the same campus as Wolverine Bronze, is a Blanchard grinding facility founded in 1975. International Casting is their ferrous division, located in New Baltimore, MI., specializing in prototype, jobbing, and semi-production castings. "These are companies that we originally acquired and built into what they are today," notes Rob Smith, Richard's son, who came to work for the business after graduating from Lake Superior State.
"We've grown Wolverine Bronze into a 100,000-square-foot facility and made several changes," says Richard. "We've expanded from strictly automotive tooling to aerospace tooling, powertrain, and high-performance parts. We now have a fully automated development foundry which is used to develop processes for new production casting designs. We can develop that process for the production foundry so that they don't have to tie up their production facility with development work. We've also moved into the low pressure, precision sand casting world—high-performance engine blocks, heads, transmission housings, intake manifolds, and the like." Rob adds: "Our unique capabilities allow us to cover all aspects of non-ferrous castings, from the simplest shapes to the most complicated cylinder heads that are coming out in future automotive programs."
Historically, Wolverine Bronze Co. has been a manufacturer of standard fixture components and cast aluminum bases for Michigan-based automotive manufacturers. But over the years, the business has evolved in multifaceted and multidirectional ways, manufacturing and distributing an internationally respected product line of cast aluminum bases and components in both metric and English dimensions, as well as special application bases and castings for aerospace, defense, packaging, and industrial automation products.
"One of the newest things we're venturing into is a semi-permanent mold," says Richard. "We've also got our sights set on some low-pressure permanent mold processes that are really in their infancy. As always, we're heavily invested in growing the low-pressure sand cast foundry as well as the development foundry, which works on casting process development and low-volume semi-permanent mold production."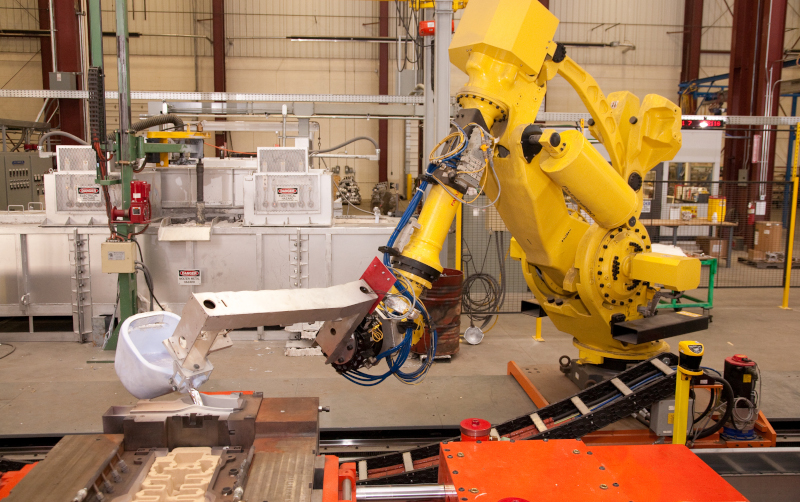 "Those two facilities are something not many people in the area have," Rob notes. "We're trying to fill a niche. A lot of jobbing foundries produce 1 to 100 parts. A lot of production foundries produce 30,000 parts per part number or more. Not many of them are doing anything in between. In the next five years, we'd like to put ourselves in a position of supplying those 3,000 to 10,000 low-production parts for all kinds of applications in automotive, as well as more intricate aerospace-type parts."
In addition to being family-owned and industry-driven, Wolverine Bronze Co.'s professional partnerships are a key factor in their achievements. "We've formed an alliance with Anderson Global, located in Muskegon Heights, MI, and ASK Chemicals in Columbus, OH," Richard explains. "Anderson Global builds foundry tooling for production foundries, which is used in the development foundry, as well as low volume tooling that we use in other areas of the foundry. ASK Chemicals adds technical support to the development foundry and brings much experience in process development. The combined abilities of the alliance allow us to develop the most robust and optimized production process in a reasonable time frame and at an efficient cost."
"But our biggest asset remains our people," Richard reaffirms. "We've been in the foundry business now since 1918, when my grandfather came to Detroit to work in the foundry industry after his discharge from the U.S. Army. Everybody in the Smith family, and that includes our employees, are tuned into the foundry. We've got sand in our veins, as we say. The Smith family is honest, hard-working. We're working on the fourth generation in this business. It kind of speaks for itself."
AT A GLANCE
WHO: Wolverine Bronze Co.
WHAT: A non-ferrous jobbing foundry
WHERE: Roseville, MI
WEBSITE: www.wolverinebronze.com
ASK Chemicals – ask-chemicals.com
ASK Chemicals is one of the largest suppliers of complete solutions and tailor-made consultation services for the foundry industry. The core of our company's activity involves manufacturing all foundry consumables required for the production chain as well as providing optimum technical services in order to perfectly adapt our products to the processes on the customer's premises. 
Our wide product range contains binders for all core manufacturing processes, coatings, additives, feeders, filters, release agents, metallurgical products including inoculants, Mg treatment wires, inoculation wires and pre-alloys for iron casting. Core production and prototype development as well as a wide range of simulation services round off what the company has to offer.