Vanleigh RV
Let the journey be your home…
Business View Magazine interviews Leigh Tiffin, Chief Operating Officer of Vanleigh RV, for our focus on the Recreational Vehicle Industry
Tiffin Motorhomes spent over 40 years cementing their position as the gold standard of motorhome production. Bob Tiffin began his work with the idea of making a great product and satisfying his customers. The family tradition was joined by Van and Leigh, Bob's son and grandson and they continue to focus on quality and craftsmanship. It was late in 2014 when Leigh got the idea to create a new company to focus on a specific segment of the RV market, the fifth-wheel. From there they created three model lines: the Pinecrest, Beacon, and their flagship Vilano models.
"The recreational vehicle market has different facets," explains Leigh Tiffin, co-owner and General Manager of Vanleigh RV. "Typically when we look at the industry, we look at two different product classifications – towable and motorized products. Within those classifications are several subsegments that are unique in their own ways. Motorized products are self-contained; they have their own engine and transmission and 'move themselves', so to speak. Towable products require a tow vehicle. Within the total spectrum, there's everything from a pop-up camper or a small R-Pod all the way up to what we build – large 40-45 foot full-profile fifth-wheels. The fifth-wheel offers some unique advantages. They tow a little bit better because the centre of gravity is better, the pin sits in the truck bed much like a gooseneck. They also offer more space."
There is more cubic footage in the interior of the fifth-wheel coach than any other RV and that means they can accommodate extended stays very well. Tiffin notes, "It tends to be a progression for a lot of folks, where they start as young families and maybe buy a small travel trailer, then they decide that they like the RV lifestyle and it's a hobby they enjoy. So they gradually progress to usually at least a fifth-wheel, where they have many more creature comforts. It has a lot of what you would find in a residential home."
That is one of the interesting ways Vanleigh markets its products, as an alternative to home ownership. They use the term "full-timers" – those who have chosen to shrug off the static comforts of traditional home ownership to embrace a full-time life on the road. This doesn't necessarily mean they live in the fifth-wheel as their residence. But each Vanleigh product is constructed with that in mind. In fact, when you look at the interior, it seems more like a luxury condo than a trailer. Features include extra large windows, full-size refrigerators, spacious wardrobes, and king-size beds.
"All our furniture is custom made by Franklin Furniture here in Mississippi," says Tiffin. "They are exclusive to Tiffin Motorhomes and make all our theater seats and trifold sofas… their furniture is fantastic. It's a really neat pitch to customers to be able to say that it's made domestically in our home state."
Then there is the technological aspect of the fifth-wheel. Vanleigh uses smart technology that would rival any smart home, using a full multiplex system made by a Canadian company, Spyder Controls. Each of the Vanleigh model ranges feature different bells and whistles but all the lighting in the coach interior and exterior is controlled vis-a-vis the Spyder system, as well as most of the main components. It operates through an electrical control panel which is a digital touch screen and looks a lot like an iPad. They even plan to expand this with Bluetooth and are looking into creating an app to allow users to control from a cell phone.
According to Tiffin, "This system can control everything from the HVAC, to the furnace, the water heater, you name it… And, of course, we offer LG Smart TVs in the unit and a wireless gateway option, so that if you're parked in a campground that has Wi-Fi, you put this gateway in your unit and you can extend the signal for better wireless access. You could run a home office from here. I think that a big part of what has contributed to the influx of new customers for the industry as a whole is that a lot of people want freedom. They're saying, "If I'm going to be working remotely for the next several months, or a year, why not get an RV and the kids can do virtual school, I can work remotely, and travel, and see the country while we do it." And once you get a feel for just how decked-out each Vanleigh unit is, you'll realize that you're not leaving your home behind. You're taking it with you."
Vanleigh RV is a third-generation family-run business that Tiffin describes as: "just a really large mom and pop business, where the ownership is actively involved in the everyday operation. It is because we are passionate about it, and we care about it, and we know our names are on the product. I would venture to say, I know just about everybody's name that works here."
The company builds all three of their brands in Burnsville, Mississippi, with a team of 260 employees who work at either the main offices or production facilities. "We have about a 100,000 square foot assembly plant in Burnsville and a 75,000 square foot cabinet shop," reports Tiffin. "It's almost like a couple of different businesses that combine to create the product. We're a very integrated manufacturer, unlike many of our counterparts in the industry. We don't just assemble RVs, we build it all. The millwork, all the cabinetry that you see in the unit, even the cabinet doors and drawers are finished inhouse. We have a true, full-service cabinet shop and our own lamination process, where we manufacture our sidewalls in our assembly plant and then build our superstructure – the floors, roofs, slide rooms – and then we assemble the vehicle, as well, in our assembly plant. You could say that each unit is hand made."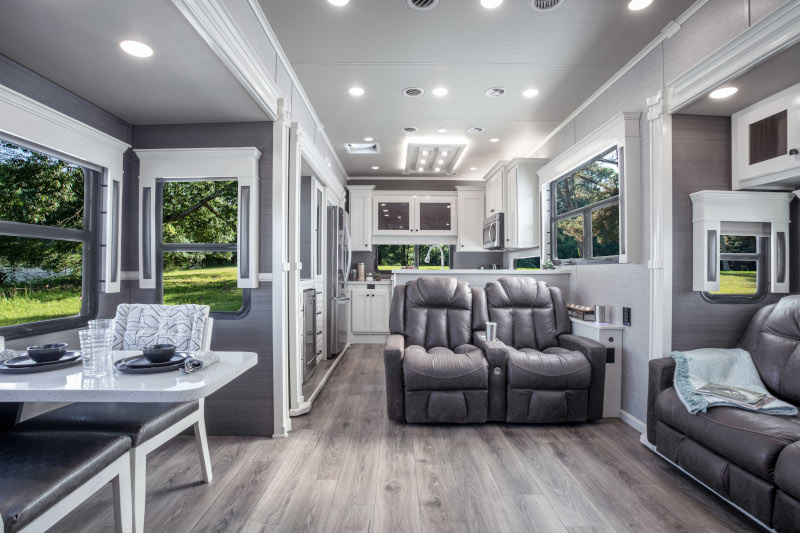 Historically, Vanleigh RV has relied on what might be seen as a teamwork approach, instead of relying on individual craftsmen. Tiffin declares that if one or two people set out to build a complete fifth-wheel, it would be close to impossible – they would need a massive amount of skill and technical expertise in so many areas. But when there are 200 people involved in the process it becomes much easier. He elaborates, "Typically what we find is, through better production processes and operational improvements, we can simplify the job elements and aspects of the job. So we can hire someone who may not have a lot of previous experience in this type of work and train them properly. And then, of course, the longer they do it the better they get. We do have a core group of employees who have been here from the very early days, I would say close to 30 percent of our workforce has been here most of the time that we've been in existence, and that's a key. Those are the folks who have tremendous amounts of experience and help us develop other people that enter the organization."
Vanleigh RV products are sold by dealers throughout the U.S., thanks in big part to Days Distribution and Logistics out of Elkhart County, Indiana. "Days is a great partner who has been very critical for us from day one," says Tiffin. "The beltway of the industry is up in Indiana and we're in this southeastern corridor, which works for us because we do well in these markets. But there's no doubt, much of our supply chain is located quite a distance from our facility and without a great logistics partner like Days, that does such an awesome job of cross-docking and loading our inventory and helping us coordinate logistics, it would be almost impossible to pull it off."
Above all, Vanleigh RV is a proud, family-run business that takes their long-time passion for a product and creates a thing of beauty. A Vanleigh RV means freedom – and the firm's responsive look at the industry means they will continue development towards younger families, working families, and those who just appreciate a sense of adventure. Let the journey begin…
AT A GLANCE
Vanleigh RV
What: Manufacturer of high quality, "home-like" fifth-wheels
Where: Burnsville, Mississippi
Website: www.vanleighrv.com
MI Metals, Inc. – www.mimetals.com
MI Metals, Inc. with its four privately owned aluminum extrusion plants is one of the largest independently owned and operated aluminum extrusion companies in North America.  With five extrusion presses, three electrostatic paint lines an anodize line and thermal pour & debridge capabilities, MI Metals services a diverse customer base with both standard and customer aluminum extrusions in a variety of markets including transportation, recreational vehicles, solar, building & construction, and power generation.  The Company is known for its high standard for customer service and high-quality products.  This reputation combined with the ability to service the entire country from the Company's four strategically located plants sets MI Metals apart from its competition.
MI Metals first started extruding aluminum in Clearwater Florida in the 1980's and is privately owned by Brook Massey who is the acting President/CEO.  The Company has extrusion plants in Florida, Georgia, Tennessee and Arizona.  Mr. Massey remains active in the day to day operations of the Company and serves on the board of directors of the Aluminum Extruders Council.
Days Distribution & Logistics – www.daysdistribution.com 
We pride ourselves on service, productivity, safety, and accuracy. Days Distribution & Logistics continues to innovate in response to every opportunity in the constantly changing world of logistics. We are a personal, sophisticated, and multi-dimensional 3PL strategically located in Northern Indiana one-hour East of Chicago, IL.