Jersey Precast & Concrete Safety Systems
Bridges to success
Business View Magazine interviews Amir Ulislam, President & Owner of Jersey Precast, for our focus on U.S. Infrastructure Construction
Jersey Precast and its affiliate Concrete Safety Systems are at the forefront of the New York metropolitan area's precast construction industry. The companies have worked on some of the largest precast concrete projects in the region, including the recently concluded LGA West parking Garage, and Dulles Airport Metro Rail in Dulles, VA. Leveraging its rich history and an extensive team of long-time veterans, Jersey Precast and its subsidiaries have been awarded multiple multimillion-dollar projects in the Tri-state and surrounding regions.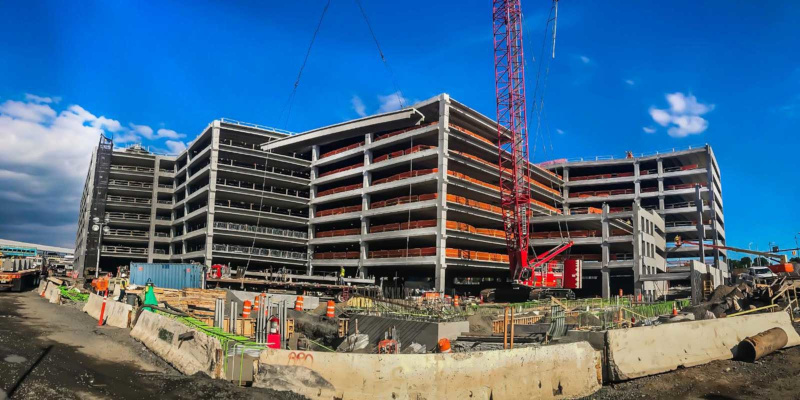 One of the reasons Jersey Precast stands out among other precast concrete companies is its capacity to handle extensive infrastructure and facilities construction projects. With an average project size of $10 million, the company's ability and experience with larger jobs continue to enable it to bid for, and close, new projects within similar price ranges. "The work we do falls into two broad categories," explains Amir Ulislam, President & Owner of Jersey Precast and its associated subsidiaries. "One is public infrastructure and the other is institutional facilities construction." Under public infrastructure, Jersey Precast handles bridges, ports, jetties, trains stations, esplanades, and boardwalks.
One of the company's recent projects in that sector is the Triborough Bridge's re-decking in New York City, a $20 million project involving building 12 acres of bridge deck. The Triborough Bridge (known officially as the Robert F. Kennedy Bridge or simply the RFK) is a complex of bridges and elevated expressway viaducts linking the boroughs of Manhattan, Queens, and the Bronx. "Infrastructure projects have been our bread and butter for the last 30 to 40 years," says Ulislam, "which has made us good at completing such projects quickly and efficiently. On institutional facilities construction, we are making significant inroads in areas like parking garages, stadia, warehouses, and sports complexes. For example, we supplied precast for a U.S. Tennis Association project at its USTA Billie Jean King National Tennis Center facility in Flushing, New York. Before that, we supplied precast concrete for the expansion of the football stadium at Rutgers University."
Jersey Precast was founded in 1981 in New Brunswick, New Jersey. When the founder sought to retire in 1997, he sold the company to then-managers Dominic Reggimentti and Amir Ulislam. In January of 2002, Ulislam bought out Reggimentti and took full ownership of the company. Then in 2005, Jersey Precast (now the parent company) purchased Concrete Safety Systems, solidifying their position as one of the most diversified precast concrete companies in New York metropolitan area. "In 2008, we relocated the Jersey Precast plant to Hamilton Township, NJ, around a hundred miles west of our other company, Concrete Safety Systems, which is located in Bethel, PA," shares Rashid Baig, General Manager of Concrete Safety Systems.
Today, Jersey Precast and Concrete Safety Systems operate from those two facilities, employing over 200 team members. In addition to the U.S. team, the companies also have a back office in Karachi, Pakistan. "Our Karachi office houses around 25 engineers and draftsmen who are responsible for all engineering and shop ticketing work," explains Ulislam. This remote working set up offered the companies some cushioning when the pandemic hit, something Ulislam is quick to point out. "We have had a lot of experience with remote working, which has come in very handy in these difficult times."
Speaking to what defines Jersey Precast's corporate culture, Ulislam shares, "The biggest asset and the greatest thing we have going for us is our A-Plus team. The leaders we have, and even in second-tier management roles, our people are exceptionally talented, dedicated, and hardworking." Besides talent, another thing Ulislam is proud of is the fact that most of the company's senior team are lifers. He notes, "They are long-term associates of the company – career professionals who call our company home. I see our senior team's longevity as a critical factor in ensuring continuity, making it easier to reassure customers who get to work with the same team repeatedly."
Besides focusing on its workforce, Jersey Precast is also looking into ways of modernizing its operations through technology. "Pouring precast concrete is still not fully automated here in the States," Ulislam admits, "especially the kind of work that we do, where we are not producing any repetitive products. Nevertheless, we are investing in an Enterprise Resource Planning (ERP) system to integrate our company operations. We are bringing in the ERP system as a complete business and digital solution that will manage every aspect of the business."
Jersey Precast has a long and illustrious list of projects it has worked on throughout its history. The Dulles Airport Metro Rail Project in Dulles, VA is one such project. "It billed at around $20 million and was commissioned by the Metropolitan Washington Airport Authority," explains Baig. "The project includes six stations on a rail line connecting Dulles Airport to Washington DC and will be commissioned next year, once the project is handed over to the Washington Metropolitan Authority."
In addition, Jersey Precast has undertaken a string of other major infrastructure projects, including a $14 million marine pier project in Leonardo, NJ and the Pulaski Skyway re-decking, a DOT project worth about $45 million. "As part of our infrastructure projects, we are also currently undertaking several train station projects on the Long Island railroad expansion," adds Ulislam. These train station projects fit nicely into the company's infrastructure, transportation, heavy highways, and civil works portfolio.
Over the last five years, the firm has added institutional facilities to its roster of projects. "Right now, we are supplying precast for a new stadium for the New York Islanders out in Long Island," says Ulislam, "besides a stadium we recently finished at the University of Delaware." Other facilities Jersey Precast has recently concluded include the west garage at LaGuardia Airport and parking garages for the Union City Board of Education in Union City,  Quest Diagnostics, County of Essex, and Rowan University. Jersey Precast is currently also working on parking facilities for  Southeastern Philadelphia Transit Authority, Princeton University, and Lancaster Parking Authority.
As Jersey Precast continues to service existing contracts and chase new projects, the company has not been immune to the effects of the COVID-19 pandemic, despite having essential service status. But its deep-rooted reputation and strategic location helped lessen the impact. Ulislam admits, "We've had our fair share of challenges for the last several months but we did not stop working. Although we were working at a drastically reduced capacity, we kept our doors open and continued to service existing contracts for most of our clients. We have a great reputation as the go-to precaster for a lot of large brand-name companies,  besides being the largest precaster in the New York City metro area."
Casting his gaze into the future, Ulislam is optimistic about the future of Jersey Precast. "Our first priority in securing the future of our company is cultivating the next generation of leaders," he says. "We have a crop of younger executives and engineers that we are grooming and training to assume leadership roles down the road. I believe this kind of successional planning is crucial to ensuring the survival and longevity of any business. The second priority the company is focusing on is diversification. We are adding a few more niche products to our product mix, so we can stabilize our work volume and counter the seasonal nature of our core products." The company, however, has no plans to expand beyond its current geographical footprint. "We feel that there is enough business available in this geographical footprint that we don't have any need to go out and expand," concludes Ulislam. Indeed, a strategically informed decision by a company that has conquered its market to become king of the hill.
AT A GLANCE
Jersey Precast & Concrete Safety Systems
What: Provider of quality precast and pre-stressed concrete products to the Tri-state region
Where: Hamilton, New Jersey
Website: www.jerseyprecast.com