Level Craft Construction
communicating its vision to clients with systems that work
With years of expertise in the Atlanta market and beyond, Level Craft Construction 'levels' the construction playing field with top-tier projects
The housing market has been one to watch during the course of the global pandemic and throughout this last year. With so many industry experts predicting a construction slowdown and a devaluing of properties across the board during COVID-19, history has taught us otherwise.
Rather than plummet in value, pre-existing properties saw huge price increases, with some properties in hot housing markets doubling in value over 2020 and 2021. At the very least, bidding wars on properties were the norm with the final selling price often resulting in well over the asking price.
These equity gains, coupled with a distinct housing shortage seen across North America have kept the resale market healthy as well as new construction companies very busy. Industry insiders have been cognizant, however, that there have been other macroeconomic factors at play to consider for any home renovation and new construction company wanting to continue to see healthy balance sheets.
Despite the boom in resale properties and the market tipped toward the home seller, the inflationary climate is one such factor that has worked to counter the housing stock shortages. With incremental rate increases implemented by the Federal Reserve over the better part of a year to curb the souring housing price increases, new construction projects have had to pivot to meet the current rate environment.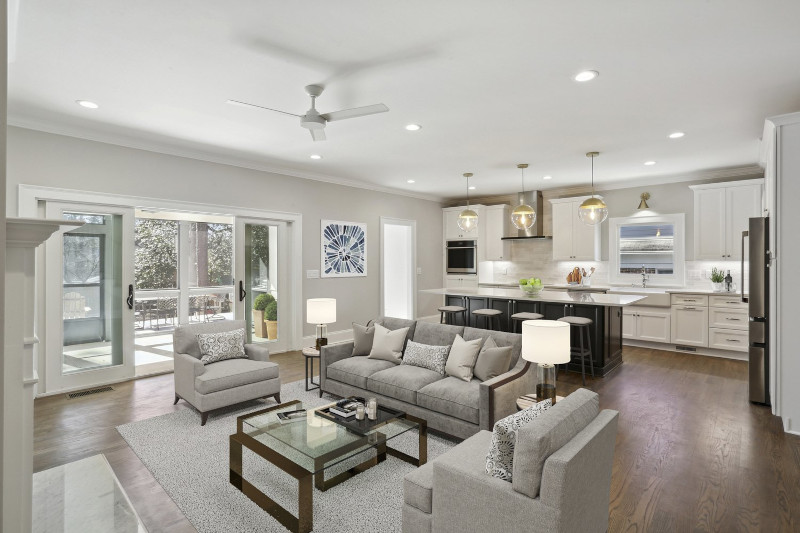 Supply chain issues stemming from the prolonged pandemic have also put a nail in some projects, as turn-around times and much-needed materials have in some cases doubled. The price for these materials has also risen dramatically over the last several years which is another financial concern for most construction firms when pricing out a current or proposed commercial and residential project.
Given the unique economic position that most builders find themselves in heading towards the second half of 2023, only the 'crafty' builders that anticipated market conditions and those with a tested system in place that their clients can rely on can continue to turn healthy profits.
For Level Craft Construction, an established and highly successful custom home renovation and new construction builder, based in Atlanta, navigating these unpredictable market conditions has been seamless. Continuing to lead the local market with top-tier projects, both completed and under its construction belt, Level Craft Construction has been able to pivot to changing housing conditions while relying on its loyal client base and impressive relationships with top local vendors and suppliers.
"We have been growing and growing," Virginia Van Lear, Owner of Level Craft Construction says. " I started building in 1996 and we have had Level Craft since 2006 and in that amount of time we have changed and grown our business model, leading to the development of several different departments."
"Our bread and butter are custom home renovations and we do not do anything under about $400,000 which means they are full home remodels," Van Lear outlines.
"The next thing we do is custom home builds [which falls under the category of ] new construction. We also build out neighborhoods for investors and we are currently building out two neighborhoods with a third one going in soon," she adds.
Van Lear notes that the business also included a multi-family homes category built out for investors. " These are mainly condominiums, townhomes, apartments, and duplexes."
She also relays that another key area of Level Craft's business is its continued work on the commercial side.
"We build out commercial spaces which include restaurants and [similar projects]. We have a lot going on," Van Lear states.
When asked how the company can keep up with so many diverse areas and multiple projects, Van Lear reflects, "We do all of it well. The reason is that we keep the same systems in place for everything. We rely on a lot of communication, we use a mobile app that has daily contact within our team and with our homeowners and our clients,"
Van Lear also highlights that they built cost plus that enables them to bill only for the work that is done. " We don't bill for anything that we didn't do. If you do it, you are going to charge for it." This is an example, Van Lear outlines, of how the company is putting the client first and working on keeping strong relationships with its subs and clients.
Van Lear is not a novice when it comes to starting and running her own company. Right out of college, armed with a Fine Arts degree, she started an art gallery at the age of 21.
"I started an art gallery in a trendy little hip neighborhood in Atlanta and I did not like it. I had to be there all the time and there were a lot of things I didn't like about it," Van Lear recalls.

She quickly decided to sell the company which had become quite successful and took a new route down the manufacturing path with the establishment of a company specializing in housewares, picture frames, door knobs, and anything related to household decor.
It was around this time that Van Lear developed an interest in house flipping and used capital to put into flipping houses as well as further hone her skills in all aspects of construction; tiling, framing, and sheetrock among other skills.
"I wanted to do something a little more hands-on," she relays. "I now knew enough that I could tell if someone else was doing it wrong and before I knew it I had about 10 properties I was working on."
"So I sold my manufacturing company and started doing the renovations full time," Van Lear adds.
With the housing crash in 2008, flipping was no longer an option and this propelled Van Lear towards the formation of what is now Level Craft Construction.
"There was no random house flipping anymore and people over the years that I had encountered always commented on the good job I was doing and would I do it for them," she says. " I had been saying no, and now I was saying yes and this is when I launched Level Craft Construction and got my contractors's License."
Describing the scope of the home and commercial side of the business, Van Lear highlights, "We are not the investors. We don't own the project. We are the hired help. We work with the designer and the existing commercial space and build out inside the restaurant."
"For example, we are working on permitting for one right now that's a restaurant, but it is in a huge building on what we call the Beltline in Atlanta in a Plus property, so there will be 10 to 15 other restaurants in there," she describes. " So we'll go in and we'll build out the restaurant and put in things like the foundation, all of the mechanicals, the lighting, the kitchen as well as the furnishings."
"For some of the neighborhoods that we build out, they already have everything chosen but they may want us to help work with their designer." "Yesterday, for example, I did a walkthrough and I wasn't loving the finishes. They look good on paper but they don't work inside, so I will have a meeting and give him some of my suggestions of what to fix to give it that 'wow' factor," Van Lear continues.
Although touching every aspect of the home design and new construction business, Van Lear points out that for Level Craft's varying projects on both the residential and commercial side, the company will bring in subcontractors who represent hundreds of specialized trade professionals. Level Craft will skillfully manage all aspects of the project as well as the subs that the company works with on any given project.
An expert in the construction field, when asked what motivates the work she undertakes every day, Van Lear pauses to think about the answer.
"I truly would rather not work and travel around the world with my husband," She jokes. She adds, however, "I love the role that I play in the company, where I have this leadership role and I get to do this every day."
"I love my team and I love my employees. "Debie, my business partner and I handpick the people that work for us for certain reasons and I just love seeing them work every day. They are an extension of what Debbie and I are in our core values," she elaborates.
"It is also really nice to see a finished project when it is not something on paper, but a finished home." "Our clients walk into their homes and it feels so good. It is so hard to build, and there are so many things you have to do and problems that need solving and at the end of it you are like 'wow' and there is a sense of pride," Van Lear describes.
Van Lear feels a special loyalty to some of Level Craft's long-time suppliers that have worked alongside the company as it has risen to the leading position it enjoys today. She credits the Randall brothers for their timely service and cost-effective options and on the lending side, Van Lear pinpoints Bank South as being a great financial partner to work with for any lending referrals and financial items.
This sense of loyalty has been heightened, Van Lear admits, through the pandemic to now with the supply chain disruptions leading to long delays getting in materials for key projects coupled with the ever-increasing cost of materials. Lending partners have also been instrumental in helping anxious homebuyers or those contemplating major renovations in a high-rate environment.
"We have to order materials much sooner than we would have before, like windows for example, which we now need to order long before the permit is ready and concrete is still seeing shortages. We are just trying to get ahead of the ball here," she outlines.
As to what the future holds for Level Craft Construction, Van Lear is eager to offer her prediction.
"I see continued growth, not only with revenue but also with growth as a company through strategy and processes," she concludes.
AT A GLANCE
Level Craft Construction
What: Leading home renovation and new construction business with innovative design options
Where: Atlanta, Georgia
Website: https://www.levelcraftatlanta.com/
Bob Bailey's Appliance Co – www.bobbaileys.com
Since 1962, Bob Bailey's Appliance Co. has offered an exceptional shopping experience. Our showroom is filled with the finest brands, and we have sales associates who listen, give honest advice, and go the extra mile to assist you in making the best decision to enhance your home.