Element5
Join the revolution!
Business View Magazine interviews Patrick Chouinard, Founder & VP of New Business of Element5, for our focus on North American Mass Timber Construction
The global construction industry is in the midst of a revolution that has begun to radically change the way buildings are constructed. Concrete and steel production, relied upon for the last 150 years to build cities, is the leading cause of the current CO2 crisis. Now, more than ever, the search for alternative methods and materials is imperative, as the world population rapidly approaches nine billion people. Those united in driving the change revolution see timber as the essential building material of the 21st century. And Element5 is helping lead the charge.
The name of the company dates back to ancient alchemy – and the five basic elements: earth, water, fire, air, and wood. Patrick Chouinard, Founder & VP of New Business of Element5, explains, "Wood is considered the fifth element and we chose that name because wood has such a history in construction and we wanted to tie in what we do with the ancient traditions, and values, and craftsmanship."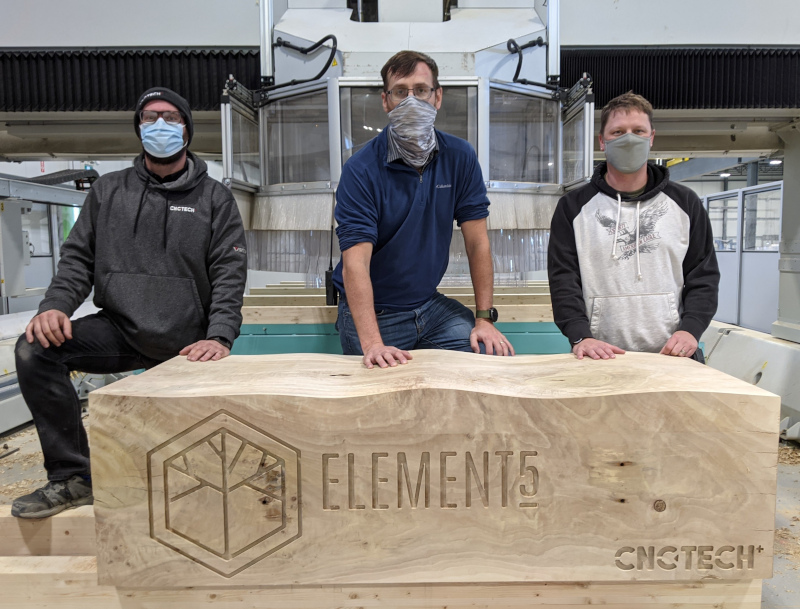 Element5's passionate and highly-skilled team of designers, craftspeople, and assembly experts is committed to helping achieve positive outcomes in communities, the environment, and future generations by advancing awareness of the benefits of mass timber construction. In that cause, the firm provides cost consulting, design consulting, engineering, fabrication, and assembly services to a growing community of visionary architects, owners, developers, and general contractors – with all the 3D modelling, shop drawings, and manufacturing of component parts done inhouse.
Chouinard is a dedicated advocate for timber construction, having gained valuable industry knowledge in the manufacturing and service provider sectors before establishing Element5. He originally worked at Structurlam (a pioneer in the mass timber manufacturing industry in North America) as their representative in Quebec, Ontario, and Atlantic Canada. While there, he learned the business from a manufacturer's perspective. Then he joined Spring Valley Architectural Innovations – a provider of consulting, engineering, and design services from the early stage of a project through to completion. After spending two years there, learning the business from a service provider's perspective, Chouinard recognized the tremendous opportunity for prefabricated offsite mass timber manufacturing in the commercial construction industry and left the company to start his own firm.
That was in late 2015. Within six months, Element5 had taken on two new business partners to help fund growth and expansion. One year later, they purchased the assets of a small CLT (cross laminated timber) manufacturing company in Ripon, Quebec, an hour east of Ottawa, Ontario, and took over the lease on the building. "So, in just 18 months, Element5 had become the third largest CLT manufacturer in the North American marketplace, at that time," says Chouinard. "In comparison to Structurlam and Nordic, the two giants in the mass timber industry, we were just a blip on the radar, but that got us into the industry. We won some projects, started to build our team, and earned a good reputation." The Ripon plant has now been operating for over three years and is continuing to expand.
But Chouinard always had his sights set on the Ontario-based market. Two years ago, he met with Frank Dottori, who is highly respected in the forest industry, and founder of a company called Tembec – which he turned from a single sawmill in receivership into 48 operations around the world. Chouinard recalls, "I knew he was interested in the mass timber movement and had done some research, so I invited him to invest with us. Then Frank introduced me to Tom Kennedy, Managing Director of Kensington Capital Partners (one of Canada's largest venture capital firms), who also became an investor. Together, Frank and Tom own shares in two large sawmills in northern Ontario, so our relationship runs right from the forest timber to finished product. And thanks to Tom, we have access to the necessary capital to fund expansion and growth."
Mass timber is being used in everything from single family homes and cottages,  to very large multi-unit residential complexes and office buildings of five stories and even higher. The Element5 pipeline is full of those opportunities. The sweet spot tends to be the larger projects but they also get some "really cool" small commercial buildings and very interesting single-family homes and contemporary-style cottages.
Chouinard explains, "Our industry is evolving. A limited number of architects, engineers, owners, and developers are familiar with the new modern way to construct mass timber buildings, so there is a tremendous amount of education that's necessary. It makes it challenging for us because we're not selling into an established market, we actually have to blaze a trail and teach people about this industry and why it makes so much sense to build with mass timber. Architects are fantastic sources of opportunities, so much of our marketing and educational efforts are focused on the architectural community."
Traditionally, architects were the first people that an owner and developer would contact when they wanted to construct a beautiful building. The architect would orchestrate all the resources – engineer, suppliers, etc. – around that opportunity. They would manage the client relationship and pull all the parties together to make the project a reality. Unfortunately, there aren't enough architects who know how to design in mass timber, but there are a lot of owners and developers interested in mass timber because it is a cheaper, faster and more sustainable way to build.
"As a result, those owners and developers are coming to us directly," says Chouinard, "because there aren't enough practitioners with the experience to coordinate a mass timber solution. That means we become involved much earlier in a project. We can contribute our expertise to the process early on to help optimize the design solution. By engaging the architects and the engineers or doing the engineering ourselves, we become the orchestrator of the overall solution for these mass timber projects. It's not only changing the construction materials being used today but it's also changing the go-to-market approach."
In 2019, Element5 began construction of a massive, 137,000 sq. foot mass timber manufacturing facility in St. Thomas, Ontario. When complete and in full production in Q1 of 2021, the plant will briefly own the title of the most fully automated manufacturing plant in the world – until someone else adds the next advanced line of equipment. When the St. Thomas plant is fully operational, it will employ 20 people just in production. In six months that will be closer to 50.
Chouinard notes, "At that facility, we're making CLT and glulam columns and beams – essentially providing the whole structure. One thing that differentiates us from some other mass timber manufacturers is that we are committed to product innovation. Most others focus on the CLT and the glulam that form the skeleton of the structure. We do that too, but we are also making prefabricated envelope panels, which we call CLIPs (cross laminated insulated panels). These panels provide a complete envelope solution  comprised of a CLT panel, vapour permeable membrane insulation, and cladding. Even the windows and the doors can be preinstalled in the factory. So we're able to offer a weathertight shell package for these buildings."
Building with mass timber gives complete flexibility for architects to be creative with the design –imposing few limitations. The industry calls it mass customization. Essentially, most of the buildings are made with a post and beam structure. Glulam columns that support the roof, and glulam beams that support the massive CLT floor slabs. But there are mass customization options to make the building smaller, bigger, add floors, add wings… it's like a Lego set. Element5 provides the core components and the architect creates the design.
Environmental sustainability is the motivation fuelling the Element5 team and they take great pride in offering an alternative building methodology using sustainable materials. "With mass timber, we're leveraging our forests' natural ability to absorb carbon dioxide," says Chouinard. "And forests produce the oxygen we breathe. The remaining carbon is stored in ever-increasing amounts of wood. We're in the midst of this construction revolution, where buildings are being constructed offsite, and it has the potential to dramatically change the whole industry. Ideally, we want to convince more owners, architects, engineers, and general contractors to get on board with this because, collectively, we can make huge contributions to communities and the environment.
Right now, there are more mass timber buildings being designed and constructed in Canada than the U.S. but Chouinard predicts that will change in the next two years. He shares, "We see a tremendous opportunity for us, particularly into the central U.S and the eastern seaboard. We honestly believe that people will buy from us not because of what we do but why we do it. So we hand-pick the people on our team who share the same passion for making a positive contribution to the environment and communities – we're changing the world for the better. We hope you'll join us in the revolution!"
AT A GLANCE
Element5
What: Full-solution mass timber manufacturer and service provider
Where: Ripon, Quebec and St. Thomas, Ontario
Website: www.elementfive.co
Wilks Industrial Limited – 416 717-3348
Established in 1998, Wilks Industrial Limited is your one-stop source for new or used Dust Collecting Systems in Ontario and across Canada. We provide a true turnkey operation from start to finish, including consult, design, and install. We will also work with your local Hydro utility supplier for any incentives offered for hydro rebates available for our installation projects.
We have supplied and installed dust collectors, screw conveyors, and duct systems for the Wood, Paper, Steel, and Automotive Industries, ranging from 3600CFM to 90000CFM Dust Collectors. In the same Manufacturing sector, we offer services such as Ventilation Exhaust Systems for Fumes, Smoke, and Air Compressor Ventilation. And Air Make Up, Spray Booths, Sanding Dust Booths, and Exhaust Stacks are all part of our installation expertise. We also offer Spark Detections Systems by Hansentek for NFPA guidelines.
Our Wilks Industrial Limited team are proud members of the Ontario College of Trades, and are fully licenced, insured, and covered by WSIB. We are always evolving with the industry, especially in Energy Management Systems. We installed a full Energy Management system at Element5, which is fully integrated with their machining process. On command through electrical interlock, the dust collector will ramp up or down demanding on its demand through a series of multiple extraction fans. It's a unique German system by Hocker, partnered with Taurus Craco Machinery.
When it comes to consulting services, Wilks Industrial Limited has the extensive experience to deliver the proper Dust Collecting System for your particular application. Trust us to find the solution you need.