HPM Building Supply
Committed to innovation, service and community building
Business View Magazine interviews Jason Fujimoto, CEO/President of HPM Building Supply, for our focus on the Construction Industry in Hawaii
After 101 years in business, HPM Building Supply is forging ahead – backed by a considerable history of innovation, determination, and service. A century after its humble beginnings as a lumber mill, HPM continues to evolve and serve Hawaii's communities, as an exceptional source for the best building materials and outstanding customer service.
HPM covers all the bases, offering more than 2,200 product lines, including pro-grade lumber, trusses, tools, pre-engineered wall panels, custom metal roofing and steel framing. For those looking to build a new home, HPM offers proven house plans and materials that save time, expense, and headaches.
On Hawaii Island, also known as the Big Island, HPM welcomes customers to their retail stores and lumberyards in Hilo, Kona and Waimea, along with their lumberyards and manufacturing facility in Keaau. The company also services Oahu, Kauai and Maui with home plans, kitchen and bath design services, lumber, building materials, and manufactured products.
Jason Fujimoto, President & CEO of HPM Building Supply, shares, "In August 2021, we celebrated our centennial anniversary; we're fortunate indeed to be around this long. That long history makes us unique in the market. Hawaii has a lot of multi-generational family-run companies but within our industry, we are definitely one of the oldest in terms of age of the company and generational leadership. I am the 5th generation to lead HPM."
Not a typical hardware retailer or traditional lumberyard, HPM is well described as a diversified home center, lumber supplier, building materials distributor and manufacturer serving all major markets in the state of Hawaii. "We have a lot of different facets to our business," Fujimoto explains. "Yes, we do have the retail stores and the lumberyards, but we also have home design centers. We have an entire program dedicated to packaged homes – 22 pre-approved, prepackaged home models – so we really partner with the homeowner and facilitate the whole home build process."
HPM also has a Pro Services arm, and a manufacturing division where they manufacture custom metal roofing, wall panels, trusses, and pre-hung doors. They also do custom trim packages and provide a variety of specialty commercial products and lines including steel framing, acoustic tile, concrete accessories, paint and coatings.
The company's newest venture expands into the modular home space. Fujimoto notes, "The HalePlus Program combines everything we do as an organization, putting together affordable, small-footprint homes in a controlled or covered factory environment. Overall, we get involved from foundation to roof and everything in between."
Based in Keaau on the east side of the Big Island, HPM has 450 owner-employees spanning what is soon to be 16 facilities across all four major islands. In 1959, HPM began an employee profit-sharing program, and in 1977, became one of Hawaii's first companies to establish an Employee Stock Ownership Plan (ESOP). Today, employees own 100% of company stock through the ESOP. They're entitled to a company contribution every year in stock and are able to build wealth through a contribution and/or the share price increasing over time.
HPM's primary customer is the pro contractor and subcontractor base but they also serve the homeowners, the general consumers, the design professionals, the developers, landowners, the realtors, and government agencies. Fujimoto acknowledges, "Because of our deep roots and diversity, not just in what we do but our geography across the state, oftentimes we become a connector or a convenor for various entities. A landowner will come to us wanting to put together a small, affordable housing development. They tell us they need a civil engineer, an architect, and they ask us for recommendations for contractors. These types of conversations happen all the time. That's good for us. We want to be at the center of all things building, and we're happy to make those connections that help move our communities forward."
One project that is on the cusp of completion in a town on the Big Island is a source of pride for the entire HPM team. That project is being done with a non-profit organization called HOPE Services that serves the homeless, the lower income demographic, and the elderly. Leveraging their HalePlus modular home system, HPM is working with HOPE Services to build 12 senior studios and one community center building using our modular program.
This current build was inspired by the first project HPM did with HOPE Services back in 2018, when the Kīlauea Volcano erupted and the lava flow displaced scores of residents in the Puna district of the Big Island. Fujimoto recalls, "We worked with HOPE Services, using our component manufacturing, and we were able to erect many micro-shelters to provide a place to stay for all those who lost their homes. That was the inspiration for us and for them to realize we could do more than just put up temporary shelters, we can actually build permanent shelters. That was the genesis of this latest project that we hope to be opening formally soon."
Fujimoto has been with HPM since 2004 and has seen a lot of the company's highs and lows – enjoying a huge building boom in 2006 and then facing the Great Recession in 2008 to 2010, when building permits dropped 80 percent and HPM's sales volume was cut in half. He reports, "We had to go through a reduction in employees, as well, from 400 down to 200 and we basically had to keep the company on life support. After hitting near the bottom in 2010, it was really a rebuilding effort. Thankfully, we were able to do that and, today, even dealing with the challenges of COVID, HPM is a stronger company. We're larger and doing more things for our customers and our communities than we ever have before."
The COVID-19 pandemic forced all businesses to change their old modes of operation very quickly. When it comes to e-commerce – buying online and then picking up at the store – that process was accelerated by five years for HPM. They already had it planned and anticipate launching a full e-commerce platform this year. In terms of availability of supplies, the pandemic has also had a monumental impact on the construction industry and home building, in general.
Fujimoto elaborates, "Now that the home has become even more important for remote and hybrid working, it catalyzed the whole migration from the urban core out to the suburbs, where those houses were suddenly very desirable. So on top of the short housing supply that Hawaii was already in, pre-COVID, this exacerbated that whole dynamic and created challenges for all of us in the industry because housing surged in demand and it completely disrupted our supply chain. We didn't have the capacity in the industry to support this sort of demand. That's why prices have increased, lead times have been extended and, overall, things are becoming more expensive for everyone."
Hawaii is currently in its fifth consecutive year of population decline. That's a key metric in terms of the health of an economy. A lot of the workforce are leaving because the cost of living is too expensive. "Every business is having to deal with the labor shortage situation," says Fujimoto, "so obviously we want to take care of the employees we have and supplement them with technology and other tools to allow them to do more in less time and with less people. One project we're looking at is changing out all our shelf labels with digital tags, which will take away a huge, time-consuming manual task and let staff spend more time with customers and doing higher-value tasks."
When it comes to growth, HPM is looking to deploy their products and services more evenly across all islands. They view their component manufacturing business as a facet of the company they especially want to expand and mature. "Right now, we're most mature here on the Big Island in terms of being able to deliver manufactured trusses and wall panels," says Fujimoto, "but our goal is to make that available on every major island. Using our components really helps contractors scale their existing workforce – with our systems, an experienced team can frame a house in half a day. Ultimately, that will create more housing and make it more affordable."
He adds, "We believe very strongly in our ESOP. That ownership is a huge element of our foundation, in combination with our company culture, that will allow us to survive and thrive for the next 100 years. We want HPM's success to translate directly to all our owner-employees, keeping them engaged with a passion for their work and for serving our customers. We're growing and evolving, and they are a major part of that."
AT A GLANCE
HPM Building Supply
What: Century-old, leading source for the best building materials
Where: Corporate headquarters in Keaau, Hawaii
Website: www.hpmhawaii.com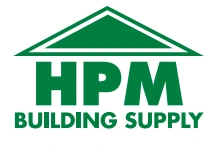 HPM Building Supply – hpmhawaii.com
For more than 100 years, HPM Building Supply has been serving Hawaii's building needs. What began as a humble lumber mill has grown into a statewide building resource, offering 2,200+ products, packaged home plans, and more. HPM is 100% employee-owned and committed to helping Hawaii build and live better.