Brault Roofing
EXCELLENCE at the HIGHEST LEVEL
Business View Magazine interviews Serge Tahmazian, Executive Vice President of Brault Roofing, for our focus on the Canadian Roofing/Construction Sector
When it comes to roofing excellence, the name Brault Roofing is top of its class in Canada. A third-generation family-owned business, the company has established itself as a national player in  commercial, industrial, and institutional roofing – even though not more than ten years back, its target market was only its backyard of Quebec.
Such stratospheric growth has been fueled by a robust entrepreneurial culture espoused by top management, including Marc Brault, President, and Serge Tahmazian, Executive Vice President. "We are very passionate about the business," says Tahmazian. "Before growing the business beyond Quebec, we thought to ourselves, 'we can stay here and enjoy our reputation and market dominance, but there is so much more we can achieve'. We knew we had the capacity and capability and were not achieving our full potential."
This passion and desire to go further has helped the company gain remarkable results over the last decade, including growing from one location to ten locations across the country. In addition, all its locations are wholly owned and managed by Brault Roofing, making it a truly national provider able to serve clients from coast to coast.
Marc Brault's grandfather founded Brault Roofing in 1949. Over the years, the company remained a regional player, primarily serving Saint-Jean-sur-Richelieu and neighboring communities. When the junior Brault took over the company in 1995, it marked a radical shift in how the company was run and the direction it would take.
While at the helm, he consolidated the company's position in the area and started expanding to neighboring communities – first to the rest of the Montérégie region, then throughout the Montreal Metropolitan Area. By 2018 the company had grown to the Maritimes market, the Ontario market by 2019, and the Western Canadian markets of Edmonton in 2020 and Calgary and British Columbia in 2021 and now Manitoba and Saskatchewan in 2022.
"When I joined the company around nine years ago, we had only 45 employees in Quebec," shares Tahmazian. "Now, we are in nine provinces with over 300 employees. Our growth has been nothing short of remarkable, and we owe it all to finding the right people to lead our expansion projects, and so far, they have done a fantastic job."
Brault Roofing's motto is EXCELLENCE at the HIGHEST LEVEL. This work ethos is reflected in its service verticals, including new construction roofing, roof repairs, emergency services, roof inspections, and snow removal. "We specialize in tar and gravel, modified bitumen (elastomer), single-ply membrane, inverted, and green roofs," says Tahmazian. "Our focus is primarily on large commercial, institutional, and industrial roofing projects, which we undertake with our crews so the job gets done exactly how we say it will."
Having an in-house crew has proven to be a significant asset for the company, which is a departure from the industry norm where most large companies rely on subcontractors for the bulk of work. Tahmazian adds, "Many companies claim to be national in scope, but they rely on subs who might not all provide the same quality of work. We intentionally chose to have our crews because the quality of our work is central to our brand image and the promise that we make to clients to deliver exceptional work."
The outstanding Brault Roofing team is spread across all ten locations, each of which is a fully-fledged roofing operation. According to Tahmazian, this comes from the decision to create a network of subsidiaries that can serve each market semi-autonomously. "We take our time before setting up a new location," he says. "We scout the area, find the right people, and launch the new office. Unlike other companies that can set up a sales office within weeks, our process yields a fully functional operation unit with the ability to sell and install roofs."
Another interesting thing about Brault Roofing is that it does not franchise its new units or pursue acquisitions, which are usually faster ways that companies use to expand. Tahmazian says the main reason for this is that franchising leaves a lot to the franchisee's discretion, which can hurt the brand that has taken so long to cultivate. On the other hand, acquiring comes with a hefty price tag, which tends to go towards paying goodwill to the owner besides the extensive due diligence needed to pick the right match.
Although opening new locations has its merits, one challenge of this approach has been the travel restrictions imposed during the COVID pandemic. For Tahmazian, the inability to travel and meet new hires has put a bit of a damper on the company's growth strategy, although not to the point of derailing it.  He notes, "You'd like to meet a new managing partner face to face and give them a handshake, but we've had to adapt and use the available tools like team conferencing."
These minor challenges have not stood in the way of the company's push for national coverage, and it continues to pursue clients in its target markets. However, one thing the company is clear about when it comes to growth plans is what it will continue doing well into the future. "Sometimes roofing companies expand by adding product and service lines to their offerings," says Tahmazian. "They will come in as a roofing company but offer to do your windows, sidewall, and other works. Brault has provided roofing services for 73 years, and that is what we are proud to continue offering. Our current growth trajectory is to continue offering innovative roofing products and services through a network of national offices."
These sentiments carry over into the current growing area of solar power. Although solar is often a natural progression for most roofing companies, Tahmazian sees it as a possibility, although not one that is currently under consideration. "The roofing industry is constantly evolving and we stay abreast of major developments like cold works and solar. But it takes planning and resources to pivot to a new service line, which is something we take time on before making such a major decision."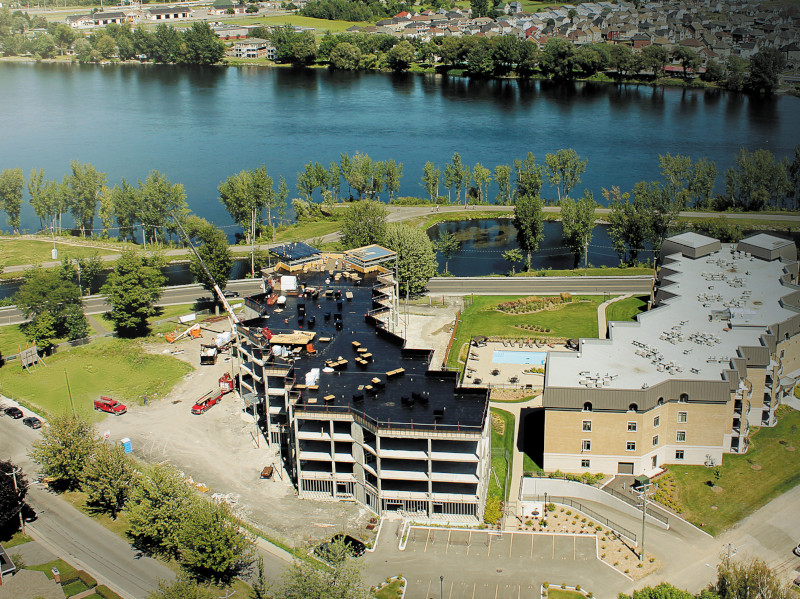 Like most companies, Brault Roofing has not escaped the effects of the pandemic, especially those affecting the broader supply chain and skilled labor market. 2020 and 2021 were challenging due to supply shortages but the company managed to keep things running by moving inventory around its various locations. They are somewhat concerned about 2022, however, because suppliers who had some excess stock over the last two years, are now running out.
A knock-on effect of supply shortages has been a rise in prices, with suppliers implementing price hikes every few months. These price hikes have had a direct and indirect impact on the firm's business processes, which Tahmazian believes is being felt by companies not just in the roofing industry but across most industries. "Alongside inventory shortages, manufacturers and suppliers are also dealing with labor shortages, which forces them to raise prices," he says. "Downstream, these price hikes sometimes find us having not received purchase orders (POs) from clients or has us absorbing the extra costs imposed by suppliers."
Despite these post-pandemic tailwinds, Brault Roofing is optimistic that the supply chain and labor shortages currently plaguing the industry will ease over eventually, especially with buy-in and support from customers. Tahmazian avers, "Due to the market's current volatility, we are hoping customers will adjust their practices to accommodate providers. One such way would be issuing POs early in the year so providers can lock in prices from suppliers, which works out well for both the provider and the customer."
Although Tahmazian sees the industry not changing much until the next economic cycle begins (he sees a market correction coming soon), he is optimistic about the company's future. "What Marc and I want to achieve over the next five to ten years is consistent growth," he says. "We don't have a hard growth target, but we want to look back after that time and say we have grown substantially with the help of our clients and especially our team. What we've done so far is unbelievable, and it's just the beginning. Because we love to build and grow, we want to sit down ten years from now and look back and say, look what we built. That's what I want to reflect on decades from now."
They are also aspiring to eventually have a presence south of the Canadian border – by acquisition or through a partnership with a thriving U.S. roofing entity that sees the potential of partnering with a National Canadian company. As Tahmazian explains, "In the past, we have looked into potential acquisitions in the northeastern United States because of the geographical proximity to Canada but these transactions did not materialize. We are currently working on finding the right U.S. partnership with a large American roofing firm that would cover the whole of the United States and would be a strategic fit with our group, based on our mutual abilities to serve clients successfully throughout both countries."
AT A GLANCE
Brault Roofing
What: Industrial leader in Canadian commercial, industrial, and institutional roofing
Where: Headquarters in Saint-Jean-Sur-Richelieu, Quebec
Website: www.braultroofing.com
Polyglass U.S.A., Inc. – Polyglass.us
Polyglass U.S.A., Inc. is an industry-leading manufacturer of roofing and waterproofing systems providing solutions for low-slope and steep-slope applications. For 30 years Polyglass has been launching innovative technologies, such as Polyglass' patented ADESO® Self-Adhered Technology, and helping roofing professionals build world-class roof systems in the U.S.A..