Elite Roofing
Roofing done right
Business View Magazine interviews Randy Brothers, owner of Elite Roofing, as part of our focus on the American residential and commercial roofing sector.
Elite Roofing of Denver, Colorado, is a full-service roofing contractor. It was originally founded as Elite Custom Builders in Greeley, Colorado in 2006, by Randy Brothers, who had graduated with a Business Marketing degree from the University of Northern Colorado. He had also worked as a superintendent with a local building company during college, learning how to build houses and commercial buildings, having inherited the talent and interest to build from his father. Elite Custom Builders specialized in finishing basements, but when the Great Recession hit in 2007-08, and people were no longer able to afford paying for that type of work, the company went on hiatus.
"Things were pretty rough and I was doing whatever I could to try to get myself out of a pretty deep hole that I got into when I first started my company as a general contractor," Brothers recounts. "So, I ended up becoming a subcontractor for a restoration company, which exposed me to insurance claims and the whole insurance restoration concept. And then, I ended up becoming an insurance adjuster. I moved to Texas and travelled around the country for about a year, and that's what ultimately got me exposed to hail damage claims, and working with roofing companies. I quickly realized that the insurance adjusting side of the business was not a great lifestyle – you're away from your family, you're working seven days a week, you don't know when you're going to get breaks to come home. And just to make a buck – that, ultimately, was something that I had to pass on even though I was still in a rough spot."
"Then I decided to try roofing sales," Brothers continues. "I got an opportunity back home in Colorado. I packed up everything in my truck and took a job as an independent sales rep for a large roofing company. I ended up doing really well, and got out of my major financial pinch. And what I found was a ton of opportunity but a big lack of professionalism in roofing contractors. The company I worked for had very little structure, no organization, and they moved too fast. And there were a lot of other companies that were in that same boat. I also realized that there was a pretty low barrier to entry. So, coming from a business background and having the experiences I had trying to build a construction company, I figured there was a big opportunity in the industry to approach it from a business perspective, because most companies started out either where the owner was a roofer for his whole life and decided to start a company, or was a salesperson that decided to start a company; very few people actually had business experience or any sort of knowledge or business training. That was where I saw the niche. I brought on my mom as my first employee, brought on a partner within the first year, and that was our humble beginnings. We had a small office; it was me and a couple of people knocking on doors and trying to sell roofs, with my mom trying to keep up with all the paperwork, and insurance, and billing."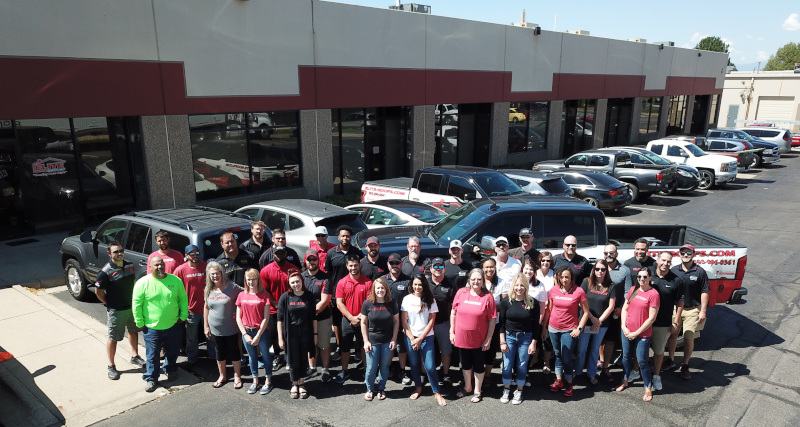 Today, a decade later, Elite Roofing has 23 full-time employees and 23 subcontractors who do either sales or supplementing. Randy's younger sister, Brie Reis, is the company's CEO, and its service area includes Colorado's Front Range, between Colorado Springs and Fort Collins. "We also cover Greeley and all the other little towns and cities," says Brothers. "Our main office is in Denver, but we have people in all of those areas."
Brothers explains that his company has a lot of competition, but that it also has several advantages over that competition in what is a very crowded marketplace: "Through grass-roots marketing and relationship building over the last ten years, we've been able to focus heavily on business development to where we have a major advantage, because we have a ton of relationships with a ton of other influencers, such as insurance agents, property management companies, real estate companies, HOAs, etc. And that has helped us emerge as one of the top companies in our market, even though there are well over 4,000 competitors."
"Traditionally, the majority of companies don't have that advantage, so most of them just knock on doors; that's the only way they can raise business," he adds. "I think that whole business model, although it's kind of a rite of passage and the best way to break into the industry, is also becoming a major challenge, because consumers are becoming more savvy and educated – they're doing a lot more research. So, we really focus on having a great online presence on Google and social media and that has helped us, as well."
Reis believes that Elite Roofing has one other important advantage – its values. "Some companies' values are just a plaque on the wall; they don't actually weave through the organization, while ours are woven through our organization," she states. "We take them seriously. It's how we make decisions; it's how we encourage our team to make decisions; and it's our expectation of everybody that touches us, or represents us in any way. So, I think that's been one of the driving factors in our growth – our commitment to our values which remain: Faith, Family, Honesty, and Integrity. We're very, very committed to those."
Brothers agrees. "It's fairly easy for people to start a roofing company," he notes. "And there are companies that do unscrupulous things. They take money from the insurance companies or from homeowners and never show up to do the job. And it creates a negative connotation within our industry." In comparison, Elite Roofing's motto is "Roofing Done Right." The company is a preferred vendor with the best manufacturers in roofing products, so all its customers' roofs are replaced with high-quality shingles by experienced roofers, and then inspected by competent professionals, trained in excellent customer service. It's why the company maintains an A+ rating from the Better Business Bureau.
While finding and hiring skilled workers is a challenge for many industries, these days, Brothers adds that Elite Roofing's culture is yet another advantage that the company possesses, and one that has provided it with long-term success. "Because our systems and processes and the way we operate are on a whole other level than the majority of our competitors, if somebody is looking for a great home, we're able to provide a great opportunity for them," he shares. "Our motto here is to 'hire character, and train skills,' so we're looking for someone with the right character that we can train how to be a great skilled tradesman."
"That's one of our objectives over the next few years," adds Reis. "We're trying to build our service department. So, I see having a training and education department where we have facilities and can bring on anybody and have them trained up in four to six weeks to where we need them to be – fully able to do what we need them to do. That's a part of our objective in growing our service department. There's got to be a way and we're determined to find it. Everybody says it's not there, but we'll discover it."
In addition, Brothers says that instead of trying to expand the business in order to capture other markets outside of its current territory, Elite Roofing has decided to extend the company's culture and its training vision to other roofing contractors. "We created a consulting company that does training and coaching for other contractors to help them," he explains. "We feel that all ships will rise if we can find good people with integrity that just don't have the business skill that they need to build a roofing company. So, we consult with others all across the country and Canada."
Growing the service department is also part of a long-range strategy to increase the company's market share in the commercial marketplace. Today, Elite Roofing's client base is about 80 percent residential and 20 percent commercial, and Brothers believes that focusing on service can potentially even out the ratio, or, perhaps, one day, completely reverse it to 80 percent commercial and 20 percent residential. "That would put us on a whole other level, as far as revenue," he states.
Finally, Elite Roofing strongly believes in giving back to the communities in which it serves. It is a supporter of Colorado 1000, a network of business professionals whose combined support gives 100 percent of its donations to local Colorado charities in need. The company also sponsors and provides volunteers for various, local non-profit events. It's "Roofing Done Right" in more ways than one.
AT A GLANCE
WHO: Elite Roofing
WHAT: A full-service roofing contractor
WHERE: Headquarters in Denver, Colorado
WEBSITE: www.elite-roofs.com
Moody Insurance Agency – moodyins.com
Moody offers specialized risk management solutions, commercial insurance, bonding, and employee benefits.  These products, coupled with a superior client service model, dramatically improve your ability to receive the best coverage and price in a challenging insurance marketplace.  Visit our website to learn more.