North Peace Regional Airport
Open to opportunities
Business View Magazine interviews Mike Karsseboom, Managing Director of North Peace Regional Airport Services, for our focus on Regional Airports in Canada
Fort St. John lies on the majestic and mighty Peace River and was once home to steamships and gold prospectors. This prosperous city on mile 47 of the Alaskan Highway has long been the center of trade for the region. Established in 1794 as a trading post, Fort St. John is the oldest European-established settlement in present day British Columbia (BC) – although the community has been moved several times for varying economic reasons over the centuries. The current and sixth location is slightly northeast of the various other forts built along the Peace River by various owners following the fur trade, including the Hudson's Bay Company.
"Fort St. John is located in northeastern British Columbia," explains Mike Karsseboom, Managing Director of North Peace Airport Services, "so we are probably more like what people imagine when they think of northern Alberta. When you think of BC, you think of mountains, but we are flat with a lot of trees. Our airport sees its most use right now from the natural resource industries. We have a lot of business travel bringing workers in and out for natural gas, oil, and we have a very large hydro dam project just south of the city that is under construction currently."
Although mostly operating as a commercial airport, North Peace Regional (YXJ) also functions as a general aviation and corporate airport. It has two runways – runway 12/30 is 6,909 by 150 ft, while runway 03/21 is 6,698 by 150 ft. "We have a little bit of everything," Karsseboom reports. "Commercial is at the center economically, but we also have a thriving general aviation community. We also have a flying school, Canadian Flight Centre, and our fuel services are provided by Executive Flight Centre. Maintenance and de-icing is taken care of by Rotech Maintenance, and North Caribou Air and Strategic Aviation do charter flights." There are even two places serving food at the airport – Fuel Services' Spicy Fusion and Cool Beans. North Caribou is the official Fixed Base Operator (FBO).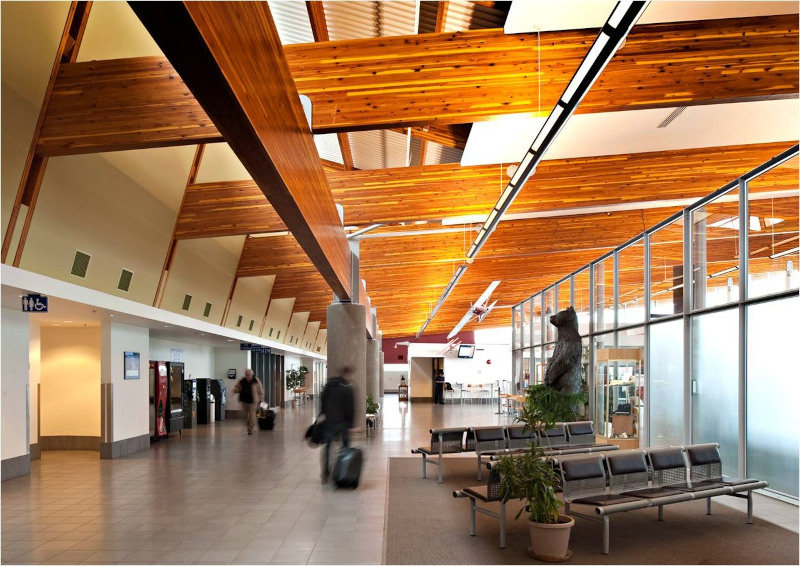 YXJ has come a long way from where it was in 1942, when it was listed as a Royal Canadian Air Force Aerodrome under construction, with four runways all 200 feet or less. It would not be long though until Canadian Pacific Air Lines and its successors CP Air and Canadian Airlines operated scheduled passenger service out of the airport to Vancouver, Edmonton, Prince George, Whitehorse, Fort Nelson, and Grande Prairie.
Today, North Peace Regional is operated by Vantage Airport Group, a global airport investor, developer, and manager, through a long-term lease agreement, and they have been essential in transitioning the airport from public to private management. The airport became profitable in its second year of private ownership and Vantage is also responsible for over $8.4 million worth of capital development projects, including a 30,100 square foot terminal renovation in 2007 that makes the airport capable of handling up to 500,000 annual passengers.
Unlike many airports, the prevalence of the oil and gas industry in the Peace River region means that helicopter service is essential, and there are no less than six such companies based out of YXJ – Canadian Helicopter Services, Bailey's, Yellowhead, Qwest, Heli-Source, and Interior Helicopters.
Speaking to the onset of the COVID-19 pandemic, Karsseboom recalls, "In March of 2020, our commercial service dropped off, especially from a tourism perspective. When the pandemic hit it changed everything. In 2019, we were moving over 279,000 passengers which is not bad for an airport of this size serving a catchment area of about 60,000 people. January and February 2020 were very strong with record numbers and then by May we were down to about 1000 passengers per month. We still had commercial service at that time, but where we had been doing ten turns a day to Vancouver, Prince George, and Edmonton, we were now down to one flight to Vancouver daily. Then slowly we have been building back up. WestJet began service to Calgary again and now we have plateaued at about six flights a day. At the same time, charter service and medivac flights increased over that same period."
Because of the newer terminal, North Peace did not have to deal with all the pandemic precautions in terms of retrofitting equipment – their HVAC already could filter and circulate air, but the frequency of circulation was increased to provide a safe environment. All other safety protocols were put in place, as well.
Today, there are 14 full-time employees (and one part-timer) on the field, 10 of which are qualified airport technicians who do double duty in terms of maintenance, along with crash and fire rescue. It is a comfortable enough level of staffing that there can be four crews who provide services at different times, for full 24-hour coverage.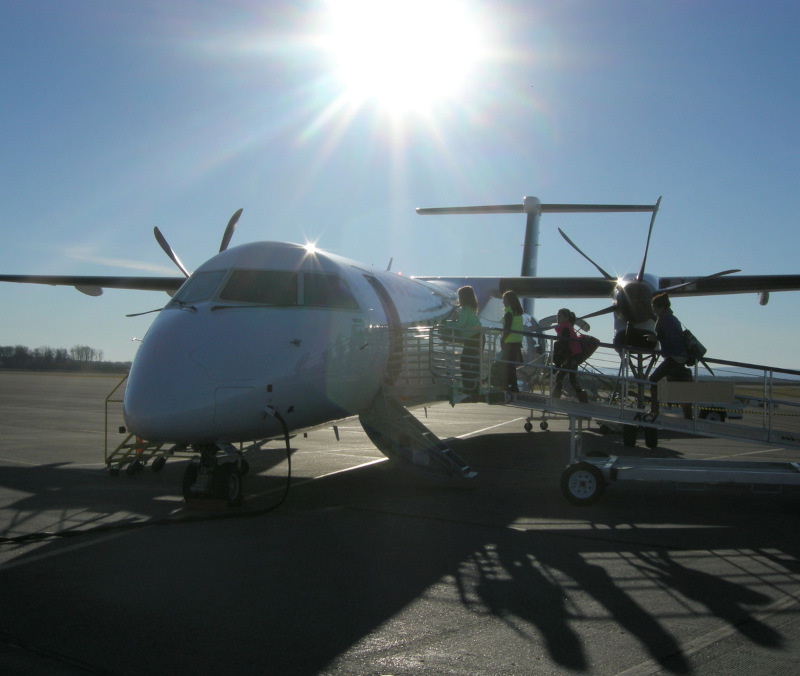 The most recent capital improvement project was a complete runway rehabilitation of 03-21, the primary runway when it comes to wind direction. This was a full-depth reconstruction improving the subgrade, putting down new asphalt, and entirely replacing the lighting system with LED lighting. The drainage system was also repaired and replaced.
"Our next project comes from the fact that a lot of our on-field equipment needs upgrading," says Karsseboom, "and we are just in the process of creating a Request for Proposals to replace our snow-fighting equipment. The number one item is a snowblower attachment for our four-wheel loader. We do have an airfield snowblower, but it is becoming quite unreliable, so we thought it prudent to have a good solid backup. The Canadian government, through Transport Canada, provides grants based on how many passengers you move – there is a total pot of $34 million, and they divide that amongst the airports based on passengers."
Another interesting development for North Peace Regional has been the inception of an aviation program at Northern Lights College. This is just beginning to be developed but will be a boon for the airport, whether graduates are focusing on the mechanical or the pilot side of education. It will be a growing part of what happens at the airport and mean a very close partnership into the coming years.
Another way in which the airfield works with the community is by a close relationship with Tourism Fort St. John;  being part of the conversations and planning, and part of the passive advertising – offering pamphlets, posters, and other promotional material on-site to try and build tourism. The area is well known for hunting, fishing, hiking, and cross-country skiing – in essence, tourism is mostly about outdoor activity. "There is a bi-annual air show as well," Karsseboom adds, "but the last one was in 2017. There were plans in place to do a 2020 show, but that fell through because of the pandemic. We are working on bringing that back and I work with that board, as well as an ex officio member, to make sure that the airport's interests are being upheld."
Another interesting source of revenue for the airport is a new 5G tower that is being erected on the property, with much consultation as to frequency, potential issues in terms of the airport's telecommunications, and buffer zones. The airport has signed a memorandum of agreement with one of the major telecommunications companies that includes lessening any potential impact.
"I guess moving forward one the biggest things for us renewing aging infrastructure over the next five years," Karsseboom concludes. "Our primary IFR runway is going to need restoration within the next five years and I would also like to upgrade it to LED lighting like the other runway. I think we also need to be looking at implementing an airport development plan, including a commercial development plan. In the next five years, I would like to provide a better facility for our maintenance staff, who are running right now out of very old Transport Canada buildings. Then there are some other things on the books like a central de-icing facility… when we start seeing travel pick up again, we will be able to begin work on these projects and continue to improve the services we offer."
AT A GLANCE
North Peace Regional Airport
What: An important commercial and general aviation airport
Where: Fort St. John in northeastern British Columbia
Website: www.yxj.ca
Tourism Fort St John Society – PO Box 134, Fort St John, BC V1J 0K9
Prepare to be awed by the diversity of activities within Fort St John. No matter the season, there is something to do; outdoor adventure, vibrant arts and culture scene, leisurely walk, jog, or bike along 50 KM of in city trails with local eateries and pubs to finish any adventure.