Melbourne Orlando International Airport (MLB)
"Engineering the Future"
Business View Magazine interviews Greg Donovan, Executive Director of Melbourne Orlando International Airport, for our focus on U.S. Regional Airports
A popular destination to visit, run a business, and call home, Melbourne, Florida is both beautiful and vibrant. The ocean beaches in the area are some of the best in the state. And Melbourne Orlando International Airport (MLB) has been voted as one of the most scenic airports in the world, today. It's a far cry from the first time a plane landed in Melbourne. The year was 1928, when a Pitcairn Aircraft landed on a cow pasture strip north of the Kissimmee Highway. Shortly thereafter, airmail service began and the City of Melbourne – recognizing the value of having its own air facility – bought 160 acres to develop as a new airport.
"Our history as an airport really goes back to WWII," says Greg Donovan, A.A.E., Executive Director of the Melbourne Orlando International Airport (MLB). "That's how it all started, as a Naval Air Station where pilots trained in Grumman Hellcats and Grumman Wildcat fighters. This was their final training before they went to war. We have a deep heritage here with the Navy, but the airport was turned over to the local government after the war. Our airport authority was created in the late 1960s, and we have run the airport as businesslike as possible since then. We're very proud that every dollar we generate is put back into the airport. In addition, we have become a major factor in the local economy to the tune of $3 billion a year." The airport now sees a daily population of 20,000 people on the airport campus any given day.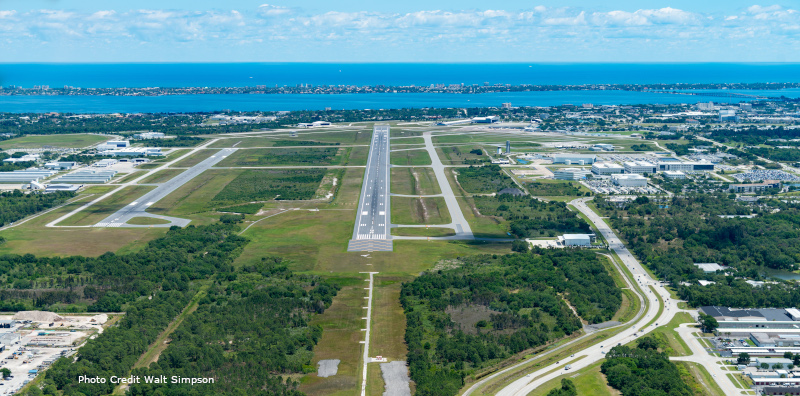 Donovan came to MLB seven years ago, from his former role as the Director of Pensacola International Airport. He recounts, "The first thing we did when I came on board was assess the condition of our facilities. All of our runways were in really bad shape. In fact, all the airport infrastructure was in rough shape. Take our tower for example, which was the oldest commercial tower in the State of Florida. You would have a 747 or a wide-body aircraft taxi past and it was completely hidden." The tower has since been rebuilt, along with much of the airport's other infrastructure.
All runways were also completely rebuilt, including its largest 10,181-foot runway, a parallel 6000-foot runway, and a general aviation aircraft runway that is 3000 feet. Donovan reports, "We are now removing and reworking large areas of our commercial aircraft apron to prepare for air service growth and larger passenger aircraft. In some cases, the pavement goes back to World War II. We've created piles of concrete and it's kind of interesting because there are different grades broken down into different sections. What we are now doing is taking all the old pavement and all the old base material and grinding and filtering that and then re-using it in construction. This is way better than carting it off to the landfill."
Next on tap is the terminal building, where work has now begun. Currently, it is just over 200,000 square feet and, according to Donovan, "is stuck in a time warp to 1986." The terminal will be a $61 million improvement project, adding another 80,000 square feet to the existing space, and is slated to open the first week of March 2022.
MLB is set on approximately 2500 acres, nearly four square miles of what has been called "Florida's Space Coast" because of its proximity to Cape Canaveral – home of NASA, as well as SpaceX. But if you look at what is happening within those four square miles, it is nothing short of exceptional.
"We have several very high-level, blue-chip aerospace and defence aerospace companies on campus." states Donovan. "One of the biggest entities we have here is Northrop Grumman, and Northrop Grumman really is amazing. It's been in the industry for a long time, but it has had a real focus on defence contracts. What it's doing here is primarily designing what's called the LRSB, the long-range strike bomber. It's the B-21 Raider, the next generation of a stealth bomber. That keeps about 5,000 or more employees working here regularly."
The other side of the airport is also geared for additional growth. Aerion Supersonic – a company that the airport team recruited last year – intended to construct its world headquarters and facilities to build the world's first supersonic jet across 110 acres of available airport property. "After a site selection process, it chose us over all these other locations," says Donovan, "and we were so thrilled." About a year into the design of the planned $300 million campus, Aerion announced the shut down of its operation. "We were surprised and disappointed by the abrupt shutdown, especially after Aerion already had $10 billion worth of backorders," said Donovan. "Our hearts go out to the employees and have been comforted to hear that most, if not all, have already been hired by other aviation and engineering firms in the area." The airport is optimistic that a successor aerospace company will pick up the advances in technology made to date and continue with a similar type of program, hopefully at MLB.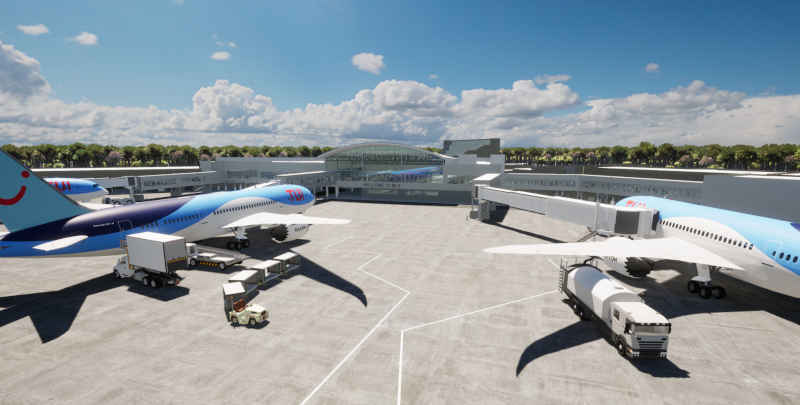 Another big player is Embraer Executive Jets, who moved from Brazil to Melbourne Orlando International and have invested millions into its facilities. It produces the best-selling business jet in the world, the Phenom, as well as the larger Praetor. Savvy purchasers can even find a used Legacy, an older model, to buy from Embraer.
Operations-wise, Melbourne Orlando International Airport does cater to commercial traffic, with American Airlines and Delta Air Lines flying to Charlotte and Atlanta, respectively, multiple times a day. Allegiant also recently announced MLB as one of its new cities with new nonstop flights to Pittsburgh, Nashville, and Concord, N.C. beginning this November. Before the pandemic, MLB was on track to surpass half a million passengers a year and expects to return to those levels and even surpass them next year. MLB also hosts a general aviation contingent with several facilities on the field to take care of their needs. On site are three FBOs – Sheltair, Atlantic Jet Center, and FIT Aviation; three aircraft maintenance facilities – STS Mod Center, Heck Air, and Southeast Aerospace; and a very active local pilot group – the Melbourne Area Pilots Association.
"The other big story here is that we are gearing up for a whole new venture with transatlantic service beginning in March of 2022," says Donovan. "We have partnered with Europe's largest tour operator, TUI (Touristik Union International), and it is focusing on package vacation deals for Europeans coming not only here but all over the world. So, it is going to start flying 787s in here and we will be the gateway for Central Florida, which is really, really nice. This is set to ramp up quickly; we're going to be flying to and from nine different destinations in the UK. The first year alone we are expecting an additional 130,000 enplanements, so it's going to be a real boon for us."
Giving his insights on the future of Melbourne Orlando International Airport, Donovan shares, "When you step back and think about it for a second, we are a relatively small place, but we focused on engineering. Perhaps that comes with the culture, as we have one of the highest concentrations of aerospace engineers and Electrical and Mechanical Engineers in the whole country. That is even generational, when you think about those who moved here to start the space program. And right here at our airport, people are designing one of the most advanced military aircraft in the world."
He adds, "Then we have the sales and production of the best-selling business jet in the world. It is a great resume. I think it makes a big difference to find your niche. This is all giving us a chance to show what is possible for a smaller airport because we have focused on what we are good at. Add to that, the fact that we do it in our Coastal Casual style, as Central Florida's growing coastal gateway allows us to highlight all that the Space Coast has to offer."
AT A GLANCE
Melbourne Orlando International Airport
What: A popular, commercial/GA airport
Where: Melbourne, Florida
Website: www.mlbair.com
VHB – www.vhb.com
VHB's passionate professionals include engineers, scientists, planners, and designers who partner with clients in the transportation, real estate, institutional, and energy industries, as well as federal, state, and local governments. Together, we improve mobility, enhance communities, and balance development and infrastructure needs with environmental stewardship. Learn more www.vhb.com/aviation