Lake Tahoe Airport
Soaring High
Serving as the gateway to the Beautiful Sierra Nevada Region, Lake Tahoe Airport has strong headwinds carrying it through 2023
Lake Tahoe is a breathtakingly beautiful destination nestled in the Sierra Nevada mountains, offering stunning natural beauty with its crystal-clear blue waters, snow-capped mountains, and lush forests. It's a year-round destination with activities ranging from hiking, biking, and boating in the summer to skiing and snowboarding in the winter. Lake Tahoe also provides opportunities for relaxation and wellness with its serene surroundings, spas, and yoga by the lake. Families can enjoy outdoor adventures together, and the area has a rich history and culture to explore.
Lake Tahoe also offers a diverse dining scene, family-friendly resorts, and various entertainment options such as live music and theater performances. Whether you're seeking outdoor adventures, relaxation, family fun, or cultural experiences, Lake Tahoe has something for everyone. With its picturesque scenery, outdoor recreation, and year-round activities, Lake Tahoe is a must-visit destination for nature lovers, adventure seekers, families, and those looking for a serene getaway.
Located in South Lake Tahoe, Lake Tahoe Airport serves as a critical transportation hub for the region, catering to general aviation, corporate, and charter aircraft. Managed by John Dickinson, Airport Manager, Lake Tahoe Airport is a 24-hour facility that plays a pivotal role in the economic growth of the city and the surrounding areas.
"We General Aviation Airport," explains John Dickinson, Airport Manager. "One of only four in the region. We have a long runway and can accommodate jet aircraft like the Challengers and G650 – we can even accommodate larger aircraft, like military aircraft if we know they are coming and can reconfigure activity. We are a 24-hour facility, but our FBO closes at 5:30 PM pm and there is no self-serve fuel capacity."
"Airports are usually one of the biggest economic drivers in the city where they are located. We are no exception," he continues, "and we work well with the city. We are owned by the city. We are not an airport authority or Port Authority, and we work well with the city. I think the relationship with the city is very strong and we're looking to be that gateway for skiers, and people going to come to the lake during the summer outside of that. Yeah, we're the biggest port that comes in and out of here at South Lake Tahoe."
In addition to its economic impact, Lake Tahoe Airport collaborates with the tourism industry to cater to visitors' needs. Dickinson mentions working with the tourist industry to transport individuals to hotels, houses, and other destinations. For instance, the airport recently facilitated transportation for a big golf tournament held at Edgewood in July. Such collaborations highlight the airport's role as a critical link between the tourism industry and the local economy.
Lake Tahoe Airport has been undertaking various capital improvement projects to enhance its facilities and services in terms of infrastructure development. Dickinson mentions ongoing projects such as repaving the hanger lane and Delta Taxiway, upgrading hangars, and bringing Wi-Fi to the hangars to modernize the airport. Additionally, the airport is looking to crack, seal and repaint the runway, further improving its capabilities. Dickinson explains, "We're just basically making them more modern, working on bringing Wi-Fi to the hangars here in the immediate future."
Another crucial aspect of Lake Tahoe Airport's operations is snow removal, given the region's heavy snowfall. Dickinson mentions the recent addition of new equipment, including a front loader with a plow and a multi-hog, to improve snow removal capabilities. These upgrades have allowed the airport to operate 24/7 during snowstorms, except for heavy snowfall that may cover the lights on the runway. Dickinson states, "I think our equipment now is upgraded to the point where we can run no matter the conditions."
Mountain West Aviation is the Fixed Base Operator (FBO) and plays a pivotal role in managing various aspects of the ramp, landing fees, and revenue generation. Dickinson acknowledges the significant contributions of the FBO in running the airport ramp efficiently and effectively. He mentions that the FBO handles the management of the ramp and plays a crucial role in generating revenue for the airport. Dickinson states, "They basically run the ramp of the airport from base tenants to transient aircraft"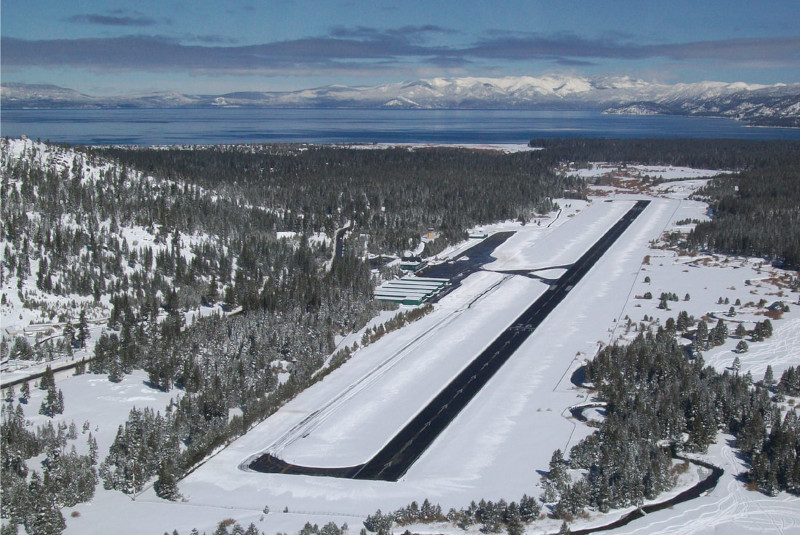 Lake Tahoe Airport also hosts several businesses, including helicopter tours of Lake Tahoe, a restaurant, and environmental services that support the airport and contribute to its economic growth. Dickinson acknowledges the importance of these businesses in generating revenue and supporting the airport's operations. He emphasizes the need for the airport to become self-sustaining and not rely on city subsidies, stating, "My biggest priority is to change so we can tackle all our capital improvement projects going forward without having to go to the city to get funding."
"I think this airport is doing really well right now," Dickinson adds, "We have a full hanger base; we have constant air traffic coming in and out of here. And we are one of the top destinations in the country to come to see."
John's background in aviation began with ten years in the military. As a naval air control and operations officer, he transitioned to civilian airports, working in operations, as assistant director, even taking on firefighting and rescue roles as he prepared ultimately to take the helm.
He has an airport management degree from Embry-Riddle and is in the process of completing his MBA. "I am passionate about the industry, and I think it all comes from when my dad used to take me to the air shows when I was younger and fell in love with it."
"My main focus going forward is on operational safety," he concludes. "And by that, I mean the back-of-house stuff. Fixing the pavement, making everything you know better. I guess the best way to describe it is that we need to make our tenants comfortable. We need to bring Wi-Fi to the hangars, we need to improve the payment and taxiways, we need to work on the carport, and the tourism, and help people to feel that this is a first-class destination as soon as they land on the tarmac."
Lake Tahoe Airport is currently thriving with a full hangar base and increased traffic due to its strategic location as a popular destination for snow enthusiasts and outdoor enthusiasts alike. While the airport's capabilities may be limited at times due to visibility challenges and the absence of a precision runway, there is a clear vision for the future. The addition of a precision runway could potentially attract even more traffic, making Lake Tahoe Airport one of the top destinations in the country.
The airport's leadership team brings a wealth of experience and expertise, with backgrounds ranging from military and airport operations to aviation management and business. The focus is on continuous improvement and operational safety, with investments in infrastructure, technology, and facilities to enhance the overall experience for users. From comfortable state-of-the-art hangars with Wi-Fi to modernizing equipment and bringing in more traffic, Lake Tahoe Airport is committed to providing top-notch services to its customers.
Furthermore, Lake Tahoe Airport is actively engaging with the local community and younger generations to promote aviation as a fun and exciting field with ample opportunities for growth and development. By reaching out to high schools and the community, the airport aims to cultivate an interest in aviation among the youth and inspire them to consider careers in the field.
As Lake Tahoe continues to attract visitors with its natural beauty and year-round recreational activities, Lake Tahoe Airport remains a vital transportation hub, providing unparalleled access to this breathtaking destination. With its dedication to ongoing improvements and strong partnerships, Lake Tahoe Airport is poised to continue playing a pivotal role in the region's aviation industry for years to come.
AT A GLANCE
Lake Tahoe Airport
WHAT: a general, corporate, and charter airport
WHERE: South Lake Tahoe, Nevada
WEBSITE: www.cityofslt.us/182/Airport
Visit Lake Tahoe – www.visitlaketahoe.com
When you visit the South Shore of Lake Tahoe, you experience Awe and then Some. Consider  VisitLakeTahoe.com your ultimate resource for things to do, places to eat and where to stay while you're here—all curated by local experts. Now get out there, and come alive!