Lafayette Regional Airport
Leadership That Works
Business View Magazine interviews Steven L. Picou, Executive Director of Lafayette Regional Airport, for our focus on the new terminal.
Located in the beating heart of Lafayette, Louisiana – "the Hub City" – Lafayette Regional Airport (LFT) offers flights to major domestic destinations with connecting service points around the globe. The main clientele at the airport are business individuals from outlying areas or bedroom communities, who come into the Heart of Acadiana to shop and do business.
LFT is operated by the Lafayette Airport Commission (LAC) which is composed of seven volunteer members which approve funding and large projects. "We service all of the southwest region and most of central Louisiana," reports Steven L. Picou, Executive Director of Lafayette Regional Airport, "Our closest airport competitor is Baton Rouge Metropolitan Airport, and second closest is New Orleans International." With such tough local competition, Lafayette Regional Airport has had to punch above its weight class to keep traffic coming through its terminal. "We are the fourth busiest airport in the state of Louisiana," says Picou, "however, we were doing that business in the smallest square footage out of all the air carrier airports."
While this high productivity and turnover is impressive, the time has come for Lafayette Regional Airport to open a new terminal – doubling the size of the existing terminal to 120,000 sq. feet. The original terminal was built in the 1950s and hasn't received an update since 1989. Construction is on schedule, with completion planned for the fourth quarter of 2021. Picou notes, "While just out of its useful life, it served us well. It's still a nice building. Just an older design, lower ceilings, and little ambient light entering the building."
Established on November 29, 1930, Lafayette Regional Airport began with only one wooden hangar and didn't have its first commercial flight until 1948. The original airfield of 848.5 acres has since expanded to approximately 1,116 acres and LFT now provides a top-notch service area for travelers and businesses. Lafayette Regional Airport's current FBO, Signature Flight, is a great asset to airport operations.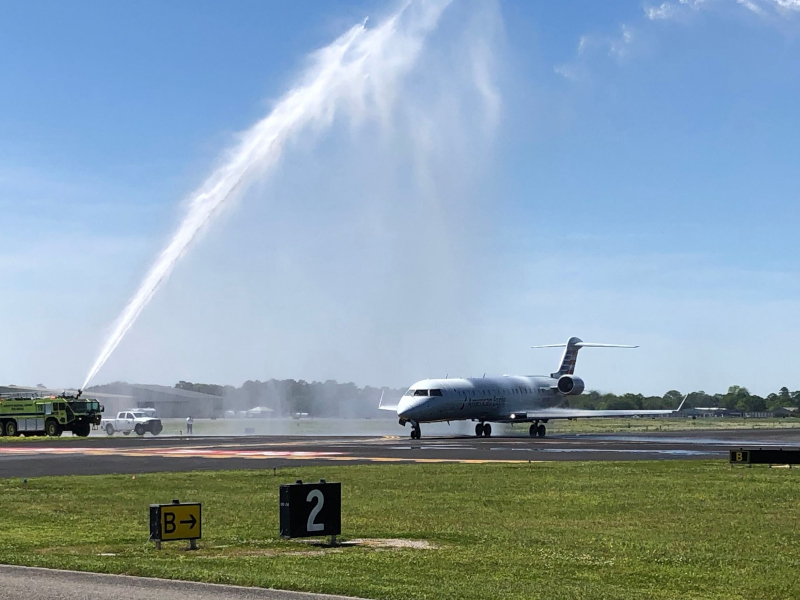 Whenever there's development and an injection of capital at the airport, there is opportunity for more jobs, as is the case most recently with cleaning contractors. Picou shares, "As we reflect on the previous year, the need to maintain a higher level of cleanliness is imperative to ensuring a good first impression with all travelers. COVID-19 has shed light on that aspect of airports. LFT is the gateway to the community… a first impression to our community."
When developing the design of the new terminal, the management team was well aware of what business travelers would require. In the past, the addition of a business center would be a fixed feature, but in the modern world of working remotely, things have changed. "We won't have the physical business center because our travelers conduct business by accessing the airport's Wi-Fi; no longer do business travelers enter a designated business center to conduct business – that model is slowly drifting away," says Picou. "They just "plug in" their device and carry on with business."
While Lafayette Regional Airport might be streamlining their space, they are also adding new amenities for their travelers. The Service Animal Release Area (SARA) will be one new space (mandated); another will be a tailored mothers' room. This is not mandated, but the management team knew from first-hand experience the value of a safe space for traveling mothers. It's this attention to detail that promises to improve consumer experience at the airport.
From April 2, 2021, American Airlines expanded their daily services to the airport, with two flights a day direct to Charlotte, North Carolina. This has opened up multiple opportunities for LFT, in addition to existing direct flights by American Airlines to Dallas, Texas; Delta to Atlanta, Georgia; and United Airlines to Houston, Texas.
Currently, there are several private aircraft based at the airport, which has developed into a profitable partnership. According to Picou, "General aviation is doing well at LFT. Recently, we partnered with two local businessmen who built a $2 million hangar for their Gulfstream. The new state-of-the-art hangar brought a renewed "spark" to the area. The airfield is also home to several companies who offer a wide range of services from avionics to heavy maintenance for both general aviation as well as air carrier maintenance.
This a key focus for the team moving forward. Picou adds, "Where we're going next, is exploring options to establish a larger presence of an MRO (maintenance, repair, overhaul) at the airport, as the VOR (very high frequency omni-directional range) on the airfield is going out of commission in 2023 and the area would be prime for development." Other than the new terminal, another project the team is excited to have wrapped up is Taxiway Foxtrot South. With this project done, there promises to be better efficiencies on the airfield. And then it will be time to tackle Taxiway Foxtrot North.
As with any industry, environmental programs have to be initiated. This means all of the lights in the new terminal will be LED. Future projects for consideration include replacing current runway edge lights with LED lights. Still, the management team strive to ensure that operations are as environmentally conscious as possible. Picou notes, "We have a robust recycling program. Our airport has many containers throughout the terminal building so individuals can recycle their items."
Investing in local youth is very important – as such, the Lafayette Regional Airport teams up with the South Louisiana Community College that has an aviation program with courses in aircraft power plants and airframes. The airport also hosts an Aviation Fun Day, which is aimed at the younger audience and families. In an average year, an estimated 450,000 passengers a year walk through the airport annually, making it a busy place. As expected, the pandemic has had a negative impact on the number of visitors to LFT, but that number is now steadily increasing. Picou admits, "We're not up to the pre-COVID numbers yet but recently we've had some good numbers, which is good news for us."
Located in an area prone to hurricanes, the buildings on the airfield are designed to take the brunt of a storm. While the airport has been blessed to be unaffected by bad weather, other airports in the area have not been that fortunate. "Lafayette becomes a launching point for recovery for other airports, areas, and towns," says Picou. "When Katrina hit New Orleans, our airport became the operations center for FEMA and the military, as well as getting people out of the city."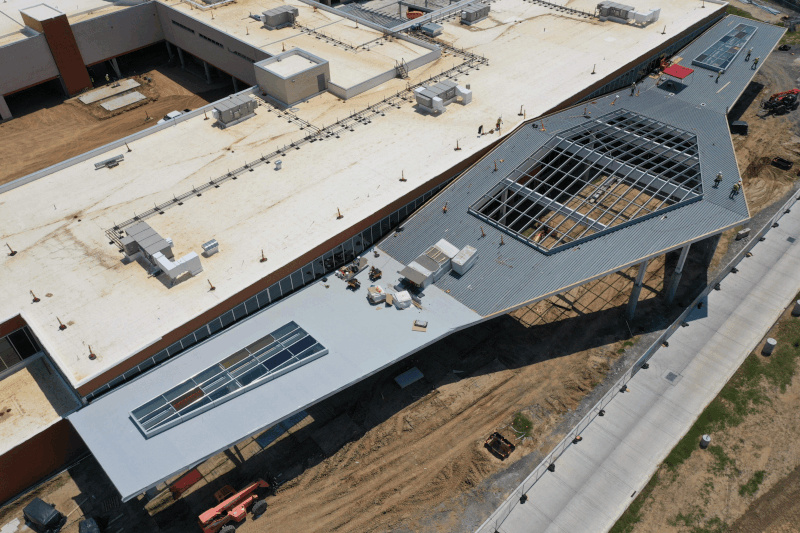 Lafayette Regional Airport's strategic plan for the future includes updating fire truck equipment, and finishing the taxiways and a few other projects, but the main focus is on the new terminal. An excited Picou elaborates, "I'm ready to walk into that beautiful new building, maintaining it, making sure it has a useful life, because it'll probably be another 50 years before the airport is eligible to build a new facility. And who knows what aviation is going to look like in 50 years?"
Another significant focus for the airport is establishing and maintaining relationships with their tenants, such as PHI Helicopters, one of the world's largest helicopter companies, who are also linked to the oil industry. In addition, close working relationships with all those involved with airport projects matter to the LFT team. Newhouse and Associates, a DBE certified Airport Consulting firm, have assisted with noise programs, as well as serving on the project management consultant team for the new terminal. Royal Engineers is a local firm that oversees projects and designs at the terminal. These have all been incredibly successful.
As with any successful institution, the LAC ensure that the wheels keep turning. Picou shares an example: "In 2013/2014 the leadership of the airport had the vision to go to voters of Lafayette Parish and ask for a one percent sales tax, which would last for eight months. And all monies raised would go towards funding the construction of the terminal. In eight months, the airport raised $33.5 million."
With capital in hand, the team was able to go to governing bodies with confidence, and they didn't have to ask for money. Picou reflects, "This placed the airport in a unique position and, subsequently, has meant that Lafayette Regional Airport is used as a case study for other smaller airports. The leadership were also able to put the last two designs of the new terminal to a public vote. And the winner of that public vote is currently being built. Which means we're able to deliver a terminal that the public want."
AT A GLANCE
Lafayette Regional Airport
What: An ambitious, air carrier airport with a robust general aviation clientele
Where: Lafayette, Louisiana
Website: https://lftairport.com/