New Kent County, Virginia
A boutique community at its best
Business View Magazine interviews Matt Smolnik, Director of Economic Development, for our focus on Growth & Economic Development in U.S. Cities
Small specialty stores, known as 'boutiques' have been selling goods to sophisticated clients since the 1700s. In the 1980s boutique hotels – lavish small-scale accommodation – became popular. Now it's all about boutique living and New Kent County in Eastern Virginia is the perfect example.
"I describe New Kent as a boutique community," says Matt Smolnik, Director of Economic Development. "Those special retailers stand apart from everyone else and that's us." With a population of 23,430 and perfectly situated between the two metropolitan statistical areas (MSAs) of Richmond-Petersburg and Hampton Roads, New Kent is convenient yet modern. "We emphasize quality of life. Where else in the commonwealth can you find Virginia's only thoroughbred horseracing track? Or a winery and golf course for every 6,000 residents? Or the Chickahominy, Pamunkey and York Rivers? We are a progressive, very fast-growing, and forward-thinking community."
New Kent County is comprised of different areas, such as Quinton, Talleysville, Providence Forge and Barhamsville – each with its own identity. Not everyone says, 'I'm from New Kent.' They may say, 'I'm from Quinton or I'm from Barhamsville.' Each place has its own special niche. As Smolnik explains, "Each area has its own feel, but we all are New Kent together."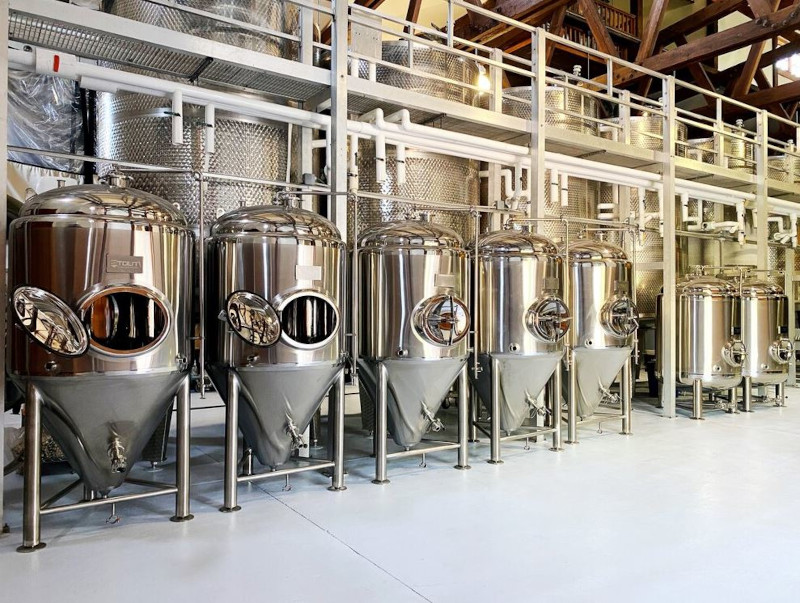 The county makes the most of its central location between the historic cities of Richmond and Williamsburg. For example, many families 'migrate out' to their city jobs before returning home to New Kent each night. Smolnik estimates about two-thirds of the community has a 30-minute work commute. As the area's Economic Developer, he proactively attracts businesses to the area so residents can enjoy a 10-minute drive instead. It's working, but there is still more work to be done. Some of the largest employers in the County are Colonial Downs and Rosie's Gaming Emporium, New Kent County Public Schools (NKCPS), the New Kent County Government, wineries, and even local contractors.
In terms of industry, New Kent is ideal as a distribution, logistics, manufacturing, and warehousing center. "That's our target audience," says Smolnik. "The Port of Virginia is the deepest port on the east coast and is the only east coast port that can accommodate the largest ships passing through the Panama Canal." Being on the interstate between the Port of Virginia and the I-95 corridor allows for easy distribution of goods to the highly populated areas of the country, including the northeast, mid-west and southeast. Smolnik adds, "It's just an easy fit and we feel that's our bread and butter. Here's the thing about New Kent: we're an emerging community. I challenge anyone to find a 300-acre site on the interstate between the Port of Virginia and the I-95 corridor. That's New Kent County and we're real excited about it."
Another exciting benefit is the county's close proximity to the Richmond International Airport. Only a 12-minute drive away, residents then can access both domestic and overseas travel. There's also the New Kent County Airport for private, commercial, and corporate use. Although nice to have, our local airport isn't an essential piece of the economic puzzle on its own. In order to prepare the County for commercial and industrial growth, in 2008-2009 the county rezoned thousands of acres to maximize industrial and economic development potential. The four interstate exchanges along I-64 are served by public water and sewer, along with natural gas and a healthy power distribution network. Privately owned industrial and manufacturing areas provide pad-ready sites. This pre-emptive thinking helped New Kent evolve into the progressive place it is today.
Growth has been a driving factor behind the county's successful development over the last decade. The Weldon Cooper Center for Public Service at the University of Virginia calculated New Kent's growth rate at 26.5 percent, ranking it the second fastest growing locality in Virginia. "We're a fast-growing community and it's not slowing down," reports Smolnik. "The last time I checked we're at one month of housing inventory – which isn't a lot. My building official tells me at every monthly staff meeting we've set another record for issuing single-family housing permits." A population increase also means new skillsets being added to the workforce. And demographics among new residents are changing from mostly retirees to a lot of people in their 30s with young children. It's the best of both worlds: years of experience along with fresh ideas.
One aspect of an increasing rural population is the importance of connectivity. Smolnik admits, "Implementing high-speed internet is vital. We're still a rural community, and we have many home-based businesses. How do you work from home without high-speed Internet?" New Kent is working towards a broadband initiative implementing high-speed fiber internet in every home. The last year proved that high-speed internet isn't a luxury but an everyday necessity. "These are the times where we're teaching our kids from the dining room table," says Smolnik. "Broadband is a must in this community."
Although the county has yet to construct its first green building, the Dominion Energy Solar Farm came online about three years ago. This green initiative helps reduce fossil fuel emissions, along with six wildly popular bike routes. Smolnik admits, "We don't have a walkable community because there isn't the density. But we're the first locality in Virginia with a fully mapped bike route. The routes range from 15 to 100 miles, starting from my office at the New Kent Visitors and Commerce Center. While working at my desk, I see the bikers, so I run out to talk. There was a group from Michigan who Googled 'cycling in Richmond' and New Kent came up. It's a success story to hear that."
Along with the biking routes, there's hiking and mountain bike trails throughout the County. The Virginia Department of Wildlife Resources (DWR) owns and maintains two areas of public land totaling 3,100-acres. They're used for camping, bird watching, fishing, and hunting. The Game Farm Marsh management area is a flooded cypress forest that's only accessible by boat. A new 70-acre Pine Fork Park is opening soon and will provide a dog park, soccer/football fields, playgrounds, walking trails softball/baseball diamonds and a concession stand. "It's nice because we'll be able to host softball and baseball tournaments," says Smolnik. "There's even a long-term plan for an indoor recreation facility. We have plenty of space to stretch our legs."
To assist in recruiting major projects, the Virginia Economic Development Partnership (VEDP) is a big economic development ally for New Kent. Making connections like these are essential for Smolnik. He explains, "I don't need to have all the answers or assets. I just need to know someone who does. We also work with the Richmond Region Tourism Organization and Virginia Tourism Corporation (VTC). It's myself, my administrative assistant, and two part-timers in my office. I need to utilize my assets to cast as big a net as possible."
When the timing is right, sometimes the partnership opportunities come to the community. For instance, the Virginia Commonwealth University (VCU) Health System, the state's biggest healthcare provider, offered to build the VCU Emergency Center in New Kent. It's a free-standing 12-bed facility, where patients can seek emergency medical care. This partnership has been a community game-changer. So has the one with the new ownership group of the Colonial Downs racetrack and Rosie's Gaming Emporium.
Smolnik acknowledges, "I definitely see them as a long-term partner. Their dirt horse track is the second longest in the U.S. and their Secretariat turf track is the widest one in North America. When the track shut down six years ago under the previous owner, we felt like we lost part of our identity. A new group approached us in 2017 and following an amendment to state code, the track was purchased and reopened, bigger and better than ever and it's been a shot in the arm ever since." The complex includes a 108,000 square foot main building with grandstands, two race tracks, stables and 600 historical horse racing (HHR) machines. Since its reopening, the venue has hosted visiting county bands like Old Dominion.
Smolnik predicts, "New Kent will continue to experience tremendous growth. We plan for it now instead of going backwards to fix things. We're under construction with the County's third elementary school and have already bought land for the future middle and high school complex. Since New Kent is entirely dependent on ground water, it's the new gold. We have eight individual well systems and are working to interconnect the west end of the County where growth is strongest. Our Parham Landing Wastewater Treatment Plant treats 450,000 gallons of water per day with a daily capacity to treat two million gallons and all treated water is available for reclaimed purposes. We recently received a surface water withdrawal permit from the Pamunkey River through the United States Army Corps of Engineers, the Virginia Department of Environmental Quality (DEQ), and the Virginia Marine Resources Commission (VMRC). Our water need is taken care of for the next 50 years."
While New Kent strives to be at the front of the pack, "There are times when you can borrow good ideas from neighboring municipalities", says Smolnik, "incorporating them into ours to ensure we grow the right way. New Kent's future begins now."
Colonial Downs – www.ColonialDowns.com
Thoroughbred horse racing returns to Colonial Downs in July. Catch all the action on two nationally renowned racing surfaces. The Secretariat Turf Course is the widest in North America and the 1 ¼ mile dirt course is second longest in the U.S  Post times are 145pm Mondays, Tuesdays and Wednesdays (7/9 – 9/1).