Texas Association of Builders
Building communities with pride
Business View Magazine interviews Scott Norman, Executive Director & CEO of Texas Association of Builders, for our focus on the U.S. Construction Industry
The Texas Association of Builders (TAB) is a voluntary trade organization representing all segments of the residential building industry at a state level. The state's umbrella organization represents the close to 800,000 Texans involved in the residential building industry, from one-man-in-a-truck operations to large commercial building outfits.
"We have about 10,000 members across the state representing their companies through their respective local homebuilders' associations," reports Scott Norman, Executive Director and CEO of the TAB. "Our members are responsible for about 90- 95% of the single-family homes built in the state every year. Besides homebuilders, we also have remodelers, developers, suppliers, and other associate members, all of whom participate directly in the residential construction industry in the state."
With such a massive membership base across a diverse market landscape, the TAB actively participates in state legislative and regulatory advocacy processes to help ensure a robust homebuilding industry that supports affordable housing for all state residents. "The role we play has never been more important, especially when you look at the shifting demographics in Texas as more people move here," says Norman.
Texas has historically been a favorite destination for people moving from other states, and this has recently accelerated. According to the 2020 U.S. Census, the state's population grew by four million, a population growth rate of 16.4%, behind Utah at 17.4%. Norman puts that into context, "With more people moving here, they need somewhere to sleep at night, somewhere to call home, and that's what our members do. They work at ensuring people moving to the state find an affordable, quality place to live. Our mandate is to ensure our members have the best possible legislative and regulatory platform to deliver on this promise, covering advocacy areas like property rights, taxes, land use, transportation, and career and technical education."
The Texas Association of Builders was founded in 1946 as part of a federation of homebuilders' associations that sprung up after the second world war. "After the war, the housing sector took off around the country," explains Norman. "As a state association, the TAB was formed and works with our local homebuilders' associations, which currently stand at 26 around the state."
While the TAB collaborates with downstream members on state-level issues, it also works with the National Association of Homebuilders in Washington D.C. to lobby for national-level legislative and regulatory changes. "What is interesting about where we are as an association 75 years after our founding is that we are still discussing the same issues," muses Norman. "Issues like housing affordability, lending, plumbing regulation, etc. Besides representing homebuilders, the TAB also represents associate members like bankers, insurers, and suppliers, but with the core mandate of enabling homeownership and preserving the ability of aspiring homeowners to purchase a home affordably."
A Board of Directors elected by members oversees the TAB and directs the policies and operations of the association per its bylaws. At an operational level, 11 staff members cover marketing and communications, regulatory affairs, member services, and government affairs. A sizable portion of the association staff's work involves communicating with members across the state, which requires leveraging multiple communication channels to reach as many members as possible and ensure broader participation.
Norman notes, "We have an old-style print magazine that is very popular called Texas Builder that comes out six times a year. Every time we have asked members whether we should switch to a digital-only version, they have voted to keep the print one because they like getting a physical magazine." Besides the print magazine, the association has evolved to embrace modern digital communication channels like email newsletters, websites, social media, and virtual meetings. He adds, "TAB also runs a big annual tradeshow, the Sunbelt Builders Show, held every July. This year's show will run from 12th to 15th July at the Hilton Anatole in Dallas, Texas and offer members educational seminars while getting a chance to network with close to 2,500 event attendees."
While these channels address broader communications, the association also has around 30 committees covering different topics. "We recently formed a Professional Women in Building Council that is booming," shares Norman, "and some of our local homebuilder associations are forming their own. About 10 years ago, we started a Young Professionals Council (YPC) to give younger people in the association a way to engage before getting on committees at the state level. Many of our local associations have since started their own as well."
Other committees TAB runs include a government relations committee, administrative committees like finance and bylaws that work on procedural matters, a codes and standards committee that works on building codes issues, and an attorney council made up of attorneys that practice construction law, among others. "There's something for everybody," says Norman.
The TAB's 75 years of advocacy have come with notable wins at the state and national levels. A recent example is when the association, in collaboration with other labor-intensive industry associations like manufacturing and oil, pushed for state acknowledgment of the importance of career and technical training.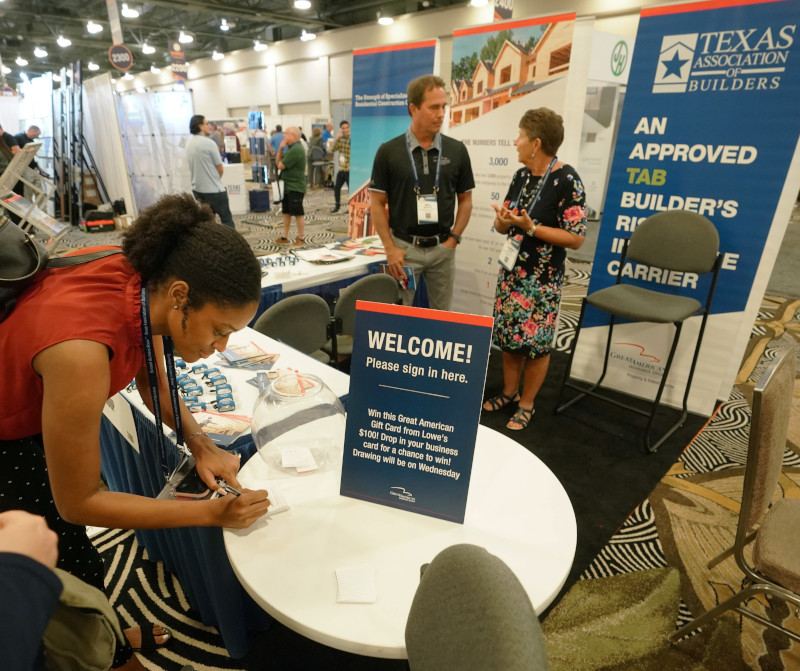 "Our public-school systems had abandoned career and technical training, or what used to be called vocational training, 30 years ago," explains Norman. "We have worked extremely hard to get those back into the public and community school spaces, including career and technical colleges. For instance, we won an increase in funding for Texas State Technical College and other community colleges of around $50 million in additional funding for construction trades programs. Although that was a momentous success and one that we're proud of, skilled labor in the trades is a never-ending issue. Education is just one part of a longer-term solution to the labor problem."
Another area the association is making significant strides in is addressing overregulation. This challenge occurs when county, state, and national homebuilding policies and regulations overlap and, in some instances, duplicate.
The COVID-19 pandemic has had a significant impact on multiple industries, with the core symptom across the board being supply chain disruptions. This issue has been magnified in the homebuilding industry due to the diverse materials required when building a home. "Undoubtedly, the biggest challenges our industry is facing are materials shortages and delays and an extreme spike in pricing that is pushing up housing prices," Norman acknowledges. "For example, materials costs rose triple digit percentage points during the pandemic, adding tens of thousands of dollars to the cost of a home. At the same time, a shortage of appliances due to the ongoing microchip shortage is forcing homebuyers to be less picky about the appliances they get or wait for up to a year and pay more for the appliance of their choice."
These materials delays have created a unique problem for home builders in Texas and around the country, especially when permits and schedules are tied to the completion of particular components of a home. Norman provides an example: "Before a house can pass a 'closed in' inspection, all windows and doors must be installed. Currently, window deliveries are seeing delays of up to five months, preventing builders from moving to the next step because they have not passed this inspection. Our members and local associations are having to work with cities to adjust the permitting and inspection process to allow builders to use plywood board on the windows to pass that inspection."
Another challenge that has emerged from the pandemic is an unwillingness by builders, especially production builders, to enter into contracts with home buyers until the house is at least in the framing stage. "Before the pandemic, prices were more stable, so you could sign a contract for a specific price for a home and make the payment later once construction was complete," says Norman. "Now, because the delay between contract and close is so much longer, and prices are rising so rapidly, builders will only enter into contracts when they have a lot of those materials built into the homes, giving them a better idea of what it will cost. If they don't do this, they will enter into a contract for X, but it will cost them an extra $50-75,000 to build, meaning they would be losing money."
Despite these challenges, Norman sees the housing industry in Texas continuing to expand, especially on the back of a robust population and jobs growth trend. He shares, "With more jobs and more people, the demand for housing will only grow. Our members are rightfully proud of what they do in building communities. The TAB will continue being a voice for members in reminding policymakers – local, state, and national – that their decisions affect homebuilders and homeowners, not just here in Texas but countrywide."
AT A GLANCE
Texas Association of Builders (TAB)
What: A voluntary trade organization representing the residential building industry at a state level
Where: Based in Austin, Texas
Website: www.texasbuilders.org