Torcom Construction Inc.
A track record of success in the GTA
Business View Magazine interviews Artin Chitilian, President of Torcom Construction, Inc., for our focus on the Construction Industry in Ontario, Canada
Torcom Construction, Inc. is the story of the little company that could. Headquartered in North York, Ontario, it's a general contracting company that has remained lean over the years, while handling increasingly larger multi-million-dollar contracts across Greater Toronto and surrounding areas (GTA).
Its story is one of resilience and an unwavering determination to complete each job to the highest standard possible. As Torcom Construction President Artin Chitilian says, "It's what makes the company unique. Our primary focus as a company is to complete each job that we bid for and win within budget and on schedule. It's what has worked for us over all these years, and we know it will continue working into the future because it's a winning formula." This winning formula might sound simplistic, but completing projects on time and within budget is one of the most difficult things to achieve in the general contracting world.
Torcom Construction was founded in 1985. In its 36 years, the company has been involved in institutional, commercial, and industrial (ICI) projects, relying on strong partnerships with local sub-contractors, a critical factor in the company's success. Some of the major projects they've completed over the years include the Sheridan College H-wing extension in Oakville, new elementary and high school buildings, and renovations and additions to schools and libraries.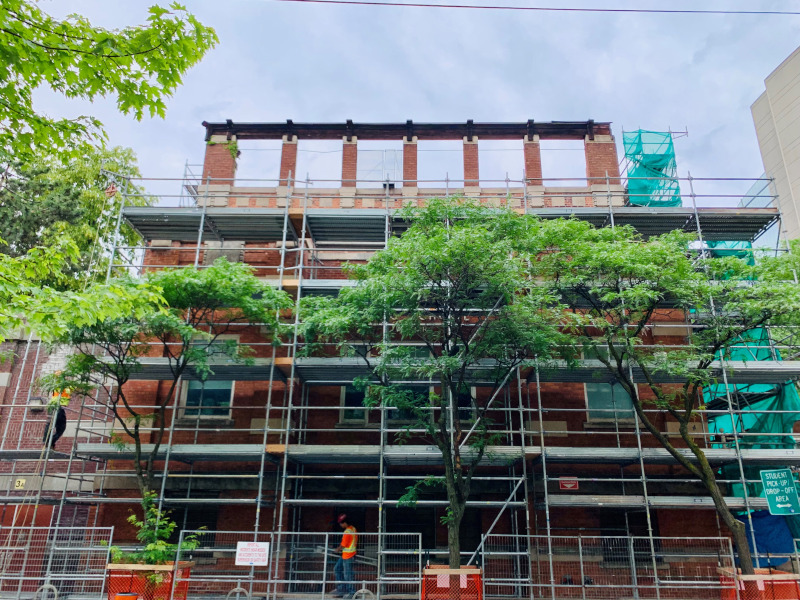 As a general contracting company, Torcom bids for these jobs based on its track record, partnerships with subcontractors, and ability to offer the lowest bid. "The last bit is somewhat of a juggling act," says Chitilian, "because it can be risky, especially in volatile times such as those brought on by the COVID-19 pandemic. Most of the projects we take on are firm-fixed-price (FFP) contracts, which means that when we bid for a project, and get it, whatever we quote is what the client will pay, regardless of our costs, profits, or losses. It's an attractive proposition for a client because it fixes their costs, but it can be a nightmare for a contractor because you can't pass any cost overruns to the client. Because of this, we run a very tight ship on each project, which helps us close most of our FFP projects in profit."
Torcom Construction has a team of 10 to 15 full-time employees at its headquarters, consisting of estimators, project managers and accountants. The firm also engages several dozens of tradespeople who work with various subcontractors on different projects. Most of the company's employees have worked there for many years and a good reason for that is the family-oriented atmosphere. "We are an amiable company and treat all our people like family," shares Chitilian. "Since we are a small company, it's been easy to remain close-knit and to have everyone on a first-name basis."
Chitilian is so optimistic about the company's work culture that he invites anyone to go work there for a week and experience the Torcom culture and values, and learn some accounting, estimating, and project management while they are at it.
The company's operations revolve around bidding for projects and organizing and coordinating a roster of subcontractors to complete the projects. Although they have some in-house tradespeople such as carpenters, they outsource most specialized work to specialized subcontractors like plumbers, mechanical and electrical engineers and technicians, structural specialists for structural steel, roofers, and other similarly specialized trades. Chitilian acknowledges, "A major part of being a general contractor is subcontracting specialized work and acting in an orchestrating capacity on these large multi-million-dollar projects. It's perhaps the most difficult part of the project and must be done correctly to ensure all subcontractors play their part right, to the end of the project."
One such major project that Torcom completed was the interior renovation of Commerce Court, a leading commercial office complex in the heart of Toronto's financial district. "What made this a major project for us was that the building had asbestos insulation right inside each floor's structural steel elements," explains Chitilian. "Since the building has 57 floors, we had to go in, vacate several floors at a time, remove the asbestos and respray with safe fireproofing, then repeat the process for another group of several floors."
Although the company took on the asbestos removal work, Chitilian states that this is not something they typically do – marking the Commerce Court project as an exception rather than the rule. He clarifies, "Some school renovation projects require asbestos removal but only a small percentage because most are masonry structures. We do some asbestos removal, but not to the extent we did with Commerce Court, where the structural steel was sprayed with asbestos fireproofing. In the schools, it'll be ductwork, wrapping, and insulation wrapping that contains asbestos."
He adds that most schools work with a specialized inspection company to assess the extent of asbestos included in insulation or fireproofing as a way of maintaining a record. However, unless the school is actively renovating, everything remains in place, or if they wish, they hire specialized asbestos removal companies for the job.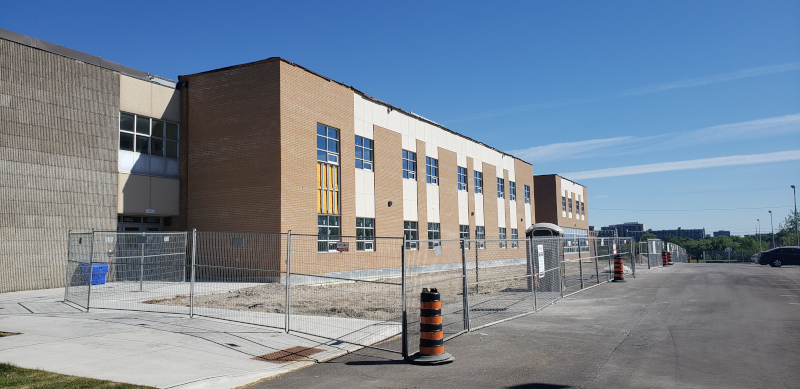 Completing such large projects relies on crucial partnerships with subcontractors, to which Chitilian believes the company owes its success. "We work with a great bunch of subcontractors who we like to say are the backbone of our company. I'd mention everyone by name, but they would be too many to list. The few I can mention are Max Excavators, Mirage Steel, Michelin Masonry, and Elite Electric, four go-to subcontractors we work with on larger projects. I thank them and all the others that have done a lot of work for us. We couldn't have finished on time and on budget if we didn't have their full cooperation on each project."
As the COVID-19 pandemic has affected different economic sectors, Torcom Construction's biggest concern is the unpredictable cost and availability of construction materials, the most significant cost center general contractors and their subcontractors must manage. "Although the pandemic has not affected the volume of work, it has had an impact on the price of work," says Chitilian. "Materials coming in from the United States are delayed and this is threatening most of the contracts here, which might run over schedule and ultimately over budget."
Such delays are an even more considerable concern in FFP contracts. Chitilian notes, "Once you bid for a project and win, the price is fixed no matter what cost overruns you encounter during the project. The only way we can get a concession on such contracts is if something comes from the government that says, that because of the current challenges, there should be some provisions that allow us to go and ask for more money due to an increase in the price of labor and materials."
Despite the pandemic shock on the construction industry, Chitilian believes it is resilient and robust enough to retain its pre-pandemic growth curve. He shares, "A lot of the construction industry is brick and mortar, so you don't need a lot of new technology or sophisticated tools to keep moving forward, which means the industry can absorb most shocks without skipping a beat."
One area he does see some adoption of newer technologies is in greening new and existing buildings. "We have built some schools with green roofs that incorporate solar panels," he says. "However, it's not common at the moment, since adding solar panels can significantly increase the overall cost of the project due to required adjustments to structural components." Despite low uptake, he happily remembers one school that added solar panels and green roofs and had so much excess energy that they started selling some of it to the local hydro grid. He hopes to see more schools follow this trend in the future.
Looking ahead, Chitilian's main hope is that Torcom Construction remains competitive in a rapidly changing economic landscape ravaged by the COVID-19 pandemic. "By remaining competitive, we believe we'll continue winning good projects and delivering good quality work within budget and on schedule. That's basically what we'd like to do for now as the economy rights itself. Once conditions allow, we'd like to add growth to our company's bucket list too."