The Sustainable Forestry Initiative
Mass timber bringing disruption to the construction industry and improving all our lives
Annie Perkins, Sr. Director, Green Building and Supply Chain, at the Sustainable Forestry Initiative, shares updates on SFI & Mass Timber Construction
By Annie Perkins
The construction industry is ripe for some creative disruption. Sustainable forestry is at the heart of innovative wood-based green building solutions, known collectively as mass timber, that are growing in popularity and reshaping the way buildings are designed and built.
The next normal in construction: How disruption is reshaping the world's largest ecosystem, from McKinsey & Company consultants, cites cross-laminated timber (CLT) as one example of mass timber offering advanced new materials that are disrupting the construction sector.
CLT is a prefabricated engineered wood panel product as strong as traditional building materials like steel and concrete but with additional environmental benefits associated with wood. Highly technical and precise, CLT is made by compressing and bonding layers of wood together in alternating directions. Building with CLT is generally faster, safer, and more efficient than traditional building materials and processes. Nail-laminated timber (NLT), glue-laminated timber (glulam), and mass plywood are other types of mass timber.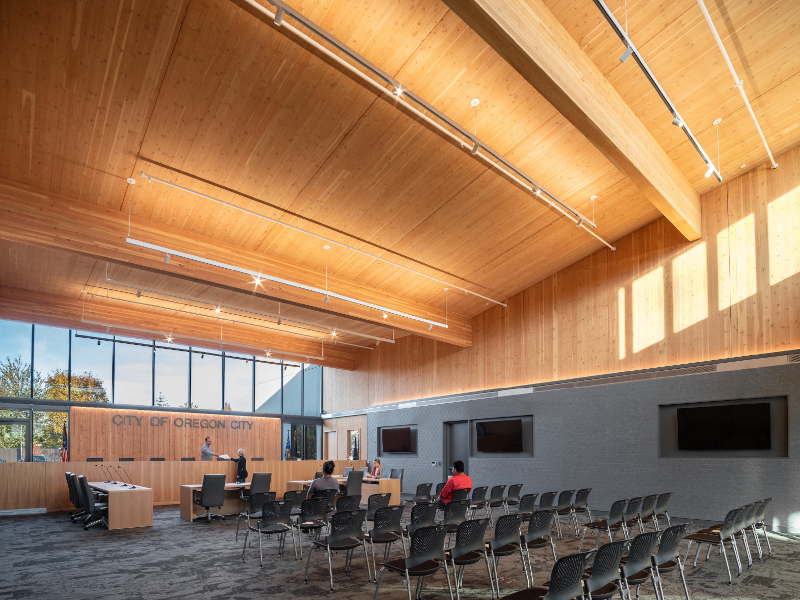 Mass timber growing in popularity
According to WoodWorks, as of June 2021, 1,169 mass timber projects had been constructed or were in design in all 50 states, in the multi-family, commercial, or institutional categories. This total includes modern mass timber and post-and-beam structures built since 2013. WoodWorks provides education and free technical support related to the design, engineering, and construction of commercial and multi‑family wood buildings in the U.S.
Certified wood increases the sustainability benefits of mass timber
Using wood certified to the Sustainable Forestry Initiative (SFI) increases environmental benefits of mass timber, because the forest where the wood was sourced was managed to address critical global sustainability issues such as climate change. SmartLam and Structurlam, both SFI-certified mass timber manufacturers, understand the value of using SFI-certified wood because it provides supply chain assurance, mitigates risk, and aligns with the values these companies associate with sustainable forest management.
SFI is also implementing a new climate-smart forestry objective that will require SFI-certified organizations to ensure forest management activities address climate change adaptation and mitigation measures. The construction sector is responsible for 40% of global CO2 emissions and a host of other environmental impacts, according to Bauhaus der Erde, a German non-profit organization with the objective to transform the built environment. Certified wood and mass timber products are powerful tools to help mitigate climate change. Trees absorb carbon dioxide from the atmosphere as they grow, sequestering and storing carbon while producing oxygen – this reduces greenhouse gases and improves air quality. Forest products, like mass timber, can also sequester carbon for generations.
Offsite prefabricated construction is dramatically speeding up construction time and lowering costs
Mass timber panels arrive onsite almost like a kit. The panels are arranged for efficient placement, and assembly. Other factors that speed up mass timber projects include relying extensively on 3D modeling to revise designs precisely and efficiently. This means mass timber can be fit together with unmatched precision, which leads to enhanced strength.
Offsite prefabrication also means the building spends much less time being exposed to the effects of bad weather. Construction seasons are also expanded because offsite prefabrication can take place during winter months when working outdoors is challenging.
Building with wood has environmental and health benefits
In addition to the climate change benefits associated with forests and forest products, the advantages of building with wood also include conserving water and enhancing biodiversity.
Building with wood is also good for our health. In the U.S., people spend 90% of time indoors and have become increasingly disconnected from nature. Building with wood addresses biophilia – humans' innate draw and affinity for nature – and has been linked to reducing stress, improving cognitive function and creativity, accelerating healing, and fostering an overall sense of well-being. By increasing people's connectivity to the natural environment, biophilic design helps connect them to nature in the buildings we live and work in.
Building with wood can also address things like health and well-being and stress levels. Schools that use biophilic design report better test scores and there is evidence that hospital patients have quicker recovery rates. Wood also compares favorably to other materials when it comes to indoor air quality.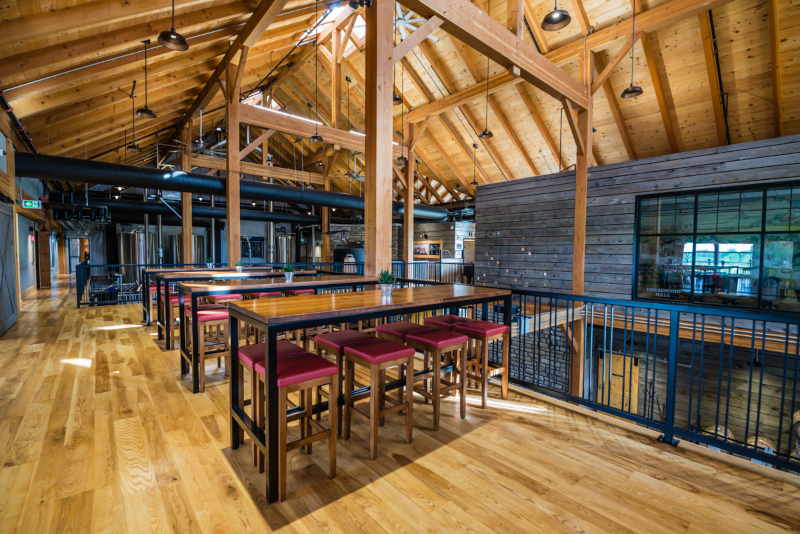 Lifecycle assessments and the circular economy
Lifecycle assessments (LCA) demonstrate the advantages of wood in terms of embodied energy, air and water pollution, and carbon footprint, according to WoodWorks. An LCA measures the environmental impact of things like construction materials or even an entire building over its lifetime. The process of conducting an LCA begins with tracking raw materials from extraction or harvesting through manufacturing, transportation, installation, use, maintenance, and end of life disposal or recycling. Data resulting from an LCA allows architects, builders, and owners to make better informed choices based on a product's environmental impact.
A circular economy creates systems that minimize the depletion of non-renewable resources by sustainably managing and regenerating renewable resources. This preserves or improves the well-being of people and ecosystems. A focus on the entire lifecycle of products and maximizing the use of renewable resources makes the circular economy an important part of achieving long-term sustainability goals.
Forests have the potential to play a central role in the circular economy by providing renewable raw materials. According to the UN Economic Commission for Europe, a more coordinated approach to tapping into the forest sector could turn it into one of the key pillars of the circular economy. Sourcing products from SFI-certified forests is a great way to support the circular economy and conserve our planet's precious resources.
Accelerating focus on corporate sustainability makes certified mass timber a natural fit
Environmental, social, and governance (ESG) principles and the UN Sustainable Development Goals (SDGs) are becoming synonymous with corporate sustainability. SFI standards contribute directly to SDG indicators through landscape-level conservation to help conserve biodiversity and through the new SFI climate-smart forestry objective. ESG principles are embodied in sustainable forest practices and the products they produce. The construction industry is well-positioned to accelerate the acceptance of certified mass timber and along with it the recognition of the ESG and SDG benefits it delivers.
Supporting sustainable jobs in rural areas
Sustainable forest management is at the heart of forest certification programs. Fairness is an important element of sustainable forest management, especially because it promotes sharing the benefits of forests in rural areas. According to the Food and Agriculture Organization of the United Nations, implementing sustainable forest management reduces inequality, promotes the development of locally owned and operated businesses, and improves working conditions.
Promoting responsible forestry through green building programs
There are many credible green building rating systems that recognize the value of multiple forest certification standards and offer credits for products certified to these forest certification standards, including SFI. The U.S. Green Building Council recognizes SFI-certified wood. This means using SFI‑certified wood can earn points in Leadership in Energy and Environmental Design (LEED) projects. LEED is the most widely used green building rating system in the world.
Mass timber buildings are a green and beautiful choice
With a curving roofline that blends with the rolling hills overlooking the University of Idaho's Moscow campus, the Idaho Central Credit Union Arena is hitting new artistic heights for mass timber. The 62,000-square-foot, 4,000-capacity facility is home to the University of Idaho's basketball teams and also offers a welcoming space for community events. It will open this fall.
This architectural marvel of biophilic design is a testament to how building with certified mass timber can produce beautiful structures that are showcases for sustainability. More than $35 million of the $51 million arena cost came from private funds, including Idaho's forest products industry with member organizations certified to SFI standards. The arena is just one of a burgeoning number of spectacular structures that are changing the face of the construction industry.
*Annie Perkins is Senior Director, Green Building and Supply Chain, at the Sustainable Forestry Initiative.
AT A GLANCE
The Sustainable Forestry Initiative
What: Advancing sustainable construction through forest-focused collaboration
Where: Across the U.S. and Canada