Benzinga
Expertly Covering the growing Cannabis industry
Specializing in covering the unique fiscal aspects of the Cannabis sector, Benzinga produces coverage that cultivates results
The growing trend of cannabis legalization, projected to soon take effect in more and more states across the US, is cultivating positive financial benefits. Cannabis stocks are hot, and Chicago boasts several thriving cannabis-related businesses. Benzinga Cannabis is among the financial media firms offering investors help with cannabis, crypto-currency, psychedelics, financial technology (or fintech), and much more.
We recently spoke with Elliot Lane, Benzinga's vice president of events, and Javier Hasse, its managing director. They told us more about Benzinga's mission and how it can help you.
"We cover all industries," says Lane. "We have several articles on Elon Musk, on Tesla, on Twitter, on politics, and numerous different topical items are covered on (the Website at) www.benzinga.com. Benzinga Cannabis is one of many emerging markets that we cover that put Benzinga on the map."
He adds that the company these days has a major focus on artificial intelligence (or AI). Benzinga makes a point to cover markets often neglected by Yahoo Finance and Bloomberg, and that translates to some 50 million readers a month for Benzinga.
"Benzinga Cannabis was built by my colleague, Javier, from the editorial side," Lane continues. "Javier and his team have created 30-40 articles a day for several years now on the cannabis space, and we are probably the largest business and financial publication, if not one of the largest overall publications, covering the space."
"We are the most-read cannabis news source in the world," Hasse declares.
Lane concurs, adding the company is also much involved in the Benzinga Cannabis Capital Conference.
"We have already put on 15 iterations of this," he says. "We started in 2018 in person. Then throughout COVID, we had several that were virtual (Internet-based). We came back to in-person at the end of 2021. This will be our fifth event coming up at the end of September since COVID. These are events that are meant to offer the best, the newest, the emerging, the most fun, and the most effective opportunities in the cannabis industry to our investor audience, both retail as well as institutional."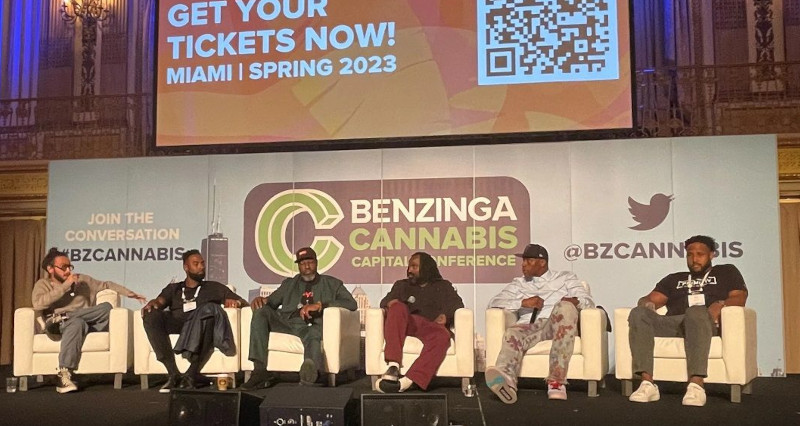 The events also work well to connect people in partnerships. It would seem they're very popular, as one in Miami in April attracted some 3,000 attendees.
"Operationally," says Hasse, "we are a content engine. We are a connector. Those are the two pillars that this event stands on."
Lane says cannabis investors are looking for hope.
"It has been hard for current investors," he says. "Many have gotten out of cannabis. Many are waiting for another fundamental occurrence on the federal level to get back in, and many are waiting for that to sell their shares and get out. It's going to be a tumultuous time once something does happen federally."
In these uncertain economic times, getting financially creative is a must, and Benzinga can help investors do that, regarding everyday operations, as Lane informs.
"We offer private equity funds," he says. "We offer hedge funds. We offer family offices and credit investors to get up on our stage and speak."
Following the aforesaid public panel events with well-known advocates of cannabis use, financial wizards, and other such experts, Benzinga offers post-event content for everyone to see, as Lane points out.
"That's something that Benzinga does that a lot of our peers in the space do not: we offer their content afterward," he says.
"However, we are a publisher. We are a content engine. We want this content out there. We want our speakers to have their voices heard. We want our entire readership to be able to benefit from this, so all of this is recorded. It's embedded into articles by Javier and his team, and then we also will create content with our writers leading up to the event about the panels as well as post-event and what these panelists said."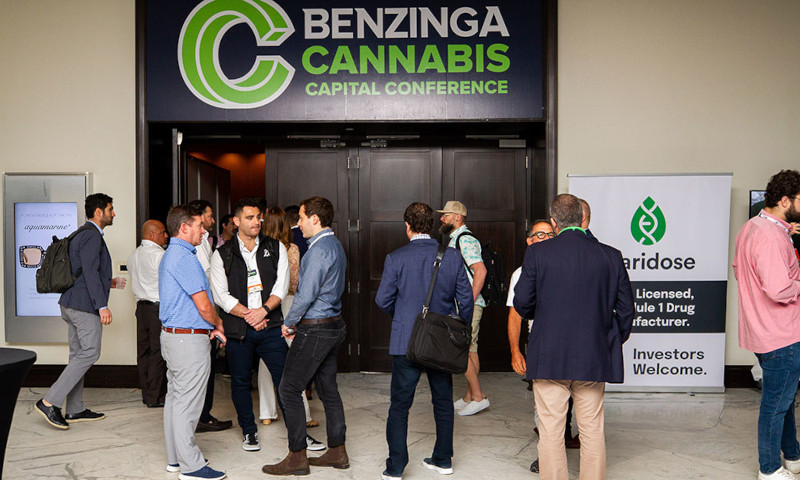 Cannabis and cash-conscious content
A seasoned veteran of the industry, Hasse looks eagerly to the months ahead.
"I've been active in the cannabis business and finance space and working in this space for 10 years," he says.
"As you might imagine, I've been to hundreds of events. I coordinate mostly the content side of stuff. Editorial content. Written content. Video content. I do this daily, but then there is the events scene that works on the event itself. I tend to show up, and I'm always very impressed. This is the feedback I get from people. This is the best event to do business."
Heading into such events, as Hasse points out, the Benzinga team does produce a lot of content, highlighting the speakers and highlighting the industry trends that its people will be discussing in depth at the event. The team also closely covers the event itself.
As the hotter topics are discussed, Benzinga staffers cover those in real-time. Over several weeks that follow the event, they publish many more articles. They share the video, and they make it readily available to their audience.
"We do believe that information should be readily accessible to everyone," as Hasse offers.
"The reason that most people attend the event is for the content and the networking opportunities. There is this in-person element that adds a lot of value, I think, to the conference itself, and there are certain things you don't get from an article or a video. There are nuances to personal interaction that you can only get from an in-person event."
"As Eliot was mentioning earlier, Benzinga has made a point of creating very specialized verticals, and one of those is cannabis," he adds, "and what we notice is that people who dedicate their every day to a specific topic and not a range of topics are much more equipped to address these topics and analyze them and present them in ways that are easily digestible for the mainstream audiences because they understand the nuances of a specific topic. They can put them in layman's terms for everyone to understand for it to be accessible to everyone."
Hasse is much lauded and recognized for his efforts. High Times magazine has hailed him as one of the industry's top 100 movers and shakers, citing his efforts in 2021 alone.
Having a positive mandate
Hasse also points out that it was about nine years ago that he started the editorial department for cannabis at Benzinga. Its mandate has always been to keep biases just as low as possible. That is how Benzinga's people have built the name: by covering everything and everyone, as Hasse points out.
"We don't pass judgment," he reveals. "We try to cover every last piece of news that is
out there. Why? Because the mainstream media won't, and when they do, they will always introduce this giggle factor. The pun. The unnecessary kind of funny approach to this business as if it were a novelty: 'Oh, ha-ha! They're talking about pot!' We always treated this as: 'This is cannabis. This is something that affects people's lives, their health, and their freedom. There are people in prison for this. Some people are trying to run businesses. People are investing in this,' so this is a topic that needs to be treated like any other topic out there. We try and cover everything, and I think that's how we built such a big reputation."
Hasse continues that Benzinga produces informative and useful content for retail investors. It produces content aimed at institutional investors. It produces content aimed at people running businesses. It creates content for people interested in activism or the culture of cannabis or cannabis consumption, as he points out.
"I think the casting of a wide net and that trying to remain agnostic while at the same
time always keeping in the back of our minds how this will affect business has been fundamental to our growth," he adds. "The editorial direction is inclusive, agnostic, and unbiased."
Elliot says that he enthusiastically shares his colleague's assessment.
"I think it's what makes Benzinga unique in the event space," he notes, "with that idea that Javier just went through. We are an industry event with a business and financial throughline. Thinking of it in that manner, our peers are either events that are meant to introduce brands and retailers, or they are events meant to introduce hydroponics companies and services to operators, or they are selling side events to introduce institutions to investment opportunities."
" We can do all of those, and I think it's because of this ability for us to create content both digitally and in person that covers a wide-ranging amount of topics that all lead to how to run a healthy business and operate it efficiently,"he concludes.
AT A GLANCE
Benzinga
What: leading publisher of cannabis-related material falling under the Benzinga editorial umbrella
Where: Chicago, Illinois
Website: www.benzinga.com